Category archive:

Baylor Lady Bears
August, 9, 2012
08/09/12
8:29
PM ET
What's next after 40-0 for the Baylor women's basketball team? How about a little running-and-gunning with Kentucky? A journey to Hawaii, where Stanford awaits? A trip to Notre Dame for a rematch of the 2012 national championship game? A visit from a new-look Tennessee team?
All that will happen before December's over for defending NCAA champ Baylor, which hopes to end the 2012-13 season with another title -- this one in coach Kim Mulkey's home state of Louisiana.
And yes, we know that Mulkey strongly dislikes that term "defending." As she puts it, Baylor isn't defending anything, because it has already won the 2012 title and that can't be taken away. Regardless, the question "Can Baylor repeat?" is the biggest storyline going into the upcoming season.
For the third time, the Women's Final Four will be held in New Orleans, and the postseason road there should keep Baylor in pretty familiar territory. The Big 12 women's tournament will be back in Dallas, about an hour and a half north of Baylor's campus, for the first time since 2006. (This is the first year since the Big 12 formed in 1996-97 that the league's men's and women's hoops tournament are split up, as the men will play in Kansas City.)
The Lady Bears will be going for their fifth Big 12 tournament title. Baylor then will be a host for the early rounds of the NCAA women's tournament. After that, the NCAA regionals are in Oklahoma City; Spokane, Wash.; Norfolk, Va.; and Trenton, N.J. So if Baylor is the overall No. 1 seed again as it was in 2012 -- and advances out of the early rounds, of course -- the Lady Bears likely would head north for regional play in OKC (about a 4½-hour drive from Waco).
Admittedly, that's all quite a ways down the road. But it's easy to get caught up in looking ahead, considering that Baylor brings back all its starters, including reigning national player of the year Brittney Griner.
But let's back up and return to the beginning of the season, when Baylor plays back-to-back against Kentucky (Nov. 13 in Waco, Texas) and Stanford (Nov. 16 in Honolulu). The Wildcats have made it to the NCAA Elite Eight two of the last three years, while Stanford has made five consecutive trips to the Final Four. (But can the Cardinal do it this season without Nneka Ogwumike?)
On Dec. 5, Baylor will take on a Notre Dame team that the Lady Bears defeated 80-61 last April at Denver's Pepsi Center in the national championship game. Then on Dec. 18, Tennessee -- another team knocked out of the 2012 NCAA tournament by Baylor, in the Elite Eight -- comes to the Ferrell Center under Holly Warlick, who officially took over as head coach after Pat Summitt moved to an emeritus role this spring.
As for Big 12 conference play, one of Baylor's biggest rivals in recent years is no longer involved. There will be no more grudge matches for the foreseeable future with Texas A&M, which left the Big 12 along with Missouri to join the SEC. Mulkey made it abundantly clear last year she wasn't keen on starting a nonconference series with the Aggies.
But Baylor will interrupt conference play to travel to Connecticut; that game will be Feb. 18.
The Lady Bears open Big 12 play with league newcomer TCU, the Fort Worth-based school that's had consistent success in women's hoops under coach Jeff Mittie but now will be playing on a bigger stage.
The other Big 12 newcomer, West Virginia (yes, it's still hard to believe), will get its "welcome to Waco" on Jan. 19.
Baylor's matchups against a Texas team starting a new chapter under coach Karen Aston are Feb. 9 in Austin and Feb. 23 in Waco. During Aston's years as an assistant, she had two stints working at Baylor.
The target will be on Baylor's back all this season -- but that's nothing new. It really was last season, too. Mulkey didn't try to lessen expectations in 2012, and after the NCAA title game, she was already looking ahead to making a run at New Orleans in 2013.
"That's my home state, and I won't have enough tickets for family," she said in Denver. "But I'll do something to get them in the arena. That's what we want, another national championship."
March, 31, 2012
03/31/12
3:13
PM ET
DENVER -- Who better than Connecticut coach Geno Auriemma to offer up a little expert analysis on Sunday's Baylor-Stanford game?
A. His Huskies team has played them both this season, defeating Stanford 68-58 in Hartford back on Nov. 21 and losing to Baylor 66-61 in Waco on December 18.
B. You knew he'd be willing.
"The big kid at Baylor is really good," said Auriemma, getting an easy laugh as he referred to Lady Bears star center Brittney Griner.
The Huskies' coach thinks this is a good matchup for the Cardinal.
"I think it's good because they haven't played each other," Auriemma said. "So Brittney and Odyssey Sims and Baylor, they don't know anything about how to defend Stanford. And Stanford's big kids don't know anything about playing against somebody like Brittney Griner."
Auriemma cautioned the people who think that Baylor is going to win with ease.
"I like this matchup, I really do," Auriemma said. "All the people that are saying this is a walk for Baylor, I don't think they are right.
"I'm not saying they're not going to win. I don't know who is going to win. But those people that say Baylor's got an 80 percent chance of winning tomorrow night? I think they are dead wrong. They might, but it's not going to be as easy as they think."
March, 13, 2012
03/13/12
3:28
PM ET
Rebecca Lobo gives a behind-the-scenes look at preparations for the set of the Selection Show.
Hardest regional: Des Moines. For Tennessee to be the 2-seed there (with No. 1 Baylor) after playing really well in the past week or so, that was the one that stuck out to me.
Easiest regional: Kingston. Connecticut's path to a potential Final Four might be the least difficult. Kentucky is probably seen as the fourth No. 2 seed, and Connecticut -- which opens in Bridgeport -- doesn't have to get on an airplane.
Best first-round game: No. 7 seed Green Bay versus 10th-seeded Iowa State in Ames, Iowa. Both teams have players who can shoot the 3 and it's a lower seed playing on its home floor.
Best potential second-round matchup: Top-seeded Baylor against No. 8 seed Ohio State. The consensus on the Buckeyes is that they deserved a better seed.
Team better than its seed: Sticking with 8-seed Ohio State on this one.
Team worse than its seed: No. 6 Nebraska. That is not meant as any disrespect to Nebraska. But in relation to Ohio State and both teams being from the Big Ten, it's just an interesting thing to look at those two seeds side by side.
Biggest snub: No. 2 seed Duke in Nashville. The Blue Devils were probably expecting to be in Chapel Hill. Instead, they have to potentially play a second-round meeting with Vanderbilt in the Commodores' town.
Biggest surprise: That No. 2 seed Kentucky and third-seeded Miami are in the same region in Kingston. That could be a pretty amazing matchup if it happens in the regional semifinal.
Possible Cinderella: Green Bay. The Phoenix play an interesting system, and most teams don't play against a team like Green Bay in the regular season. The Phoenix could get to the Elite Eight. A team that could get to the Final Four is Maryland. The Terps have depth at the post, a star in Alyssa Thomas, an experienced backcourt, and Maryland has bodies to match up with most teams. The Terps are the team that best matches up with Baylor. Of course, they have to reach the national championship to even get a shot.
Most talent in one region: Des Moines. Just looking at Baylor's and Tennessee's rosters, they're loaded with talent. Ohio State has Samantha Prahalis. Delaware's Elena Delle Donne has real star power.
Under-the-radar player: Point guard Jasmine Lister from Vanderbilt. I really like her game. I just watched (video of) her playing in a win against Tennessee at Vanderbilt, and Lister was absolutely outstanding.
Final Four: I'm going with the chalk and sticking with all the No. 1 seeds: Baylor, Stanford, Notre Dame and Connecticut.
Who wins? Baylor is still the team to beat. If it goes chalk, the Lady Bears will have beaten two of the three other No. 1 seeds that could be there. I'm picking Baylor as my champ over Notre Dame.
March, 10, 2012
03/10/12
5:06
PM ET
Texas A&M's Kelsey Bone talks about how well Baylor played as a team in the Big 12 title game.
Texas A&M's Sydney Carter talks about why opposing guard Odyssey Sims is so effective.
Baylor coach Kim Mulkey talks about how sophomore point guard Odyssey Sims has improved her game.
Baylor's Odyssey Sims and Brittney Griner talk about their Big 12 title and focusing now on the NCAA tournament.
March, 9, 2012
03/09/12
8:40
PM ET
Texas A&M's Kelsey Bone talks about taking on fellow Houston native Brittney Griner and Baylor in the Big 12 championship game.
KANSAS CITY, Mo. -- On Saturday, Texas A&M will play in its fifth consecutive Big 12 women's championship game. It will also be the last one for the Aggies.
They are leaving for the SEC after this school year, a decision Texas A&M coach Gary Blair wishes hadn't been made. He has loved his time in the Big 12 -- the rivalries that have been built in women's basketball because of the elevation of the program, and the friendships as well.
However, money, ego and bad blood trumped tradition and geographic common sense, and the Aggies are on their way out. But before they go, there will be at least one more showdown between Baylor and Texas A&M, the schools that have played in two previous Big 12 finals.
Baylor won both of those. In fact, the Lady Bears have won 10 of their past 11 games against the Aggies. The exception, though, was really the biggest: last season's Elite Eight matchup in Dallas, which Texas A&M won 58-46 on its way to the NCAA championship.
"I think the committee will agree that these two teams should not have to be in the same region," Blair said of the upcoming NCAA tournament. "Last year, it worked to our advantage. This year, I would rather go see [Sydney] Colson in Poland than go to Baylor's region again."
Colson, who is playing professionally overseas, was the Aggies' high-energy, big-personality point guard last season. That job has been more by committee this season, with freshman Alexia Standish and junior Adrienne Pratcher filling the role a lot, along with combo guard Sydney Carter.
In Friday's 79-66 victory over No. 2 seed Oklahoma in the Big 12 tournament semifinals, No. 3 seed Texas A&M also got a lift from another guard, senior Skylar Collins. She had 15 points as one of four Aggies who scored in double figures, led by Kelsey Bone with 16.
Bone and the Aggies will have their hands full Saturday (tipoff is noon ET) with Baylor's Brittney Griner, who scored 45 points in the Lady Bears' semifinal win over Kansas State. But Bone, who played her freshman season at South Carolina and sat out as a transfer last season, said Saturday's matchup should not be viewed as a one-on-one battle of premier centers. Texas A&M will use all its depth at center/forward -- including Bone, Adaora Elonu, Karla Gilbert, Kelsey Assarian and Kristi Bellock -- to counter Griner.
"They are a great defensive team, and Brittney doesn't just control the paint. She controls the whole floor," Bone said. "Everybody on our team has to do their job against them."
Griner and Bone are both from Houston, but didn't face off until they were in high school, when they played twice. Bone played much more often in her prep/AAU days against two other post stars from the Houston area: Nneka and Chiney Ogwumike, who on Friday led Stanford into Saturday's Pac-12 final.
"I still remember the first time Brittney and I played against each other, because it wasn't that long ago," Bone said. "There's a lot of hype that surrounds the two of us when we go against each other. But it really doesn't come down to us when we play each other at this level. In high school, it kind of did.
"But at this level, it comes down to the whole cast of players. Brittney is going to get her points. We have to contain Odyssey [Sims] a little more, Destiny [Williams]. If we can do that, we stand a chance. Brittney and I are going to battle, but it will be decided by the entire team that's the best on that day we meet."
That said, Bone acknowledges that it's neat to have this kind of marquee matchup with Griner.
"That's what you play for," Bone said. "I've been playing since I was 10, and growing up, I always saw UConn and Tennessee. There are other rivalries now. And for Brittney and I both to be playing for Texas schools and representing Houston -- that's fun. It's good for the game."
Texas A&M's Adaora Elonu talks about the Aggies playing in their fifth consecutive Big 12 title game.
March, 9, 2012
03/09/12
3:22
AM ET
Baylor coach Kim Mulkey talks about the differences between Thursday's runaway72-48 victory over Texas Tech and the two previous games the teams played this season that were close.
Odyssey Sims talks about how well prepared Baylor was to face Texas Tech in the Big 12 quarterfinals on Thursday.
March, 9, 2012
03/09/12
3:05
AM ET
Texas A&M senior guard Sydney Carter talks about the Aggies' Big 12 tournament-opening victory over Kansas and how she has helped tutor freshman Alexia Standish, who had 25 points versus the Jayhawks.
KANSAS CITY, Mo. -- There was a lot of familiarity in how Thursday's Big 12 tournament quarterfinals played out. The three teams who've all been to the Final Four in the past two seasons -- Baylor, Oklahoma and 2011 national champ Texas A&M -- advanced to Friday's semifinals, where they'll be joined by Kansas State.
Meanwhile Kansas, which hasn't been to the NCAA tournament since 2000, is left to sweat it out until Selection Monday with a glimmer of hope at 19-12.
We've been here before, right? Oh, yeah. This is my 16th Big 12 tournament, and the narrative of the past several years hasn't changed that much. What's different, though, is now there are just 10 teams, two of whom are departing after this season.
Texas A&M and Missouri will head to the SEC, and the Tigers have officially played their last game as a Big 12 team. They gave Oklahoma a scare for a little more than a half, but the Sooners rallied for a 70-59 victory. The No. 10 seed Tigers' season ends at 13-18, and so concludes an era.
Missouri was a successful team in the old Big Eight, winning the league tournament title four times. But in the Big 12 era, which began in 1996-97, the Tigers never even made it to the league tourney final. Now they will try their luck in the SEC. It's going to be quite a challenge.
No. 2 seed Oklahoma, meanwhile, bounced back from a very surprising home loss to Kansas to end the regular season. Next up for the Sooners is Texas A&M, which also lost its regular-season finale. The Aggies fell at Texas -- "It hurt my soul to lose to them twice this year," said Texas A&M senior guard Sydney Carter -- and came into this tournament looking to find their championship selves.
They encountered a Kansas team that really needed a win for its NCAA hopes, but didn't get it. The Aggies pulled away down the stretch, 78-63. Texas A&M did it without senior Tyra White, who's dealing with a foot injury. She had started all but two games in the past three seasons, and Texas A&M coach Gary Blair dreaded playing without her.
"It killed me; I was in a horrible mood," Blair said. "[But] somehow, I believed in our kids. We had great guard play today."
Indeed they did, as freshman guard Alexia Standish scored a team-high 25 points and Carter added 18 points, seven rebounds and eight assists (with no turnovers). Center Kelsey Bone had 16 points and forward Adaora Elonu 13. That's what Blair always wants to see from the Aggies: four players in double figures.
Will they be able to do that against Oklahoma, especially if White is still unable to play? The Aggies split their regular-season meetings with the Sooners, winning 75-58 at home in January, and losing 64-55 in Oklahoma in February.
Texas A&M will be trying to make its fifth consecutive Big 12 final, having won the title in 2008 and '10, and finishing runner-up in 2009 and last year. Both those championship-game losses were to Baylor, which is trying to win its fourth Big 12 tournament title.
Baylor, the undefeated No. 1 seed, pounded No. 9 seed Texas Tech 72-48 Thursday, preventing the game from being anything like the two close contests between the two teams during the regular season.
Friday, the Lady Bears face No. 5 seed Kansas State, which topped No. 4 Iowa State 67-63 in Thursday's best game at Municipal Auditorium. Jalana Childs set a K-State school record for a Big 12 tournament game with 31 points. She also had 10 rebounds. She and the Wildcats will need all that and then some against Baylor, which beat K-State 76-41 and 70-41 in their two meetings this season.
March, 8, 2012
03/08/12
12:49
AM ET
Texas Tech coach Kristy Curry talks about what it took to beat Texas, and why the Lady Raiders have played Baylor well in their two previous meetings his season.
March, 2, 2012
03/02/12
10:44
AM ET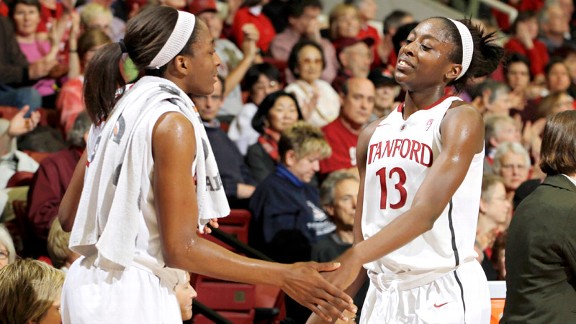 AP Photo/Paul SakumaNneka Ogwumike is an obvious pick, and sister Chiney is a second-team candidate.
There's no such thing as even one choice -- let alone five of them -- that will bring unanimous consent. But when you're talking All-Americans in women's basketball this particular season, the first team likely will get a lot of agreement.
After that, though, all heck breaks loose. You could justifiably choose any number of players for an All-American second team. In fact, you might not agree with any of my picks, and you might not be wrong. There really are that many candidates for those second five spots.
The first five are a lot easier. They have solidified themselves both with their individual performances and their teams' success in 2011-12. All five are from squads that won their conference's regular-season championship.
Only one is on the current list of finalists for the 2012 Olympics, but it wouldn't be a surprise to see all five of them play for Team USA at the Rio de Janeiro Games in 2016. In fact, you could even envision these five starting as a unit, because they could perfectly cover every spot on the floor.
One is a defensive presence like none other in the women's college game. One is the most exceptional rebounder of the group. One is a great scorer and extremely versatile. Two are highly efficient playmakers who can also rack up the points themselves.
So now, as we're just moving into the Month of Madness, here is a suggested "top 10" that is made up of two teams that could be put on the floor. (In other words, these aren't "three centers/two forwards" kind of squads.) Which 10 players actually will make up the State Farm All-America team that will be announced in Denver? We're sure at least some of them are included here.
First team
Brittney Griner, C, junior, Baylor: The numbers tell the story: 22.7 ppg, 9.7 rpg, 155 blocked shots. Baylor's opponents are shooting an average of just 30.7 percent from the field. Shooters get gun-shy or greatly rush shots because Griner is so intimidating defensively that foes start seeing her even when she isn't there. Of course, she's usually there. She's also an Olympic finalist.
Nneka Ogwumike, F, senior, Stanford: Coach Tara VanDerveer predicted that as good as Ogwumike was last year, this season she would be markedly better. That has proved true, as Stanford has pummeled its way through the Pac-12 again behind Ogwumike's fabulous senior season. She has increased her scoring (21.6) and rebounding (10.6) averages, plus is shooting a career-best 82.2 percent from the foul line. About the only one who can hang with Nneka on the boards is sister Chiney.
Elena Delle Donne, F/G, junior, Delaware: She'll get well-deserved consideration for player of the year, even though Griner appears to be the favorite. Delle Donne has blossomed as a nearly unstoppable offensive force, averaging a national-best 28.3 points per game with an amazingly versatile attack. The Blue Hens won the Colonial Athletic Association regular-season title at 18-0, and their 27 victories thus far is a school record.
G Skylar Diggins, G, junior, Notre Dame: After leading the Irish to the NCAA title game last season, her profile was raised nationally. The added attention hasn't hurt at all. This year, she has sparked Notre Dame to two victories against UConn and the program's first outright Big East regular-season title. Diggins is shooting 52.5 percent from the field while leading the Irish in scoring (17.4), assists (174) and steals (77).
Odyssey Sims, G, sophomore, Baylor: She never seems rattled, always having the right amount of energy and excitement that a team needs from its floor leader. Sims -- 14.7 ppg, 4.8 apg, 45.5 percent shooting from the field -- also has a propensity for making the big play right when needed and is an excellent defender. She and Diggins both see the floor so well.
Second team
Chiney Ogwumike, F, sophomore, Stanford: Little Sis has become, as expected, a force all her own. She is shooting nearly 60 percent from the field as she averages 16.1 ppg. She's getting 10.1 rpg, and hasn't fouled out this season after doing so four times as a freshman.
Julie Wojta, G/F, senior, Green Bay: The versatile Wojta (which is pronounced "white-UH") is the primary reason the Phoenix have had virtually no drop-off in success from last season's Sweet 16 team, despite two big losses to graduation. Green Bay is 26-1 behind Wojta's 19.6 ppg and 10.3 rpg.
Samantha Prahalis, G, senior, Ohio State: Give credit where it's due. She has been an emotionally stable leader as a senior, which was much-needed with the graduation of center Jantel Lavender. Prahalis is the Big Ten Player of the Year; her 20.4 ppg scoring average was second in the league to teammate Tayler Hill's 20.7, plus she led the conference in assists (6.5).
Shenise Johnson, G, senior, Miami: It would be hard for a player to do more for her team than Johnson does for the Hurricanes. She leads them in scoring (16.8), rebounding (7.9), assists (130) and steals (101), plus is shooting 45.3 percent from the field and 87.1 percent from the line.
Tiffany Hayes, G, senior, UConn: She still sometimes frustrates UConn coaches and fans with what seems a lack of "presence" in big moments. But the bar is wickedly high at UConn. So much so that what Hayes has done -- she's the leading scorer (15.9) and second-leading rebounder (5.7) on a team that's still going to get a NCAA No. 1 seed -- is too easily undervalued.