Category archive:

Stanford Cardinal
March, 31, 2012
03/31/12
3:13
PM ET
DENVER -- Who better than Connecticut coach Geno Auriemma to offer up a little expert analysis on Sunday's Baylor-Stanford game?
A. His Huskies team has played them both this season, defeating Stanford 68-58 in Hartford back on Nov. 21 and losing to Baylor 66-61 in Waco on December 18.
B. You knew he'd be willing.
"The big kid at Baylor is really good," said Auriemma, getting an easy laugh as he referred to Lady Bears star center Brittney Griner.
The Huskies' coach thinks this is a good matchup for the Cardinal.
"I think it's good because they haven't played each other," Auriemma said. "So Brittney and Odyssey Sims and Baylor, they don't know anything about how to defend Stanford. And Stanford's big kids don't know anything about playing against somebody like Brittney Griner."
Auriemma cautioned the people who think that Baylor is going to win with ease.
"I like this matchup, I really do," Auriemma said. "All the people that are saying this is a walk for Baylor, I don't think they are right.
"I'm not saying they're not going to win. I don't know who is going to win. But those people that say Baylor's got an 80 percent chance of winning tomorrow night? I think they are dead wrong. They might, but it's not going to be as easy as they think."
March, 9, 2012
03/09/12
1:07
PM ET
Stanford's Nneka and Chiney Ogwumike are at it again! Their latest song has hit the air/video waves just days before Selection Monday. Check it out (video courtesy of Cardinal Channel):
For more on Stanford women's basketball, check out espnW's Total Access series by Michelle Smith.
March, 5, 2012
03/05/12
12:28
AM ET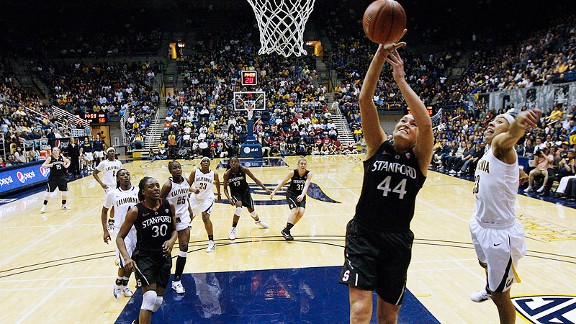 AP Photo/Marcio Jose SanchezJoslyn Tinkle scored 16 points Sunday for Stanford, which has won 24 consecutive games.
BERKELEY, Calif. -- Sunday's game between No. 2 Stanford and California meant nothing in the Pac-12 standings, affected not a single seed or matchup in the upcoming conference tournament.
But to say it meant nothing, well, that's simply not the case.
It meant something to Stanford, still in line for a No. 1 seed in the NCAA tournament after an 86-61 win in Haas Pavilion over the same Cal team that took it to overtime at home in late January.
It meant something to Cal (22-7, 13-4), the Bears still looking for one signature win for their NCAA résumé and smarting from a nationally televised pasting by their rival.
But the biggest question of the day is, what does it mean to the NCAA selection committee and its view of the Cardinal in the NCAA bracket?
Stanford coach Tara VanDerveer has been on the defensive for a few weeks now, advancing her opinion that her team has not been respected enough for what it has done this season -- a 28-1 record, 24 consecutive victories and a 79-game home-court winning streak.
But it's this last impressive stat that is the crux of the problem. Stanford has collected 75 straight wins over conference opponents, first in the Pac-10 and now in the new, but not-so-improved Pac-12.
So the question becomes, are the Cardinal padding their record against an inferior league, or are they just that much better than some decent teams? And does a 25-point victory over the second-place team in the Pac-12 cement the perception that the Cardinal are a powerhouse ready to go toe to toe with Baylor and Notre Dame, or show them to be the very biggest fish in a underwhelming pond?
"I hope people saw that we have a really strong team," VanDerveer said. "What do people look at? Yes, Nneka and Chiney [Ogwumike] are great players, we've got perimeter shooting, we worked really hard defensively -- Cal is an excellent offensive team -- I feel like we just need to keep everyone healthy. Our team knows we can play with anyone. We just want the chance."
"

Our team knows we can play with anyone. We just want the chance.

"

-- Stanford coach Tara VanDerveer
VanDerveer was upset several weeks ago when ESPN studio analyst Carolyn Peck suggested Duke should get consideration for a No. 1 seed because Stanford hadn't been challenged in the Pac-12, which has no other ranked teams and might get only two teams into the NCAA field. (Editor's note: Charlie Creme's March 5 Bracketology includes three Pac-12 teams, California, Stanford and Southern California.)
Over the past few days, in the San Francisco Chronicle, VanDerveer voiced frustration that her team likely will have to travel two time zones for the first and second rounds of the NCAA tournament, and could well end up playing on the home court of a lower seed -- while in all likelihood the other No. 1 seeds will be playing either at home (Notre Dame) or close to home on a neutral court (Connecticut in Bridgeport, Conn., and Baylor in Little Rock, Ark.).
But none of it would have mattered if the Cardinal couldn't win Sunday. Because a loss in Berkeley probably would have cost Stanford a No. 1 seed.
That scenario, however, was quickly irrelevant. Stanford ran to a double-digit lead less than nine minutes into the game, and led 43-24 at the half thanks to strong perimeter shooting (five first-half 3-pointers) and 19 points off nine Cal turnovers.
The Bears couldn't mount a comeback in the second half because they couldn't stop the Ogwumike sisters (who finished with a combined 34 points and 21 rebounds), and they didn't contain sophomore guard Toni Kokenis, who finished with 23 points, six rebounds and four assists. Junior post Joslyn Tinkle added 16 points and five blocks for Stanford, which also was 24-of-27 from the free throw line.
"I told Tara before the game that I almost called her after she made those comments to say 'Good for her,'" Cal coach Lindsay Gottlieb said. "If you put [the Cardinal] in any BCS conference, they are successful, they are at the top, they are really, really good. And I think the separator with them is that they have some of the best players in the country and they are incredibly well-coached. Period.
"I do think they don't get the credit they deserve, and I hope the rest of the country will not knock the conference, but give Stanford the respect that they deserve."
Cal has been a team on the fringes of the rankings all season. The Bears played close against Rutgers, Texas and Ohio State, and Stanford earlier in Pac-12 play, losing 74-71 in overtime at Maples.
But Stanford thoroughly outclassed the Bears on Sunday, and that's going to require a regroup heading into the conference tournament, where Stanford is an overwhelming favorite, and Southern California looms as a talented and desperate team that could be a dark horse candidate to snare the automatic bid.
"I hope that we can use this to teach us a lesson that we have to be the team that plays the hardest for 40 minutes," Gottlieb said. "Hopefully we can use this to kick-start us into the postseason."
March, 2, 2012
03/02/12
10:44
AM ET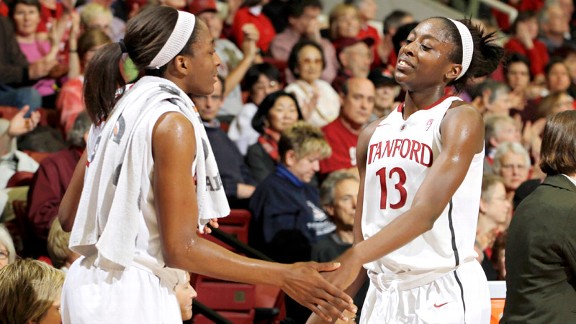 AP Photo/Paul SakumaNneka Ogwumike is an obvious pick, and sister Chiney is a second-team candidate.
There's no such thing as even one choice -- let alone five of them -- that will bring unanimous consent. But when you're talking All-Americans in women's basketball this particular season, the first team likely will get a lot of agreement.
After that, though, all heck breaks loose. You could justifiably choose any number of players for an All-American second team. In fact, you might not agree with any of my picks, and you might not be wrong. There really are that many candidates for those second five spots.
The first five are a lot easier. They have solidified themselves both with their individual performances and their teams' success in 2011-12. All five are from squads that won their conference's regular-season championship.
Only one is on the current list of finalists for the 2012 Olympics, but it wouldn't be a surprise to see all five of them play for Team USA at the Rio de Janeiro Games in 2016. In fact, you could even envision these five starting as a unit, because they could perfectly cover every spot on the floor.
One is a defensive presence like none other in the women's college game. One is the most exceptional rebounder of the group. One is a great scorer and extremely versatile. Two are highly efficient playmakers who can also rack up the points themselves.
So now, as we're just moving into the Month of Madness, here is a suggested "top 10" that is made up of two teams that could be put on the floor. (In other words, these aren't "three centers/two forwards" kind of squads.) Which 10 players actually will make up the State Farm All-America team that will be announced in Denver? We're sure at least some of them are included here.
First team
Brittney Griner, C, junior, Baylor: The numbers tell the story: 22.7 ppg, 9.7 rpg, 155 blocked shots. Baylor's opponents are shooting an average of just 30.7 percent from the field. Shooters get gun-shy or greatly rush shots because Griner is so intimidating defensively that foes start seeing her even when she isn't there. Of course, she's usually there. She's also an Olympic finalist.
Nneka Ogwumike, F, senior, Stanford: Coach Tara VanDerveer predicted that as good as Ogwumike was last year, this season she would be markedly better. That has proved true, as Stanford has pummeled its way through the Pac-12 again behind Ogwumike's fabulous senior season. She has increased her scoring (21.6) and rebounding (10.6) averages, plus is shooting a career-best 82.2 percent from the foul line. About the only one who can hang with Nneka on the boards is sister Chiney.
Elena Delle Donne, F/G, junior, Delaware: She'll get well-deserved consideration for player of the year, even though Griner appears to be the favorite. Delle Donne has blossomed as a nearly unstoppable offensive force, averaging a national-best 28.3 points per game with an amazingly versatile attack. The Blue Hens won the Colonial Athletic Association regular-season title at 18-0, and their 27 victories thus far is a school record.
G Skylar Diggins, G, junior, Notre Dame: After leading the Irish to the NCAA title game last season, her profile was raised nationally. The added attention hasn't hurt at all. This year, she has sparked Notre Dame to two victories against UConn and the program's first outright Big East regular-season title. Diggins is shooting 52.5 percent from the field while leading the Irish in scoring (17.4), assists (174) and steals (77).
Odyssey Sims, G, sophomore, Baylor: She never seems rattled, always having the right amount of energy and excitement that a team needs from its floor leader. Sims -- 14.7 ppg, 4.8 apg, 45.5 percent shooting from the field -- also has a propensity for making the big play right when needed and is an excellent defender. She and Diggins both see the floor so well.
Second team
Chiney Ogwumike, F, sophomore, Stanford: Little Sis has become, as expected, a force all her own. She is shooting nearly 60 percent from the field as she averages 16.1 ppg. She's getting 10.1 rpg, and hasn't fouled out this season after doing so four times as a freshman.
Julie Wojta, G/F, senior, Green Bay: The versatile Wojta (which is pronounced "white-UH") is the primary reason the Phoenix have had virtually no drop-off in success from last season's Sweet 16 team, despite two big losses to graduation. Green Bay is 26-1 behind Wojta's 19.6 ppg and 10.3 rpg.
Samantha Prahalis, G, senior, Ohio State: Give credit where it's due. She has been an emotionally stable leader as a senior, which was much-needed with the graduation of center Jantel Lavender. Prahalis is the Big Ten Player of the Year; her 20.4 ppg scoring average was second in the league to teammate Tayler Hill's 20.7, plus she led the conference in assists (6.5).
Shenise Johnson, G, senior, Miami: It would be hard for a player to do more for her team than Johnson does for the Hurricanes. She leads them in scoring (16.8), rebounding (7.9), assists (130) and steals (101), plus is shooting 45.3 percent from the field and 87.1 percent from the line.
Tiffany Hayes, G, senior, UConn: She still sometimes frustrates UConn coaches and fans with what seems a lack of "presence" in big moments. But the bar is wickedly high at UConn. So much so that what Hayes has done -- she's the leading scorer (15.9) and second-leading rebounder (5.7) on a team that's still going to get a NCAA No. 1 seed -- is too easily undervalued.
February, 24, 2012
02/24/12
9:33
AM ET
For years, the Academy Awards conflicted with March Madness, so it was great when the show moved to February. Sure, some folks think the Oscars are bloated and phony and over-the-top, and thus unwatchable. But … those are pretty much exactly the same reasons that I love to watch the show.
I've seen six of the Best Picture candidates, but nine are nominated, and I'm not going to get to all of them before Sunday. Or ever, in the case of "War Horse." Young man separated from his beloved horse, then both must go through the ravages of World War I? No thanks. I teared up enough at the reunited Muppets singing "Rainbow Connection" again.
So what does the Academy Awards show have to do with the coach of the year race in women's basketball? Nothing, really. It's just that the Oscars are Sunday, and I enjoy making these forced links to one of the few areas of pop culture in which I still attempt to stay current.
Perhaps I should connect a coaching award to the Best Director nominees. But there are only five of those, and I have six coach nominees. Plus, some of my forced links are just to movie titles, not actually to what the movie was about. I really couldn't cheat that same way with using the names of the directors.
So here we go, by alphabetical order, with the Best Picture candidate the nominee represents (if only in my own mind). Then at the end, the Oscar winner … er, my pick right now for coach of the year.
Geno Auriemma, Connecticut: "War Horse"

Auriemma
Just because I won't see this movie doesn't mean I wouldn't vote for Auriemma. No matter what happens to UConn -- it has to face injuries and graduation the same way everybody does -- Auriemma's Huskies keep persevering, just like Joey the War Horse.
Auriemma lost a three-time Wade Trophy winner in Maya Moore to graduation. His top returning scorer was Tiffany Hayes (13.7 ppg last season), who never really had to fill a leadership role before.
He has needed to run a four-guard offense much of the time because of personnel, and that has required convincing 5-foot-11 Kelly Faris to play like she's about five inches taller. Because Auriemma is such a good maestro, he has been able to pull this off. Of course, it also has a lot to do with recruiting the type of player who will not balk at being placed out of her comfort zone.
Auriemma has a lot of talent, true. But who brought that talent there? How many teams could lose a player such as Moore, yet still have lost only three games going into late February and be on track for a No. 1 seed again?
Jim Crowley, St. Bonaventure: "Moneyball"

Crowley
This is the easiest link of all. Crowley really did read the book "Moneyball" by Michael Lewis about Oakland A's general manager Billy Beane; it subsequently was turned into a Brad Pitt movie.
The book helped inspire Crowley to develop the system that has the Bonnies currently at 26-2 overall and 13-0 in the Atlantic 10.
It's too simplistic to say Crowley's emphasis is on taking care of the ball. But limiting turnovers is one of the principal tenets for a program that's on its way to its first NCAA tournament berth. St. Bonaventure went to the WNIT last year.
The Bonnies now have won 20 games or more for four consecutive seasons, and this one is shaping up as the best of all in Crowley's 16 years at St. Bonaventure. He signed a contract extension this past summer to remain at the school through 2017.
Tina Martin, Delaware: "The Help"

Martin
You think you have no chance to sign the player who's not just best in your state, but possibly best in the country. She's off to "the" powerhouse up north. But guess what? She comes back home and starts playing on the volleyball team at your school.
You can barely contain yourself, but you don't pressure her at all. You want it to be so that when Elena Delle Donne does decide on her own to return to hoops, she will be comfortable with you and her new team.
Martin navigated that very well, along with balancing having a megatalent alongside the right kinds of players to "help" her.
You can't win with one player in basketball, no matter how good she is. Martin has put together the right mix of personalities, along with figuring out how best to maximize Delle Donne's ability, for the 25-1 Blue Hens.
Katie Meier, Miami: "The Descendants"

Meier
Meier played at Duke from 1985-90, having to miss a year rehabbing a knee injury. She then played overseas at a time when cellphones and email were still a few years away from being commonly used. So she experienced the slightly "older" era of women's basketball from which today's game has descended. But she also has a strong link to the present era as one of the still-rising stars in the coaching ranks.
She can trace her love and skill for basketball back to her late father, whom she never met, as he died in a plane crash four months before she was born. Gerry Meier played at DePaul, and those who knew him say his daughter looked and played a great deal like him.
Miami's rise under Meier has been fueled by guards Riquna Williams and Shenise Johnson, but they lost a major contributor when forward Morgan Stroman went down with an Achilles injury on Jan. 19. Even so, Meier has put the Hurricanes in position to potentially win the ACC.
Kim Mulkey, Baylor: "The Artist"

Mulkey
I actually know some folks who don't really watch women's hoops at all, except to see Mulkey. For her interesting apparel, sure, but also for the demonstrative pantomime and facial expressions that make it seem as if she could have been on the silver screen, circa 1925.
Mulkey as a silent-movie star? Admittedly, it's hard to imagine her or any coach being totally quiet on the bench. But the actors in silent movies weren't necessarily "silent," either. Audiences just couldn't hear them.
Nobody ever has that problem with Mulkey, especially not referees. But even if you did mute the sound on your TV during a Baylor game, Mulkey would entertain you.
"The Artist" appears to be the Best Picture favorite, and it should be: It's got two lovable leading characters (three if you count the dog) who must go through various difficulties to be together. The most basic, simple movie plot ever? Yes, but this amazing, sweet -- and silent -- film makes it seem fresh.
Baylor looks to be the favorite for the NCAA title. The Lady Bears have a ton of talent, led by Brittney Griner and Odyssey Sims, but somebody has to recruit it and orchestrate it. That's Mulkey.
Tara VanDerveer, Stanford: "Midnight in Paris"

VanDerveer
Coaches always have to look forward; they can't dwell in the past -- no matter how rosy that past might look in retrospect.
We're now approaching the 20-year anniversary of Stanford's last NCAA title. It seems kind of weird that it has been so long, considering the Cardinal have been in the Final Four the past four years. But indeed, when Stanford beat Western Kentucky in Los Angeles for the 1992 title, it was not only the most recent for VanDerveer, but also for the entire West Coast.
In the event that you haven't seen "Midnight in Paris," I don't want to reveal much of the plot, except to say that it concerns the way we can sometimes revere the past to the degree of missing what's in front of us.
VanDerveer has been the guiding hand behind one of the most consistently competitive women's hoops programs in the nation, one that -- as mentioned -- has carried the Pacific Time Zone flag.
The Cardinal lost starters Kayla Pedersen and Jeanette Pohlen to graduation. But once again Stanford is steamrolling the Pac-12 and in line for a No. 1 seed.
Others worthy of mention: "Extremely Loud & Incredibly Close"
Have to admit I didn't much care for this film -- the words contrived and manipulative come to mind -- but I chose the title to represent some of the folks who will have a loud cheering section for coach of the year and were close to making my ballot, too.
• UTEP's Keitha Adams: The Miners are 25-2 overall and 14-0 in Conference USA.
• Green Bay's Matt Bollant: Another coach hit by graduation, the Phoenix are 14-1 in the Horizon League and 24-1 overall.
• DePaul's Doug Bruno: Few coaches have lost as many players to injury this season -- including star Keisha Hampton -- as Bruno. Yet the Blue Demons are 20-8 and still in the upper half of the Big East.
• Gonzaga's Kelly Graves: Courtney Vandersloot has gone to the WNBA, but the Bulldogs are atop the West Coast Conference again at 13-2 and are 24-4 overall.
• Florida Gulf Coast's Karl Smesko: He has the Eagles soaring in the first season they are eligible for the Division I NCAA tournament. They are 25-2 overall and 17-0 in the Atlantic Sun.
• Penn State's Coquese Washington: In a difficult year for her university, she has led the Lady Lions to their first Big Ten regular-season title since 2004.
And if I had to vote right now, the winner would be …
Tina Martin, whose Delaware team has maintained its chemistry and its success thus far.
February, 17, 2012
02/17/12
12:13
AM ET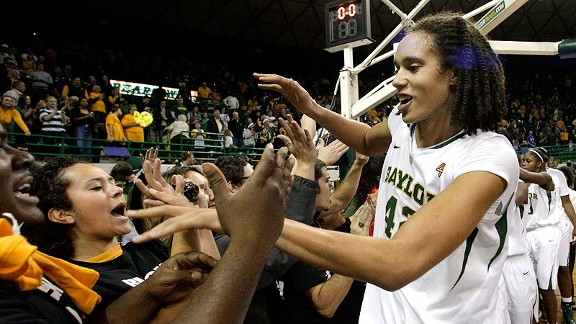 AP Photo/Tony GutierrezBrittney Griner, who simply doesn't have bad games, averages 23.1 ppg, 9.6 rpg and 5.4 bpg.
Remember Nike's "Little Rascals" commercials featuring WNBA stars? You don't? Well, then go to YouTube. If you do, recall the one in which the bossy little girl grills Cynthia Cooper for an explanation of why she pulled up for a 3-pointer on the break rather than passing to Tina Thompson on the block.
"Because I was open," an exasperated Cooper finally says. But that doesn't satisfy the kiddo.
In fact, Cooper could have said, "I could make a strong case for me taking the 3-pointer because I'm a great shooter, and I could also do the same for passing to my post player because she's terrific, too. Neither would have been a wrong decision, so I really shouldn't have to defend it."
Of course, that wouldn't have made such a funny commercial. But it's a pretty good answer much of the time when you're dealing with a variety of topics, including player or coach of the year in various sports. There is usually more than one qualified candidate, and good arguments can be made for each one.
However, in the end, if you're a voter for such an award, you have to make a decision. And in regard to national player of the year, if the vote was right now, I would pick Baylor center Brittney Griner.
What about Stanford senior post player Nneka Ogwumike? Notre Dame junior guard Skylar Diggins? Delaware junior guard/forward Elena Delle Donne? Each of them will get votes, and those absolutely can be justified.
I was leaning toward Ogwumike in the preseason, and she hasn't done anything at all to lose the award. But Griner still has moved to the top of the list. In the end, I keep coming back to this: Has any player performed more consistently at a higher level and led her team to more success this season than Griner? It's still a close call, isn't it?
But Baylor, ranked No. 1, is 26-0 overall and 13-0 in the Big 12. Since the Lady Bears' toughest matchup of the season -- the 66-61 victory over UConn on Dec. 18 in Waco, Texas -- Baylor has had just one game decided by fewer than double digits. That was a 72-64 win at Texas Tech on Jan. 18.
Baylor is outscoring its foes by an average of 80.4 to 50.8 this season. Baylor is on its way to being the third Big 12 team to go undefeated in league play -- following Oklahoma in 2006 and Nebraska in 2010 -- and also projects to be stronger in the NCAA tournament than those squads, both of whom lost in the Sweet 16.
Throughout this run of perfection, Griner -- named Monday as one of the 21 finalists for the U.S. Olympic women's hoops team -- has been like clockwork. Through the most recently updated NCAA statistical rankings on Sunday, Griner is seventh in scoring and first in blocked shots. She's in the top 35 on the boards, in part because that's a chore she shares with two other very good rebounders for Baylor: Destiny Williams and Brooklyn Pope. Griner has not fouled out this season.
She simply doesn't have bad games, with averages of 23.1 points, 9.6 rebounds and 5.4 blocks. Although it's true you could say that about the other top candidates for player of the year, too, as all of them have their teams atop their respective conferences.
Delle Donne, who is such a complete, versatile player, is going to have some support for sure in challenging Griner for the award. The 6-foot-5 Delle Donne seems to keep getting stronger as the season wears on.
She is averaging a Division I-leading 28.8 points for the Blue Hens, who are in front of the Colonial Athletic Association at 14-0. She's also getting 10.4 rebounds per game.
Thursday, she had a monster of a game: 42 points, 14 rebounds and six blocked shots against Hofstra, a worthy league opponent, in an 89-79 victory. Delle Donne now has scored 40 points or more four times this season.
Her numbers are majorly eye-popping, especially considering her CAA opponents have tried all possible defenses to stop her, save putting her in handcuffs. (If Hofstra had tried that, she probably would have scored only 24 points.)
Diggins' Irish suffered an unexpected loss to West Virginia, but they are still 12-1 in the Big East with another matchup coming Feb. 27 against UConn, which is 11-1 in the league.
Diggins is averaging 17.2 points, 5.8 assists, 2.9 rebounds and 2.5 steals. In Notre Dame's two losses, to Baylor and West Virginia, Diggins still scored 27 and 32 points, respectively.
At this point, the Stanford fans are probably jumping up and down screaming, "What about Nneka?" Your frustration is understandable. You aren't too happy that folks accidentally still keep calling the conference the "Pac-10" (it's kind of a hard habit to break, though, at least for the first season) and that doubters continue to question the difficulty of Pac-12 competition. Why should Stanford be penalized for crushing the league again?
Nneka Ogwumike is averaging 22.3 points and 10.7 rebounds. Not far behind is her sophomore sister, Chiney (16.0 ppg, 10.3 rpg), who seems certain to be a candidate for national player of the year next season.
The Cardinal are 13-0 in the Pac-12, far and away in the lead. Their only loss of the season was in November to Connecticut at the XL Center in Hartford.
Would you be wrong to go with any of these four -- Griner, Nneka Ogwumike, Diggins or Delle Donne -- as your player of the year? Not at all. And let's also reiterate that this decision doesn't have to be made today, we're still just in mid-February.
But the leader of the pack is Griner. With several great choices, she's still the favorite.
Midseason award candidates
Wade Trophy watch (33): LaSondra Barrett, LSU; Alex Bentley, Penn State; Cierra Bravard, Florida State; Carolyn Davis, Kansas; Elena Delle Donne, Delaware; Skylar Diggins, Notre Dame; Jasmine Dixon, UCLA; Stefanie Dolson, Connecticut; Brittney Griner, Baylor; Keisha Hampton, DePaul; Bria Hartley, Connecticut; Tiffany Hayes, Connecticut; Tayler Hill, Ohio State; Jordan Hooper, Nebraska; Glory Johnson, Tennessee; Shenise Johnson, Miami; Anna Martin, DePaul; A'dia Mathies, Kentucky; Natalie Novosel, Notre Dame; Chiney Ogwumike, Stanford; Nneka Ogwumike, Stanford; Devereaux Peters, Notre Dame; Samantha Prahalis, Ohio State; Jaime Printy, Iowa; Monique Reid, Louisville; Sugar Rodgers, Georgetown; Khadijah Rushdan, Rutgers; Odyssey Sims, Baylor; Shekinna Stricklen, Tennessee; Alyssa Thomas, Maryland; Tyra White, Texas A&M; Riquna Williams, Miami; Julie Wojta, Green Bay.
Wooden Award watch list (20): Alex Bentley, Penn State; Elena Delle Donne, Delaware; Skylar Diggins, Notre Dame; Shante Evans, Hofstra; Brittney Griner, Baylor; Bria Hartley, Connecticut; Glory Johnson, Tennessee; Shenise Johnson, Miami; A'dia Mathies, Kentucky; Kaleena Mosqueda-Lewis, Connecticut; Natalie Novosel, Notre Dame; Chiney Ogwumike, Stanford; Nneka Ogwumike, Stanford; Samantha Prahalis, Ohio State; Sugar Rodgers, Georgetown; Odyssey Sims, Baylor; Shekinna Stricklen, Tennessee; Alyssa Thomas, Maryland; Elizabeth Williams, Duke; Riquna Williams, Miami.
Naismith early season watch list (51; from November): LaSondra Barrett, LSU; Alex Bentley, Penn State; Cierra Bravard, Florida State; Brittany Carter, Memphis; Sydney Carter, Texas A&M; Carolyn Davis, Kansas; Elena Delle Donne, Delaware; Skylar Diggins, Notre Dame; Stefanie Dolson, Connecticut; Aaryn Ellenberg, Oklahoma; Shante Evans, Hofstra; Casey Garrison, Missouri State; Jacki Gemelos, Southern California; Briana Gilbreath, Southern California; Chelsea Gray, Duke; Brittney Griner, Baylor; Keisha Hampton, DePaul; Whitney Hand, Oklahoma; Bria Hartley, Connecticut; Tiffany Hayes, Connecticut; Courtney Hurt, Virginia Commonwealth; Jasmine James, Georgia; Shenise Johnson, Miami; Lykendra Johnson, Michigan State; Glory Johnson, Tennessee; Lynetta Kizer, Maryland; Maggie Lucas, Penn State; Kevi Luper, Oral Roberts; A'dia Mathies, Kentucky; Natalie Novosel, Notre Dame; Chiney Ogwumike, Stanford; Nneka Ogwumike, Stanford; Shey Peddy, Temple; Devereaux Peters, Notre Dame; Samantha Prahalis, Ohio State; Jaime Printy, Iowa; Justine Raterman, Dayton; Monique Reid, Louisville; Sugar Rodgers, Georgetown; Khadijah Rushdan, Rutgers; Shoni Schimmel, Louisville; Naama Shafir, Toledo; Meighan Simmons, Tennessee; Odyssey Sims, Baylor; Kayla Standish, Gonzaga; Da'Shena Stevens, St. John's; Shekinna Stricklen, Tennessee; April Sykes, Rutgers; Alyssa Thomas, Maryland; Tyra White, Texas A&M; Riquna Williams, Miami.
January, 2, 2012
01/02/12
1:16
PM ET
There's no surprise among the No. 1 seeds, which would be Baylor, Connecticut, Notre Dame and Stanford. But which teams join Maryland as a No. 2? ESPN.com's Charlie Creme gives us a brief Bracketology update, with a full field of 64 coming Jan. 9.
April, 3, 2011
04/03/11
11:22
PM ET
Texas A&M's Sydney Colson talks about the final drive and winning basket against Stanford, and the hard screen she ran into earlier in the game.
Texas A&M's Sydney Carter talks about the Aggies' defense and the final basket by teammate Tyra White.
Texas A&M's Adaora Elonu talks about the Aggies' ability to limit two of Stanford's interior threats in her team's national semifinal victory Sunday.
April, 2, 2011
04/02/11
4:46
PM ET
Stanford's Kayla Pedersen talks about the versatility of Stanford's offense going against a tough Texas A&M defense in the national semifinals.
Texas A&M's Adaora Elonu talks about the challenges Stanford presents defensively for the Aggies.
Stanford's Chiney Ogwumike talks about the importance of defense in the matchup with Texas A&M in the Final Four.
Texas A&M guard Sydney Colson discusses her career and the program's first Final Four.
Texas A&M senior Maryann Baker explains Aggie traditions, incluing "Gig 'em" and what a "2 percenter" is.
March, 30, 2011
03/30/11
12:42
PM ET
With two No. 1 seeds and a pair of 2-seeds in the women's Final Four, 3,751 brackets (0.01 percent) in the Women's Tournament Challenge had the correct four teams.
Upsets by No. 2 seeds Notre Dame (beating top-seeded Tennessee in the Dayton Regional final) and Texas A&M (knocking off Baylor and Brittney Griner in the Dallas Regional final) might have accounted for most brackets -- 119,976 -- getting just two of the Final Four teams.
[+] Enlarge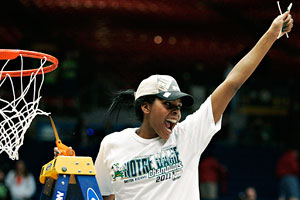 AP Photo/Skip PetersonTen years after winning the NCAA title, Notre Dame is back in the Final Four.
Of the teams that reached the Final Four, two-time defending champion Connecticut was the team picked most to hoist the 2011 trophy, at 51.5 percent. Stanford was the second-most popular pick at 13.8 percent, followed by Notre Dame (1.2 percent) and Texas A&M (0.9 percent).
Sunday's Connecticut-Notre Dame matchup (ESPN, 9 p.m. ET) was picked correctly in 19.6 percent of all brackets, with 90.3 percent of them tabbing the Huskies to win. The Stanford-Texas A&M matchup (ESPN, 7 p.m. ET) was found in 8.2 percent of all brackets; 77.4 percent of those brackets predicted Stanford to win.
A look at the brackets' potential title-game matchups:
• Connecticut versus Stanford: 31.1 percent of brackets; 70 percent of those brackets picked Connecticut.
• Connecticut versus Texas A&M: 2.4 percent; 79 percent of those brackets picked Connecticut.
• Notre Dame versus Stanford: 1.2 percent; 65 percent of those brackets picked Stanford.
• Notre Dame versus Texas A&M: 0.2 percent; 56 percent of those brackets picked Notre Dame.