Category archive:

Texas A&M Aggies
March, 24, 2012
03/24/12
9:47
PM ET
RALEIGH, N.C. -- A few things I'll be watching at Sunday's regional semifinals:
(3) Texas A&M vs. (2) Maryland
ESPN/ESPN3, noon ET Sunday
Star power: Maryland's Alyssa Thomas will be the best player on the floor, but Texas A&M's Sydney Carter is a ferocious defender. If you want to teach a kid how to play hard, have him/her watch these two stars.
Stat power: Rebounds. The Terps are second in the country in rebounding margin (plus-13.9). The Aggies will have to focus on keeping the Maryland bigs off the boards.
What I'm looking for:
1. A&M "defensive coordinator" Vic Schaefer is one of the best defensive minds in the game. What can he come up with to slow down Thomas and the Maryland backcourt?
2. Who will dominate inside? Will it be A&M's Kelsey Bone or Tianna Hawkins and Lynetta Kizer for Maryland?
3. How will the game be officiated? Maryland is a different team with Thomas in foul trouble. She picked up early ones versus Louisville and it affected her the rest of the game.
(5) St. Bonaventure vs. (1) Notre Dame
ESPN2/ESPN3, 2:30 p.m. ET Sunday
Star power: Notre Dame's Skylar Diggins is one of the best point guards in the nation, but the Bonnies' Jessica Jenkins might be the purest shooter.
Stat power: Turnovers. The Fighting Irish force 22.8 turnovers a game, but St. Bonaventure leads the nation in fewest giveaways at only 12 a game.
What I'm looking for:
1. Will Notre Dame have any difficulty defending the Bonnies' 5-out motion offense? (I'll let you in on a secret: No big really likes defending on the perimeter.)
2. Will St. Bonaventure -- playing in its first NCAA tournament -- be able to keep the game close for a while? It is undersized and doesn't have much tournament experience, but plays as well together as any team in the tourney.
3. Does Megan Van Tatenhove's family really own a cheese factory? (Tune in to get the answer to that one.)
March, 10, 2012
03/10/12
5:06
PM ET
Texas A&M's Kelsey Bone talks about how well Baylor played as a team in the Big 12 title game.
Texas A&M's Sydney Carter talks about why opposing guard Odyssey Sims is so effective.
Baylor coach Kim Mulkey talks about how sophomore point guard Odyssey Sims has improved her game.
Baylor's Odyssey Sims and Brittney Griner talk about their Big 12 title and focusing now on the NCAA tournament.
March, 9, 2012
03/09/12
8:40
PM ET
Texas A&M's Kelsey Bone talks about taking on fellow Houston native Brittney Griner and Baylor in the Big 12 championship game.
KANSAS CITY, Mo. -- On Saturday, Texas A&M will play in its fifth consecutive Big 12 women's championship game. It will also be the last one for the Aggies.
They are leaving for the SEC after this school year, a decision Texas A&M coach Gary Blair wishes hadn't been made. He has loved his time in the Big 12 -- the rivalries that have been built in women's basketball because of the elevation of the program, and the friendships as well.
However, money, ego and bad blood trumped tradition and geographic common sense, and the Aggies are on their way out. But before they go, there will be at least one more showdown between Baylor and Texas A&M, the schools that have played in two previous Big 12 finals.
Baylor won both of those. In fact, the Lady Bears have won 10 of their past 11 games against the Aggies. The exception, though, was really the biggest: last season's Elite Eight matchup in Dallas, which Texas A&M won 58-46 on its way to the NCAA championship.
"I think the committee will agree that these two teams should not have to be in the same region," Blair said of the upcoming NCAA tournament. "Last year, it worked to our advantage. This year, I would rather go see [Sydney] Colson in Poland than go to Baylor's region again."
Colson, who is playing professionally overseas, was the Aggies' high-energy, big-personality point guard last season. That job has been more by committee this season, with freshman Alexia Standish and junior Adrienne Pratcher filling the role a lot, along with combo guard Sydney Carter.
In Friday's 79-66 victory over No. 2 seed Oklahoma in the Big 12 tournament semifinals, No. 3 seed Texas A&M also got a lift from another guard, senior Skylar Collins. She had 15 points as one of four Aggies who scored in double figures, led by Kelsey Bone with 16.
Bone and the Aggies will have their hands full Saturday (tipoff is noon ET) with Baylor's Brittney Griner, who scored 45 points in the Lady Bears' semifinal win over Kansas State. But Bone, who played her freshman season at South Carolina and sat out as a transfer last season, said Saturday's matchup should not be viewed as a one-on-one battle of premier centers. Texas A&M will use all its depth at center/forward -- including Bone, Adaora Elonu, Karla Gilbert, Kelsey Assarian and Kristi Bellock -- to counter Griner.
"They are a great defensive team, and Brittney doesn't just control the paint. She controls the whole floor," Bone said. "Everybody on our team has to do their job against them."
Griner and Bone are both from Houston, but didn't face off until they were in high school, when they played twice. Bone played much more often in her prep/AAU days against two other post stars from the Houston area: Nneka and Chiney Ogwumike, who on Friday led Stanford into Saturday's Pac-12 final.
"I still remember the first time Brittney and I played against each other, because it wasn't that long ago," Bone said. "There's a lot of hype that surrounds the two of us when we go against each other. But it really doesn't come down to us when we play each other at this level. In high school, it kind of did.
"But at this level, it comes down to the whole cast of players. Brittney is going to get her points. We have to contain Odyssey [Sims] a little more, Destiny [Williams]. If we can do that, we stand a chance. Brittney and I are going to battle, but it will be decided by the entire team that's the best on that day we meet."
That said, Bone acknowledges that it's neat to have this kind of marquee matchup with Griner.
"That's what you play for," Bone said. "I've been playing since I was 10, and growing up, I always saw UConn and Tennessee. There are other rivalries now. And for Brittney and I both to be playing for Texas schools and representing Houston -- that's fun. It's good for the game."
Texas A&M's Adaora Elonu talks about the Aggies playing in their fifth consecutive Big 12 title game.
March, 9, 2012
03/09/12
3:22
AM ET
Baylor coach Kim Mulkey talks about the differences between Thursday's runaway72-48 victory over Texas Tech and the two previous games the teams played this season that were close.
Odyssey Sims talks about how well prepared Baylor was to face Texas Tech in the Big 12 quarterfinals on Thursday.
March, 9, 2012
03/09/12
3:05
AM ET
Texas A&M senior guard Sydney Carter talks about the Aggies' Big 12 tournament-opening victory over Kansas and how she has helped tutor freshman Alexia Standish, who had 25 points versus the Jayhawks.
KANSAS CITY, Mo. -- There was a lot of familiarity in how Thursday's Big 12 tournament quarterfinals played out. The three teams who've all been to the Final Four in the past two seasons -- Baylor, Oklahoma and 2011 national champ Texas A&M -- advanced to Friday's semifinals, where they'll be joined by Kansas State.
Meanwhile Kansas, which hasn't been to the NCAA tournament since 2000, is left to sweat it out until Selection Monday with a glimmer of hope at 19-12.
We've been here before, right? Oh, yeah. This is my 16th Big 12 tournament, and the narrative of the past several years hasn't changed that much. What's different, though, is now there are just 10 teams, two of whom are departing after this season.
Texas A&M and Missouri will head to the SEC, and the Tigers have officially played their last game as a Big 12 team. They gave Oklahoma a scare for a little more than a half, but the Sooners rallied for a 70-59 victory. The No. 10 seed Tigers' season ends at 13-18, and so concludes an era.
Missouri was a successful team in the old Big Eight, winning the league tournament title four times. But in the Big 12 era, which began in 1996-97, the Tigers never even made it to the league tourney final. Now they will try their luck in the SEC. It's going to be quite a challenge.
No. 2 seed Oklahoma, meanwhile, bounced back from a very surprising home loss to Kansas to end the regular season. Next up for the Sooners is Texas A&M, which also lost its regular-season finale. The Aggies fell at Texas -- "It hurt my soul to lose to them twice this year," said Texas A&M senior guard Sydney Carter -- and came into this tournament looking to find their championship selves.
They encountered a Kansas team that really needed a win for its NCAA hopes, but didn't get it. The Aggies pulled away down the stretch, 78-63. Texas A&M did it without senior Tyra White, who's dealing with a foot injury. She had started all but two games in the past three seasons, and Texas A&M coach Gary Blair dreaded playing without her.
"It killed me; I was in a horrible mood," Blair said. "[But] somehow, I believed in our kids. We had great guard play today."
Indeed they did, as freshman guard Alexia Standish scored a team-high 25 points and Carter added 18 points, seven rebounds and eight assists (with no turnovers). Center Kelsey Bone had 16 points and forward Adaora Elonu 13. That's what Blair always wants to see from the Aggies: four players in double figures.
Will they be able to do that against Oklahoma, especially if White is still unable to play? The Aggies split their regular-season meetings with the Sooners, winning 75-58 at home in January, and losing 64-55 in Oklahoma in February.
Texas A&M will be trying to make its fifth consecutive Big 12 final, having won the title in 2008 and '10, and finishing runner-up in 2009 and last year. Both those championship-game losses were to Baylor, which is trying to win its fourth Big 12 tournament title.
Baylor, the undefeated No. 1 seed, pounded No. 9 seed Texas Tech 72-48 Thursday, preventing the game from being anything like the two close contests between the two teams during the regular season.
Friday, the Lady Bears face No. 5 seed Kansas State, which topped No. 4 Iowa State 67-63 in Thursday's best game at Municipal Auditorium. Jalana Childs set a K-State school record for a Big 12 tournament game with 31 points. She also had 10 rebounds. She and the Wildcats will need all that and then some against Baylor, which beat K-State 76-41 and 70-41 in their two meetings this season.
April, 6, 2011
04/06/11
12:42
AM ET
ESPN.com's Mechelle Voepel and Charlie Creme talk about the keys to the Texas A&M's victory and predict both A&M and Notre Dame will be among the top teams next year, too.
Texas A&M's Danielle Adams talks about how she and fellow Kansas Citian Tyra White helped the Aggies win the national championship.
Texas A&M's Adaora Elonu talks about the Aggies' improved defense in the second half of the championship victory over Notre Dame.
Aggies senior Maryann Baker talks about what it means to the A&M community to win an NCAA basketball championship. They had a "maroon-out" on campus Tuesday as everyone was encouraged to wear the school colors.
Texas A&M's Tyra White talks about making the game-winner as the shot clock expired.
Sydney Carter talks about winning the NCAA championship and White's clutch shooting.
Associate head coach Vic Schaefer talks about Texas A&M's defense and Sydney Colson surviving foul trouble.
Colson talks about the adjustments Texas A&M made in the second half.
April, 4, 2011
04/04/11
2:35
PM ET
Texas A&M's Sydney Colson talks about the challenge of defending Notre Dame and her partnership in the backcourt with Sydney Carter.
Texas A&M's Sydney Carter discusses guarding left-handed Skylar Diggins in Tuesday's national championship game.
Junior guard Natalie Novosel says nothing intimidates Notre Dame and discusses her offseason improvements.
Texas A&M coach Gary Blair talks about he and coach Muffet McGraw's similarities as coaches.
Notre Dame assistant Niele Ivey talks about playing for a national championship for coach Muffet McGraw and coaching alongside her in pursuit of a title.
Notre Dame's Natalie Achonwa talks about what she has learned from Irish coach Muffet McGraw.
Texas A&M senior Maryann Baker talks about what the Aggies learned from losses this season, but also in their past three NCAA tournament appearances.
Texas A&M's Adaora Elonu talks about how the Aggies' loss to Kansas State during conference play helped refocus the team.
Brittany Mallory talks about what swings the momentum in Notre Dame's favor during games.
April, 3, 2011
04/03/11
11:22
PM ET
Texas A&M's Sydney Colson talks about the final drive and winning basket against Stanford, and the hard screen she ran into earlier in the game.
Texas A&M's Sydney Carter talks about the Aggies' defense and the final basket by teammate Tyra White.
Texas A&M's Adaora Elonu talks about the Aggies' ability to limit two of Stanford's interior threats in her team's national semifinal victory Sunday.
April, 2, 2011
04/02/11
4:46
PM ET
Stanford's Kayla Pedersen talks about the versatility of Stanford's offense going against a tough Texas A&M defense in the national semifinals.
Texas A&M's Adaora Elonu talks about the challenges Stanford presents defensively for the Aggies.
Stanford's Chiney Ogwumike talks about the importance of defense in the matchup with Texas A&M in the Final Four.
Texas A&M guard Sydney Colson discusses her career and the program's first Final Four.
Texas A&M senior Maryann Baker explains Aggie traditions, incluing "Gig 'em" and what a "2 percenter" is.
March, 30, 2011
03/30/11
12:42
PM ET
With two No. 1 seeds and a pair of 2-seeds in the women's Final Four, 3,751 brackets (0.01 percent) in the Women's Tournament Challenge had the correct four teams.
Upsets by No. 2 seeds Notre Dame (beating top-seeded Tennessee in the Dayton Regional final) and Texas A&M (knocking off Baylor and Brittney Griner in the Dallas Regional final) might have accounted for most brackets -- 119,976 -- getting just two of the Final Four teams.
[+] Enlarge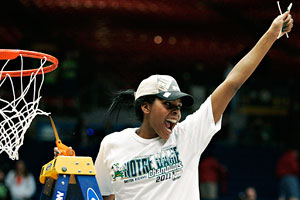 AP Photo/Skip PetersonTen years after winning the NCAA title, Notre Dame is back in the Final Four.
Of the teams that reached the Final Four, two-time defending champion Connecticut was the team picked most to hoist the 2011 trophy, at 51.5 percent. Stanford was the second-most popular pick at 13.8 percent, followed by Notre Dame (1.2 percent) and Texas A&M (0.9 percent).
Sunday's Connecticut-Notre Dame matchup (ESPN, 9 p.m. ET) was picked correctly in 19.6 percent of all brackets, with 90.3 percent of them tabbing the Huskies to win. The Stanford-Texas A&M matchup (ESPN, 7 p.m. ET) was found in 8.2 percent of all brackets; 77.4 percent of those brackets predicted Stanford to win.
A look at the brackets' potential title-game matchups:
• Connecticut versus Stanford: 31.1 percent of brackets; 70 percent of those brackets picked Connecticut.
• Connecticut versus Texas A&M: 2.4 percent; 79 percent of those brackets picked Connecticut.
• Notre Dame versus Stanford: 1.2 percent; 65 percent of those brackets picked Stanford.
• Notre Dame versus Texas A&M: 0.2 percent; 56 percent of those brackets picked Notre Dame.