Category archive:

St. John's Red Storm
March, 22, 2011
03/22/11
2:12
AM ET
Stanford successfully protected Maples Pavilion for the 63rd time in a row Monday. Next, the Cardinal's objective will be to protect the glass and their style of play.
That's because No. 5 seed North Carolina will try to get the Cardinal into an up-and-down battle of possessions in their Spokane Regional semifinal on Saturday. It's not that Stanford can't win that way, but the Cardinal would prefer to do it with a more disciplined and controlling offense. Also, the Tar Heels hit the boards hard from all positions, and Stanford will have to counter that.
Spokane Regional No. 1 seed Stanford got off to a bit of a slow start against St. John's in Monday's second round, but then floored it. Stanford left the Red Storm in a cloud of dust, surging to a 75-49 victory behind Nneka Ogwumike's 22 points.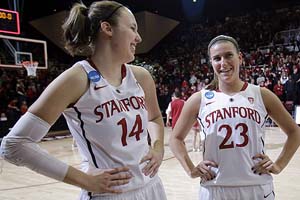 AP Photo/Paul SakumaKayla Pedersen and Jeanette Pohlen never lost at Maples Pavilion in their careers. Stanford has won 63 straight there.
Meanwhile in Albuquerque, N.M., the Tar Heels committed 22 turnovers to No. 4 seed Kentucky's eight, but were the far more successful attacking team. North Carolina was 27 of 30 from the foul line in an 86-74 victory.
The Tar Heels have been a little all over the map in the last month, losing four in a row to end the regular season, then making the ACC tournament title game where they fell to rival Duke, and now advancing to the Sweet 16.
Senior Jessica Breland had 18 points, 10 rebounds and five blocks for the Heels, who also got 22 points and seven rebounds from guard Italee Lucas.
If there's one thing that's usually consistent with North Carolina, it's how relentlessly the Tar Heels rebound. Monday, they walloped Kentucky on the boards, 52-23. Along with Breland, two other Tar Heels snagged 10 rebounds against the Wildcats: guards Krista Gross and Tierra Ruffin-Pratt.
That will be a concern for Stanford, but coach Tara VanDerveer's team has the personnel to be big on the glass, too. Freshman Chiney Ogwumike led Stanford with 12 rebounds against St. John's.
Kayla Pedersen and Chiney Ogwumike average 7.8 rebounds this season, while Nneka Ogwumike is at 7.7. Against North Carolina, the Cardinal might also need some help on the boards from Joslyn Tinkle, who had seven rebounds off the bench Monday.
March, 20, 2010
03/20/10
2:53
PM ET
Tennessee coach Pat Summitt uttered the De Niro-like "You talkin' to me?" line the other day. OK, it really wasn't said with Travis Bickle attitude and she was, um, only speaking to a teleconference operator to see if it was her turn to talk but still …
Tennessee means business. The eight-time national champs opened the NCAA tournament Saturday the way they always have … except last season, that is. The Orange Crush had never failed to advance to at least the NCAA Sweet 16 until last season's Knoxville-shaking 71-55 loss to No. 12 seed Ball State in the first round.
Summitt's team was almost immediately back in practice after that loss, worked harder than ever during the summer and re-established itself as the SEC's power with the regular-season and tournament titles.
Now a No. 1 seed for the 20th time in the 29 years of the NCAA tournament, Tennessee dismissed overwhelmed Austin Peay -- the alma mater of two of Summitt's brothers -- 75-42 on Saturday.
With that, Tennessee started its quest for a ninth title, and despite so much attention being focused on fellow No. 1 seed Connecticut's 72-game winning streak, it would be folly to dismiss Summitt as anything but a strong contender.
Tennessee knows it will need a consistent performance from center Kelley Cain, and she got off to a great start with 18 points on 9-of-11 shooting, with 12 rebounds and two blocked shots.
Guards Angie Bjorklund and Shekinna Stricklen combined for 26 points, and the Tennessee bench scored 23 points. Taber Spani, whom Summitt has praised for coming in more prepared than a "normal" freshman, began the season in the starting lineup but eventually moved to the bench as she dealt with a foot injury.
But Spani might be an important part of Tennessee's fate in the tournament, with her size, versatility and shooting potential as a reserve. Against Austin Peay, she had nine points, two rebounds and two assists.
So there wasn't much at all for Summitt to be upset about Saturday … which was not the case for Hartford coach Jen Rizzotti. The former UConn point guard has always been known as fiery, and Saturday her kettle boiled over. Rizzotti was ejected after her second technical, so she wasn't on the floor at the end as No. 10 seed Hartford fell to seventh-seeded LSU 60-39 in Durham, N.C.
The Hawks lost second-leading scorer and defensive standout Erica Beverly to an ACL injury suffered during the America East tournament semifinals. Hartford then fell to Vermont in the final, yet still got an NCAA at-large bid. But it wasn't a long stay for the Hawks, who held LSU to 32 percent shooting … but shot just 29.6 percent themselves.
St. John's, whose No. 6 seed is the program's best ever in the NCAA tournament, had no problem with Ivy League champ Princeton, winning 65-47. And now the Red Storm will try for a program first: winning two games in the same NCAA tournament.
The closest game to an upset among the four openers came from an expected source: No. 12 seed Bowling Green, which made the Sweet 16 as recently as 2007. The Falcons gave No. 5 seed Michigan State a lot to worry about, but the bigger Spartans prevailed 72-62 behind Aisha Jefferson's 17 points.
Michigan State survived a scare from a mid-major school in the first round last year, too, when the Spartans edged Middle Tennessee 60-59. Then, though, Michigan State knocked out the top seed in its region, Duke.
Michigan State has been to the Final Four before, in 2005 when it won the Kansas City Regional. This season, the Spartans are again in the KC region and will see what kind of run they can put together in 2010.
Meanwhile, Tennessee will not have to leave the Volunteer State if it is to make a 19th Final Four appearance. If Tennessee wins its second-round game in Knoxville, it moves across the state to the regional in Memphis.