Category archive:

Tennessee Lady Volunteers
March, 13, 2011
03/13/11
9:23
PM ET
Conference tournaments are wrapped up and all 31 automatic NCAA tournament berths are spoken for. So what can we expect on Selection Monday (ESPN, 7 p.m. ET)? Charlie Creme crunched the numbers for his final Bracketology. Here, he gives us the top eight teams in order, tells us why UCLA got a No. 2 seed over Notre Dame, and explains why three teams on the bubble didn't make the cut in his last projection.
February, 25, 2011
02/25/11
12:28
PM ET
Texas freshman Chassidy Fussell talks about the scoring load she has shouldered and adjusting to living in Austin after growing up in Tennessee.
Tennessee's Meighan Simmons talks about her role with the Lady Vols and playing for Pat Summitt.
February, 8, 2011
02/08/11
12:07
PM ET
Monday's top-25 results -- Duke's loss to North Carolina and Tennessee's victory over Kentucky -- helped make the picture pretty clear as to which teams would be No. 1 seeds if the bracket were released today. But the top seeds aren't drawing the biggest debate in Bracketology lately. A lot of eyes are on the Big 12, which is looking at just four tournament-worthy teams right now.
November, 29, 2010
11/29/10
9:46
AM ET
½
If you have observed the various Thanksgiving hoops tournaments over the years, you know one thing for sure about them: You can never really tell if they mean anything.
Usually, the events are in distracting warm-weather places, and it's early in the season, so weird things can happen that don't necessarily translate into any deeper meaning. Or sometimes … they end up foreshadowing things that do occur later in the season. Most of the time in regard to upsets, I think it's the former.
But it's going to be intriguing to see which is the case in regard to the most surprising upset of the holiday weekend: Georgetown's 69-58 victory over Tennessee on Saturday at the Paradise Jam in the Virgin Islands.
This would have been pretty noteworthy on its own, even with Georgetown ranked No. 12 and Tennessee No. 4. The programs had never met before, but these are the types of games Tennessee doesn't usually lose.
That seemed especially the case considering what happened in the previous games in the Reef Division of the Paradise Jam. On Friday, Missouri had upset Georgetown 54-45, while Tennessee had cruised 66-42 over Georgia Tech.
On Thursday, Tennessee had almost doubled up Missouri, 82-44, while Georgetown beat Georgia Tech 67-58.
Following Tennessee's dismantling of Missouri, a friend from high school who knew I covered women's basketball sent me a note on Facebook about how far Missouri, which is our alma mater, would have to go to compete with Tennessee.
And I wrote back that Missouri was so far from Tennessee as to be utterly incomparable when it comes to women's hoops programs. So how odd is it that Missouri would then actually beat a team that would then beat Tennessee?
Very odd, and even more so considering that after an early 2-2 tie, the Hoyas led the rest of the way against Tennessee, which struggled throughout, especially in regard to 29 turnovers. Georgetown's Sugar Rodgers scored 28 points and dictated the pace of the game.
The turnovers and the inability to slow the Hoyas' perimeter threats of Rodgers and Monica McNutt (13 points) -- those two players combined for nine 3-pointers -- have to be worrisome to Tennessee coach Pat Summitt.
So does the fact that Tennessee didn't play with the purpose that Summitt expects should be automatic by now. Those kinds of lapses happen to even really good teams, but they really shouldn't be happening to Tennessee now.
This is a group that has been through some disappointments in the past two seasons, especially in 2008-09 when there were a lot of young players. So you'd expect this would be a team especially wary of the very mistake Summitt said she thinks her players made: not being prepared for a challenge.
None of this is to take away from Georgetown's victory, though. The Hoyas beat Notre Dame last season when the Irish were ranked fourth in the country, and coach Terri Williams-Flournoy has been building her program to win games like this. Rodgers is clearly a special talent, and only a sophomore.
For women's basketball, this is great stuff. For Tennessee, though, it's a genuine concern. Do the Lady Vols really have the leadership that many figured would be there by now?
Tennessee's Shekinna Stricklen injured her back with just more than a minute left. Summitt said she thought Stricklen would be OK, but it just gave Tennessee another thing to be concerned about in leaving "Paradise."
Worst holiday?
TCU, which was in the Island Division of the Paradise Jam, lost all three of its games in the Virgin Islands: to West Virginia, Iowa State and Virginia. The Frogs, ranked No. 25 in the coaches' poll, will fall out of the rankings. But TCU has a tradition of playing difficult nonconference records and benefiting from that, even if it doesn't win the games.
Best holiday
No. 11 West Virginia moved to 6-0 with its three victories in the Paradise Jam Island Division. The Mountaineers topped TCU, Virginia and No. 17 Iowa State.
The 64-53 victory over the Cyclones was a triumph in game plan for West Virginia, which was focused on stopping Iowa State's traditional bread-and-butter: the 3-pointer.
The Cyclones had hit 14 3s in their victory over TCU, but made just two against West Virginia.
Iowa State coach Bill Fennelly wasn't upset about the trip, however, saying it was a very good experience for his young squad to face such good defensive teams this early.
Good journey for Heels
North Carolina is 7-0 after three victories at Hawaii's tournament, but so far the No. 15 Tar Heels' schedule has been a snoozer. That will change at least for Thursday as they get a visit from No. 21 Iowa. The Hawkeyes are also 7-0 after winning two games in the Caribbean Challenge in Mexico.
That was the event impacted by Purdue's having to cancel its participation after Boilermakers player Drew Mingo came down with meningitis.
The great news out of West Lafayette, Ind., on Sunday was that Mingo was released from the hospital. No one else with Purdue has contracted the sickness.
Purdue is back in action Thursday against visiting Maryland, which happens to be the program that Mingo transferred from after playing two seasons for the Terps.
Ms. Do-it-all
Stanford senior Kayla Pedersen had her kind of game Sunday: 19 points, 12 rebounds, five assists, three steals. Smaller Texas was able to do all right on the boards versus bigger Stanford (a 31-29 Cardinal edge), but coach Tara VanDerveer's squad offensively dominated a 93-78 victory against the No. 19 Longhorns.
VanDerveer is two wins from reaching the career mark of 800 victories, not that she's paying the slightest bit of attention to such milestones. Stanford takes a break now for final exams; the No. 2 Cardinal won't be in action again until Dec. 12 against Fresno State.
June, 21, 2010
06/21/10
2:01
PM ET
Do you ever think this "regulator" in your brain sometimes makes decisions for your own good? I envision this tiny, frequently exhausted bureaucrat running around in our craniums, trying to keep the whole body and mind happy, with a desk overflowing with paperwork and a phone ringing non-stop. Then one day …
It says, "Enough! I need a break! You need a break! I'm benching you!"
Of course, I'm not entirely serious about this … but I'm not exactly joking, either. If your body sends messages that your conscious mind continues to ignore, or at least underestimate, maybe your mind sends a message to the body: "Look, you're going to need to do something more drastic. She's not listening."
This occurred to me upon hearing the news that Candace Parker was going to be out for the rest of the WNBA season -- and, almost certainly, the World Championship in September -- after surgery on her dislocated left shoulder.
Maybe the regulator in Parker's brain made an executive decision: "Candace, take a seat. At least for a little while."
Parker, who has also gone through an ACL tear, has shown a huge capacity in her career for pain endurance, rehabilitation and playing through injuries. Her will to play has seemed to be greater than her instinct for self-preservation.
This is fairly common in athletes but not necessarily to the degree that we've seen it in Parker … or at least how Parker has combined an ability to juggle an enormous amount of responsibility while maintaining the highest level of play.
But probably many folks who've watched her have thought, "Wow, is she ever going to hit a wall?" I admit I have. While we hoped it wouldn't happen, in some ways, we're relieved it's happening now. Parker might come back from the injury rested, refreshed and more eager to play than ever.
While the idea that a part of one's mind forcing a person to slow down is likely not a process that is that literal, that's the shorthand I use for it. It's based on how I experienced it a dozen years ago.
At that point, I'd been working as a journalist for 10 years and had called in sick to work once when I had food poisoning. It irked me to miss that one day.
Then during one particularly insane stretch, I went from August 1997 to April '98 working virtually every day, often putting in double-digit hours. Two weeks after the 1998 Women's Final Four in Kansas City, I noticed this strange little mark on my shoulder. I wasn't sure what it was … until the nurse at the newspaper took a look and said, "You need to go home immediately. You have chicken pox."
"What?" I said. "No! I don't even feel sick!"
"Trust me, you will," she said. "Now, I'm not asking you, I'm telling you. Go home this instant!"
Of course, she was right, and it would be a month before I was allowed to come back to the newspaper, finally free of the last of the roughly 8 million pox that ended up covering me. (I missed the typically less-severe kid version and hit the "jackpot" with adult onset.)
In retrospect, I've wondered if my body was at its breaking point, and my brain was being an obstinate idiot about it, so it had to come up with something that would absolutely prevent me from going into work. Chicken pox did the trick.
Now, this might not be a similar thing with Parker. But it sure seems like it. When you look at the last three years for her, you can't help but think her body and mind finally conspired to shut her down to really recover.
From March 2007 to June 2010, Parker won two NCAA titles with Tennessee, was the WNBA's top draft pick by Los Angeles in 2008, earned the '08 WNBA MVP and rookie of the year awards, won an Olympic gold medal, competed in the WNBA playoffs, got married, had a baby daughter in May '09, came back to play in the '09 WNBA season, led L.A. to the Western Conference finals, went overseas to compete, returned as the face of the Sparks, was carrying the team and then …
Her shoulder, which had been an issue going back to her time in Knoxville, apparently had been through enough. On June 13 against Minnesota, she dislocated it again, and this time it was decided surgery was needed.
Parker had led Tennessee to the '08 NCAA championship despite that shoulder popping out twice during the regional final against Texas A&M. She just accepted the pain and played through it. She has been doing that ever since.
I think when athletes are enormously gifted physically, as Parker is, we sometimes don't give them the tags that we do less-talented players. For the latter, we say things like "scrappy," "doggedly determined" and "gamer." But the reality is, all those things apply to Parker.
Her dedication to basketball, her leadership of her team and her role as one of the most prominent faces in the WNBA and women's sports is so hard-wired, it's almost to the point of obstinacy. There's nothing Parker believes she can't handle … but maybe her shoulder is telling her, "It's OK. Take a few months. Let me heal. Let yourself rest. You're 24. There's lots of time left."
For the Sparks, yes, she is irreplaceable, especially right now with Lisa Leslie having retired after last season. Parker was averaging 20.6 points and 10.1 rebounds, and you're not going to find that in many other players anywhere in the league.
So Los Angeles' tough season just got tougher. The Sparks decided to go with a lot of veteran leadership and experience to complement Parker this year, and the plan has not worked out well thus far.
Does that mean the Sparks have no chance to salvage this season and make the playoffs? No, it doesn't. This team still has talent. I think it's a lot to ask Tina Thompson and DeLisha Milton-Jones to stave off the ravages of time and play as if they're five years younger than they actually are. But they are among the players in the WNBA that I think are capable of somehow doing that.
Maybe this is where we find out just how much growth potential and maturity there is in players such as Noelle Quinn, Kristi Toliver and Lindsay Wisdom-Hylton. They're all 25 or younger and should have pretty much boundless energy at this point in their careers. Parker being out, as devastating as it is, means there is a void to be filled that they should see as a tremendous opportunity.
Whatever happens with the Sparks, that is not Parker's worry now. This is a time to focus on taking care of herself and realize it's more than OK to do so. It's absolutely necessary.
March, 20, 2010
03/20/10
2:53
PM ET
Tennessee coach Pat Summitt uttered the De Niro-like "You talkin' to me?" line the other day. OK, it really wasn't said with Travis Bickle attitude and she was, um, only speaking to a teleconference operator to see if it was her turn to talk but still …
Tennessee means business. The eight-time national champs opened the NCAA tournament Saturday the way they always have … except last season, that is. The Orange Crush had never failed to advance to at least the NCAA Sweet 16 until last season's Knoxville-shaking 71-55 loss to No. 12 seed Ball State in the first round.
Summitt's team was almost immediately back in practice after that loss, worked harder than ever during the summer and re-established itself as the SEC's power with the regular-season and tournament titles.
Now a No. 1 seed for the 20th time in the 29 years of the NCAA tournament, Tennessee dismissed overwhelmed Austin Peay -- the alma mater of two of Summitt's brothers -- 75-42 on Saturday.
With that, Tennessee started its quest for a ninth title, and despite so much attention being focused on fellow No. 1 seed Connecticut's 72-game winning streak, it would be folly to dismiss Summitt as anything but a strong contender.
Tennessee knows it will need a consistent performance from center Kelley Cain, and she got off to a great start with 18 points on 9-of-11 shooting, with 12 rebounds and two blocked shots.
Guards Angie Bjorklund and Shekinna Stricklen combined for 26 points, and the Tennessee bench scored 23 points. Taber Spani, whom Summitt has praised for coming in more prepared than a "normal" freshman, began the season in the starting lineup but eventually moved to the bench as she dealt with a foot injury.
But Spani might be an important part of Tennessee's fate in the tournament, with her size, versatility and shooting potential as a reserve. Against Austin Peay, she had nine points, two rebounds and two assists.
So there wasn't much at all for Summitt to be upset about Saturday … which was not the case for Hartford coach Jen Rizzotti. The former UConn point guard has always been known as fiery, and Saturday her kettle boiled over. Rizzotti was ejected after her second technical, so she wasn't on the floor at the end as No. 10 seed Hartford fell to seventh-seeded LSU 60-39 in Durham, N.C.
The Hawks lost second-leading scorer and defensive standout Erica Beverly to an ACL injury suffered during the America East tournament semifinals. Hartford then fell to Vermont in the final, yet still got an NCAA at-large bid. But it wasn't a long stay for the Hawks, who held LSU to 32 percent shooting … but shot just 29.6 percent themselves.
St. John's, whose No. 6 seed is the program's best ever in the NCAA tournament, had no problem with Ivy League champ Princeton, winning 65-47. And now the Red Storm will try for a program first: winning two games in the same NCAA tournament.
The closest game to an upset among the four openers came from an expected source: No. 12 seed Bowling Green, which made the Sweet 16 as recently as 2007. The Falcons gave No. 5 seed Michigan State a lot to worry about, but the bigger Spartans prevailed 72-62 behind Aisha Jefferson's 17 points.
Michigan State survived a scare from a mid-major school in the first round last year, too, when the Spartans edged Middle Tennessee 60-59. Then, though, Michigan State knocked out the top seed in its region, Duke.
Michigan State has been to the Final Four before, in 2005 when it won the Kansas City Regional. This season, the Spartans are again in the KC region and will see what kind of run they can put together in 2010.
Meanwhile, Tennessee will not have to leave the Volunteer State if it is to make a 19th Final Four appearance. If Tennessee wins its second-round game in Knoxville, it moves across the state to the regional in Memphis.
March, 20, 2010
03/20/10
1:10
PM ET
Not everyone loves March Madness.
Take, for example, my 8-year-old daughter, who despite my best efforts was born March 22, 2001. By "best efforts" I mean she was born a month prematurely. I wasn't planning on attending the Final Four in St. Louis that season anyhow -- who wants to see a woman the size of a basketball actually courtside at a basketball game? -- but Jillian's arrival put the job on hold and me in a hospital bed the Thursday before the Sweet 16.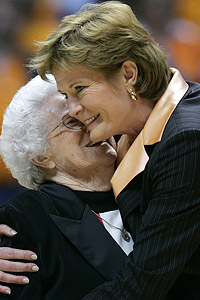 AP Photo/Susan WalshUndoubtedly one of Pat Summitt's mother-daughter memories: A hug from Hazel Head after Summitt got win No. 880 to become the NCAA's all-time leader on March 22, 2005.
I think life and women's basketball have gotten a lot better since then. But while Jillian came first and was my top priority in 2001, that hasn't always been the case in the month of March since then. Especially when the 22nd is a game day, like this season, when the third day of games falls on Jillian's birthday.
Don't get me wrong. Up until there are four teams left in the bracket each year, I'm there to tuck her in every night. I've squeezed birthday parties in between 16 games on opening day. We've colored eggs before I board a plane for the Final Four. But there's less time to cuddle, to help with homework, to just be … Mom. It's the same thing every working parent goes through (I can only imagine life for the coaches' families). But while it's springtime and the flowers are blooming, so is the workload.
Which is why, not too long ago, and maybe for even the second day in a row, my ever-outspoken, hasn't-learned-to-filter-yet kiddo declared "I HATE MARCH MADNESS."
Now, she said it with a teasing smile on her lips and a hand on her hip, knowing very well at a very young age how to manipulate her mother. But we've covered this topic before -- Mom's job is much more appreciated during trips to say, Toys R Us or GameStop -- and she knows our whole family has to be flexible this time of year (especially when Mom's alma mater -- Go, Washington Huskies! -- is alive in the men's bracket). But somehow, the daughter of two sports-loving, ESPN-employee parents can't stand sports. Especially this month.
Brackets? She can't hack it. Selection Monday? Anything but a fun day. Geno Auriemma? Childhood dilemma.
In the end, of course, it all works out. When the Madness settles down each season, a champion has been crowned and Jillian's mom has been re-found.
But as I was posting President Barack Obama's bracket on ESPN.com in between wrapping Barbie dolls, thoughts of Jillian's impending birthday turned into thoughts of … Pat Summitt. Not because Mechelle Voepel had written another column on the Tennessee coach once going into labor on an airplane and warning the pilot not to land in Virginia because there was no way she was going to deliver her son anywhere but in the Volunteer State. Or because Graham Hays had written another column the Lady Vols had pinned up in their locker room for motivation.
Like Pavlov's dog, thoughts of Jillian's special day for me now go hand-in-hand with Lady Vols basketball. That's because, aside from actually crowning the champion, some of the biggest things that have happened in the women's NCAA tournament since I began covering it in 1999 have occurred on March 22.
Jillian had just turned 4 when Summitt beat Purdue in the second round to win her 880th career game in 2005, surpassing Dean Smith as the all-time winningest Division I coach. That night -- after a My Little Pony-themed party at our house earlier that afternoon -- Tennessee's court was christened "The Summitt." And you bet when Pat embraced her then-79-year-old mother, Hazel Head -- who hadn't made the trip to Thompson-Boling Arena in years -- with a teary-eyed hug, I thought of my own daughter home in bed.
But the Lady Vols' "gifts" on March 22 haven't always come wrapped with a pretty bow on top. In fact, the Ides of March came a little late for Tennessee last season. It was Jillian's eighth birthday (with a "Wonder Woman" theme this time), Ball State's first NCAA tournament appearance and the first time in the 28-year history of the NCAA tournament that Tennessee failed to reach the Sweet 16. The 12th-seeded Cardinals pulled off the second-biggest upset in women's tourney history, toppling the fifth-seeded Lady Vols in the first round.
That time, I remember thinking it was a good thing Jillian was already in bed, because it was going to be a long night.
And guess what? Top-seeded Tennessee's victory Saturday over Austin Peay means the Lady Vols will take the court Monday -- March 22 -- in the second round.
What will happen to Tennessee this time around? Will there be more bad March 22 mojo? We'll see, but one thing is for certain: There won't be a birthday party crammed in for us.
That's right. I've finally wised up. We're holding a blowout party for our nearly-9-year-old next month when things calm down. And neither Auriemma nor Summitt is invited.
Until next year …
March, 8, 2010
03/08/10
1:14
AM ET
The day of "almost" upsets started in Greensboro, N.C., where one of the participants used to be on the other side. Kellie Harper won three SEC tournament titles as a player for powerhouse Tennessee.
Now in her first season as head coach at NC State, Harper was on the underdog side. Her Wolfpack, the No. 6 seed in the ACC tournament, were trying to knock off top-seeded Duke. NC State was attempting to win the program's fifth ACC tourney title, but first since 1991.
Iowa, meanwhile, was in the Big Ten tournament final for the first time since 2001. And in the SEC final, Kentucky was making its first appearance since 1982. So …
It could have been a huge day for long shots getting automatic NCAA tournament bids. But none of them quite came through. Instead, the top seeds came away with hard-fought and well-earned victories in the ACC, Big Ten and SEC -- but their opponents proved something, too.
We'll start with the ACC, which except for Maryland's title last year has been the province of Duke or North Carolina for the past decade -- although the Blue Devils hadn't won a championship since 2004.
Duke lost its regular-season finale to the Tar Heels, and then just squeaked past Maryland by a basket in the ACC quarterfinals. Duke beat Georgia Tech in the semis.
Meanwhile, the Wolfpack upset third-seeded Virginia in the quarterfinals and then defeated another tourney upstart, Boston College, in the semis.
NC State had hit a low point in losing 70-39 to Duke on Feb. 11; after that loss, the Wolfpack were 13-11 (3-6 ACC). But soon the "magic" of the Pink Zone came through again. On Valentine's Day, during a stretch when teams across the country wore pink to honor the late Kay Yow and raise funds for cancer research, NC State beat Miami to start a run in which the Wolfpack won seven of their next eight games entering the ACC final.
Duke won the championship 70-60 Sunday afternoon, and the Blue Devils have finished their 27-5 résumé to submit to the NCAA committee for a likely a No. 2 seed. Meanwhile, NC State (20-13) hopes its strong finish is enough to earn an at-large bid, which is expected.
"I'm extremely proud of our team for so many reasons," said Harper, who had the difficult job of replacing the legendary Yow in Raleigh. "For improving, for believing, for working hard in practice, for playing together. In that locker room, I was proud of them for wanting more. They are hurt they didn't win this game, and I am so proud of that.
"I think our kids have proven over the last few weeks that we're an NCAA tournament team."
In Indianapolis, Iowa came oh-so-close to finishing off an amazing turnaround from being in last place in the Big Ten in mid-January. The Hawkeyes lost to Ohio State 66-64 in the league tournament final, but this is one time when quite honestly Iowa had to be pretty happy just to be there.
Starting last November, it seemed this season would be nothing but awful news for the Hawkeyes. They lost their only senior, JoAnn Hamlin, to a serious blood clot that forced her to end her career. Freshman Theairra Taylor (ACL) and sophomore Hannah Draxten (herniated disk) were also lost for the season.
The Hawkeyes were 8-10 and had lost four in a row going into their Jan. 21 game at Illinois.
But then, everything changed. A switch was flipped, and Iowa has since won 11 of its last 14. That was almost 12 of 14, as Iowa built a lead as large as 16 points against Ohio State in the Big Ten final.
But the Buckeyes had a little too much Jantel Lavender, who had 35 points and 10 rebounds. Her layup with 1 minute, 20 seconds left tied the score, and her two free throws with 1.9 seconds left won it.
Ohio State (30-4) now just waits for a great seed while the Hawkeyes (19-13) wait for an invitation. But two months ago, nobody was expecting Iowa would be doing anything at this point except getting ready for next season.
Lastly, Tennessee now has won 14 SEC tournament titles, but this one -- thanks to a 70-62 victory over No. 2 seed Kentucky in Sunday night's final -- means a lot because of the trials of last season.
Tennessee, of course, lost in the first round of the 2009 NCAA tournament -- the program's first loss ever in the first round (the Lady Vols had never failed to reach the Sweet 16 until last season). That ended an extremely frustrating 2008-09 for coach Pat Summitt and her young team.
This season, Summitt still hasn't solved all of Tennessee's concerns, but it's a significantly more accomplished team. Don't look now, but Tennessee is 30-2 -- yet almost absurdly under the radar.
Most of the attention has been going to that one team from the Northeast that Tennessee doesn't play in the regular season anymore, plus the surprising and undefeated Nebraska Cornhuskers, a new kid on the NCAA title-contending block.
But anyone who overlooks Tennessee as a potential national championship threat should think twice. The Orange Crush will be a No. 1 seed again and surely in the Memphis Regional.
Tennessee advanced to San Antonio the last time the Women's Final Four was there (2002) and could be making a return trip this year.
But Kentucky has been a great story this season, too. Victoria Dunlap was named the SEC Player of the Year, while A'dia Mathies won the rookie honor and Matthew Mitchell the coaching award. And the Wildcats, despite being picked to finish second-to-last in the league, instead finished runner-up to Tennessee -- both in the regular season and the tournament.
Kentucky (25-7) lost by 16 points at Tennessee on Feb. 25. Cutting that gap in half on a neutral court Sunday is not a bad way for the Wildcats to head into the NCAA tournament.
February, 26, 2010
02/26/10
12:17
AM ET
Yes, Tennessee wrapped up the SEC title again, clinching the top seed in next week's conference tournament with an 81-65 victory over Kentucky on Thursday. The Orange Crush are once again the boss of the league, restoring order and all that. But …
[+] Enlarge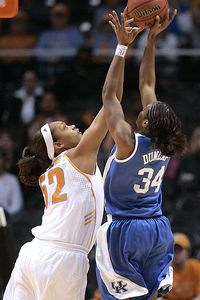 AP Photo/Wade Payne Kentucky's Victoria Dunlap scored a game-high 22 points Thursday. But five Lady Vols scored in double figures.
Let's give a nod, also, to Kentucky. It's not easy being blue in Knoxville, facing a legendary program that has now won 15 regular-season titles.
Who on the outside was really expecting that the Wildcats would have so much on the inside this season? So much in the way of guts, heart and ambition? Pretty much no one was predicting any glory for the Wildcats. Kentucky was picked to finish next-to-last in the SEC. Instead, the Wildcats (11-4, 23-5) are going to finish next-to-first.
Last year, Kentucky went 16-16 overall, 5-9 in the SEC. But one of those five wins was against Tennessee, a 10-point victory in Lexington, Ky. After that game, Tennessee coach Pat Summitt revoked her team's locker-room privileges because, obviously, she isn't as thrilled as neutral observers to see other programs try to shake Tennessee from the top of the totem and spread the wealth in women's basketball.
So Tennessee's players probably brought in a little extra motivation Thursday. The Wildcats really didn't stand much of a chance on this night.
But, of course, they could meet again, in the SEC final at Duluth, Ga. And regardless of what happens in the Wildcats' regular-season finale at Auburn on Sunday or in the league tournament that starts March 4, Kentucky is going to the NCAA tournament for only the seventh time overall, and the second time in the past decade. The Wildcats' most recent visit was in 2006, when Summitt's close friend and longtime assistant Mickie DeMoss was Kentucky's head coach.
"I think this is gonna be a special time," said Kentucky coach Matt Mitchell, who took over the program in 2007 after DeMoss had the world's shortest "retirement" before moving on to be an assistant at Texas.
"Because the team in 2006 had some expectation level that they would have a good team. And for whatever reason, nobody thought this year's team was gonna be very good. It makes it special to see a group of players commit to each other the way ours have."
Junior post player Victoria Dunlap has been one of the top performers in the SEC, and she had 22 points and 10 rebounds against Tennessee. Admittedly, it was a hard-to-come-by double-double, as Dunlap was 6-of-19 from the field.
"I think we [showed] that we could play basketball and play hard against the rest of the teams in the SEC," Dunlap said of what the Wildcats have already proved this season. "We won't just lay down and accept that we were picked 11th."
Mitchell says even while folks are, of course, as enthralled/entranced as ever by the Kentucky men's program, a lot of Wildcats fans really have noticed that the women are succeeding in a year when most figured they wouldn't.
"People around here really appreciate that," he said. "I think they might even be more proud of this team than if we'd been picked to have a good year. And if you just know the character of these players, how hard they've worked, all the different stories on this team.
"I know every team has neat stories. But we have a good group that I'm so proud of; they're really in it for each other. I don't take them for granted at all. I've told them, 'You've put yourself into a position through your hard work, so let's push this thing even further.'"
Led by the contributions of Dunlap and standout freshman A'dia Mathies, the Wildcats look to make the SEC tournament final for the first time since the NCAA era began in women's basketball.
Kentucky's only appearance in the SEC final came in 1982, when it beat Tennessee. (It might have helped a bit that the tournament was held in Lexington that year.)
Mitchell gives a great deal of credit to Summitt and DeMoss for giving him a start in the college coaching business, as he began as a grad assistant at Tennessee. He went on to be an assistant at Florida, an assistant to DeMoss at Kentucky and then decided to move to a head coaching job at Morehead State.
Some people warned him against that, saying he should just stay put a while longer as an assistant, but Mitchell felt he needed experience running the show. And it worked out well, as DeMoss decided to leave in 2007. By then, Mitchell had had two years of head coaching and was ready to take over at Kentucky.
Mitchell has two former Tennessee players -- Kyra Elzy and Shalon Pillow -- on his Wildcats staff. And he feels there is ample opportunity for the program to grow.
Sure, the Wildcats had to watch mighty Tennessee win another SEC title Thursday. But with the progress Kentucky has made, maybe there will be an SEC trophy in the Wildcats' not-so-distant future.