Category archive:

West Virginia Mountaineers
February, 12, 2012
02/12/12
7:27
PM ET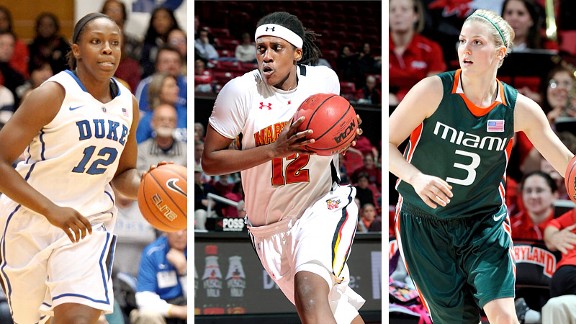 Getty ImagesTeams from the ACC -- Duke, Maryland and Miami -- have a hold on three of the No. 2 seeds.
One month from Monday we will know the field for the 2012 women's NCAA tournament, so Play 4Kay, which dominates the landscape of women's college basketball for these two days, not only serves as awareness for a great cause, it also marks the beginning of the final sprint in the selection process. Every game from here on out has ramifications for teams fighting for conference positioning, a place in the NCAA field, or a better seed. So which teams used Sunday to get out of the gates quickly for this final stretch, and which squads might now be running the race from behind?
Bracketology winners
West Virginia: The Mountaineers were the biggest winner Sunday and it wasn't even close. On the outside looking in most of the season, West Virginia was creeping closer to the field. Then with one tremendous, 40-minute effort at Notre Dame, Mike Carey's always hard-working team exploded into the field. West Virginia's 65-63 out-of-nowhere upset of the Irish was the biggest surprise of the season so far.
It's not as if the Mountaineers hadn't been making noise -- they had just beaten Louisville and won five of six games before arriving in South Bend. But Notre Dame has just been that good. St. John's 15-point loss was the closest anyone had come against the Irish since Jan. 7, and Notre Dame had gotten into a habit of rendering the outcome academic by halftime. West Virginia slowed down the Irish and then knocked them around. The deliberate, physical play wasn't to Notre Dame's liking, and West Virginia grabbed the win it needed, the same kind of victory every bubble team strives for this time of year.
Texas Tech: The Lady Raiders were fading and about to play themselves out of the field. The only wins they've managed since Jan. 7 were over lowly Missouri and even faster-fading Texas. Tech couldn't let Iowa State get of Lubbock with a win. It didn't, even on a day when the ball and the basket did not meet very often. Chynna Brown scored 19 points in her first start of the season and Texas Tech used defense and second-chance points to win 51-41. Nothing about the game looks that impressive, except the Lady Raiders had to have it. Why? Four of Tech's final six games are on the road and all except a visit from Texas on Wednesday are against teams ahead of Tech in the standings. The Lady Raiders survived as a winner this Sunday but might need to win on a few more Sundays before this race is over.
Miami: On a day when top scorers Shenise Johnson and Riquna Williams weren't shooting it all that well, and the Hurricanes got outrebounded by 10, Miami still managed to waltz into College Park and steal a win (and a season sweep) over Maryland. The outcome was huge for two reasons. By beating the Terps, Miami kept alive its hopes that the Feb. 24 game at Duke will mean something (that game will likely now be for the ACC regular-season championship). It also nearly assures that Miami will end up with a No. 2 seed in the NCAA tournament. Barring a few unforeseen results, it's extremely unlikely for other contenders -- Maryland, Texas A&M, Tennessee, Ohio State, Delaware or Georgetown -- to catch Miami. A loss on Sunday coupled with another to Duke, and the Hurricanes might have been vulnerable.
Bracketology losers
Kansas: While not officially part of the Play 4Kay lineup, Kansas versus Kansas State was one of the day's biggest games because it pitted two teams in a battle in the Big 12 standings and fighting to gain ground on the selection board. Just a few minutes into this rivalry game, however, the Jayhawks lost leading scorer and junior forward Carolyn Davis to a leg injury. If the injury is severe as it appears and Davis is lost, Kansas' outlook for the NCAA tournament changes. That puts more pressure on senior forward Aishah Sutherland, who was good (12 points, 17 rebounds) without her running mate against Kansas State -- but not good enough as the Wildcats won 47-43. The Jayhawks were on their way to a bid in their best season in a decade or so. But they don't appear to be good enough to survive the final six regular-season games without one of the nation's top post players.
Florida: This time of year is all about taking advantage of opportunity. Losing to South Carolina in a close game on the road by no means kills the Gators' chances of making the field, but winning a game like this would have vaulted Florida into a significant position of safety. But while the Gamecocks provided an open door, the Gators failed to walk through. Twice in the final minute South Carolina missed free throws, keeping it a one-possession game. But after one of those misses, Florida failed to secure the rebound. After the second, Florida got a great look at a 3-pointer that would have tied the score, but Lily Svete couldn't knock it down. The Gamecocks won by four, and Florida waved goodbye to an easier path to March.
Rutgers: The good news was that Khadijah Rushdan was back after missing three full games following a concussion, and led the Scarlet Knights in scoring. The bad news was the offense still sputtered and Rutgers lost to St. John's, the Scarlet Knights' fourth straight defeat. Once thought of as possibly the third-best team in the Big East and a possible No. 3 seed in the NCAA tournament, the Scarlet Knights are now in eighth place in the conference and fighting for a No. 5 or 6 seed. Sunday's game against St. John's was one of the final shots Rutgers had at a true résumé-worthy win, but once again, the shooting woes that early in the season looked to be a thing of the past were impossible to overcome. A trip to West Virginia is up next, and then it's a run of games that Rutgers should (and must) win to stabilize its tournament position. That was something a better showing against St. John's on Sunday could have done.