Category archive:

Connecticut Huskies
August, 9, 2012
08/09/12
8:29
PM ET
What's next after 40-0 for the Baylor women's basketball team? How about a little running-and-gunning with Kentucky? A journey to Hawaii, where Stanford awaits? A trip to Notre Dame for a rematch of the 2012 national championship game? A visit from a new-look Tennessee team?
All that will happen before December's over for defending NCAA champ Baylor, which hopes to end the 2012-13 season with another title -- this one in coach Kim Mulkey's home state of Louisiana.
And yes, we know that Mulkey strongly dislikes that term "defending." As she puts it, Baylor isn't defending anything, because it has already won the 2012 title and that can't be taken away. Regardless, the question "Can Baylor repeat?" is the biggest storyline going into the upcoming season.
For the third time, the Women's Final Four will be held in New Orleans, and the postseason road there should keep Baylor in pretty familiar territory. The Big 12 women's tournament will be back in Dallas, about an hour and a half north of Baylor's campus, for the first time since 2006. (This is the first year since the Big 12 formed in 1996-97 that the league's men's and women's hoops tournament are split up, as the men will play in Kansas City.)
The Lady Bears will be going for their fifth Big 12 tournament title. Baylor then will be a host for the early rounds of the NCAA women's tournament. After that, the NCAA regionals are in Oklahoma City; Spokane, Wash.; Norfolk, Va.; and Trenton, N.J. So if Baylor is the overall No. 1 seed again as it was in 2012 -- and advances out of the early rounds, of course -- the Lady Bears likely would head north for regional play in OKC (about a 4½-hour drive from Waco).
Admittedly, that's all quite a ways down the road. But it's easy to get caught up in looking ahead, considering that Baylor brings back all its starters, including reigning national player of the year Brittney Griner.
But let's back up and return to the beginning of the season, when Baylor plays back-to-back against Kentucky (Nov. 13 in Waco, Texas) and Stanford (Nov. 16 in Honolulu). The Wildcats have made it to the NCAA Elite Eight two of the last three years, while Stanford has made five consecutive trips to the Final Four. (But can the Cardinal do it this season without Nneka Ogwumike?)
On Dec. 5, Baylor will take on a Notre Dame team that the Lady Bears defeated 80-61 last April at Denver's Pepsi Center in the national championship game. Then on Dec. 18, Tennessee -- another team knocked out of the 2012 NCAA tournament by Baylor, in the Elite Eight -- comes to the Ferrell Center under Holly Warlick, who officially took over as head coach after Pat Summitt moved to an emeritus role this spring.
As for Big 12 conference play, one of Baylor's biggest rivals in recent years is no longer involved. There will be no more grudge matches for the foreseeable future with Texas A&M, which left the Big 12 along with Missouri to join the SEC. Mulkey made it abundantly clear last year she wasn't keen on starting a nonconference series with the Aggies.
But Baylor will interrupt conference play to travel to Connecticut; that game will be Feb. 18.
The Lady Bears open Big 12 play with league newcomer TCU, the Fort Worth-based school that's had consistent success in women's hoops under coach Jeff Mittie but now will be playing on a bigger stage.
The other Big 12 newcomer, West Virginia (yes, it's still hard to believe), will get its "welcome to Waco" on Jan. 19.
Baylor's matchups against a Texas team starting a new chapter under coach Karen Aston are Feb. 9 in Austin and Feb. 23 in Waco. During Aston's years as an assistant, she had two stints working at Baylor.
The target will be on Baylor's back all this season -- but that's nothing new. It really was last season, too. Mulkey didn't try to lessen expectations in 2012, and after the NCAA title game, she was already looking ahead to making a run at New Orleans in 2013.
"That's my home state, and I won't have enough tickets for family," she said in Denver. "But I'll do something to get them in the arena. That's what we want, another national championship."
April, 1, 2012
04/01/12
10:11
PM ET
DENVER -- UConn's Tiffany Hayes ended her career with two NCAA titles … and two frustrating NCAA tournament losses to Notre Dame.
The Huskies' only senior sat mostly dry-eyed at her locker room stall at the Pepsi Center following an 83-75 overtime defeat at the hands of the Irish on Sunday. She talked about being happy with a great run in her college career, but not feeling satisfied. Occasionally, tears welled in her eyes, but she fought them off.
"We gave this game away," Hayes said, upset by her team's turnovers -- she had six of the Huskies' 21 -- and failure to box out at crucial moments. "It's really hard; you want to be in that final game."
[+] Enlarge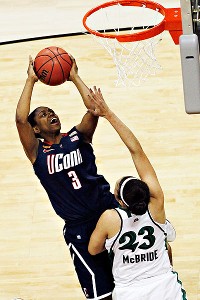 AP Photo/David ZalubowskiTiffany Hayes had 10 points and six turnovers in her final game for UConn.
Hayes was a complementary player her first three seasons at UConn, playing alongside the likes of Maya Moore, Tina Charles and Renee Montgomery. This year, Hayes was depended on more, and she came through much of the time.
In late January, she had back-to-back games in which she scored 35 and 33 points against Syracuse and then South Florida. It was a slice of Hayes at her slashing and jump-shooting best.
And in the Kingston Regional, she was pivotal in getting the Huskies into their fifth consecutive Final Four. Hayes had 32 points and 14 rebounds combined against Penn State and Kentucky in being named the regional's most outstanding player.
After the Elite Eight victory against the Wildcats, UConn coach Geno Auriemma said of Hayes: "Tiffany's grown up a lot. Being MOP was one of the highlights of her career. I'm thrilled for her."
And Hayes fully acknowledged then how her inconsistency over the years -- for which she got heat from both Auriemma and the UConn fan base -- had bothered her. She was hoping to prove at the Final Four that she wasn't going to follow a peak with another valley.
But Sunday's game is not one for which she'll have any fond memories. Along with the turnovers, Hayes took some out-of-control, wild-looking shots. Other times, she didn't seem to be looking to make a play at all, even when the Huskies really needed someone to step forward. Hayes was 4-of-11 from the field and 2-of-4 from the foul line for 10 points.
"We could have done a lot of things differently, but we're a fighting team and we didn't give up," Hayes said. "It was about all hustle plays for both teams. I don't want this to end now, but it was a good four years."
Hayes said when the buzzer went off, the thought that went through her mind was, "That's it. That's it for me. But I also knew that, like coach said, they are definitely going to be back."
March, 31, 2012
03/31/12
6:12
PM ET
DENVER -- Amid all of the hoopla that is NCAA Final Four weekend -- the bands, the practices, Tourney Town, hoops fans wearing newly made Peyton Manning Broncos jerseys -- there will be one moment that will be long remembered for years to come.
And it was a moment that came even before the first tip-off.
[+] Enlarge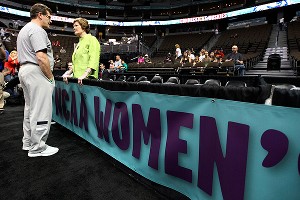 AP Photo/Eric GayGeno Auriemma and Pat Summitt shared a brief moment during UConn's practice Saturday at the Women's Final Four.
A woman wearing a bright chartreuse jacket made her way out onto the Pepsi Center floor. Not too long after she arrived, Connecticut coach Geno Auriemma made his way to the woman, and the crowd noticed.
It was Tennessee coach Pat Summitt, who was here to show support for forward Glory Johnson during Saturday's State Farm All-America Team ceremony. Auriemma and Summitt, two college basketball coaching legends simply sharing a moment for the whole arena to see. Before long, fans moved in, asking Summitt for autographs; other admirers yelled from afar.
"We love you, Pat!"
"Come back next year, Coach!"
And that's what made the scene that much more powerful: the unknown. Will Summitt return for 2012-13 after revealing before the start of this season that she was diagnosed with early onset dementia?
Many will speculate her future for weeks to come. On Saturday, at least, the women's college basketball world simply appreciated Summitt was where she belonged.
March, 31, 2012
03/31/12
3:13
PM ET
DENVER -- Who better than Connecticut coach Geno Auriemma to offer up a little expert analysis on Sunday's Baylor-Stanford game?
A. His Huskies team has played them both this season, defeating Stanford 68-58 in Hartford back on Nov. 21 and losing to Baylor 66-61 in Waco on December 18.
B. You knew he'd be willing.
"The big kid at Baylor is really good," said Auriemma, getting an easy laugh as he referred to Lady Bears star center Brittney Griner.
The Huskies' coach thinks this is a good matchup for the Cardinal.
"I think it's good because they haven't played each other," Auriemma said. "So Brittney and Odyssey Sims and Baylor, they don't know anything about how to defend Stanford. And Stanford's big kids don't know anything about playing against somebody like Brittney Griner."
Auriemma cautioned the people who think that Baylor is going to win with ease.
"I like this matchup, I really do," Auriemma said. "All the people that are saying this is a walk for Baylor, I don't think they are right.
"I'm not saying they're not going to win. I don't know who is going to win. But those people that say Baylor's got an 80 percent chance of winning tomorrow night? I think they are dead wrong. They might, but it's not going to be as easy as they think."
March, 13, 2012
03/13/12
3:28
PM ET
Rebecca Lobo gives a behind-the-scenes look at preparations for the set of the Selection Show.
Hardest regional: Des Moines. For Tennessee to be the 2-seed there (with No. 1 Baylor) after playing really well in the past week or so, that was the one that stuck out to me.
Easiest regional: Kingston. Connecticut's path to a potential Final Four might be the least difficult. Kentucky is probably seen as the fourth No. 2 seed, and Connecticut -- which opens in Bridgeport -- doesn't have to get on an airplane.
Best first-round game: No. 7 seed Green Bay versus 10th-seeded Iowa State in Ames, Iowa. Both teams have players who can shoot the 3 and it's a lower seed playing on its home floor.
Best potential second-round matchup: Top-seeded Baylor against No. 8 seed Ohio State. The consensus on the Buckeyes is that they deserved a better seed.
Team better than its seed: Sticking with 8-seed Ohio State on this one.
Team worse than its seed: No. 6 Nebraska. That is not meant as any disrespect to Nebraska. But in relation to Ohio State and both teams being from the Big Ten, it's just an interesting thing to look at those two seeds side by side.
Biggest snub: No. 2 seed Duke in Nashville. The Blue Devils were probably expecting to be in Chapel Hill. Instead, they have to potentially play a second-round meeting with Vanderbilt in the Commodores' town.
Biggest surprise: That No. 2 seed Kentucky and third-seeded Miami are in the same region in Kingston. That could be a pretty amazing matchup if it happens in the regional semifinal.
Possible Cinderella: Green Bay. The Phoenix play an interesting system, and most teams don't play against a team like Green Bay in the regular season. The Phoenix could get to the Elite Eight. A team that could get to the Final Four is Maryland. The Terps have depth at the post, a star in Alyssa Thomas, an experienced backcourt, and Maryland has bodies to match up with most teams. The Terps are the team that best matches up with Baylor. Of course, they have to reach the national championship to even get a shot.
Most talent in one region: Des Moines. Just looking at Baylor's and Tennessee's rosters, they're loaded with talent. Ohio State has Samantha Prahalis. Delaware's Elena Delle Donne has real star power.
Under-the-radar player: Point guard Jasmine Lister from Vanderbilt. I really like her game. I just watched (video of) her playing in a win against Tennessee at Vanderbilt, and Lister was absolutely outstanding.
Final Four: I'm going with the chalk and sticking with all the No. 1 seeds: Baylor, Stanford, Notre Dame and Connecticut.
Who wins? Baylor is still the team to beat. If it goes chalk, the Lady Bears will have beaten two of the three other No. 1 seeds that could be there. I'm picking Baylor as my champ over Notre Dame.
March, 11, 2012
03/11/12
7:18
PM ET
Some updates after Sunday's conference tournament games:
NOTABLE
• Delaware (Colonial) and Green Bay (Horizon) won their respective tournament championship games, removing any bid-stealing possibilities on the final day of conference tournaments.
• Creighton (Missouri Valley), Liberty (Big South) and Sacred Heart (Northeast) also held their spots in the field with tournament titles.
• Kentucky holds onto the final No. 2 seed. The Wildcats had more quality wins (11) than Miami (five) or Delaware (five), had a better SOS than both, and won a regular-season title in the second-rated conference.
• Texas remains the last team in. The Longhorns are no slam dunk, but the decision came down to fact they have more wins against other teams under at-large consideration (seven) than North Carolina (three), Michigan (four), Southern California (four), James Madison (one), Oklahoma State (five) and Kansas (six). Of course, there a number of other factors to consider, but this was the deciding measurement. Victories over Michigan State, California and Virginia were a collection of nonconference wins none of the other teams have.
LAST FOUR IN
Temple
Iowa State
Michigan State
Texas
FIRST FOUR OUT
North Carolina
Michigan
Southern California
Oklahoma State
NEXT FOUR OUT
Kansas
James Madison
Wake Forest
Arizona State
CONFERENCE BREAKDOWN
Big East (8)
SEC (8)
Big Ten (6)
Big 12 (6)
ACC (5)
Atlantic 10 (3)
Pac-12 (2)
WCC (2)
Sun Belt (2)
• Automatic qualifiers
• Saturday's update
• Friday's update
• Wednesday's update
• Tuesday's update
March, 2, 2012
03/02/12
10:44
AM ET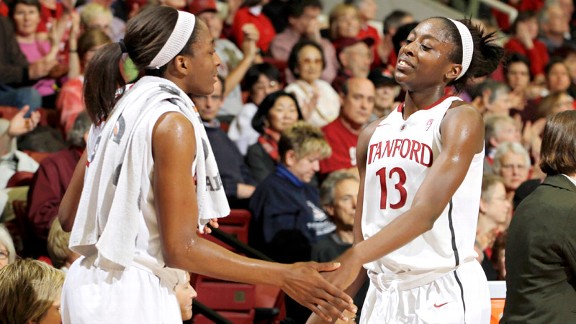 AP Photo/Paul SakumaNneka Ogwumike is an obvious pick, and sister Chiney is a second-team candidate.
There's no such thing as even one choice -- let alone five of them -- that will bring unanimous consent. But when you're talking All-Americans in women's basketball this particular season, the first team likely will get a lot of agreement.
After that, though, all heck breaks loose. You could justifiably choose any number of players for an All-American second team. In fact, you might not agree with any of my picks, and you might not be wrong. There really are that many candidates for those second five spots.
The first five are a lot easier. They have solidified themselves both with their individual performances and their teams' success in 2011-12. All five are from squads that won their conference's regular-season championship.
Only one is on the current list of finalists for the 2012 Olympics, but it wouldn't be a surprise to see all five of them play for Team USA at the Rio de Janeiro Games in 2016. In fact, you could even envision these five starting as a unit, because they could perfectly cover every spot on the floor.
One is a defensive presence like none other in the women's college game. One is the most exceptional rebounder of the group. One is a great scorer and extremely versatile. Two are highly efficient playmakers who can also rack up the points themselves.
So now, as we're just moving into the Month of Madness, here is a suggested "top 10" that is made up of two teams that could be put on the floor. (In other words, these aren't "three centers/two forwards" kind of squads.) Which 10 players actually will make up the State Farm All-America team that will be announced in Denver? We're sure at least some of them are included here.
First team
Brittney Griner, C, junior, Baylor: The numbers tell the story: 22.7 ppg, 9.7 rpg, 155 blocked shots. Baylor's opponents are shooting an average of just 30.7 percent from the field. Shooters get gun-shy or greatly rush shots because Griner is so intimidating defensively that foes start seeing her even when she isn't there. Of course, she's usually there. She's also an Olympic finalist.
Nneka Ogwumike, F, senior, Stanford: Coach Tara VanDerveer predicted that as good as Ogwumike was last year, this season she would be markedly better. That has proved true, as Stanford has pummeled its way through the Pac-12 again behind Ogwumike's fabulous senior season. She has increased her scoring (21.6) and rebounding (10.6) averages, plus is shooting a career-best 82.2 percent from the foul line. About the only one who can hang with Nneka on the boards is sister Chiney.
Elena Delle Donne, F/G, junior, Delaware: She'll get well-deserved consideration for player of the year, even though Griner appears to be the favorite. Delle Donne has blossomed as a nearly unstoppable offensive force, averaging a national-best 28.3 points per game with an amazingly versatile attack. The Blue Hens won the Colonial Athletic Association regular-season title at 18-0, and their 27 victories thus far is a school record.
G Skylar Diggins, G, junior, Notre Dame: After leading the Irish to the NCAA title game last season, her profile was raised nationally. The added attention hasn't hurt at all. This year, she has sparked Notre Dame to two victories against UConn and the program's first outright Big East regular-season title. Diggins is shooting 52.5 percent from the field while leading the Irish in scoring (17.4), assists (174) and steals (77).
Odyssey Sims, G, sophomore, Baylor: She never seems rattled, always having the right amount of energy and excitement that a team needs from its floor leader. Sims -- 14.7 ppg, 4.8 apg, 45.5 percent shooting from the field -- also has a propensity for making the big play right when needed and is an excellent defender. She and Diggins both see the floor so well.
Second team
Chiney Ogwumike, F, sophomore, Stanford: Little Sis has become, as expected, a force all her own. She is shooting nearly 60 percent from the field as she averages 16.1 ppg. She's getting 10.1 rpg, and hasn't fouled out this season after doing so four times as a freshman.
Julie Wojta, G/F, senior, Green Bay: The versatile Wojta (which is pronounced "white-UH") is the primary reason the Phoenix have had virtually no drop-off in success from last season's Sweet 16 team, despite two big losses to graduation. Green Bay is 26-1 behind Wojta's 19.6 ppg and 10.3 rpg.
Samantha Prahalis, G, senior, Ohio State: Give credit where it's due. She has been an emotionally stable leader as a senior, which was much-needed with the graduation of center Jantel Lavender. Prahalis is the Big Ten Player of the Year; her 20.4 ppg scoring average was second in the league to teammate Tayler Hill's 20.7, plus she led the conference in assists (6.5).
Shenise Johnson, G, senior, Miami: It would be hard for a player to do more for her team than Johnson does for the Hurricanes. She leads them in scoring (16.8), rebounding (7.9), assists (130) and steals (101), plus is shooting 45.3 percent from the field and 87.1 percent from the line.
Tiffany Hayes, G, senior, UConn: She still sometimes frustrates UConn coaches and fans with what seems a lack of "presence" in big moments. But the bar is wickedly high at UConn. So much so that what Hayes has done -- she's the leading scorer (15.9) and second-leading rebounder (5.7) on a team that's still going to get a NCAA No. 1 seed -- is too easily undervalued.
February, 28, 2012
02/28/12
12:28
AM ET
Geno Auriemma says he "could care less" about the conference tournament, which opens March 2. "We're not good enough to win the Big East tournament, probably," he said, "so it doesn't matter to me who wins it."
Geno Auriemma talks about his frustration with the Huskies, who lost to Notre Dame on Monday.
Notre Dame's Natalie Novosel talks about the Irish winning the Big East title outright with the Irish's 72-59 victory over UConn.
February, 24, 2012
02/24/12
9:33
AM ET
For years, the Academy Awards conflicted with March Madness, so it was great when the show moved to February. Sure, some folks think the Oscars are bloated and phony and over-the-top, and thus unwatchable. But … those are pretty much exactly the same reasons that I love to watch the show.
I've seen six of the Best Picture candidates, but nine are nominated, and I'm not going to get to all of them before Sunday. Or ever, in the case of "War Horse." Young man separated from his beloved horse, then both must go through the ravages of World War I? No thanks. I teared up enough at the reunited Muppets singing "Rainbow Connection" again.
So what does the Academy Awards show have to do with the coach of the year race in women's basketball? Nothing, really. It's just that the Oscars are Sunday, and I enjoy making these forced links to one of the few areas of pop culture in which I still attempt to stay current.
Perhaps I should connect a coaching award to the Best Director nominees. But there are only five of those, and I have six coach nominees. Plus, some of my forced links are just to movie titles, not actually to what the movie was about. I really couldn't cheat that same way with using the names of the directors.
So here we go, by alphabetical order, with the Best Picture candidate the nominee represents (if only in my own mind). Then at the end, the Oscar winner … er, my pick right now for coach of the year.
Geno Auriemma, Connecticut: "War Horse"

Auriemma
Just because I won't see this movie doesn't mean I wouldn't vote for Auriemma. No matter what happens to UConn -- it has to face injuries and graduation the same way everybody does -- Auriemma's Huskies keep persevering, just like Joey the War Horse.
Auriemma lost a three-time Wade Trophy winner in Maya Moore to graduation. His top returning scorer was Tiffany Hayes (13.7 ppg last season), who never really had to fill a leadership role before.
He has needed to run a four-guard offense much of the time because of personnel, and that has required convincing 5-foot-11 Kelly Faris to play like she's about five inches taller. Because Auriemma is such a good maestro, he has been able to pull this off. Of course, it also has a lot to do with recruiting the type of player who will not balk at being placed out of her comfort zone.
Auriemma has a lot of talent, true. But who brought that talent there? How many teams could lose a player such as Moore, yet still have lost only three games going into late February and be on track for a No. 1 seed again?
Jim Crowley, St. Bonaventure: "Moneyball"

Crowley
This is the easiest link of all. Crowley really did read the book "Moneyball" by Michael Lewis about Oakland A's general manager Billy Beane; it subsequently was turned into a Brad Pitt movie.
The book helped inspire Crowley to develop the system that has the Bonnies currently at 26-2 overall and 13-0 in the Atlantic 10.
It's too simplistic to say Crowley's emphasis is on taking care of the ball. But limiting turnovers is one of the principal tenets for a program that's on its way to its first NCAA tournament berth. St. Bonaventure went to the WNIT last year.
The Bonnies now have won 20 games or more for four consecutive seasons, and this one is shaping up as the best of all in Crowley's 16 years at St. Bonaventure. He signed a contract extension this past summer to remain at the school through 2017.
Tina Martin, Delaware: "The Help"

Martin
You think you have no chance to sign the player who's not just best in your state, but possibly best in the country. She's off to "the" powerhouse up north. But guess what? She comes back home and starts playing on the volleyball team at your school.
You can barely contain yourself, but you don't pressure her at all. You want it to be so that when Elena Delle Donne does decide on her own to return to hoops, she will be comfortable with you and her new team.
Martin navigated that very well, along with balancing having a megatalent alongside the right kinds of players to "help" her.
You can't win with one player in basketball, no matter how good she is. Martin has put together the right mix of personalities, along with figuring out how best to maximize Delle Donne's ability, for the 25-1 Blue Hens.
Katie Meier, Miami: "The Descendants"

Meier
Meier played at Duke from 1985-90, having to miss a year rehabbing a knee injury. She then played overseas at a time when cellphones and email were still a few years away from being commonly used. So she experienced the slightly "older" era of women's basketball from which today's game has descended. But she also has a strong link to the present era as one of the still-rising stars in the coaching ranks.
She can trace her love and skill for basketball back to her late father, whom she never met, as he died in a plane crash four months before she was born. Gerry Meier played at DePaul, and those who knew him say his daughter looked and played a great deal like him.
Miami's rise under Meier has been fueled by guards Riquna Williams and Shenise Johnson, but they lost a major contributor when forward Morgan Stroman went down with an Achilles injury on Jan. 19. Even so, Meier has put the Hurricanes in position to potentially win the ACC.
Kim Mulkey, Baylor: "The Artist"

Mulkey
I actually know some folks who don't really watch women's hoops at all, except to see Mulkey. For her interesting apparel, sure, but also for the demonstrative pantomime and facial expressions that make it seem as if she could have been on the silver screen, circa 1925.
Mulkey as a silent-movie star? Admittedly, it's hard to imagine her or any coach being totally quiet on the bench. But the actors in silent movies weren't necessarily "silent," either. Audiences just couldn't hear them.
Nobody ever has that problem with Mulkey, especially not referees. But even if you did mute the sound on your TV during a Baylor game, Mulkey would entertain you.
"The Artist" appears to be the Best Picture favorite, and it should be: It's got two lovable leading characters (three if you count the dog) who must go through various difficulties to be together. The most basic, simple movie plot ever? Yes, but this amazing, sweet -- and silent -- film makes it seem fresh.
Baylor looks to be the favorite for the NCAA title. The Lady Bears have a ton of talent, led by Brittney Griner and Odyssey Sims, but somebody has to recruit it and orchestrate it. That's Mulkey.
Tara VanDerveer, Stanford: "Midnight in Paris"

VanDerveer
Coaches always have to look forward; they can't dwell in the past -- no matter how rosy that past might look in retrospect.
We're now approaching the 20-year anniversary of Stanford's last NCAA title. It seems kind of weird that it has been so long, considering the Cardinal have been in the Final Four the past four years. But indeed, when Stanford beat Western Kentucky in Los Angeles for the 1992 title, it was not only the most recent for VanDerveer, but also for the entire West Coast.
In the event that you haven't seen "Midnight in Paris," I don't want to reveal much of the plot, except to say that it concerns the way we can sometimes revere the past to the degree of missing what's in front of us.
VanDerveer has been the guiding hand behind one of the most consistently competitive women's hoops programs in the nation, one that -- as mentioned -- has carried the Pacific Time Zone flag.
The Cardinal lost starters Kayla Pedersen and Jeanette Pohlen to graduation. But once again Stanford is steamrolling the Pac-12 and in line for a No. 1 seed.
Others worthy of mention: "Extremely Loud & Incredibly Close"
Have to admit I didn't much care for this film -- the words contrived and manipulative come to mind -- but I chose the title to represent some of the folks who will have a loud cheering section for coach of the year and were close to making my ballot, too.
• UTEP's Keitha Adams: The Miners are 25-2 overall and 14-0 in Conference USA.
• Green Bay's Matt Bollant: Another coach hit by graduation, the Phoenix are 14-1 in the Horizon League and 24-1 overall.
• DePaul's Doug Bruno: Few coaches have lost as many players to injury this season -- including star Keisha Hampton -- as Bruno. Yet the Blue Demons are 20-8 and still in the upper half of the Big East.
• Gonzaga's Kelly Graves: Courtney Vandersloot has gone to the WNBA, but the Bulldogs are atop the West Coast Conference again at 13-2 and are 24-4 overall.
• Florida Gulf Coast's Karl Smesko: He has the Eagles soaring in the first season they are eligible for the Division I NCAA tournament. They are 25-2 overall and 17-0 in the Atlantic Sun.
• Penn State's Coquese Washington: In a difficult year for her university, she has led the Lady Lions to their first Big Ten regular-season title since 2004.
And if I had to vote right now, the winner would be …
Tina Martin, whose Delaware team has maintained its chemistry and its success thus far.
February, 14, 2012
02/14/12
2:14
AM ET
UConn's Tiffany Hayes, who tallied 23 points, six rebounds and seven assists in UConn's 73-55 victory over Oklahoma on Monday, talks about embracing her role as a senior.