Category archive:

Connecticut Huskies
February, 8, 2011
02/08/11
12:07
PM ET
Monday's top-25 results -- Duke's loss to North Carolina and Tennessee's victory over Kentucky -- helped make the picture pretty clear as to which teams would be No. 1 seeds if the bracket were released today. But the top seeds aren't drawing the biggest debate in Bracketology lately. A lot of eyes are on the Big 12, which is looking at just four tournament-worthy teams right now.
January, 8, 2011
01/08/11
10:15
PM ET
IOWA CITY, Iowa -- We're already anticipating a headache near the end of the Big Ten season when it comes down to figuring out tiebreakers. Because it looks like it could be quite a logjam-type finish in a league that has had the same regular-season champion -- Ohio State -- for the last six years.
Admittedly, we're very early in January, and maybe some team is, in fact, going to firmly establish itself atop the Big Ten. Michigan State -- 2-0 in league play going into Sunday's game at Michigan -- is the highest ranked (No. 13) of the Big Ten teams in the polls. But don't be surprised if even the league champ is a little battered-looking by the time it's all over.
Saturday in Iowa City, the league's other two ranked squads faced off in a game that, before the season started, projected to be the premier matchup in the Big Ten. And while No. 21 Ohio State and No. 22 Iowa got off to rather rough starts in league play, this game definitely still had the feel of a meeting of league heavyweights.
[+] Enlarge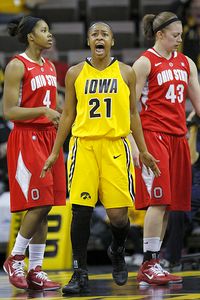 AP Photo/Charlie NeibergallGuard Kachine Alexander had 16 points and 13 rebounds for Iowa, which shot 8-of-19 on 3-pointers.
And this time, the Hawkeyes won. Led by a very strong backcourt performance, Iowa prevailed 89-76 in front of 9,865 fans at Carver-Hawkeye Arena. Not all of them spent the entire game booing Ohio State's Samantha Prahalis -- she's not very popular in these parts after last season's Big Ten tournament title game -- but the junior guard certainly got an earful all afternoon.
It didn't seem to hurt her game too much -- she still had a team-high 22 points -- but what did bother Ohio State was the struggle that Prahalis and the rest of the team is having behind the 3-point arc.
The Buckeyes were 4 of 22 on 3-pointers Saturday, and that difficulty from long range helped shrink the space that senior center Jantel Lavender had to work with inside. She had 14 points and 17 rebounds, but needed to get more than the 11 shots she took.
"It was packed in pretty tight," Lavender acknowledged of the Hawkeyes' zone, which the Buckeyes -- with their shooting woes -- had a hard time loosening.
"We led the country last year, and now we're last in the league -- and it's the same players," Ohio State coach Jim Foster said of his team's 3-point shooting. "We know what we're capable of. We are going to have to adjust some things, and I'll have to figure out how to get more quality looks for them. We know how to win games; we've just got to start making shots the way we need to."
The Buckeyes (10-5, 1-2) had defeated the Hawkeyes in 13 of their last 14 meetings, including an emotional, come-from-behind win in the Big Ten tournament title game last season.
So while Iowa didn't want to make too big a deal of this game, there's no doubt it was circled on some calendars. The Hawkeyes opened Big Ten season with losses to Penn State and Michigan, then had a shaky victory at Minnesota. But Saturday, Iowa looked like the team coach Lisa Bluder figured she really has.
"Today we came out and played like we were playing last year, and it feels so good," Bluder said of the Hawkeyes' surge in finishing the 2009-10 season. "We were disciplined. Our shooting was back to what we expect out of our players."
Sophomore Jaime Printy had 25 points, making 8-of-10 shots. Fellow guard Kachine Alexander had 16 points and 13 rebounds. The Hawkeyes (14-2, 2-2) hit 8-of-19 3-pointers.
Both Bluder and Foster talked about the improvement of the Big Ten from top to bottom, and how that has impacted the difficulty of each game. That's why there might not be very much at all separating a large group of teams in the standings by tournament time.
"It's going to make it interesting at the end of the year," Bluder said. "Because I think the margin of error is going to be very slight."
December, 6, 2010
12/06/10
12:15
PM ET
The most gifted athletes make difficult things look mundane … but at the same time, they often look spectacular doing mundane things. So observers might both underappreciate them and be in awe of them at the same time.
I think Maya Moore is this way -- but in her case, it's not just because of what she does on the court. It's the total package she is as a basketball player, a student and a person. The truth is, I don't think it's even possible to "overappreciate" Moore. She really is that amazing in all respects.
She became UConn's career scoring leader Sunday in another of the frequent romps she has experienced in her time with the Huskies.
In UConn's 86-32 victory over Sacred Heart, Moore had 17 points to put her total at 2,355, passing former teammate Tina Charles. That Moore became the record holder in early December of her senior season strongly indicates she will put the mark someplace virtually unattainable for future Huskies. But that would only be fitting, considering how high she has raised the bar on her own expectations.
Moore has never been someone who had greatness thrust upon her. She seems to have been aware of it and made peace with it from a pretty early age. So she was prepared for the things that come with it: the demands, the expectations, the responsibility.
Things don't sneak up on Moore, because she is always thinking ahead. There is a small handful of athletes I've covered in various sports who have said that by kindergarten or soon after, they had already plotted out how they expected their lives to go. Moore says she's not quite like that; but not far off.
She was living in Jefferson City, Mo., in 1998 when the Women's Final Four was two hours away in Kansas City. Moore didn't go to the games themselves; at 8, she wouldn't have sat patiently through them without wanting to get up and play, too.
But her mother did make the drive to take her to Hoop City, the interactive playground that accompanied the event. And a seed that would grow to spectacular heights was planted then.
"Just being able to be in that atmosphere and get my first taste of it … just falling in love with the Final Four," Moore told me during her freshman year at UConn, before she played in the Final Four herself for the first time. "I've followed it ever since then."
Moore's own personal crystal ball is clearer than most people's. She sweats the details, while always having a view of the big picture.
It's the latter, really, that is the most impressive, and the most rare. Gifted athletes can begin to realize they are such while still quite young, because the evidence is usually obvious. What that means in the grand scheme of things is a much more difficult concept to grasp.
For Moore, having top-tier ability never meant that things should be easy. It meant that to reach her potential, she had to push to find out what "hard" was for her. She knew the UConn staff would guide her to that, even if so many of the games she has played in a Huskies uniform haven't looked especially difficult because opponents have been overmatched.
Yet that, too, has been part of Moore's greatness. She is always playing to the level of what she expects of herself, not whatever her competition might be. That takes a disciplined mindset that is like being able to convince yourself it's always the same temperature no matter where the thermostat is set.
Of course, Moore knows the difference between facing Stanford for the NCAA title and facing Sacred Heart in a game her team couldn't possibly lose. The key is, Moore's focused play wouldn't indicate that there is any difference.
She would go down as one of the best players in women's college basketball history for her scoring ability alone. Yet she is so much more than a scorer. Her rebounding, her passing, her defense and her leadership are all at a supreme level, too.
Moore has lost two games while wearing a UConn uniform, both in her freshman season. She is now on a run that has included two undefeated NCAA title seasons, and a world championship gold medal for which she was the rare amateur among pros.
During all this, she has been an outstanding scholar, too, and the consummate teammate, willingly sharing the spotlight her first three seasons.
Now she just as gracefully, and most deservedly, stands alone in it.
April, 8, 2010
04/08/10
10:51
AM ET
Editor's note: ESPN.com senior writer Elizabeth Merrill spent the day with Connecticut Huskies senior Tina Charles, who was the top pick in Thursday's WNBA draft.
3:27 p.m. ET
About four hours ago, Tina Charles said she wasn't nervous. All that changed in the moments before the draft, when Charles said her heart was about to pound out of her chest.
She composed herself and stood in front of about 15 media members and told them that going No. 1 to the Connecticut Sun was "a dream come true."
She'll stay close to her home in Queens, N.Y., and will get to play in front of the same rabid fan base that cheered her on with the Connecticut Huskies.
"My family is Connecticut now," she said.
3:10 p.m. ET
Well, it's official. Tina Charles goes No. 1 overall to the Connecticut Sun. She hugged her mom and dad, then Geno Auriemma, and grabbed her new jersey.
2:20 p.m. ET
Basketball players do not roam around in 4-inch heels with perfectly sprayed hairdos very often. That's why a couple of WNBA reps are running the draftees through a pre-draft rehearsal, sort of a walk-through, just before the draft.
"Make sure you're standing up straight," one WNBA official says.
"When your name is called, take your time … hug it out [with friends and family]."
No cell phones, the players are told. No gum chewing, either.
Each player will sit at her own table with a select group of loved ones. UConn coach Geno Auriemma is expected to be perched at Tina Charles' spot, which is positioned in the middle of the room.
A number of Huskies players are making the trek to New Jersey, too, to show their support.
"I miss my team," Charles says. "I miss waking up and seeing my teammates. That's my comfort zone."
12:29 p.m. ET
Here's a strange scene: Tina Charles has just arrived at the WNBA draft, and in the players lounge, she's laughing and chatting it up with Jayne Appel. You remember Appel? Two nights ago, the Stanford center was battling Charles in the national championship game. Now she's Charles' buddy?
Actually, they've been friends for years, since fighting for rebounds on the AAU circuit, and Appel and Charles are BlackBerry Messenger friends and chat all the time. A few hours after Tuesday's game, Charles and Appel texted and eventually met up and hung out on the River Walk in San Antonio. They also had talked before the Final Four semifinals, wishing each other luck.
Appel's boyfriend thinks it's kind of strange how Appel and Charles can be fierce competitors on the court, then hang out after a game. Then again, Appel's boyfriend is Chris Marinelli, a 6-foot-7, 301-pound offensive lineman from Stanford who's gearing up for the NFL draft.
"A lot of male athletes don't have that [camaraderie]," Appel says. "I think it's special."
Marinelli will be here for the WNBA draft, and Appel could no doubt use somebody to lean on. She's hobbling around with a stress fracture in her foot and a twisted ankle. Appel says she feels fine thanks to some pain medication and is eager to play regardless of where she's drafted.
Still, she needed a few hours to compose herself after Tuesday night's 53-47 loss. When she finally met up with Charles and some of her UConn teammates, Appel tried to turn away when highlights played on the TV. But Appel was glad she spent her last night in San Antonio with her old friend.
"Tina is a great person," Appel says. "A very classy player."
11:30 a.m. ET
OK, so it's not even noon yet, and Tina Charles has shaken at least 20 hands and done four interviews. But the thing she dreaded the most about today? Getting dressed up.
"Getting all dolled up … this is a drag," Charles said as she fidgeted in her seat.
Charles will head over to the draft in a few minutes.
A little-known fact: Charles, a Queens, N.Y., native, is a Mets fan, and actually thought as a kid that baseball would be the sport she'd play the longest.
Charles won her first trophy in baseball and kept it displayed prominently in her family's house.
9:15 a.m. ET
The alarm on Tina Charles' BlackBerry went off a little bit ago. Most Thursdays, it wakes her up for a morning class at UConn. This morning, she glanced at it and hit the off button.
Charles has been up for a couple of hours, and it's a big day. In six hours, she's expected to be the No. 1 pick in the WNBA draft.
Charles says she isn't nervous, because, really, this is nothing compared to the past month or so. Her Huskies have carried the weight of a two-year winning streak and just made it 78 in a row Tuesday night with a win over Stanford in the national championship game.
Critics said UConn's dominance was bad for women's basketball. Charles bristled at that. "Because we knew all the hard work we put in at practice," Charles says. "People were still diving on the floor for loose balls.
"We take pride in what we do. That was ridiculous."
This has been a whirlwind week for Charles. There was the late-night national championship reception in San Antonio, the flight back to Connecticut, the pep rally on campus. Charles rolled into Secaucus, N.J., late Wednesday.
Today, she's doing the media circuit in Manhattan before ending up back in New Jersey to hear her name called.
Traffic has been the only headache so far. She spent an hour in an SUV with her mom, Angella, and passed the time by fiddling with her phone, reading e-mails and playing games.
April, 7, 2010
04/07/10
11:19
PM ET
So Tina Charles seems to be making a regular habit of extinguishing suspense. Her UConn team was predicted to win the past two NCAA titles. And despite things looking shaky for a while against Stanford on Tuesday, the Huskies did just that.
[+] Enlarge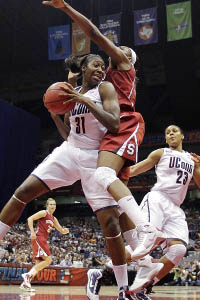 AP Photo/Eric GayProjected No. 1 draft pick Tina Charles led UConn to the NCAA title and its second consecutive unbeaten season on Tuesday.
Similarly, Charles has been the cinch No. 1 pick in the WNBA draft pretty much all her senior season. Thus, we can be certain how things will get started in Thursday's draft (ESPN2/ESPN3.com, 3 p.m. ET).
"With the first pick of the WNBA draft, the Connecticut Sun select … Tina Charles."
After that, it's hard to say who's going to go where. But it's not difficult to recognize how to label this draft. Someone like Charles aside, it's not regarded as a superstar-potential senior class.
In a teleconference last week, coach Nolan Richardson of the relocated Tulsa Shock said, "I may have to move my pick. We've got a lot of gaps and things we need to do."
Meaning he didn't think that at No. 7, he was going to get what he needed. So, indeed, on Wednesday the Shock sent their 2010 first-round pick and a 2011 second-round selection to Connecticut for Amber Holt and Chante Black.
Which one could assume is Richardson's way of saying, "Kinda slim draft pickings."
Richardson is, of course, getting a crash course on the women's game and is trying to rebuild a Shock team that isn't the same squad that was in Detroit. Several of those veterans seem to have treated Oklahoma as if it's rampant with the plague and wanted no part of going to Tulsa. Kudos to those Shock players who are giving the new WNBA city a chance.
[+] Enlarge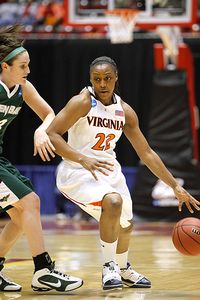 AP Photo/Charlie NeibergallVirginia guard Monica Wright is among the players rumored to be picked not long after Tina Charles goes first in the WNBA draft.
Richardson, understandably, would prefer experienced average players to rookie average players. And if that sounds like a harsh assessment of the class of 2010, it's not meant to be. Just realistic.
With only 12 teams and jobs at a premium, rookies will find it hard to make rosters unless they bring specific needs to teams. Being a good role player, though, is indeed filling a need.
Minnesota has the second and third picks, and new Lynx coach Cheryl Reeve suggested a couple of weeks ago that she thought she had her mind made up about who the franchise needed to take. We'll see if she has had second thoughts since then, in the wake of NCAA tournament performances.
"I think the people we've all projected to be solid players in the league are still solid," Reeve said. "How deep is this draft? It's an interesting time with the contraction. With the way we shape our rosters, positional need is becoming more important.
"I use the word 'serviceable.' There are a lot of serviceable players in the draft. There's not the Cappie Pondexters and the Candace Parkers. But still some good players. We have two high draft picks. We'll try to maximize them."