Category archive:

Georgia Tech Yellow Jackets
March, 4, 2012
03/04/12
8:15
PM ET
A lot of things could have happened to give Georgia Tech its first ACC tournament title. Instead, the pendulum swung just enough to give Maryland its 10th. And while the most celebrated performance of Sunday's title game -- for obvious reasons -- was that of ACC player of the year Alyssa Thomas, maybe the most gratifying for the Terps was that of Kim Rodgers.
In No. 3 seed Maryland's down-to-the-wire 68-65 victory over No. 4 seed Georgia Tech, the sophomore Thomas had a career-high 29 points and ultimately proved to be the force the Yellow Jackets just couldn't overcome. She will be a major handful for whoever has to face the Terps in the NCAA tourament.
But the 10 points, three assists and two rebounds Rodgers provided off the bench were very crucial for Maryland as well. Rodgers came out of Princess Anne High in Virginia Beach, Va., back in 2007 as one of the better prep guards in the nation. She's about to close out her Terps career as a fifth-year senior who is a model of perseverance and courage.
The great promise of her high school career was never realized in full because of injuries. After a serious knee injury in the preseason in 2007, Rodgers sat out what was to have been her freshman year. Of course, we always say "sat out" when in fact, those who are rehabbing injuries are never just sitting around. They are going through the painful, frustrating and often lonely process of getting their bodies back as close as possible to the way they used to be.
[+] Enlarge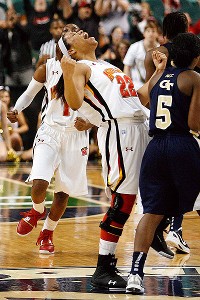 Mark Dolejs/US PresswireKim Rodgers doesn't start and might not play much, but she delivered back-to-back 3-pointers when Maryland needed it most Sunday.
Rodgers went through that and other injury setbacks. She never gave up. Brenda Frese talked about what an inspirational player she was, because of how much effort Rodgers had put into every minute she got on the floor.
Rodgers saw action in 17 games as a redshirt freshman, when the team led by then-seniors Kristi Toliver and Marissa Coleman won the 2009 ACC tournament. Then Rodgers played more regularly the next two years. She averaged more than 20 minutes per game as a sophomore and junior, when the Terps went to the WNIT and then the NCAA tournament second round.
This season, on a deeper and more talented Maryland team, Rodgers played just less than 11 minutes a game. But she was there Sunday in Greensboro Coliseum right when the Terps needed her. And Maryland definitely had to have all the help it could get in this tough battle.
Georgia Tech, playing in the program's first ACC final since 1992, was not about to back down at all. Always overshadowed in this league that has been so dominated by the North Carolina schools and Maryland, Georgia Tech was the sentimental favorite in Sunday's game. It seemed like it might finally be the Yellow Jackets' turn.
Led by standouts Tyaunna Marshall and Sasha Goodlett -- who finished with 25 and 20 points, respectively -- Georgia Tech was trying to win its first automatic bid into the NCAA tournament. It has been a grueling season for the team, with its home games moved to the Arena at Gwinnett, outside of Atlanta proper, because of construction to renovate Alexander Memorial Coliseum into a different facility.
Georgia Tech will move next season into its new home, renamed McCamish Pavilion, and would have loved to raise an ACC banner in there.
Instead, Maryland got its 10th ACC tournament championship, meaning Rodgers opened and closed her ACC career with tourney titles. On Sunday, she played 18 minutes. She scored all 10 of her points in about a five-minute stretch of the second half, going 4-for-4 from the line and 2-for-2 from behind the arc. She made every shot she took, and the two 3-pointers -- at the 7:58 and 7:23 marks -- were important both for the points they provided and for how they stretched the Georgia Tech defense.
Rodgers already has her bachelor's degree in communication and is working on a second degree in psychology. And whenever she looks at her two ACC tournament rings, she'll know just how much sweat (and some tears, too) went into winning both of them.
Rodgers is not the one who stands out most from Sunday's box score … but for Terps fans, she's a player they won't forget.
March, 3, 2012
03/03/12
5:51
PM ET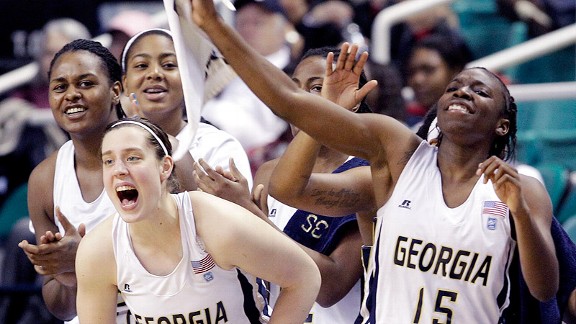 AP Photo/Chuck BurtonTyaunna Marshall, right, and Georgia Tech take aim at Maryland in Sunday's ACC final.
It's always kind of fun to look at these things from a where-were-they-then perspective. The last time Georgia Tech was in the final of the ACC women's tournament, current Yellow Jackets coach Machelle Joseph was finishing her senior season at Purdue as Big Ten player of the year. That was 1992.
Sunday, No. 4 seed Georgia Tech will meet No. 3 seed Maryland for the ACC title (ESPN2, 2 p.m. ET) in Greensboro, N.C. This is very familiar territory for the Terps as a program; they are playing in that program's 13th ACC title game, although it is just the third since 1993. They have a 9-3 record in the league finals; winning the most recent in 2009. The year Maryland won the national championship, 2006, it lost in the ACC final.
But the Yellow Jackets, as mentioned, haven't been this far in a long, long time. Back in 1992, the ACC had two of the best teams in the nation: Virginia and Maryland, both of which were ranked No. 1 during that season, with the Cavaliers a No. 1 seed in the ACC tourney and then the NCAA tournament.
Georgia Tech, coached at the time by Agnus Berenato, was overshadowed by the league's giants that year … until the Yellow Jackets got to the ACC tournament, which was then in Rock Hill, S.C. There, they went on a tear as the No. 7 seed, beating No. 2 seed Maryland and No. 3 Clemson, then falling to the top-seeded Cavaliers. Each of those games was decided by one point.
Had Georgia Tech been able to knock off Dawn Staley-led Virginia, the Yellow Jackets would have earned their first-ever berth into the NCAA tournament. Instead, they ended up in the WNIT -- the NCAA field was still just 48 teams then -- and ended up winning that title. Their Big Dance debut didn't come until the following year, when the Final Four was in Atlanta.
All told, Georgia Tech now has been to the NCAA tournament seven times, including the last five years in a row under Joseph, who took over the program in 2003-04. The Yellow Jackets will make it six straight NCAA appearances later this month, but might do something else they've never done: get the automatic berth.
To do so, though, they'll have to upset Maryland, a team they've already lost to twice this year: 77-74 in January at College Park, Md., and 64-56 in February in Atlanta. The Terps have looked good in their two victories in Greensboro, beating Virginia 70-58 and Wake Forest -- which took out No. 2 seed Miami on Friday -- 73-58.
Georgia Tech got this far after a nail-biter over No. 5 seed North Carolina 54-53 in the quarterfinals, then an 87-61 romp over No. 9 seed and surprise semifinalist NC State.
The Wolfpack did some of the heavy lifting for the Yellow Jackets by upsetting No. 1 seed Duke in the quarterfinals. But Georgia Tech (24-7 overall, 12-4 ACC), deserves a little good luck. Injuries, bad bounces, unfortunate placement/seeding, and some ill-timed poor performances all have prevented the Yellow Jackets from ever advancing past the NCAA tournament's second round.
Sophomore guard Tyaunna Marshall, along with center Sasha Goodlett and point guard Metra Walthour, both seniors, have been the stalwarts for Georgia Tech this year. They hope to make this the Yellow Jackets' most memorable season yet.