Category archive:

Notre Dame Fighting Irish
August, 9, 2012
08/09/12
8:29
PM ET
What's next after 40-0 for the Baylor women's basketball team? How about a little running-and-gunning with Kentucky? A journey to Hawaii, where Stanford awaits? A trip to Notre Dame for a rematch of the 2012 national championship game? A visit from a new-look Tennessee team?
All that will happen before December's over for defending NCAA champ Baylor, which hopes to end the 2012-13 season with another title -- this one in coach Kim Mulkey's home state of Louisiana.
And yes, we know that Mulkey strongly dislikes that term "defending." As she puts it, Baylor isn't defending anything, because it has already won the 2012 title and that can't be taken away. Regardless, the question "Can Baylor repeat?" is the biggest storyline going into the upcoming season.
For the third time, the Women's Final Four will be held in New Orleans, and the postseason road there should keep Baylor in pretty familiar territory. The Big 12 women's tournament will be back in Dallas, about an hour and a half north of Baylor's campus, for the first time since 2006. (This is the first year since the Big 12 formed in 1996-97 that the league's men's and women's hoops tournament are split up, as the men will play in Kansas City.)
The Lady Bears will be going for their fifth Big 12 tournament title. Baylor then will be a host for the early rounds of the NCAA women's tournament. After that, the NCAA regionals are in Oklahoma City; Spokane, Wash.; Norfolk, Va.; and Trenton, N.J. So if Baylor is the overall No. 1 seed again as it was in 2012 -- and advances out of the early rounds, of course -- the Lady Bears likely would head north for regional play in OKC (about a 4½-hour drive from Waco).
Admittedly, that's all quite a ways down the road. But it's easy to get caught up in looking ahead, considering that Baylor brings back all its starters, including reigning national player of the year Brittney Griner.
But let's back up and return to the beginning of the season, when Baylor plays back-to-back against Kentucky (Nov. 13 in Waco, Texas) and Stanford (Nov. 16 in Honolulu). The Wildcats have made it to the NCAA Elite Eight two of the last three years, while Stanford has made five consecutive trips to the Final Four. (But can the Cardinal do it this season without Nneka Ogwumike?)
On Dec. 5, Baylor will take on a Notre Dame team that the Lady Bears defeated 80-61 last April at Denver's Pepsi Center in the national championship game. Then on Dec. 18, Tennessee -- another team knocked out of the 2012 NCAA tournament by Baylor, in the Elite Eight -- comes to the Ferrell Center under Holly Warlick, who officially took over as head coach after Pat Summitt moved to an emeritus role this spring.
As for Big 12 conference play, one of Baylor's biggest rivals in recent years is no longer involved. There will be no more grudge matches for the foreseeable future with Texas A&M, which left the Big 12 along with Missouri to join the SEC. Mulkey made it abundantly clear last year she wasn't keen on starting a nonconference series with the Aggies.
But Baylor will interrupt conference play to travel to Connecticut; that game will be Feb. 18.
The Lady Bears open Big 12 play with league newcomer TCU, the Fort Worth-based school that's had consistent success in women's hoops under coach Jeff Mittie but now will be playing on a bigger stage.
The other Big 12 newcomer, West Virginia (yes, it's still hard to believe), will get its "welcome to Waco" on Jan. 19.
Baylor's matchups against a Texas team starting a new chapter under coach Karen Aston are Feb. 9 in Austin and Feb. 23 in Waco. During Aston's years as an assistant, she had two stints working at Baylor.
The target will be on Baylor's back all this season -- but that's nothing new. It really was last season, too. Mulkey didn't try to lessen expectations in 2012, and after the NCAA title game, she was already looking ahead to making a run at New Orleans in 2013.
"That's my home state, and I won't have enough tickets for family," she said in Denver. "But I'll do something to get them in the arena. That's what we want, another national championship."
April, 1, 2012
04/01/12
10:11
PM ET
DENVER -- UConn's Tiffany Hayes ended her career with two NCAA titles … and two frustrating NCAA tournament losses to Notre Dame.
The Huskies' only senior sat mostly dry-eyed at her locker room stall at the Pepsi Center following an 83-75 overtime defeat at the hands of the Irish on Sunday. She talked about being happy with a great run in her college career, but not feeling satisfied. Occasionally, tears welled in her eyes, but she fought them off.
"We gave this game away," Hayes said, upset by her team's turnovers -- she had six of the Huskies' 21 -- and failure to box out at crucial moments. "It's really hard; you want to be in that final game."
[+] Enlarge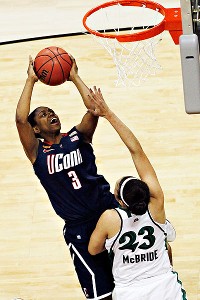 AP Photo/David ZalubowskiTiffany Hayes had 10 points and six turnovers in her final game for UConn.
Hayes was a complementary player her first three seasons at UConn, playing alongside the likes of Maya Moore, Tina Charles and Renee Montgomery. This year, Hayes was depended on more, and she came through much of the time.
In late January, she had back-to-back games in which she scored 35 and 33 points against Syracuse and then South Florida. It was a slice of Hayes at her slashing and jump-shooting best.
And in the Kingston Regional, she was pivotal in getting the Huskies into their fifth consecutive Final Four. Hayes had 32 points and 14 rebounds combined against Penn State and Kentucky in being named the regional's most outstanding player.
After the Elite Eight victory against the Wildcats, UConn coach Geno Auriemma said of Hayes: "Tiffany's grown up a lot. Being MOP was one of the highlights of her career. I'm thrilled for her."
And Hayes fully acknowledged then how her inconsistency over the years -- for which she got heat from both Auriemma and the UConn fan base -- had bothered her. She was hoping to prove at the Final Four that she wasn't going to follow a peak with another valley.
But Sunday's game is not one for which she'll have any fond memories. Along with the turnovers, Hayes took some out-of-control, wild-looking shots. Other times, she didn't seem to be looking to make a play at all, even when the Huskies really needed someone to step forward. Hayes was 4-of-11 from the field and 2-of-4 from the foul line for 10 points.
"We could have done a lot of things differently, but we're a fighting team and we didn't give up," Hayes said. "It was about all hustle plays for both teams. I don't want this to end now, but it was a good four years."
Hayes said when the buzzer went off, the thought that went through her mind was, "That's it. That's it for me. But I also knew that, like coach said, they are definitely going to be back."
March, 24, 2012
03/24/12
9:47
PM ET
RALEIGH, N.C. -- A few things I'll be watching at Sunday's regional semifinals:
(3) Texas A&M vs. (2) Maryland
ESPN/ESPN3, noon ET Sunday
Star power: Maryland's Alyssa Thomas will be the best player on the floor, but Texas A&M's Sydney Carter is a ferocious defender. If you want to teach a kid how to play hard, have him/her watch these two stars.
Stat power: Rebounds. The Terps are second in the country in rebounding margin (plus-13.9). The Aggies will have to focus on keeping the Maryland bigs off the boards.
What I'm looking for:
1. A&M "defensive coordinator" Vic Schaefer is one of the best defensive minds in the game. What can he come up with to slow down Thomas and the Maryland backcourt?
2. Who will dominate inside? Will it be A&M's Kelsey Bone or Tianna Hawkins and Lynetta Kizer for Maryland?
3. How will the game be officiated? Maryland is a different team with Thomas in foul trouble. She picked up early ones versus Louisville and it affected her the rest of the game.
(5) St. Bonaventure vs. (1) Notre Dame
ESPN2/ESPN3, 2:30 p.m. ET Sunday
Star power: Notre Dame's Skylar Diggins is one of the best point guards in the nation, but the Bonnies' Jessica Jenkins might be the purest shooter.
Stat power: Turnovers. The Fighting Irish force 22.8 turnovers a game, but St. Bonaventure leads the nation in fewest giveaways at only 12 a game.
What I'm looking for:
1. Will Notre Dame have any difficulty defending the Bonnies' 5-out motion offense? (I'll let you in on a secret: No big really likes defending on the perimeter.)
2. Will St. Bonaventure -- playing in its first NCAA tournament -- be able to keep the game close for a while? It is undersized and doesn't have much tournament experience, but plays as well together as any team in the tourney.
3. Does Megan Van Tatenhove's family really own a cheese factory? (Tune in to get the answer to that one.)
March, 13, 2012
03/13/12
3:28
PM ET
Rebecca Lobo gives a behind-the-scenes look at preparations for the set of the Selection Show.
Hardest regional: Des Moines. For Tennessee to be the 2-seed there (with No. 1 Baylor) after playing really well in the past week or so, that was the one that stuck out to me.
Easiest regional: Kingston. Connecticut's path to a potential Final Four might be the least difficult. Kentucky is probably seen as the fourth No. 2 seed, and Connecticut -- which opens in Bridgeport -- doesn't have to get on an airplane.
Best first-round game: No. 7 seed Green Bay versus 10th-seeded Iowa State in Ames, Iowa. Both teams have players who can shoot the 3 and it's a lower seed playing on its home floor.
Best potential second-round matchup: Top-seeded Baylor against No. 8 seed Ohio State. The consensus on the Buckeyes is that they deserved a better seed.
Team better than its seed: Sticking with 8-seed Ohio State on this one.
Team worse than its seed: No. 6 Nebraska. That is not meant as any disrespect to Nebraska. But in relation to Ohio State and both teams being from the Big Ten, it's just an interesting thing to look at those two seeds side by side.
Biggest snub: No. 2 seed Duke in Nashville. The Blue Devils were probably expecting to be in Chapel Hill. Instead, they have to potentially play a second-round meeting with Vanderbilt in the Commodores' town.
Biggest surprise: That No. 2 seed Kentucky and third-seeded Miami are in the same region in Kingston. That could be a pretty amazing matchup if it happens in the regional semifinal.
Possible Cinderella: Green Bay. The Phoenix play an interesting system, and most teams don't play against a team like Green Bay in the regular season. The Phoenix could get to the Elite Eight. A team that could get to the Final Four is Maryland. The Terps have depth at the post, a star in Alyssa Thomas, an experienced backcourt, and Maryland has bodies to match up with most teams. The Terps are the team that best matches up with Baylor. Of course, they have to reach the national championship to even get a shot.
Most talent in one region: Des Moines. Just looking at Baylor's and Tennessee's rosters, they're loaded with talent. Ohio State has Samantha Prahalis. Delaware's Elena Delle Donne has real star power.
Under-the-radar player: Point guard Jasmine Lister from Vanderbilt. I really like her game. I just watched (video of) her playing in a win against Tennessee at Vanderbilt, and Lister was absolutely outstanding.
Final Four: I'm going with the chalk and sticking with all the No. 1 seeds: Baylor, Stanford, Notre Dame and Connecticut.
Who wins? Baylor is still the team to beat. If it goes chalk, the Lady Bears will have beaten two of the three other No. 1 seeds that could be there. I'm picking Baylor as my champ over Notre Dame.
March, 2, 2012
03/02/12
10:44
AM ET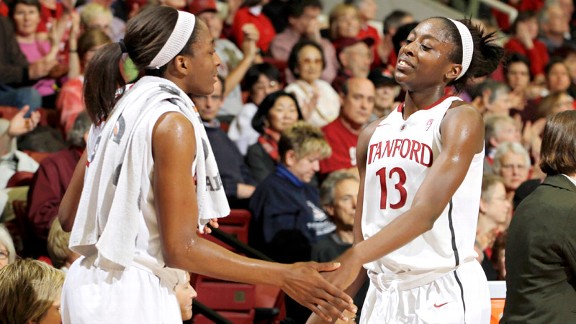 AP Photo/Paul SakumaNneka Ogwumike is an obvious pick, and sister Chiney is a second-team candidate.
There's no such thing as even one choice -- let alone five of them -- that will bring unanimous consent. But when you're talking All-Americans in women's basketball this particular season, the first team likely will get a lot of agreement.
After that, though, all heck breaks loose. You could justifiably choose any number of players for an All-American second team. In fact, you might not agree with any of my picks, and you might not be wrong. There really are that many candidates for those second five spots.
The first five are a lot easier. They have solidified themselves both with their individual performances and their teams' success in 2011-12. All five are from squads that won their conference's regular-season championship.
Only one is on the current list of finalists for the 2012 Olympics, but it wouldn't be a surprise to see all five of them play for Team USA at the Rio de Janeiro Games in 2016. In fact, you could even envision these five starting as a unit, because they could perfectly cover every spot on the floor.
One is a defensive presence like none other in the women's college game. One is the most exceptional rebounder of the group. One is a great scorer and extremely versatile. Two are highly efficient playmakers who can also rack up the points themselves.
So now, as we're just moving into the Month of Madness, here is a suggested "top 10" that is made up of two teams that could be put on the floor. (In other words, these aren't "three centers/two forwards" kind of squads.) Which 10 players actually will make up the State Farm All-America team that will be announced in Denver? We're sure at least some of them are included here.
First team
Brittney Griner, C, junior, Baylor: The numbers tell the story: 22.7 ppg, 9.7 rpg, 155 blocked shots. Baylor's opponents are shooting an average of just 30.7 percent from the field. Shooters get gun-shy or greatly rush shots because Griner is so intimidating defensively that foes start seeing her even when she isn't there. Of course, she's usually there. She's also an Olympic finalist.
Nneka Ogwumike, F, senior, Stanford: Coach Tara VanDerveer predicted that as good as Ogwumike was last year, this season she would be markedly better. That has proved true, as Stanford has pummeled its way through the Pac-12 again behind Ogwumike's fabulous senior season. She has increased her scoring (21.6) and rebounding (10.6) averages, plus is shooting a career-best 82.2 percent from the foul line. About the only one who can hang with Nneka on the boards is sister Chiney.
Elena Delle Donne, F/G, junior, Delaware: She'll get well-deserved consideration for player of the year, even though Griner appears to be the favorite. Delle Donne has blossomed as a nearly unstoppable offensive force, averaging a national-best 28.3 points per game with an amazingly versatile attack. The Blue Hens won the Colonial Athletic Association regular-season title at 18-0, and their 27 victories thus far is a school record.
G Skylar Diggins, G, junior, Notre Dame: After leading the Irish to the NCAA title game last season, her profile was raised nationally. The added attention hasn't hurt at all. This year, she has sparked Notre Dame to two victories against UConn and the program's first outright Big East regular-season title. Diggins is shooting 52.5 percent from the field while leading the Irish in scoring (17.4), assists (174) and steals (77).
Odyssey Sims, G, sophomore, Baylor: She never seems rattled, always having the right amount of energy and excitement that a team needs from its floor leader. Sims -- 14.7 ppg, 4.8 apg, 45.5 percent shooting from the field -- also has a propensity for making the big play right when needed and is an excellent defender. She and Diggins both see the floor so well.
Second team
Chiney Ogwumike, F, sophomore, Stanford: Little Sis has become, as expected, a force all her own. She is shooting nearly 60 percent from the field as she averages 16.1 ppg. She's getting 10.1 rpg, and hasn't fouled out this season after doing so four times as a freshman.
Julie Wojta, G/F, senior, Green Bay: The versatile Wojta (which is pronounced "white-UH") is the primary reason the Phoenix have had virtually no drop-off in success from last season's Sweet 16 team, despite two big losses to graduation. Green Bay is 26-1 behind Wojta's 19.6 ppg and 10.3 rpg.
Samantha Prahalis, G, senior, Ohio State: Give credit where it's due. She has been an emotionally stable leader as a senior, which was much-needed with the graduation of center Jantel Lavender. Prahalis is the Big Ten Player of the Year; her 20.4 ppg scoring average was second in the league to teammate Tayler Hill's 20.7, plus she led the conference in assists (6.5).
Shenise Johnson, G, senior, Miami: It would be hard for a player to do more for her team than Johnson does for the Hurricanes. She leads them in scoring (16.8), rebounding (7.9), assists (130) and steals (101), plus is shooting 45.3 percent from the field and 87.1 percent from the line.
Tiffany Hayes, G, senior, UConn: She still sometimes frustrates UConn coaches and fans with what seems a lack of "presence" in big moments. But the bar is wickedly high at UConn. So much so that what Hayes has done -- she's the leading scorer (15.9) and second-leading rebounder (5.7) on a team that's still going to get a NCAA No. 1 seed -- is too easily undervalued.
February, 28, 2012
02/28/12
12:28
AM ET
Geno Auriemma says he "could care less" about the conference tournament, which opens March 2. "We're not good enough to win the Big East tournament, probably," he said, "so it doesn't matter to me who wins it."
Geno Auriemma talks about his frustration with the Huskies, who lost to Notre Dame on Monday.
Notre Dame's Natalie Novosel talks about the Irish winning the Big East title outright with the Irish's 72-59 victory over UConn.
February, 17, 2012
02/17/12
12:13
AM ET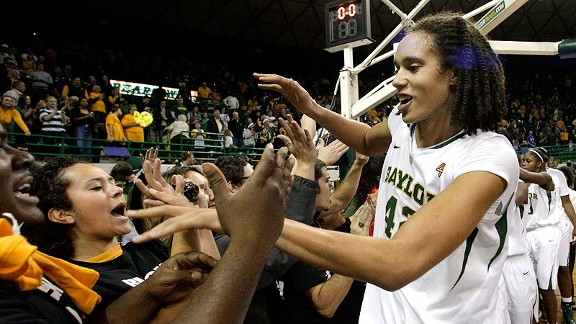 AP Photo/Tony GutierrezBrittney Griner, who simply doesn't have bad games, averages 23.1 ppg, 9.6 rpg and 5.4 bpg.
Remember Nike's "Little Rascals" commercials featuring WNBA stars? You don't? Well, then go to YouTube. If you do, recall the one in which the bossy little girl grills Cynthia Cooper for an explanation of why she pulled up for a 3-pointer on the break rather than passing to Tina Thompson on the block.
"Because I was open," an exasperated Cooper finally says. But that doesn't satisfy the kiddo.
In fact, Cooper could have said, "I could make a strong case for me taking the 3-pointer because I'm a great shooter, and I could also do the same for passing to my post player because she's terrific, too. Neither would have been a wrong decision, so I really shouldn't have to defend it."
Of course, that wouldn't have made such a funny commercial. But it's a pretty good answer much of the time when you're dealing with a variety of topics, including player or coach of the year in various sports. There is usually more than one qualified candidate, and good arguments can be made for each one.
However, in the end, if you're a voter for such an award, you have to make a decision. And in regard to national player of the year, if the vote was right now, I would pick Baylor center Brittney Griner.
What about Stanford senior post player Nneka Ogwumike? Notre Dame junior guard Skylar Diggins? Delaware junior guard/forward Elena Delle Donne? Each of them will get votes, and those absolutely can be justified.
I was leaning toward Ogwumike in the preseason, and she hasn't done anything at all to lose the award. But Griner still has moved to the top of the list. In the end, I keep coming back to this: Has any player performed more consistently at a higher level and led her team to more success this season than Griner? It's still a close call, isn't it?
But Baylor, ranked No. 1, is 26-0 overall and 13-0 in the Big 12. Since the Lady Bears' toughest matchup of the season -- the 66-61 victory over UConn on Dec. 18 in Waco, Texas -- Baylor has had just one game decided by fewer than double digits. That was a 72-64 win at Texas Tech on Jan. 18.
Baylor is outscoring its foes by an average of 80.4 to 50.8 this season. Baylor is on its way to being the third Big 12 team to go undefeated in league play -- following Oklahoma in 2006 and Nebraska in 2010 -- and also projects to be stronger in the NCAA tournament than those squads, both of whom lost in the Sweet 16.
Throughout this run of perfection, Griner -- named Monday as one of the 21 finalists for the U.S. Olympic women's hoops team -- has been like clockwork. Through the most recently updated NCAA statistical rankings on Sunday, Griner is seventh in scoring and first in blocked shots. She's in the top 35 on the boards, in part because that's a chore she shares with two other very good rebounders for Baylor: Destiny Williams and Brooklyn Pope. Griner has not fouled out this season.
She simply doesn't have bad games, with averages of 23.1 points, 9.6 rebounds and 5.4 blocks. Although it's true you could say that about the other top candidates for player of the year, too, as all of them have their teams atop their respective conferences.
Delle Donne, who is such a complete, versatile player, is going to have some support for sure in challenging Griner for the award. The 6-foot-5 Delle Donne seems to keep getting stronger as the season wears on.
She is averaging a Division I-leading 28.8 points for the Blue Hens, who are in front of the Colonial Athletic Association at 14-0. She's also getting 10.4 rebounds per game.
Thursday, she had a monster of a game: 42 points, 14 rebounds and six blocked shots against Hofstra, a worthy league opponent, in an 89-79 victory. Delle Donne now has scored 40 points or more four times this season.
Her numbers are majorly eye-popping, especially considering her CAA opponents have tried all possible defenses to stop her, save putting her in handcuffs. (If Hofstra had tried that, she probably would have scored only 24 points.)
Diggins' Irish suffered an unexpected loss to West Virginia, but they are still 12-1 in the Big East with another matchup coming Feb. 27 against UConn, which is 11-1 in the league.
Diggins is averaging 17.2 points, 5.8 assists, 2.9 rebounds and 2.5 steals. In Notre Dame's two losses, to Baylor and West Virginia, Diggins still scored 27 and 32 points, respectively.
At this point, the Stanford fans are probably jumping up and down screaming, "What about Nneka?" Your frustration is understandable. You aren't too happy that folks accidentally still keep calling the conference the "Pac-10" (it's kind of a hard habit to break, though, at least for the first season) and that doubters continue to question the difficulty of Pac-12 competition. Why should Stanford be penalized for crushing the league again?
Nneka Ogwumike is averaging 22.3 points and 10.7 rebounds. Not far behind is her sophomore sister, Chiney (16.0 ppg, 10.3 rpg), who seems certain to be a candidate for national player of the year next season.
The Cardinal are 13-0 in the Pac-12, far and away in the lead. Their only loss of the season was in November to Connecticut at the XL Center in Hartford.
Would you be wrong to go with any of these four -- Griner, Nneka Ogwumike, Diggins or Delle Donne -- as your player of the year? Not at all. And let's also reiterate that this decision doesn't have to be made today, we're still just in mid-February.
But the leader of the pack is Griner. With several great choices, she's still the favorite.
Midseason award candidates
Wade Trophy watch (33): LaSondra Barrett, LSU; Alex Bentley, Penn State; Cierra Bravard, Florida State; Carolyn Davis, Kansas; Elena Delle Donne, Delaware; Skylar Diggins, Notre Dame; Jasmine Dixon, UCLA; Stefanie Dolson, Connecticut; Brittney Griner, Baylor; Keisha Hampton, DePaul; Bria Hartley, Connecticut; Tiffany Hayes, Connecticut; Tayler Hill, Ohio State; Jordan Hooper, Nebraska; Glory Johnson, Tennessee; Shenise Johnson, Miami; Anna Martin, DePaul; A'dia Mathies, Kentucky; Natalie Novosel, Notre Dame; Chiney Ogwumike, Stanford; Nneka Ogwumike, Stanford; Devereaux Peters, Notre Dame; Samantha Prahalis, Ohio State; Jaime Printy, Iowa; Monique Reid, Louisville; Sugar Rodgers, Georgetown; Khadijah Rushdan, Rutgers; Odyssey Sims, Baylor; Shekinna Stricklen, Tennessee; Alyssa Thomas, Maryland; Tyra White, Texas A&M; Riquna Williams, Miami; Julie Wojta, Green Bay.
Wooden Award watch list (20): Alex Bentley, Penn State; Elena Delle Donne, Delaware; Skylar Diggins, Notre Dame; Shante Evans, Hofstra; Brittney Griner, Baylor; Bria Hartley, Connecticut; Glory Johnson, Tennessee; Shenise Johnson, Miami; A'dia Mathies, Kentucky; Kaleena Mosqueda-Lewis, Connecticut; Natalie Novosel, Notre Dame; Chiney Ogwumike, Stanford; Nneka Ogwumike, Stanford; Samantha Prahalis, Ohio State; Sugar Rodgers, Georgetown; Odyssey Sims, Baylor; Shekinna Stricklen, Tennessee; Alyssa Thomas, Maryland; Elizabeth Williams, Duke; Riquna Williams, Miami.
Naismith early season watch list (51; from November): LaSondra Barrett, LSU; Alex Bentley, Penn State; Cierra Bravard, Florida State; Brittany Carter, Memphis; Sydney Carter, Texas A&M; Carolyn Davis, Kansas; Elena Delle Donne, Delaware; Skylar Diggins, Notre Dame; Stefanie Dolson, Connecticut; Aaryn Ellenberg, Oklahoma; Shante Evans, Hofstra; Casey Garrison, Missouri State; Jacki Gemelos, Southern California; Briana Gilbreath, Southern California; Chelsea Gray, Duke; Brittney Griner, Baylor; Keisha Hampton, DePaul; Whitney Hand, Oklahoma; Bria Hartley, Connecticut; Tiffany Hayes, Connecticut; Courtney Hurt, Virginia Commonwealth; Jasmine James, Georgia; Shenise Johnson, Miami; Lykendra Johnson, Michigan State; Glory Johnson, Tennessee; Lynetta Kizer, Maryland; Maggie Lucas, Penn State; Kevi Luper, Oral Roberts; A'dia Mathies, Kentucky; Natalie Novosel, Notre Dame; Chiney Ogwumike, Stanford; Nneka Ogwumike, Stanford; Shey Peddy, Temple; Devereaux Peters, Notre Dame; Samantha Prahalis, Ohio State; Jaime Printy, Iowa; Justine Raterman, Dayton; Monique Reid, Louisville; Sugar Rodgers, Georgetown; Khadijah Rushdan, Rutgers; Shoni Schimmel, Louisville; Naama Shafir, Toledo; Meighan Simmons, Tennessee; Odyssey Sims, Baylor; Kayla Standish, Gonzaga; Da'Shena Stevens, St. John's; Shekinna Stricklen, Tennessee; April Sykes, Rutgers; Alyssa Thomas, Maryland; Tyra White, Texas A&M; Riquna Williams, Miami.
February, 12, 2012
02/12/12
7:27
PM ET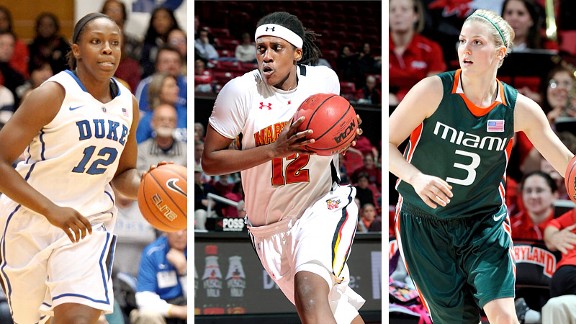 Getty ImagesTeams from the ACC -- Duke, Maryland and Miami -- have a hold on three of the No. 2 seeds.
One month from Monday we will know the field for the 2012 women's NCAA tournament, so Play 4Kay, which dominates the landscape of women's college basketball for these two days, not only serves as awareness for a great cause, it also marks the beginning of the final sprint in the selection process. Every game from here on out has ramifications for teams fighting for conference positioning, a place in the NCAA field, or a better seed. So which teams used Sunday to get out of the gates quickly for this final stretch, and which squads might now be running the race from behind?
Bracketology winners
West Virginia: The Mountaineers were the biggest winner Sunday and it wasn't even close. On the outside looking in most of the season, West Virginia was creeping closer to the field. Then with one tremendous, 40-minute effort at Notre Dame, Mike Carey's always hard-working team exploded into the field. West Virginia's 65-63 out-of-nowhere upset of the Irish was the biggest surprise of the season so far.
It's not as if the Mountaineers hadn't been making noise -- they had just beaten Louisville and won five of six games before arriving in South Bend. But Notre Dame has just been that good. St. John's 15-point loss was the closest anyone had come against the Irish since Jan. 7, and Notre Dame had gotten into a habit of rendering the outcome academic by halftime. West Virginia slowed down the Irish and then knocked them around. The deliberate, physical play wasn't to Notre Dame's liking, and West Virginia grabbed the win it needed, the same kind of victory every bubble team strives for this time of year.
Texas Tech: The Lady Raiders were fading and about to play themselves out of the field. The only wins they've managed since Jan. 7 were over lowly Missouri and even faster-fading Texas. Tech couldn't let Iowa State get of Lubbock with a win. It didn't, even on a day when the ball and the basket did not meet very often. Chynna Brown scored 19 points in her first start of the season and Texas Tech used defense and second-chance points to win 51-41. Nothing about the game looks that impressive, except the Lady Raiders had to have it. Why? Four of Tech's final six games are on the road and all except a visit from Texas on Wednesday are against teams ahead of Tech in the standings. The Lady Raiders survived as a winner this Sunday but might need to win on a few more Sundays before this race is over.
Miami: On a day when top scorers Shenise Johnson and Riquna Williams weren't shooting it all that well, and the Hurricanes got outrebounded by 10, Miami still managed to waltz into College Park and steal a win (and a season sweep) over Maryland. The outcome was huge for two reasons. By beating the Terps, Miami kept alive its hopes that the Feb. 24 game at Duke will mean something (that game will likely now be for the ACC regular-season championship). It also nearly assures that Miami will end up with a No. 2 seed in the NCAA tournament. Barring a few unforeseen results, it's extremely unlikely for other contenders -- Maryland, Texas A&M, Tennessee, Ohio State, Delaware or Georgetown -- to catch Miami. A loss on Sunday coupled with another to Duke, and the Hurricanes might have been vulnerable.
Bracketology losers
Kansas: While not officially part of the Play 4Kay lineup, Kansas versus Kansas State was one of the day's biggest games because it pitted two teams in a battle in the Big 12 standings and fighting to gain ground on the selection board. Just a few minutes into this rivalry game, however, the Jayhawks lost leading scorer and junior forward Carolyn Davis to a leg injury. If the injury is severe as it appears and Davis is lost, Kansas' outlook for the NCAA tournament changes. That puts more pressure on senior forward Aishah Sutherland, who was good (12 points, 17 rebounds) without her running mate against Kansas State -- but not good enough as the Wildcats won 47-43. The Jayhawks were on their way to a bid in their best season in a decade or so. But they don't appear to be good enough to survive the final six regular-season games without one of the nation's top post players.
Florida: This time of year is all about taking advantage of opportunity. Losing to South Carolina in a close game on the road by no means kills the Gators' chances of making the field, but winning a game like this would have vaulted Florida into a significant position of safety. But while the Gamecocks provided an open door, the Gators failed to walk through. Twice in the final minute South Carolina missed free throws, keeping it a one-possession game. But after one of those misses, Florida failed to secure the rebound. After the second, Florida got a great look at a 3-pointer that would have tied the score, but Lily Svete couldn't knock it down. The Gamecocks won by four, and Florida waved goodbye to an easier path to March.
Rutgers: The good news was that Khadijah Rushdan was back after missing three full games following a concussion, and led the Scarlet Knights in scoring. The bad news was the offense still sputtered and Rutgers lost to St. John's, the Scarlet Knights' fourth straight defeat. Once thought of as possibly the third-best team in the Big East and a possible No. 3 seed in the NCAA tournament, the Scarlet Knights are now in eighth place in the conference and fighting for a No. 5 or 6 seed. Sunday's game against St. John's was one of the final shots Rutgers had at a true résumé-worthy win, but once again, the shooting woes that early in the season looked to be a thing of the past were impossible to overcome. A trip to West Virginia is up next, and then it's a run of games that Rutgers should (and must) win to stabilize its tournament position. That was something a better showing against St. John's on Sunday could have done.
January, 2, 2012
01/02/12
1:16
PM ET
There's no surprise among the No. 1 seeds, which would be Baylor, Connecticut, Notre Dame and Stanford. But which teams join Maryland as a No. 2? ESPN.com's Charlie Creme gives us a brief Bracketology update, with a full field of 64 coming Jan. 9.
April, 6, 2011
04/06/11
12:42
AM ET
ESPN.com's Mechelle Voepel and Charlie Creme talk about the keys to the Texas A&M's victory and predict both A&M and Notre Dame will be among the top teams next year, too.
Texas A&M's Danielle Adams talks about how she and fellow Kansas Citian Tyra White helped the Aggies win the national championship.
Texas A&M's Adaora Elonu talks about the Aggies' improved defense in the second half of the championship victory over Notre Dame.
Aggies senior Maryann Baker talks about what it means to the A&M community to win an NCAA basketball championship. They had a "maroon-out" on campus Tuesday as everyone was encouraged to wear the school colors.
Texas A&M's Tyra White talks about making the game-winner as the shot clock expired.
Sydney Carter talks about winning the NCAA championship and White's clutch shooting.
Associate head coach Vic Schaefer talks about Texas A&M's defense and Sydney Colson surviving foul trouble.
Colson talks about the adjustments Texas A&M made in the second half.