Category archive:

Kentucky Wildcats
March, 12, 2012
03/12/12
10:01
PM ET
Iowa coach Lisa Bluder high-fives with her team after the Hawkeyes received a No. 9 seed. They will face California in the first round.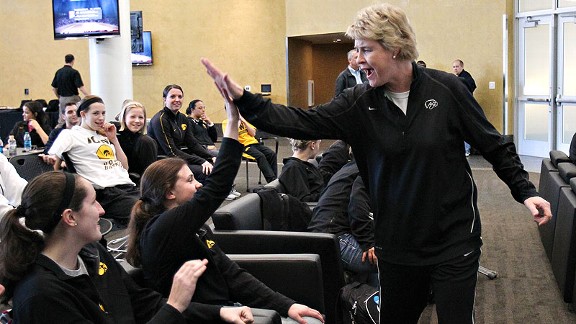 Darren Miller/Iowa AthleticsLisa Bluder and the Iowa Hawkeyes will be making their fifth straight trip to the tournament.
Coach Pat Summitt and No. 2 seed Tennessee may have to go through Elena Delle Donne and Delaware, and then Brittney Griner and Baylor to reach the Final Four.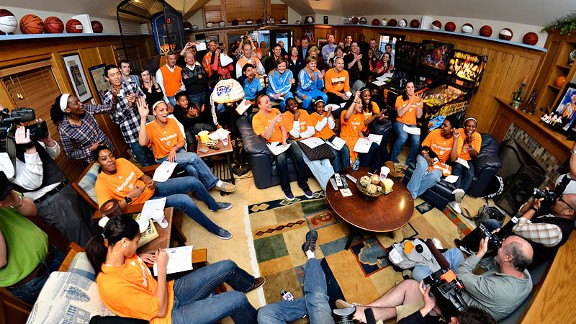 Patrick Murphy-Racey/UTADPHOTOTennessee has won the most women's basketball titles -- eight -- under coach Pat Summitt.
No. 16-seed Liberty will face top-seeded Notre Dame in the first round. Harvard, a No. 16 seed, defeated No. 1 seed Stanford in 1998.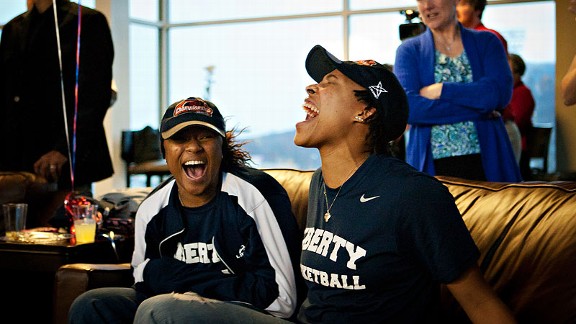 Kevin Manguiob/Liberty AthleticsLiberty players shout for joy after their school gets its NCAA matchup.
Fresno State is the No. 12 seed in the Des Moines region. The Bulldogs play No. 5 Georgetown and Sugar Rodgers.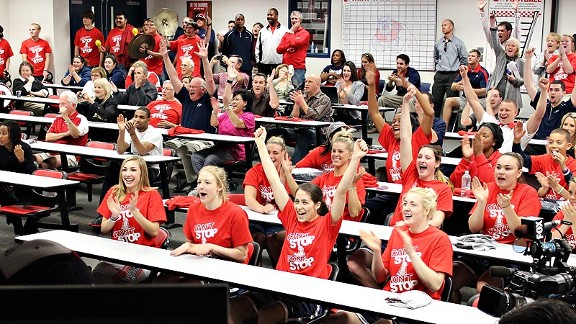 Fresno State AthleticsFresno State players raise their arms in celebration when their bracket is revealed.
Florida players will have a tough road, facing No. 8 seed Ohio State, which features one of the toughest backcourts in the country with Samantha Prahalis and Tayler Hill.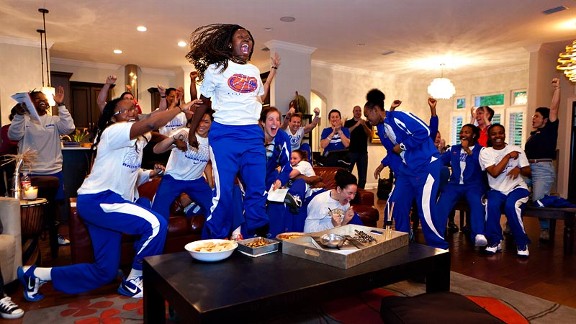 Matt Pendleton/UAAFlorida players show their vertical after being selected for the tournament.
Julie Wojta and Green Bay finished the season with a 30-1 record but received a No. 7 seed. The Phoenix also have to travel to Ames, Iowa, to face Iowa State.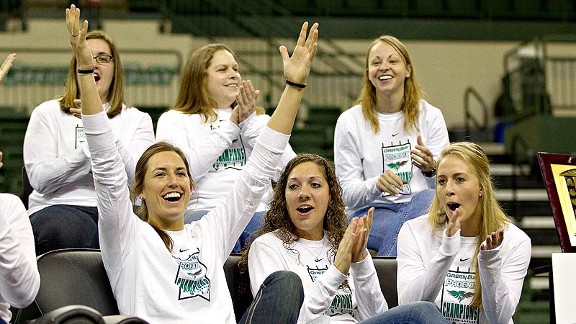 Georgia Tech AthleticsGreen Bay took a subdued approach when its name was called for the field.
Connie Yori and Nebraska went all the way to the conference tournament final in their first season in the Big Ten. The No. 6-seeded Cornhuskers play Kansas in the first round.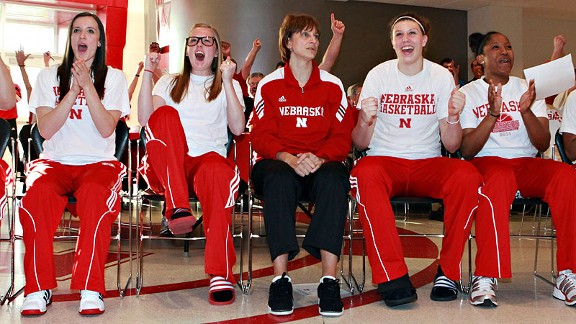 Nebraska AthleticsCoach Connie Yori and the Nebraska Cornhuskers react to their selection.
Kentucky won the SEC conference regular-season title. As their reward, the Wildcats received a No. 2 seed and will face McNeese State.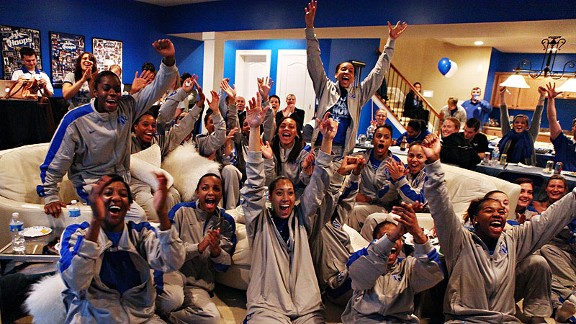 Kentucky AthleticsKentucky players are all smiles watching the "NCAA Selection Show" on Monday.
Kansas State will face Princeton in the first round. If the Wildcats win, they will likely face No. 1 seed UConn in the second round.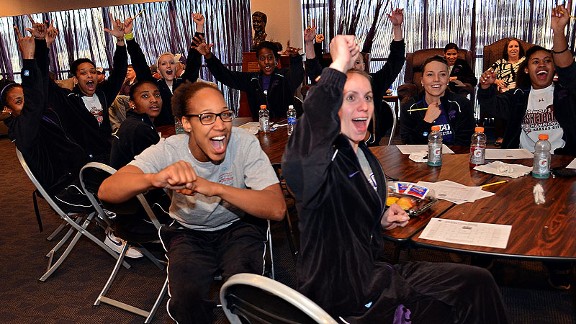 Kansas State AthleticsKansas State players fist pump as the Wildcats make the tournament field.
Oklahoma coach Sherri Coale, back left, and her team are No. 6 seed and will face Michigan. The winner could play No. 3 seed St. John's from the Big East.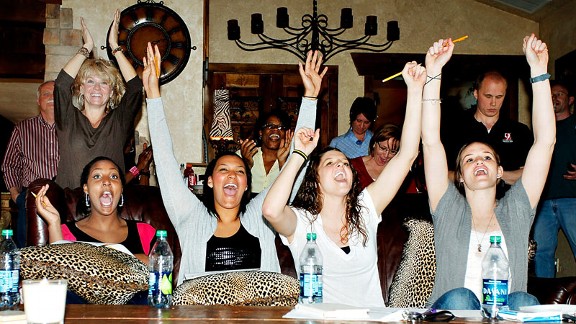 Oklahoma AthleticsOU is 20-12, but Sherri Coale credited a strong nonconference schedule for the No. 6 seed.
March, 11, 2012
03/11/12
7:18
PM ET
Some updates after Sunday's conference tournament games:
NOTABLE
• Delaware (Colonial) and Green Bay (Horizon) won their respective tournament championship games, removing any bid-stealing possibilities on the final day of conference tournaments.
• Creighton (Missouri Valley), Liberty (Big South) and Sacred Heart (Northeast) also held their spots in the field with tournament titles.
• Kentucky holds onto the final No. 2 seed. The Wildcats had more quality wins (11) than Miami (five) or Delaware (five), had a better SOS than both, and won a regular-season title in the second-rated conference.
• Texas remains the last team in. The Longhorns are no slam dunk, but the decision came down to fact they have more wins against other teams under at-large consideration (seven) than North Carolina (three), Michigan (four), Southern California (four), James Madison (one), Oklahoma State (five) and Kansas (six). Of course, there a number of other factors to consider, but this was the deciding measurement. Victories over Michigan State, California and Virginia were a collection of nonconference wins none of the other teams have.
LAST FOUR IN
Temple
Iowa State
Michigan State
Texas
FIRST FOUR OUT
North Carolina
Michigan
Southern California
Oklahoma State
NEXT FOUR OUT
Kansas
James Madison
Wake Forest
Arizona State
CONFERENCE BREAKDOWN
Big East (8)
SEC (8)
Big Ten (6)
Big 12 (6)
ACC (5)
Atlantic 10 (3)
Pac-12 (2)
WCC (2)
Sun Belt (2)
• Automatic qualifiers
• Saturday's update
• Friday's update
• Wednesday's update
• Tuesday's update
March, 6, 2012
03/06/12
5:36
PM ET
Check back later Tuesday night for our full bracket. But for now, here are the main changes after Tuesday's Sun Belt championship game:
NOTABLE
• Middle Tennessee lost in the Sun Belt final to Arkansas-Little Rock but stays in the field.
• As a result, North Carolina falls out of the field.
• Middle Tennessee slips to the No. 10 seed line, Princeton rises to the No. 9 line and UALR enters as a No. 14 seed.
LAST FOUR IN
Temple
Iowa State
Michigan State
Texas
FIRST FOUR OUT
North Carolina
Southern California
Michigan
James Madison
NEXT FOUR OUT
Oklahoma State
Kansas
Wake Forest
Arizona State
CONFERENCE BREAKDOWN
Big East (8)
SEC (8)
Big Ten (6)
Big 12 (6)
ACC (5)
Atlantic 10 (3)
Pac-12 (2)
WCC (2)
Sun Belt (2)
AUTOMATIC QUALIFIERS
Arkansas-Little Rock (Sun Belt)
BYU (WCC)
Florida Gulf Coast (Atlantic Sun)
Dayton (Atlantic 10)
Marist (MAAC)
Maryland (ACC)
Princeton (Ivy)
Purdue (Big Ten)
Tennessee-Martin (OVC)
Tennessee (SEC)
Samford (Southern)
South Dakota State (Summit)
March, 3, 2012
03/03/12
8:00
PM ET
Courtney Jones talks about how LSU has dealt with injuries and the impending arrival of coach Nikki Caldwell's baby, all while making it to the SEC tournament final.
NASHVILLE, Tenn. -- LSU coach Nikki Caldwell has certainly had an interesting first season in Baton Rouge, La. And the most exciting stuff hasn't even happened yet.
On March 24, Caldwell is due to deliver her first child … although she wouldn't mind if the little one showed up before that. But not too soon, considering her team is still playing in the SEC tournament.
The fourth-seeded Lady Tigers upset No. 1 seed Kentucky 72-61 in Saturday's semifinal at Bridgestone Arena. LSU has had the Wildcats' number this year, having also defeated Kentucky 61-51 back on Feb. 5 in Baton Rouge. That game marked the end of LSU's midseason skid -- the Lady Tigers had lost five of their previous six games -- and the start of a six-game winning streak.
Caldwell, the former Tennessee player and assistant coach who spent the past three seasons guiding UCLA, also has dealt with losing the most irreplaceable player on her roster. Point guard Destini Hughes, one of five seniors for LSU, suffered a knee injury in a Jan. 19 defeat at Tennessee. That ended her college career, but not the hopes of the Lady Tigers.
Caldwell told senior forward LaSondra Barrett -- one of the team's better ball handlers despite being 6 feet, 2 inches -- that she'd need to start spending some time at point guard. Others would have to help out with that, too. But Barrett -- whose nickname is "Boogie" -- had to accept her expanded role. Especially because at that point, LSU was also without guard Jeanne Kenney.
"That was a big adjustment," Caldwell said. "There's not too many players you can move from the 5 or 4 all the way to the point guard. Usually, you'll move a swing guard into that situation, but we had also lost Jeanne during that stretch with a concussion.
"By [Barrett] stepping up at that point and playing the point guard, it really helped us. It gave us a different sense of ball security. And we had to move Courtney Jones out to the perimeter, too. We were really shuffling players around, and I think it took us a little bit to settle in. Once we did, we started on that run."
The only game the Lady Tigers have lost since Feb. 2 was the regular-season finale at Georgia, 62-46 on Feb. 26. They got a scare here during the quarterfinals Friday, when it took a rally in the last two minutes to win a defensive war with Arkansas, 41-40. The Razorbacks finished that game on an 0-of-16 drought from the field.
Kentucky shot 40.7 percent (24 of 59) from the field Saturday, but the game was played at LSU's pace the whole way. After holding a 26-16 (yuck) lead at halftime, LSU shot 73.3 percent (11 of 15) in the second half, leaving Kentucky coach Matthew Mitchell with some steam coming out of his ears and his team needing to regroup before heading into the NCAA tournament.
Last year, Kentucky beat LSU in the SEC quarterfinals, and that ended the Lady Tigers' season. They didn't get an NCAA at-large berth at 19-13, and coach Van Chancellor stepped down after four seasons in Baton Rouge.
Caldwell came in after having made the NCAA field in two of her three seasons at UCLA. She immediately gave LSU a dose of needed optimism and confidence.
Jones led LSU with 18 points Saturday, and Barrett had 15. LSU outrebounded the Wildcats 38-23, and now at 22-9, relishes the opportunity to play for the SEC tourney crown Sunday (ESPN2, 6 p.m. ET).
Plus, the Lady Tigers are all looking forward to being "big sisters" to the baby. Just as Caldwell once was to Tennessee coach Pat Summitt's son, Tyler.
"You know that your path may have some … well, I wouldn't call them obstacles," Caldwell said of everything that has happened this season. "There are just things that come your way, and you deal with them the best you know how and trust in the foundation that you have as a person.
"As for the baby, people have said, 'Enjoy it, it will change your life.' Of course, in college, I had the opportunity to watch Tyler grow up. He was around all the time; it allowed us as players to see Pat as not only our coach, but as a mother. It definitely imprinted on all of us, having Tyler around.
"And I know this little one will have an unbelievable support system. It's an enjoyment that we're all enjoying right now. The kids high-five me, and they high-five my belly for the baby."
March, 1, 2012
03/01/12
9:43
AM ET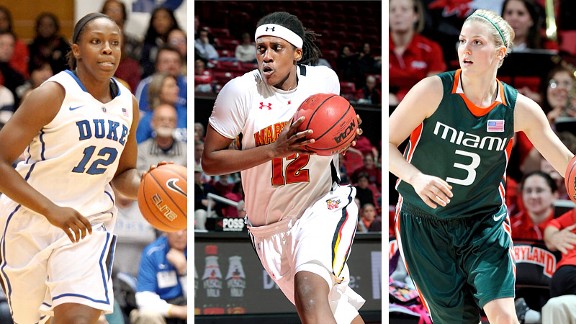 Getty ImagesTeams from the ACC -- Duke, Maryland and Miami -- have a hold on three of the No. 2 seeds.
Championship Week has arrived. For some, it is the best 11 days of the college basketball season. For others, conference tournaments are a way to kill time until the magic of March known as the NCAA tournament gets started.
But this year, even in the big conferences in which so many teams have already secured bids, the games still have huge meaning. The ACC, Big Ten and SEC tournaments, among others, open Thursday, and for some teams the ramifications are obvious. For others, the value isn't as evident, but these outcomes are no less important.
ACC
Virginia and North Carolina both must win their opening-round games to feel secure, but the Tar Heels could also really use a quarterfinal upset of Georgia Tech. UNC's résumé is OK, but there are bad parts: a lower RPI and some alarming margins of defeat. The Heels' status in the field is largely built on the limited competition for the final few spots, so beating a Top 25 team like the Yellow Jackets could go a long way.
But the ACC tournament will do more than decide the fate of teams on the bubble; it could actually have a lasting effect on how the NCAA tournament plays out. Here's why: Duke and Miami both figure to be at least No. 2 seeds in the NCAA tournament, and if chalk holds this week, they would meet in the ACC final. If when the time comes the Blue Devils and Hurricanes are both 2-seeds, whichever one (and remember, Maryland is in the mix to win the ACC, too) wins the ACC tournament is also likely to be higher on the selection board (right now, Duke is five, and Miami is six).
With so many host schools (Oklahoma, Vanderbilt, DePaul, LSU and Iowa State) as potential No. 7 or No. 10 seeds, and Maryland (another host) also being projected as a No. 2, there might be only one spot for another No. 2 seed not to be playing a potential second-round game on the road (Nos. 7, 10, 2 and 15 seeds are in the same subregional). So whichever team fairs better in the ACC will be given higher consideration to avoid that road situation. For example, in the most recent Bracketology posted Monday, Duke was higher-ranked on the selection board and therefore -- with only one subregional in that 7, 10, 2, 15 segment unoccupied by a host -- was given that one slot of two truly neutral opening games. Miami, because the Canes came in behind Duke in the ACC standings and on the selection board, got saddled with a potential second-round game against Vanderbilt in Nashville. If the Hurricanes win the ACC tournament, they would leapfrog Duke and get that higher consideration.
So you see, even though both are obviously in the field, and both are No. 2 seeds, triumphing this weekend could make a huge difference in how difficult a team's path is in the NCAA tournament. Not all same seeds are necessarily created equal.
Big Ten
The weekend in Indianapolis is big for a few teams, but for different reasons. Michigan needs to right the ship. Beating Illinois is a must. Beating Ohio State would really help create some safety for the Wolverines if there are some upsets in some smaller leagues (CAA, Horizon, Sun Belt).
The Buckeyes, meanwhile, also need a little bit of a run, probably to the Big Ten final, just to show the committee that what once made them a 23-3 team isn't gone. The blowout losses at Penn State and Nebraska last week have likely left some doubt, and Ohio State's seed will hinge on erasing it.
Penn State is the conference champ but might need to win the tournament title as well to be a No. 3 seed. With anything short of reaching the final, the Lady Lions are probably staring at a No. 4 and the potential burden of playing a No. 1 seed in the Sweet 16.
SEC
Tennessee and Kentucky are the two best candidates for the final No. 2 seed at this point. Given how evenly the résumés stack up, the better team in Nashville will win out. A meeting in the final would be the rubber match and would be the easiest way to solve any question as to which should be seeded higher. Of course, Georgia, South Carolina, LSU and Arkansas will have plenty to say about preventing that matchup, while improving their seed position for the NCAA tournament at the same time.
Arkansas and South Carolina might have the most to gain. Florida also can't afford a stumble against Auburn, and while a quarterfinal loss to Kentucky wouldn't hurt the Gators' chances to make the field, a win would seal the deal.
January, 2, 2012
01/02/12
1:16
PM ET
There's no surprise among the No. 1 seeds, which would be Baylor, Connecticut, Notre Dame and Stanford. But which teams join Maryland as a No. 2? ESPN.com's Charlie Creme gives us a brief Bracketology update, with a full field of 64 coming Jan. 9.
March, 8, 2010
03/08/10
1:14
AM ET
The day of "almost" upsets started in Greensboro, N.C., where one of the participants used to be on the other side. Kellie Harper won three SEC tournament titles as a player for powerhouse Tennessee.
Now in her first season as head coach at NC State, Harper was on the underdog side. Her Wolfpack, the No. 6 seed in the ACC tournament, were trying to knock off top-seeded Duke. NC State was attempting to win the program's fifth ACC tourney title, but first since 1991.
Iowa, meanwhile, was in the Big Ten tournament final for the first time since 2001. And in the SEC final, Kentucky was making its first appearance since 1982. So …
It could have been a huge day for long shots getting automatic NCAA tournament bids. But none of them quite came through. Instead, the top seeds came away with hard-fought and well-earned victories in the ACC, Big Ten and SEC -- but their opponents proved something, too.
We'll start with the ACC, which except for Maryland's title last year has been the province of Duke or North Carolina for the past decade -- although the Blue Devils hadn't won a championship since 2004.
Duke lost its regular-season finale to the Tar Heels, and then just squeaked past Maryland by a basket in the ACC quarterfinals. Duke beat Georgia Tech in the semis.
Meanwhile, the Wolfpack upset third-seeded Virginia in the quarterfinals and then defeated another tourney upstart, Boston College, in the semis.
NC State had hit a low point in losing 70-39 to Duke on Feb. 11; after that loss, the Wolfpack were 13-11 (3-6 ACC). But soon the "magic" of the Pink Zone came through again. On Valentine's Day, during a stretch when teams across the country wore pink to honor the late Kay Yow and raise funds for cancer research, NC State beat Miami to start a run in which the Wolfpack won seven of their next eight games entering the ACC final.
Duke won the championship 70-60 Sunday afternoon, and the Blue Devils have finished their 27-5 résumé to submit to the NCAA committee for a likely a No. 2 seed. Meanwhile, NC State (20-13) hopes its strong finish is enough to earn an at-large bid, which is expected.
"I'm extremely proud of our team for so many reasons," said Harper, who had the difficult job of replacing the legendary Yow in Raleigh. "For improving, for believing, for working hard in practice, for playing together. In that locker room, I was proud of them for wanting more. They are hurt they didn't win this game, and I am so proud of that.
"I think our kids have proven over the last few weeks that we're an NCAA tournament team."
In Indianapolis, Iowa came oh-so-close to finishing off an amazing turnaround from being in last place in the Big Ten in mid-January. The Hawkeyes lost to Ohio State 66-64 in the league tournament final, but this is one time when quite honestly Iowa had to be pretty happy just to be there.
Starting last November, it seemed this season would be nothing but awful news for the Hawkeyes. They lost their only senior, JoAnn Hamlin, to a serious blood clot that forced her to end her career. Freshman Theairra Taylor (ACL) and sophomore Hannah Draxten (herniated disk) were also lost for the season.
The Hawkeyes were 8-10 and had lost four in a row going into their Jan. 21 game at Illinois.
But then, everything changed. A switch was flipped, and Iowa has since won 11 of its last 14. That was almost 12 of 14, as Iowa built a lead as large as 16 points against Ohio State in the Big Ten final.
But the Buckeyes had a little too much Jantel Lavender, who had 35 points and 10 rebounds. Her layup with 1 minute, 20 seconds left tied the score, and her two free throws with 1.9 seconds left won it.
Ohio State (30-4) now just waits for a great seed while the Hawkeyes (19-13) wait for an invitation. But two months ago, nobody was expecting Iowa would be doing anything at this point except getting ready for next season.
Lastly, Tennessee now has won 14 SEC tournament titles, but this one -- thanks to a 70-62 victory over No. 2 seed Kentucky in Sunday night's final -- means a lot because of the trials of last season.
Tennessee, of course, lost in the first round of the 2009 NCAA tournament -- the program's first loss ever in the first round (the Lady Vols had never failed to reach the Sweet 16 until last season). That ended an extremely frustrating 2008-09 for coach Pat Summitt and her young team.
This season, Summitt still hasn't solved all of Tennessee's concerns, but it's a significantly more accomplished team. Don't look now, but Tennessee is 30-2 -- yet almost absurdly under the radar.
Most of the attention has been going to that one team from the Northeast that Tennessee doesn't play in the regular season anymore, plus the surprising and undefeated Nebraska Cornhuskers, a new kid on the NCAA title-contending block.
But anyone who overlooks Tennessee as a potential national championship threat should think twice. The Orange Crush will be a No. 1 seed again and surely in the Memphis Regional.
Tennessee advanced to San Antonio the last time the Women's Final Four was there (2002) and could be making a return trip this year.
But Kentucky has been a great story this season, too. Victoria Dunlap was named the SEC Player of the Year, while A'dia Mathies won the rookie honor and Matthew Mitchell the coaching award. And the Wildcats, despite being picked to finish second-to-last in the league, instead finished runner-up to Tennessee -- both in the regular season and the tournament.
Kentucky (25-7) lost by 16 points at Tennessee on Feb. 25. Cutting that gap in half on a neutral court Sunday is not a bad way for the Wildcats to head into the NCAA tournament.
February, 26, 2010
02/26/10
12:17
AM ET
Yes, Tennessee wrapped up the SEC title again, clinching the top seed in next week's conference tournament with an 81-65 victory over Kentucky on Thursday. The Orange Crush are once again the boss of the league, restoring order and all that. But …
[+] Enlarge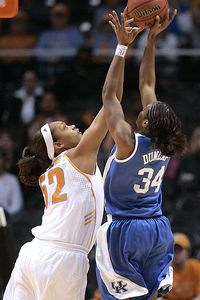 AP Photo/Wade Payne Kentucky's Victoria Dunlap scored a game-high 22 points Thursday. But five Lady Vols scored in double figures.
Let's give a nod, also, to Kentucky. It's not easy being blue in Knoxville, facing a legendary program that has now won 15 regular-season titles.
Who on the outside was really expecting that the Wildcats would have so much on the inside this season? So much in the way of guts, heart and ambition? Pretty much no one was predicting any glory for the Wildcats. Kentucky was picked to finish next-to-last in the SEC. Instead, the Wildcats (11-4, 23-5) are going to finish next-to-first.
Last year, Kentucky went 16-16 overall, 5-9 in the SEC. But one of those five wins was against Tennessee, a 10-point victory in Lexington, Ky. After that game, Tennessee coach Pat Summitt revoked her team's locker-room privileges because, obviously, she isn't as thrilled as neutral observers to see other programs try to shake Tennessee from the top of the totem and spread the wealth in women's basketball.
So Tennessee's players probably brought in a little extra motivation Thursday. The Wildcats really didn't stand much of a chance on this night.
But, of course, they could meet again, in the SEC final at Duluth, Ga. And regardless of what happens in the Wildcats' regular-season finale at Auburn on Sunday or in the league tournament that starts March 4, Kentucky is going to the NCAA tournament for only the seventh time overall, and the second time in the past decade. The Wildcats' most recent visit was in 2006, when Summitt's close friend and longtime assistant Mickie DeMoss was Kentucky's head coach.
"I think this is gonna be a special time," said Kentucky coach Matt Mitchell, who took over the program in 2007 after DeMoss had the world's shortest "retirement" before moving on to be an assistant at Texas.
"Because the team in 2006 had some expectation level that they would have a good team. And for whatever reason, nobody thought this year's team was gonna be very good. It makes it special to see a group of players commit to each other the way ours have."
Junior post player Victoria Dunlap has been one of the top performers in the SEC, and she had 22 points and 10 rebounds against Tennessee. Admittedly, it was a hard-to-come-by double-double, as Dunlap was 6-of-19 from the field.
"I think we [showed] that we could play basketball and play hard against the rest of the teams in the SEC," Dunlap said of what the Wildcats have already proved this season. "We won't just lay down and accept that we were picked 11th."
Mitchell says even while folks are, of course, as enthralled/entranced as ever by the Kentucky men's program, a lot of Wildcats fans really have noticed that the women are succeeding in a year when most figured they wouldn't.
"People around here really appreciate that," he said. "I think they might even be more proud of this team than if we'd been picked to have a good year. And if you just know the character of these players, how hard they've worked, all the different stories on this team.
"I know every team has neat stories. But we have a good group that I'm so proud of; they're really in it for each other. I don't take them for granted at all. I've told them, 'You've put yourself into a position through your hard work, so let's push this thing even further.'"
Led by the contributions of Dunlap and standout freshman A'dia Mathies, the Wildcats look to make the SEC tournament final for the first time since the NCAA era began in women's basketball.
Kentucky's only appearance in the SEC final came in 1982, when it beat Tennessee. (It might have helped a bit that the tournament was held in Lexington that year.)
Mitchell gives a great deal of credit to Summitt and DeMoss for giving him a start in the college coaching business, as he began as a grad assistant at Tennessee. He went on to be an assistant at Florida, an assistant to DeMoss at Kentucky and then decided to move to a head coaching job at Morehead State.
Some people warned him against that, saying he should just stay put a while longer as an assistant, but Mitchell felt he needed experience running the show. And it worked out well, as DeMoss decided to leave in 2007. By then, Mitchell had had two years of head coaching and was ready to take over at Kentucky.
Mitchell has two former Tennessee players -- Kyra Elzy and Shalon Pillow -- on his Wildcats staff. And he feels there is ample opportunity for the program to grow.
Sure, the Wildcats had to watch mighty Tennessee win another SEC title Thursday. But with the progress Kentucky has made, maybe there will be an SEC trophy in the Wildcats' not-so-distant future.