Category archive:

Phoenix Mercury
September, 20, 2012
09/20/12
10:13
PM ET
The participants in the WNBA playoffs and the draft lottery are now set. Washington, Phoenix, Tulsa and Chicago -- which lost Thursday and was eliminated from postseason contention -- are the teams that will be in the Brittney Griner sweepstakes.
We'll have a whole lot more on that topic next week, in preparation for the live "SportsCenter" announcement of the lottery results Wednesday. There's plenty of ground to cover in that regard, including the considerable ire directed toward Phoenix by some other teams' fans, while the Mercury's own supporters seem quite OK with just letting 2012 go and looking toward 2013.
[+] Enlarge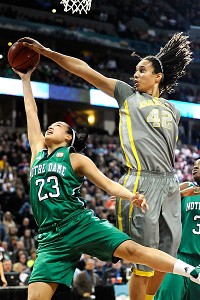 Ron Chenoy/US PresswireBrittney Griner, the 6-foot-8 star who led Baylor to a 40-0 record last season, is expected to be the top pick in the 2013 draft.
But this last weekend of the regular season, about all that's left to decide is which team ends with the worst record in the WNBA. Right now, that's 5-27 Washington, which finishes Friday against Indiana and Sunday at Chicago. The Mystics have lost 11 in a row, but are playing two teams with nothing on the line. The Fever's playoff spot is set, as is the Sky's position as the team with the best record in the lottery.
Still, it seems a safe bet that even against even those unmotivated foes, Washington will continue sinking until firmly settling on the bottom. Most chances in the lottery, here we come.
Meanwhile, the team with the second-worst mark is Phoenix, which at 7-25 has lost five games in a row. The Mercury finish Friday against defending WNBA champion Minnesota and Sunday against Seattle. That finale will be televised at 3 p.m. ET Sunday on ESPN2. Not exactly a barn burner.
The Storm, who also have two regular-season games left, realistically are thinking about their first-round playoff series against the Lynx. Minnesota went 3-1 against Seattle this season. The Storm are not coming into the postseason with a full head of steam, having gone 5-8 since the Olympic break. Seattle hosts another playoff team, San Antonio, on Friday.
And on the other side of Sunday's matchup in Phoenix, you have the tattered remnants of the Mercury, a team besieged both by myriad injuries and rumors that at some point this season, they rolled over and played dead. Phoenix coach Corey Gaines says that's nonsense. He says that, in fact, the Mercury did what they could to be competitive until the playoffs were mathematically impossible to reach, and then they decided there was no reason not to shut down star Diana Taurasi and give her rest.
Whether you believe that or subscribe to one of the various Mercury tanking theories, this much is not debatable: Phoenix will benefit next year from the advancements players such as DeWanna Bonner have made in their games. Bonner, in her fourth year out of Auburn, has become a starter this season and carried a huge load.
Phoenix president and chief operating officer Amber Cox praises Bonner for keeping the Mercury's attitude as upbeat as possible.
"You can give her a ton of credit for that, because she really has been the leader of this team," Cox said. "She's been the one to make sure everybody keeps working hard. But also become more of a vocal leader in a positive manner."
In this clunker season for the Mercury, Gaines insists that his players consistently attempted to play hard.
"Our game is up-tempo and we'd have games where we just ran out of gas," Gaines said. "Even when games got out of hand, we had to strive for some kind of goal. Like, 'Let's try to win these next few minutes.' You have to do that, and that's what we did."
Meanwhile, Tulsa's goal was simply to get as many victories as it could in a season in which the Shock again were often at a pure-talent deficit against foes. Tulsa is now 9-23 after winning its third game in a row Thursday, beating New York. In their two previous seasons in Oklahoma, the Shock went 6-28 and 3-31. Liz Cambage's decision not to return to Tulsa for the last 10 games hasn't dampened any of the Shock's enthusiasm for finishing this season as strongly as possible -- even if that gives them worse odds in the lottery.
It seemed fitting that the final Eastern Conference playoff spot was clinched by a team on a night when it lost. Neither New York nor Chicago grabbed the East's No. 4 spot with gusto. It went to the Liberty, and the Sky again are left on the outside looking in at the playoffs.
Some might say it's just as well, that Chicago potentially might benefit more from the lottery in 2013 than by making the franchise's first postseason appearance now. Still, it has to be looked at as a disappointment for a team that appeared to have a good chance at making the playoffs this season.
May, 24, 2010
05/24/10
3:50
PM ET
So here we are a week into the WNBA season, and everything is working out precisely as we all thought it would to this point, right? Not entirely.
Chicago's struggles? Not very surprising. But Atlanta's hot start? I admit I wasn't expecting the Dream to race to a 4-0 record.
What about Los Angeles being winless? Well, not a huge stunner, considering the Sparks' opening three games were on the road. But with six of its next eight at home, L.A. has a chance to effectively negate the slow beginning. Still, this might be an intense week at practice for the Sparks. Because there were moments in Saturday's loss at San Antonio where Sparks coach Jennifer Gillom looked ready to really go Vesuvius on her team.
And what an upbeat Silver Stars debut for Chamique Holdsclaw, wasn't it? She had 19 points and five assists for San Antonio against L.A., and seemed to bring a lot of energy to the AT&T Center. So far, it doesn't appear that Holdsclaw's departure is hurting Atlanta, while her arrival has helped the Silver Stars. "Chamique Part IV" is off to a good launch, and now just needs to stay on course.
Overall, it has been an entertaining start to the WNBA. And Tuesday offers a doubleheader with each game providing a very different story line. At 7 p.m. ET on ESPN2, defending WNBA champion Phoenix visits Tulsa. Then at 10 p.m. ET, Washington is at Seattle, with the Storm leading the Western Conference at 3-0.
The Mercury-Mystics game is scheduled to be available online with WNBA Live Access, which fans hope is truly "accessible." The webcasts have had some glitches early on, not unlike some of the teams themselves.
The Storm, though, have been glitch-free so far, including an overtime win at Phoenix on Saturday. The Storm's Lauren Jackson seems to be uber-motivated every time she faces the Mercury, and that was the case again as she had 25 points and eight rebounds.
Whenever a team goes into Phoenix and "steals" a victory on the Mercury's home court, it's almost like winning two games instead of one. That said, the Storm will have to consolidate it by slowing down a Mystics team that is 3-1, with the loss coming at Connecticut.
Entering the season, I thought the Mystics had legitimate high expectations to be a playoff contender even without injured Alana Beard. And Tuesday's game in Seattle could be one of those potential early season statement games for the Mystics if they win.
As for the Tulsa-Phoenix game, too many key Shock players are no longer with the franchise for the game to remind us very much of the 2007 WNBA finals that went the distance between Detroit and Phoenix. And, of course, Cappie Pondexter is not with the Mercury anymore, either.
But what's interesting with this matchup is the concept of pitting a high-octane offense like Phoenix's against a Tulsa team that is, Shock coach Nolan Richardson hopes, learning what "40 minutes of hell" is really about defensively. And with Tulsa having gotten its first victory, a double-digit win at Minnesota on Sunday, the Shock at least now can bring some legitimate confidence against the preseason favorite.