Category archive:

Seattle Storm
June, 22, 2011
06/22/11
12:34
AM ET
Seattle's Sue Bird and Swin Cash talk about their memories of the WNBA's launch on June 21, 1997. That summer, they were getting ready for their high school senior year.
September, 14, 2010
09/14/10
2:51
AM ET
SEATTLE -- As you might expect, Seattle's Sue Bird shrugged good-naturedly at the news that she wasn't on the all-WNBA first team.
[+] Enlarge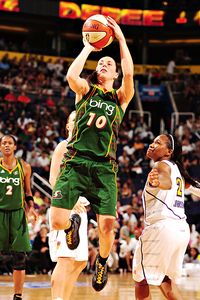 Barry Gossage/Getty ImagesSeattle point guard Sue Bird deserved a spot on the WNBA's all-league first team.
That, however, was not my reaction. Bird a second-team honoree? I was irritated. How do you not have the WNBA's best point guard on the first team in a season when the Storm had the best record in the league?
"Oh, I'm not mad about it at all," Bird said after Monday's practice at KeyArena. "I don't even know who made first team with the guards."
Told it was Phoenix's Diana Taurasi and New York's Cappie Pondexter, Bird added, "I'll take that. I don't see myself beating either of them. When you average 20-plus points … and for both of them, they also do other things. It's tough to compete with players like that."
Yes, but isn't it a clear sign how point guards are undervalued?
"I play with Diana and Cappie, and I see their value," Bird said. "They do a lot, and they score as well. And Cappie and Diana both can play point, so it's a tough argument."
Of course, this is vintage Bird. Who else in the league would so calmly and analytically try to deconstruct the case for her own candidacy for an honor?
Well, I remain unconvinced. It never crossed my mind to not have Bird on the first-team ballot. And this, of course, was before her two game-winning shots on consecutive Sundays in the postseason.
My ballot had three guards -- Bird, Taurasi and Pondexter -- and post players Lauren Jackson of Seattle and Tamika Catchings of Indiana. That is a perfectly legitimate team that you could put on the floor, and -- as far as I'm concerned -- within the guidelines of how one is allowed to vote. But the actual first team as voted on had just four of those players, with Chicago's Sylvia Fowles as the fifth.
Now, in a business loaded with clichés, maybe there's not much more cliché than a media person griping about voting by fellow media for player honors. I don't really like getting into any of that.
Plus, I think highly of all five players who did make the first team. And since Bird really doesn't seem to care, maybe you'd think I'd just let this pass. But I can't.
Some people might say, "Well, Bird has always gotten plenty of acclaim being from UConn and all, it's not like she's going unnoticed."
However, this has nothing to do with that.
Yes, Bird would finish very high every year in a women's basketball popularity contest, and for good reason. She's generous with her time in dealing with the media (and in Bird's case, that's a lot of time), she gives thoughtful answers, and she doesn't blow off people if she's having a bad day.
In fact, Bird does an exceptionally good job of making it appear she never has bad days. And when you're an athlete in a team sport, that's a very special leadership trait.
Because what we in the media present about a player is one of the windows that fans have into who the player is, and that does influence popularity. Plus, sure, Bird played for the college team that gets more media attention than any other. Also, Seattle is the best local market, as far as I'm concerned, for coverage of the WNBA.
Again, though, all of that is completely irrelevant to the issue of whether it's a big deal that Bird didn't make all-WNBA first team this season. Because this is an honor she earned through her play, period. Not because she's a nice person, or a terrific spokeswoman for the sport, or because so many kids want to have a No. 10 Storm jersey. Do all of those things make her very valuable to her franchise and the league? Yes, of course.
But this is about bare-bones stuff: Bird the basketball player.
It's not just displayed in her numbers, although they are very good at her position: 11.1 points and 5.8 assists per game during this regular season, with 190 assists to just 60 turnovers in those 34 games. (Her playoff numbers are even better: 12.2 ppg, 8.4 apg. But the voting was done before the postseason.)
Beyond the stats, though, Bird is one of those players where you don't look at measuring her so-called intangibles as if it's some esoteric exercise. In fact, those qualities aren't really "intangible" at all. They're quite tangible and very obvious. Just watch who pulls her team together the best, who is able to give instructions without ticking off anybody, who is universally respected.
"Sue is low-maintenance, she'll fly under the radar," teammate Swin Cash said. "But she can make the other team pay with a dagger at any point in time. She's always been the point guard who's going to get everyone involved. She knows everyone's tendencies.
"She knows when I need to get a basket and when she has to get me going. But at the same time, when it's crunch time and she needs to be the one to make a play, she knows that same thing about herself."
Seattle coach Brian Agler acknowledged he was very disappointed Bird wasn't on the first team for the same reasons why Cash praised Bird.
"Obviously, there are a lot of good players in this league, and the people that are on the first team are exceptional," Agler said. "But there's no question in my mind that Sue Bird does her job and plays her position better than anybody else. She makes people around her play to their maximum."
Again, Bird is not going to be bothered by this at all. It's just not how she's wired. But such honors are important. And from a legacy standpoint, I hope Bird ultimately will be evaluated not on how popular she is or how many fans will always love her from her UConn days or have grown to love her in Seattle.
But plain and simple, she should be judged by how thoroughly she has mastered a position that is undervalued only if you don't regularly watch basketball.
If you do, Bird was a textbook, complete "no-brainer" pick for the all-WNBA first team this season. I'd argue that point with anybody. Even Sue Bird herself.
August, 3, 2010
08/03/10
11:10
PM ET
Seattle's Brian Agler is in the position that the other 11 coaches in the WNBA wish they occupied. His team has the best record in the league, 25-4, and has secured home-court advantage for the duration of its stay in the playoffs. And the Storm are 15-0 this season at KeyArena.
Yet if you think Agler is just cruising through the end of the regular season and blissfully drifting off to sleep each night … well, no, it's not like that. Such is the nature of being a coach: There is always something to worry about.
And in Agler's case, it's time management for his players over the Storm's past five games: at Connecticut, at Washington, home versus Minnesota, at Phoenix and home versus Los Angeles.
All five of those foes have something to play for in the last week-plus of the regular season. The Sun are in dire straits, realistically needing to win out. Being three games behind fourth-place Washington, Connecticut is in desperation mode. The Mystics, just like Indiana, New York and Atlanta, conceivably still could wind up first in the Eastern Conference. So they will be pushing hard to the end. Same with Minnesota and Los Angeles, both trying to grab a spot in the playoffs out West.
[+] Enlarge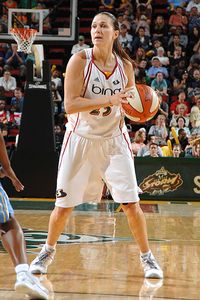 Terrence Vaccaro/NBAE via Getty ImagesIf Seattle -- which has home-court advantage throughout the playoffs -- rests its starters, Svetlanta Abrosimova will see added minutes.
Phoenix -- which would clinch a playoff spot with a loss by Los Angeles on Thursday -- appears to be pretty set in second place in the West, but the Mercury still want to finish strongly. Plus maybe put a little doubt in the Storm players' minds about this matchup. Seattle won the teams' previous four meetings this season, so the Mercury would like to let the Storm know they're not invincible.
So … weighing all this and other factors, how much does Agler play his starters for the rest of the regular season? At this point, the wins and losses don't exactly mean much, except to pretty-up the Storm's record. But how do you gauge the value of rest versus not giving away any edge?
Do you worry about players losing their timing in some way? Are you concerned that if your stars' stats decline a little over the final week as they sit, it might impact voting on individual awards? And while some might say, "Oh, that shouldn't matter," the reality is that there is a monetary value to those honors, and it's not as though WNBA players are just so rich that they would scoff at that.
That said, nothing is more important than winning the league title, and that's definitely how the Storm players are looking at this. Agler values the opinions of his players and listens to them. But he'll still make playing-time decisions based on both planning and instinct.
Tuesday night in Atlanta, for example, the idea was to play the starters in the first half and then mostly rest them in the second half. But the Storm weren't clicking early, thus the reserves carried Seattle for most of the first half. Then the starters closed the deal. It still meant that nobody played more than 25 minutes in an 80-70 victory.
Seattle has gone through the frustration of not having Lauren Jackson in the postseason the past two years, and the Storm want her to be in the best shape possible for the 2010 playoffs. Sue Bird has been an iron woman throughout her WNBA career, but she does have a back issue to think about. And certainly for the Storm's other starters -- Swin Cash, Camille Little and Tanisha Wright -- some rest wouldn't hurt.
Furthermore, it will help the Storm's bench to get a little more time before the postseason. It won't be surprising at all if Seattle ends up getting some key performances from players such as Svetlana Abrosimova, Le'coe Willingham or even Jana Vesela during the playoffs.
Coaching is, by nature, a pretty inexact science. That's not to say you don't have good models to follow about what usually works. It's just that there is no absolute right answer for some situations, and the position that Seattle is in now is one of them.
[+] Enlarge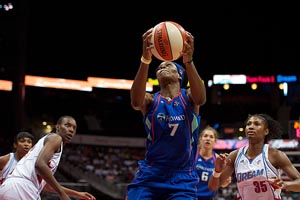 Dale Zanine/US PresswireTaj McWilliams-Franklin and New York have won six straight and are tied for second place in the East.
These are relatively rare occurrences, really, in most sports. Certainly in the WNBA, more often than not, it's a hard push through all 34 games because something is hanging in the balance right until the end.
Whatever the Storm do, there might be second-guessers, but there's no point worrying about that. The maturity and focus of this team is such that I think getting a little rest for the starters is the right move, and I wouldn't be concerned about it negatively impacting anything.
For a lot of other teams, though, the outcome of their last week-plus of games is vitally important.
The hottest of the East's teams, New York, has won six in a row and eight of its past nine. The Liberty have four games left at home and two on the road. East-leading Indiana has two at home and three on the road.
Atlanta, which has played in streaks most of the season, is on a three-game slide now. The Dream have three games left at home, one on the road. And Washington, which has been as hard to predict as any team, has three games at home and two on the road.
As for the West, Minnesota and San Antonio have not shown a significant difference between home or away results. In fact, the Silver Stars have won more on the road (six) than they have at home (five). Those numbers are reversed for Minnesota.
Still, by conventional wisdom, the Lynx have the harder of the two's remaining slates. Minnesota plays four of its last six on the road, including the final three. Meanwhile, San Antonio has five games left, with four at home.
Los Angeles is not out of the playoff picture. But the Sparks have the second-worst road record -- 3-11 -- in the league, better only than Tulsa's 2-12. And three of the Sparks' last five games are away from home.
So while the Storm understandably fret about fine-tuning in preparation for the playoffs, everyone else will be concerned with trying to win.
May, 24, 2010
05/24/10
3:50
PM ET
So here we are a week into the WNBA season, and everything is working out precisely as we all thought it would to this point, right? Not entirely.
Chicago's struggles? Not very surprising. But Atlanta's hot start? I admit I wasn't expecting the Dream to race to a 4-0 record.
What about Los Angeles being winless? Well, not a huge stunner, considering the Sparks' opening three games were on the road. But with six of its next eight at home, L.A. has a chance to effectively negate the slow beginning. Still, this might be an intense week at practice for the Sparks. Because there were moments in Saturday's loss at San Antonio where Sparks coach Jennifer Gillom looked ready to really go Vesuvius on her team.
And what an upbeat Silver Stars debut for Chamique Holdsclaw, wasn't it? She had 19 points and five assists for San Antonio against L.A., and seemed to bring a lot of energy to the AT&T Center. So far, it doesn't appear that Holdsclaw's departure is hurting Atlanta, while her arrival has helped the Silver Stars. "Chamique Part IV" is off to a good launch, and now just needs to stay on course.
Overall, it has been an entertaining start to the WNBA. And Tuesday offers a doubleheader with each game providing a very different story line. At 7 p.m. ET on ESPN2, defending WNBA champion Phoenix visits Tulsa. Then at 10 p.m. ET, Washington is at Seattle, with the Storm leading the Western Conference at 3-0.
The Mercury-Mystics game is scheduled to be available online with WNBA Live Access, which fans hope is truly "accessible." The webcasts have had some glitches early on, not unlike some of the teams themselves.
The Storm, though, have been glitch-free so far, including an overtime win at Phoenix on Saturday. The Storm's Lauren Jackson seems to be uber-motivated every time she faces the Mercury, and that was the case again as she had 25 points and eight rebounds.
Whenever a team goes into Phoenix and "steals" a victory on the Mercury's home court, it's almost like winning two games instead of one. That said, the Storm will have to consolidate it by slowing down a Mystics team that is 3-1, with the loss coming at Connecticut.
Entering the season, I thought the Mystics had legitimate high expectations to be a playoff contender even without injured Alana Beard. And Tuesday's game in Seattle could be one of those potential early season statement games for the Mystics if they win.
As for the Tulsa-Phoenix game, too many key Shock players are no longer with the franchise for the game to remind us very much of the 2007 WNBA finals that went the distance between Detroit and Phoenix. And, of course, Cappie Pondexter is not with the Mercury anymore, either.
But what's interesting with this matchup is the concept of pitting a high-octane offense like Phoenix's against a Tulsa team that is, Shock coach Nolan Richardson hopes, learning what "40 minutes of hell" is really about defensively. And with Tulsa having gotten its first victory, a double-digit win at Minnesota on Sunday, the Shock at least now can bring some legitimate confidence against the preseason favorite.