Category archive:

Connecticut Sun
April, 8, 2010
04/08/10
10:51
AM ET
Editor's note: ESPN.com senior writer Elizabeth Merrill spent the day with Connecticut Huskies senior Tina Charles, who was the top pick in Thursday's WNBA draft.
3:27 p.m. ET
About four hours ago, Tina Charles said she wasn't nervous. All that changed in the moments before the draft, when Charles said her heart was about to pound out of her chest.
She composed herself and stood in front of about 15 media members and told them that going No. 1 to the Connecticut Sun was "a dream come true."
She'll stay close to her home in Queens, N.Y., and will get to play in front of the same rabid fan base that cheered her on with the Connecticut Huskies.
"My family is Connecticut now," she said.
3:10 p.m. ET
Well, it's official. Tina Charles goes No. 1 overall to the Connecticut Sun. She hugged her mom and dad, then Geno Auriemma, and grabbed her new jersey.
2:20 p.m. ET
Basketball players do not roam around in 4-inch heels with perfectly sprayed hairdos very often. That's why a couple of WNBA reps are running the draftees through a pre-draft rehearsal, sort of a walk-through, just before the draft.
"Make sure you're standing up straight," one WNBA official says.
"When your name is called, take your time … hug it out [with friends and family]."
No cell phones, the players are told. No gum chewing, either.
Each player will sit at her own table with a select group of loved ones. UConn coach Geno Auriemma is expected to be perched at Tina Charles' spot, which is positioned in the middle of the room.
A number of Huskies players are making the trek to New Jersey, too, to show their support.
"I miss my team," Charles says. "I miss waking up and seeing my teammates. That's my comfort zone."
12:29 p.m. ET
Here's a strange scene: Tina Charles has just arrived at the WNBA draft, and in the players lounge, she's laughing and chatting it up with Jayne Appel. You remember Appel? Two nights ago, the Stanford center was battling Charles in the national championship game. Now she's Charles' buddy?
Actually, they've been friends for years, since fighting for rebounds on the AAU circuit, and Appel and Charles are BlackBerry Messenger friends and chat all the time. A few hours after Tuesday's game, Charles and Appel texted and eventually met up and hung out on the River Walk in San Antonio. They also had talked before the Final Four semifinals, wishing each other luck.
Appel's boyfriend thinks it's kind of strange how Appel and Charles can be fierce competitors on the court, then hang out after a game. Then again, Appel's boyfriend is Chris Marinelli, a 6-foot-7, 301-pound offensive lineman from Stanford who's gearing up for the NFL draft.
"A lot of male athletes don't have that [camaraderie]," Appel says. "I think it's special."
Marinelli will be here for the WNBA draft, and Appel could no doubt use somebody to lean on. She's hobbling around with a stress fracture in her foot and a twisted ankle. Appel says she feels fine thanks to some pain medication and is eager to play regardless of where she's drafted.
Still, she needed a few hours to compose herself after Tuesday night's 53-47 loss. When she finally met up with Charles and some of her UConn teammates, Appel tried to turn away when highlights played on the TV. But Appel was glad she spent her last night in San Antonio with her old friend.
"Tina is a great person," Appel says. "A very classy player."
11:30 a.m. ET
OK, so it's not even noon yet, and Tina Charles has shaken at least 20 hands and done four interviews. But the thing she dreaded the most about today? Getting dressed up.
"Getting all dolled up … this is a drag," Charles said as she fidgeted in her seat.
Charles will head over to the draft in a few minutes.
A little-known fact: Charles, a Queens, N.Y., native, is a Mets fan, and actually thought as a kid that baseball would be the sport she'd play the longest.
Charles won her first trophy in baseball and kept it displayed prominently in her family's house.
9:15 a.m. ET
The alarm on Tina Charles' BlackBerry went off a little bit ago. Most Thursdays, it wakes her up for a morning class at UConn. This morning, she glanced at it and hit the off button.
Charles has been up for a couple of hours, and it's a big day. In six hours, she's expected to be the No. 1 pick in the WNBA draft.
Charles says she isn't nervous, because, really, this is nothing compared to the past month or so. Her Huskies have carried the weight of a two-year winning streak and just made it 78 in a row Tuesday night with a win over Stanford in the national championship game.
Critics said UConn's dominance was bad for women's basketball. Charles bristled at that. "Because we knew all the hard work we put in at practice," Charles says. "People were still diving on the floor for loose balls.
"We take pride in what we do. That was ridiculous."
This has been a whirlwind week for Charles. There was the late-night national championship reception in San Antonio, the flight back to Connecticut, the pep rally on campus. Charles rolled into Secaucus, N.J., late Wednesday.
Today, she's doing the media circuit in Manhattan before ending up back in New Jersey to hear her name called.
Traffic has been the only headache so far. She spent an hour in an SUV with her mom, Angella, and passed the time by fiddling with her phone, reading e-mails and playing games.
April, 7, 2010
04/07/10
11:19
PM ET
So Tina Charles seems to be making a regular habit of extinguishing suspense. Her UConn team was predicted to win the past two NCAA titles. And despite things looking shaky for a while against Stanford on Tuesday, the Huskies did just that.
[+] Enlarge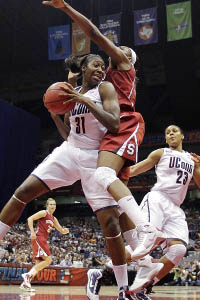 AP Photo/Eric GayProjected No. 1 draft pick Tina Charles led UConn to the NCAA title and its second consecutive unbeaten season on Tuesday.
Similarly, Charles has been the cinch No. 1 pick in the WNBA draft pretty much all her senior season. Thus, we can be certain how things will get started in Thursday's draft (ESPN2/ESPN3.com, 3 p.m. ET).
"With the first pick of the WNBA draft, the Connecticut Sun select … Tina Charles."
After that, it's hard to say who's going to go where. But it's not difficult to recognize how to label this draft. Someone like Charles aside, it's not regarded as a superstar-potential senior class.
In a teleconference last week, coach Nolan Richardson of the relocated Tulsa Shock said, "I may have to move my pick. We've got a lot of gaps and things we need to do."
Meaning he didn't think that at No. 7, he was going to get what he needed. So, indeed, on Wednesday the Shock sent their 2010 first-round pick and a 2011 second-round selection to Connecticut for Amber Holt and Chante Black.
Which one could assume is Richardson's way of saying, "Kinda slim draft pickings."
Richardson is, of course, getting a crash course on the women's game and is trying to rebuild a Shock team that isn't the same squad that was in Detroit. Several of those veterans seem to have treated Oklahoma as if it's rampant with the plague and wanted no part of going to Tulsa. Kudos to those Shock players who are giving the new WNBA city a chance.
[+] Enlarge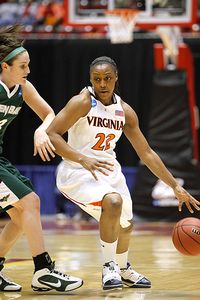 AP Photo/Charlie NeibergallVirginia guard Monica Wright is among the players rumored to be picked not long after Tina Charles goes first in the WNBA draft.
Richardson, understandably, would prefer experienced average players to rookie average players. And if that sounds like a harsh assessment of the class of 2010, it's not meant to be. Just realistic.
With only 12 teams and jobs at a premium, rookies will find it hard to make rosters unless they bring specific needs to teams. Being a good role player, though, is indeed filling a need.
Minnesota has the second and third picks, and new Lynx coach Cheryl Reeve suggested a couple of weeks ago that she thought she had her mind made up about who the franchise needed to take. We'll see if she has had second thoughts since then, in the wake of NCAA tournament performances.
"I think the people we've all projected to be solid players in the league are still solid," Reeve said. "How deep is this draft? It's an interesting time with the contraction. With the way we shape our rosters, positional need is becoming more important.
"I use the word 'serviceable.' There are a lot of serviceable players in the draft. There's not the Cappie Pondexters and the Candace Parkers. But still some good players. We have two high draft picks. We'll try to maximize them."