Category archive:

Tulsa Shock
September, 20, 2012
09/20/12
10:13
PM ET
The participants in the WNBA playoffs and the draft lottery are now set. Washington, Phoenix, Tulsa and Chicago -- which lost Thursday and was eliminated from postseason contention -- are the teams that will be in the Brittney Griner sweepstakes.
We'll have a whole lot more on that topic next week, in preparation for the live "SportsCenter" announcement of the lottery results Wednesday. There's plenty of ground to cover in that regard, including the considerable ire directed toward Phoenix by some other teams' fans, while the Mercury's own supporters seem quite OK with just letting 2012 go and looking toward 2013.
[+] Enlarge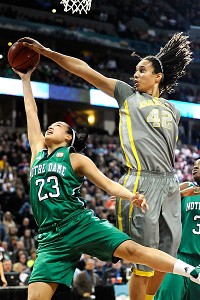 Ron Chenoy/US PresswireBrittney Griner, the 6-foot-8 star who led Baylor to a 40-0 record last season, is expected to be the top pick in the 2013 draft.
But this last weekend of the regular season, about all that's left to decide is which team ends with the worst record in the WNBA. Right now, that's 5-27 Washington, which finishes Friday against Indiana and Sunday at Chicago. The Mystics have lost 11 in a row, but are playing two teams with nothing on the line. The Fever's playoff spot is set, as is the Sky's position as the team with the best record in the lottery.
Still, it seems a safe bet that even against even those unmotivated foes, Washington will continue sinking until firmly settling on the bottom. Most chances in the lottery, here we come.
Meanwhile, the team with the second-worst mark is Phoenix, which at 7-25 has lost five games in a row. The Mercury finish Friday against defending WNBA champion Minnesota and Sunday against Seattle. That finale will be televised at 3 p.m. ET Sunday on ESPN2. Not exactly a barn burner.
The Storm, who also have two regular-season games left, realistically are thinking about their first-round playoff series against the Lynx. Minnesota went 3-1 against Seattle this season. The Storm are not coming into the postseason with a full head of steam, having gone 5-8 since the Olympic break. Seattle hosts another playoff team, San Antonio, on Friday.
And on the other side of Sunday's matchup in Phoenix, you have the tattered remnants of the Mercury, a team besieged both by myriad injuries and rumors that at some point this season, they rolled over and played dead. Phoenix coach Corey Gaines says that's nonsense. He says that, in fact, the Mercury did what they could to be competitive until the playoffs were mathematically impossible to reach, and then they decided there was no reason not to shut down star Diana Taurasi and give her rest.
Whether you believe that or subscribe to one of the various Mercury tanking theories, this much is not debatable: Phoenix will benefit next year from the advancements players such as DeWanna Bonner have made in their games. Bonner, in her fourth year out of Auburn, has become a starter this season and carried a huge load.
Phoenix president and chief operating officer Amber Cox praises Bonner for keeping the Mercury's attitude as upbeat as possible.
"You can give her a ton of credit for that, because she really has been the leader of this team," Cox said. "She's been the one to make sure everybody keeps working hard. But also become more of a vocal leader in a positive manner."
In this clunker season for the Mercury, Gaines insists that his players consistently attempted to play hard.
"Our game is up-tempo and we'd have games where we just ran out of gas," Gaines said. "Even when games got out of hand, we had to strive for some kind of goal. Like, 'Let's try to win these next few minutes.' You have to do that, and that's what we did."
Meanwhile, Tulsa's goal was simply to get as many victories as it could in a season in which the Shock again were often at a pure-talent deficit against foes. Tulsa is now 9-23 after winning its third game in a row Thursday, beating New York. In their two previous seasons in Oklahoma, the Shock went 6-28 and 3-31. Liz Cambage's decision not to return to Tulsa for the last 10 games hasn't dampened any of the Shock's enthusiasm for finishing this season as strongly as possible -- even if that gives them worse odds in the lottery.
It seemed fitting that the final Eastern Conference playoff spot was clinched by a team on a night when it lost. Neither New York nor Chicago grabbed the East's No. 4 spot with gusto. It went to the Liberty, and the Sky again are left on the outside looking in at the playoffs.
Some might say it's just as well, that Chicago potentially might benefit more from the lottery in 2013 than by making the franchise's first postseason appearance now. Still, it has to be looked at as a disappointment for a team that appeared to have a good chance at making the playoffs this season.
August, 3, 2010
08/03/10
11:10
PM ET
Seattle's Brian Agler is in the position that the other 11 coaches in the WNBA wish they occupied. His team has the best record in the league, 25-4, and has secured home-court advantage for the duration of its stay in the playoffs. And the Storm are 15-0 this season at KeyArena.
Yet if you think Agler is just cruising through the end of the regular season and blissfully drifting off to sleep each night … well, no, it's not like that. Such is the nature of being a coach: There is always something to worry about.
And in Agler's case, it's time management for his players over the Storm's past five games: at Connecticut, at Washington, home versus Minnesota, at Phoenix and home versus Los Angeles.
All five of those foes have something to play for in the last week-plus of the regular season. The Sun are in dire straits, realistically needing to win out. Being three games behind fourth-place Washington, Connecticut is in desperation mode. The Mystics, just like Indiana, New York and Atlanta, conceivably still could wind up first in the Eastern Conference. So they will be pushing hard to the end. Same with Minnesota and Los Angeles, both trying to grab a spot in the playoffs out West.
[+] Enlarge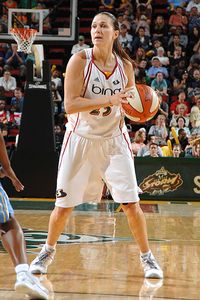 Terrence Vaccaro/NBAE via Getty ImagesIf Seattle -- which has home-court advantage throughout the playoffs -- rests its starters, Svetlanta Abrosimova will see added minutes.
Phoenix -- which would clinch a playoff spot with a loss by Los Angeles on Thursday -- appears to be pretty set in second place in the West, but the Mercury still want to finish strongly. Plus maybe put a little doubt in the Storm players' minds about this matchup. Seattle won the teams' previous four meetings this season, so the Mercury would like to let the Storm know they're not invincible.
So … weighing all this and other factors, how much does Agler play his starters for the rest of the regular season? At this point, the wins and losses don't exactly mean much, except to pretty-up the Storm's record. But how do you gauge the value of rest versus not giving away any edge?
Do you worry about players losing their timing in some way? Are you concerned that if your stars' stats decline a little over the final week as they sit, it might impact voting on individual awards? And while some might say, "Oh, that shouldn't matter," the reality is that there is a monetary value to those honors, and it's not as though WNBA players are just so rich that they would scoff at that.
That said, nothing is more important than winning the league title, and that's definitely how the Storm players are looking at this. Agler values the opinions of his players and listens to them. But he'll still make playing-time decisions based on both planning and instinct.
Tuesday night in Atlanta, for example, the idea was to play the starters in the first half and then mostly rest them in the second half. But the Storm weren't clicking early, thus the reserves carried Seattle for most of the first half. Then the starters closed the deal. It still meant that nobody played more than 25 minutes in an 80-70 victory.
Seattle has gone through the frustration of not having Lauren Jackson in the postseason the past two years, and the Storm want her to be in the best shape possible for the 2010 playoffs. Sue Bird has been an iron woman throughout her WNBA career, but she does have a back issue to think about. And certainly for the Storm's other starters -- Swin Cash, Camille Little and Tanisha Wright -- some rest wouldn't hurt.
Furthermore, it will help the Storm's bench to get a little more time before the postseason. It won't be surprising at all if Seattle ends up getting some key performances from players such as Svetlana Abrosimova, Le'coe Willingham or even Jana Vesela during the playoffs.
Coaching is, by nature, a pretty inexact science. That's not to say you don't have good models to follow about what usually works. It's just that there is no absolute right answer for some situations, and the position that Seattle is in now is one of them.
[+] Enlarge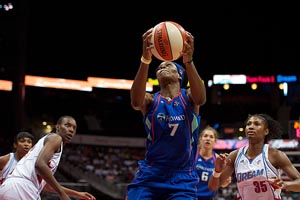 Dale Zanine/US PresswireTaj McWilliams-Franklin and New York have won six straight and are tied for second place in the East.
These are relatively rare occurrences, really, in most sports. Certainly in the WNBA, more often than not, it's a hard push through all 34 games because something is hanging in the balance right until the end.
Whatever the Storm do, there might be second-guessers, but there's no point worrying about that. The maturity and focus of this team is such that I think getting a little rest for the starters is the right move, and I wouldn't be concerned about it negatively impacting anything.
For a lot of other teams, though, the outcome of their last week-plus of games is vitally important.
The hottest of the East's teams, New York, has won six in a row and eight of its past nine. The Liberty have four games left at home and two on the road. East-leading Indiana has two at home and three on the road.
Atlanta, which has played in streaks most of the season, is on a three-game slide now. The Dream have three games left at home, one on the road. And Washington, which has been as hard to predict as any team, has three games at home and two on the road.
As for the West, Minnesota and San Antonio have not shown a significant difference between home or away results. In fact, the Silver Stars have won more on the road (six) than they have at home (five). Those numbers are reversed for Minnesota.
Still, by conventional wisdom, the Lynx have the harder of the two's remaining slates. Minnesota plays four of its last six on the road, including the final three. Meanwhile, San Antonio has five games left, with four at home.
Los Angeles is not out of the playoff picture. But the Sparks have the second-worst road record -- 3-11 -- in the league, better only than Tulsa's 2-12. And three of the Sparks' last five games are away from home.
So while the Storm understandably fret about fine-tuning in preparation for the playoffs, everyone else will be concerned with trying to win.
July, 8, 2010
07/08/10
8:49
PM ET
TULSA, Okla. -- Nicole Ohlde was eating breakfast Friday in Tulsa, anticipating Phoenix's trip to play Minnesota the next day. Ohlde played five seasons for the Lynx before being dealt to Phoenix in January 2009, and she was eager to visit friends in Minneapolis.
[+] Enlarge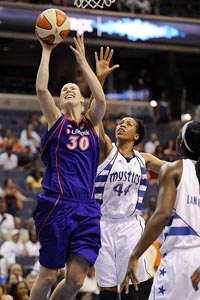 Rafael Suanes/US PresswireNicole Ohlde scored 14 points Tuesday on 7-for-13 shooting and added seven rebounds.
Ohlde's parents had come to Tulsa to see her and the Mercury play Thursday, and they were about to leave the next morning to head back to their home in Clay Center, Kan., about five hours north. And Ohlde herself was headed for the team bus when she got the news from Mercury coach Corey Gaines: "You're staying in Tulsa."
Another former Detroit Shock player still on the Tulsa roster, Kara Braxton, had been dealt to Phoenix for Ohlde and a 2011 draft pick.
"Luckily, we were on a 10-day road trip, so I had a big bag full of clothes," Ohlde said of suddenly being relocated. "I've been on teams where this has happened before [a trade in season], but it's never personally affected me. So it was quite the experience, to say the least."
Mom and Dad stayed around to provide some consolation and support. Her poodle, Gus, was back in Phoenix at the pet resort. Luckily, other than that precious possession, Ohlde doesn't have many valuables in Arizona. Her brother already had a trip to Phoenix planned for this weekend, so he'll pick up her stuff (and Gus) and bring everything to Tulsa.
"There were some tears," Ohlde said. "I had to say goodbye to everyone and figure out how to get my dog. People told me when I was younger, 'You have to understand the business part of the league.' And that's what I kept telling myself. This is what happens. One door closes, and another one opens."
Of course, here in Tulsa, it has been more like a revolving door. Players have come in and come out all summer in this inaugural season for the team in Oklahoma. Coach Nolan Richardson has been wheeling and dealing -- and his critics would say other teams have been "stealing." That is, taking more talent from Tulsa than they've been giving back.
Richardson insists, though, that there is method to the apparent madness. That even though not all the trades have seemed to make the Shock any better on the floor -- their 105-89 loss to Atlanta on Tuesday afternoon was the franchise's fifth in a row after a previous 12-game skid -- they are improving the off-court chemistry as part of an overriding grand plan.
Not surprisingly, some folks aren't giving Richardson the benefit of the doubt because of his lack of previous experience in women's basketball. Others say, "Let's see where the Shock are a year from now."
I think it's accurate to view it both ways. This season has been too chaotic to reasonably be considered "just part of the plan." But maybe somehow -- even despite what seems to be pretty much a mess -- the pieces will come together for 2011.
For now, there has been so much turnover, you hear conversations like this in the BOK Center hallways as security folks try to remember who's still with the Shock and who isn't.
"So did Kara leave?"
"Yeah, Friday. She went to Phoenix."
"But Alexis is here, right?"
"No, she went to Minnesota yesterday."
"No way! Alexis is gone, too?"
Yep, 'fraid so. On Monday, one more link to Detroit was broken, as Alexis Hornbuckle was dealt to Minnesota for Rashanda McCants. In other words, Ohlde was the newest member of the Shock for all of three days. Then it was McCants' turn to be the newbie.
The introduction video played on the giant video screen for the Shock is, to say the least, way out of date. They filmed it before the season started. A relatively short time but a lot of different players ago. Plenette Pierson and Shavonte Zellous are among those former Detroit Shock members previously traded.
"It's gone both ways," said Shanna Crossley, who came to Tulsa via a trade on April 14, which actually makes her one of the longest-tenured Shock players. "There are some people who've wanted to leave and some who maybe didn't, but they weren't a good fit according to coach Richardson.
"What's done is done, and I wish them all the best of luck, whichever teams they're with. I was heartbroken to see them go, because we did have a bond of sisterhood even though it was just a little while in some cases that we played together. But … if that's what the organization wants, you can't argue with that. You just do what you can do."
Crossley says all this with the brave face and positive-sounding voice of a good soldier. But one can imagine that in her head she has been saying, "Good grief, what next?"
On Tuesday, while the other five WNBA contests had playoff implications of one sort or another for both teams involved, the matinee at the BOK certainly was not a potboiler. (Ohlde's now-former team, Phoenix, was part of one of those, though, as Seattle delighted its fans by rallying against the Mercury and clinching the West title.)
Atlanta got the chance to give its reserves some extended minutes since once the Dream took control of this game -- not very long after tipoff -- there was no worry that they were going to give it back.
Meanwhile, Ivory Latta -- who was waived by Tulsa on May 15 but then brought back July 5 and is the only player now on the Shock roster who previously played in Detroit -- led the team with 23 points.
Ohlde, who started every game while at Minnesota but then was a reserve in Phoenix, showed she's probably ready to go back to starting now that she's in Tulsa. She had 14 points and seven rebounds in 29 minutes.
Ohlde has a perpetually sunny personality and is a good fit in Tulsa because she's a good fit anywhere. She is not just low maintenance; she's no maintenance. She will learn about her new teammates as quickly as possible and do whatever is asked of her with a smile.
Although she will be smiling a little more when Gus is back with her. In the meantime, maybe a teammate can direct her to the nearest pet store to prepare for his arrival. Someone who has been in Tulsa long enough to know, that is.
At this point, the presence of players with that kind of "I'll do my very best" attitude is about all the Shock have going for them. That and the hope that they will get better for next year.
"As difficult as this is -- and I'll be the first one to tell you it's been extremely difficult -- you have to look at the future," Crossley said. "Tulsa is a great community, and they will support you. When things start to come together, this can still be a very successful city for basketball.
"We've just got to find the right combination. If this is going to be the groundbreaking season for what we can be, then I can persevere through four months, I guess."
May, 24, 2010
05/24/10
3:50
PM ET
So here we are a week into the WNBA season, and everything is working out precisely as we all thought it would to this point, right? Not entirely.
Chicago's struggles? Not very surprising. But Atlanta's hot start? I admit I wasn't expecting the Dream to race to a 4-0 record.
What about Los Angeles being winless? Well, not a huge stunner, considering the Sparks' opening three games were on the road. But with six of its next eight at home, L.A. has a chance to effectively negate the slow beginning. Still, this might be an intense week at practice for the Sparks. Because there were moments in Saturday's loss at San Antonio where Sparks coach Jennifer Gillom looked ready to really go Vesuvius on her team.
And what an upbeat Silver Stars debut for Chamique Holdsclaw, wasn't it? She had 19 points and five assists for San Antonio against L.A., and seemed to bring a lot of energy to the AT&T Center. So far, it doesn't appear that Holdsclaw's departure is hurting Atlanta, while her arrival has helped the Silver Stars. "Chamique Part IV" is off to a good launch, and now just needs to stay on course.
Overall, it has been an entertaining start to the WNBA. And Tuesday offers a doubleheader with each game providing a very different story line. At 7 p.m. ET on ESPN2, defending WNBA champion Phoenix visits Tulsa. Then at 10 p.m. ET, Washington is at Seattle, with the Storm leading the Western Conference at 3-0.
The Mercury-Mystics game is scheduled to be available online with WNBA Live Access, which fans hope is truly "accessible." The webcasts have had some glitches early on, not unlike some of the teams themselves.
The Storm, though, have been glitch-free so far, including an overtime win at Phoenix on Saturday. The Storm's Lauren Jackson seems to be uber-motivated every time she faces the Mercury, and that was the case again as she had 25 points and eight rebounds.
Whenever a team goes into Phoenix and "steals" a victory on the Mercury's home court, it's almost like winning two games instead of one. That said, the Storm will have to consolidate it by slowing down a Mystics team that is 3-1, with the loss coming at Connecticut.
Entering the season, I thought the Mystics had legitimate high expectations to be a playoff contender even without injured Alana Beard. And Tuesday's game in Seattle could be one of those potential early season statement games for the Mystics if they win.
As for the Tulsa-Phoenix game, too many key Shock players are no longer with the franchise for the game to remind us very much of the 2007 WNBA finals that went the distance between Detroit and Phoenix. And, of course, Cappie Pondexter is not with the Mercury anymore, either.
But what's interesting with this matchup is the concept of pitting a high-octane offense like Phoenix's against a Tulsa team that is, Shock coach Nolan Richardson hopes, learning what "40 minutes of hell" is really about defensively. And with Tulsa having gotten its first victory, a double-digit win at Minnesota on Sunday, the Shock at least now can bring some legitimate confidence against the preseason favorite.