Category archive:

Minnesota Lynx
October, 19, 2012
10/19/12
4:13
PM ET
INDIANAPOLIS -- A ho-hum Friday morning shootaround before Game 3 of the WNBA Finals?
Not exactly. Instead, the media were crowded around Fever coach Lin Dunn and Lynx coach Cheryl Reeve to play a couple rounds of she said/she said.
Dunn appeared to try to diffuse Thursday's comments, which appeared critical of Reeve for both her team's physical play and the technical foul the Minnesota coach drew after throwing off her jacket in protest of a technical called on Lindsay Whalen.
Dunn said Thursday that Reeve showed a "lack of respect" for the game and the officials and should have been ejected.
On Friday, Dunn said she wasn't criticizing Reeve but questioning why the officials didn't hit her with a second technical since she threw her jacket after receiving the initial call. Dunn also received a technical in the game.
"I wish I had been wearing a jacket," Dunn said.
As far as Reeve's halftime comments to her players -- encouraging them to go to the basket with their "elbow out" -- Dunn said she was just gaining an "understanding" of how the Lynx wanted to play.
"What I was commenting on was if that is how she is teaching them to play, then we have to understand that and understand how someone could get a concussion or an injury," Dunn said.
She said her team is willing to be "just as physical as [the Lynx] are going to be."
Dunn said she and Reeve are "great friends."
Asked if this will impact their relationship, Dunn said, "Oh, hell, I mean heck, no."
For her part, Reeve wasn't backing down.
Asked what she thought of Dunn's criticism, Reeve said she didn't read the comments and "doesn't give a hoot what Lin thinks about me or my players. We don't answer to her."
Reeve added that Dunn's criticism "seems a little bit to me as the pot calling the kettle black," especially since, Reeve indicated, Indiana is regarded as one of the league's most physical teams.
"After Game 1," she said, "we decided that if this was how it was going to be played, we were going to join the party."
Reeve had no comment on being fined by the league for throwing off her jacket, but said she has "no regrets."
Indiana guard Katie Douglas, whose injured left ankle has kept her out of the Finals, was not at shootaround and is not likely to be able to play Friday night. Dunn talked with Douglas on Thursday as well as her doctors, and she will be sitting for Game 3.
"There is a very little window of hope for Sunday," Dunn said. "But it's very little." Jeanette Pohlen, who sustained what appeared to be a potentially serious knee injury in the second quarter of Game 2, was at practice, her left knee wrapped in a bandage. She will also be out for Game 3. Neither Dunn nor Pohlen were specific about her diagnosis.
October, 6, 2012
10/06/12
10:54
PM ET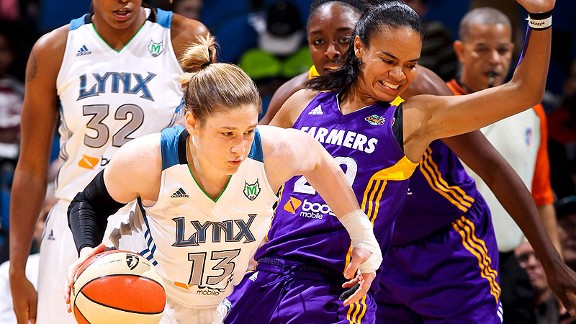 David Sherman/NBAE via Getty ImagesKristi Toliver and the Sparks host the Lynx in a must-win Sunday (ABC, 3:30 p.m. ET).
In the immediate aftermath of falling surprisingly flat to open the Western Conference finals Thursday, the Los Angeles Sparks had different ideas about what had gone wrong in a 94-77 loss to Minnesota.
Candace Parker was irritated by her team's indecisive pick-and-roll defense and lack of overall fight. DeLisha Milton-Jones saw a deficient sense of urgency. Alana Beard thought the Sparks didn't defend or rebound well enough to get their all-important transition game going. Kristi Toliver felt the Sparks started the game back on their heels, and never recovered.
Coach Carol Ross noticed all of the above, along with delivering the quintessential coach's line, "I'm going to have to look at film to review it all, but …"
It was bad, period. However, it's because the Sparks are such a good team that they can be that blunt about it.
[+] Enlarge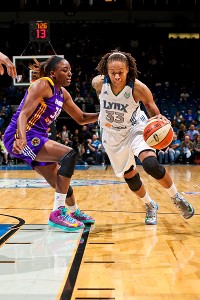 Jordan Johnson/NBAE/Getty ImagesSeimone Augustus and the Lynx outrebounded Nneka Ogwumike's Sparks 37-25 in Game 1.
The Sparks now have a do-or-die game Sunday at the Staples Center (ABC, 3:30 p.m. ET). Parker indicated maybe it was just as well that the Sparks feel the heat.
"I would take our team down 10 or 15 than up 20 any day," Parker said, "because I think we play with a lot more aggression, a lot more heart and effort, when we're down."
That's the kind of spin a player needs to make the best of the predicament the Sparks are in. Parker undoubtedly would have preferred that Los Angeles never gets into the situation of being forced to rally in a game or a series. But since that's where the Sparks are, she will remind them that they actually did play their best basketball Thursday when they were in comeback mode.
There wasn't any panic in L.A.'s locker room at an otherwise joyful Target Center after Game 1. The Sparks seemed annoyed at themselves more than anything else.
Which they should have been. The Sparks had to travel for the series opener, but they were the more rested team considering that in the time since they had finished their first-round sweep of San Antonio, the Lynx had played twice.
During the first round, it seemed Seattle had revealed a potential crack in Minnesota's title defense and that the Sparks just needed to come in and pound away at that vulnerability. It just didn't turn out that way.
After a close first quarter, Minnesota all but sealed the victory by scoring twice as many points as Los Angeles in the second quarter. The Sparks went on some runs in the second half, but every time they'd be on the verge of making the Lynx uncomfortable, Minnesota would get a basket or defensive stop.
"When you don't rebound, No. 1, you don't deserve to win," Ross said of the Lynx's 37-25 edge on the boards. "And, No. 2, everything else you try to do is more difficult. They had 24 more shot attempts than us, and quite a few came off offensive rebounding."
The Sparks, like the Lynx, were very good at home this summer, going 16-1 in the regular season in L.A. Their only loss there was June 24 against San Antonio.
Los Angeles is trying to make the league finals for the first time since 2003, which is a long time ago in terms of personnel in the league. But the Sparks do have one player, Milton-Jones, who was with them, in 2001-02, when they won back-to-back WNBA titles.
"It looked very chaotic," Milton-Jones said of the Sparks at their worst Thursday.
Then, like Ross, her former college coach at Florida, she stressed how imperative it is for the Sparks to hit the boards Sunday in order to extend their season.
"We really have to put a lot of our focus on our effort and what we do once the ball is shot and hits the rim," she said. "From that moment on, we have to know the ball is the most important thing."
September, 4, 2012
09/04/12
11:38
PM ET
The first few weeks of this WNBA season, it appeared Minnesota undoubtedly was on its way to a second championship. Then the Lynx had a hiccup in early July, losing three in a row. Well … maybe not so fast on that repeat thing.
But, now, it again appears we might already know the winner for this year's WNBA race. Since the Olympic break ended, the Lynx have looked like they're ready to make like Usain Bolt on the rest of the league.
Tuesday in Minneapolis, the Lynx beat Los Angeles 88-77, giving Minnesota its ninth consecutive victory. And they did it in the now-standard Los Lynx way: spectacular performances from their two superstars, Seimone Augustus and Maya Moore, excellent game management from point guard Lindsay Whalen, very solid interior defense, and good contributions off the bench.
[+] Enlarge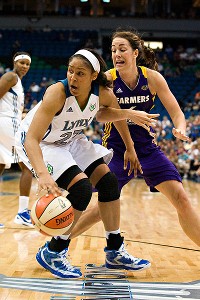 Marilyn Indahl/US PresswireMaya Moore tied a Lynx record with five first-half steals Tuesday en route to a career-high seven.
How do you beat the Lynx? When they're playing like this, nobody else in the league can.
It was a historic night for Augustus, who passed Katie Smith to become the franchise's all-time scoring leader. Of course, it was a very different Lynx franchise that Smith played for -- one that had little postseason success and always seemed mired in mediocrity. One of Minnesota's low points was trading away Smith in 2005 for what ended up being essentially nothing.
But Augustus arrived the next year, as the No. 1 draft pick in 2006, and that was when you could perhaps start to see the faintest light at the end of the tunnel. Well, maybe. Truth is, it was still hard to find a lot of optimism about the Lynx even then. Augustus got through those hard times, though, accepting the fact that much of the franchise's future was on her shoulders.
She was more than happy to share some of that load with the Lynx's No. 1 draft pick in 2011, Moore. And all the parts that have surrounded them last season and this one have fit pretty perfectly, too.
Moore said at the start of 2012 that the challenge for the Lynx would be to stay as hungry as they were last year when they were chasing the franchise's first title. Well, the Lynx appear to be just as ravenous now as they were a year ago.
Augustus had 23 points and four assists against the Sparks. Moore had 23 points, nine rebounds and a career-high seven steals. She threw in two assists and a blocked shot, too. If you wanted to do an instructional video on hustle from a great player, this game by Moore would be fantastic footage.
Rebekkah Brunson and Taj McWilliams-Franklin led the effort to clog up the Sparks' inside game. Guard Alana Beard led the Sparks with 17 points, and she's really coming into her own again offensively. Since the Olympic break, Beard has scored in double figures in six of the Sparks' seven games.
The problem is, the Sparks are not playing as well on either end of the court as they need to. It seems pretty clear that center Candace Parker is not physically 100 percent; on Tuesday she had just six points on 3-of-8 shooting.
The Sparks have lost three in a row. They have two road games left before finishing out the regular season with four at home. The best news L.A. has right now is that next up is the team with the league's worst record, 5-22 Washington.
The D.C. fans are likely to give a warm greeting to former Mystic Beard, but she will have serious business on her mind in trying to get the Sparks out of this slump. Now four games back of first-place Minnesota in the West, it seems unlikely that the Sparks are going to catch the Lynx. Instead, L.A. has to concentrate on getting Parker in as good a shape as possible for the postseason, and trying to go into the playoffs with some momentum.
That's something the Lynx have in abundance right now. The biggest challenge Minnesota faces for the rest of the regular season is weariness from travel: The Lynx play six of their last eight games on the road.
If any team is prepared for that grind, though, it appears to be Minnesota. The Lynx look ready for anything.
October, 4, 2011
10/04/11
10:26
PM ET
Atlanta's Iziane Castro Marques talks about having back center Erika de Souza and how that impacts her role and the rest of the Dream.
Minnesota's Maya Moore talks about the adjustments she expects both teams to make for Game 2 of the WNBA Finals.
August, 21, 2010
08/21/10
2:29
AM ET
Los Angeles' DeLisha Milton-Jones didn't try to avoid the obvious recently when asked about the struggles the Sparks have had this summer.
After Lisa Leslie retired, Candace Parker was going to be the team's undisputed centerpiece. But Parker's season ended after 10 games because of a shoulder injury.
"You know, you go through the whole list of clichés to try to make it seem like it won't be that bad," Milton-Jones said. "Like, 'It doesn't matter; one player doesn't make the whole team.' But at the end of the day, that one player is vital.
"When it's someone who is also one of the faces of women's basketball … that is not just a hole. That is an astronomically large crater that we have to fill. What that player brought to us is something that can't be replaced. The way teams had to formulate defenses to stop Candace when she is in transition, when she is setting a pick, when a pick is set for her, when she's on the block, when she's on the 3-point line …"
Yep, Parker is a multifaceted nightmare for defenders. Milton-Jones knew as soon as she found out that Parker was done for the season that the Sparks were in trouble. It was an additional blow to L.A. to lose guard Betty Lennox to injury, too; she appeared in just 11 games.
But Milton-Jones held on to the hope that the Sparks would find a way to still get into the playoffs. She expected it would be kind of like dragging several large pieces of heavy luggage -- which had the wheels fall off -- to an airport gate that seemed five miles away. Oh, and don't even think there is a luggage cart available to help.
Well, on Friday night, the Sparks finally made it to that gate. And they didn't miss their flight. L.A. is going to the postseason. A 98-91 win over the Minnesota Lynx put the Sparks in the playoffs.
Milton-Jones had a season-high 24 points. Her fellow "old ladies" on the Sparks were also critically important. Tina Thompson led L.A. with 26 points, while Ticha Penicheiro had 12 assists. All three players are 35; Milton-Jones and Penicheiro will be 36 in September.
Thompson, who became the WNBA's career scoring leader last week, also had nine rebounds, while Milton-Jones had seven.
"We're feeling very, very good, but we know the hard part is about to begin for us," Milton-Jones said. "This win tonight … we can't get too high off it because we want to go in [to the postseason] and represent ourselves well."
Actually, they should take some pride in just making the playoffs. Thompson, Milton-Jones and Penicheiro have all won WNBA titles, and their resolve and leadership carried the Sparks in the worst times. When the going got rough this season, they kept on going.
The Sparks' victory added one more piece to the playoff puzzle, which is still not fully formed. Now we have seven of the eight postseason teams, but the matchups remain to be determined.
There was a fair amount of drama Friday in that regard. The San Antonio Silver Stars, despite losing Chamique Holdsclaw to an Achilles tendon injury earlier this week, scrambled for an important 75-61 victory over the Indiana Fever. It put the Silver Stars closer to the last Western Conference playoff spot, while the Lynx were pushed a little further away by the loss to L.A.
Speaking of pushing, a little of that went on in D.C., as the Washington Mystics edged the New York Liberty in a 75-74 thriller that ended New York's 10-game winning streak. There was a bit of a postgame scuffle that fortunately didn't last long or amount to much … but it did show that passions are more than a little inflamed at this point in the season.
Going into the final two days of the regular season, Washington, New York and Indiana are all at 21-12 and tied for first place in the Eastern Conference.
Ready for the big finish?
June, 7, 2010
06/07/10
7:38
PM ET
It's really folly to believe in the idea of franchises being jinxed, isn't it? In any professional sports league, if you consistently struggle, it pretty much has to come down to it being your fault, right? There's no such thing as just perpetual bad luck. There is such a thing as continual management missteps that seep down to coaching moves and player performance, though.
[+] Enlarge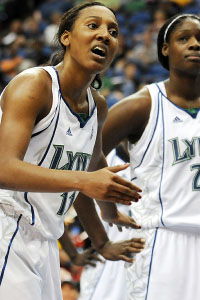 AP Photo/A.J. OlmscheidCandice Wiggins, Nicky Anosike and the Lynx (2-7) play just one more home game in June.
Yet, it can feel like a team is under a constant hex. And while it's probably still too early in the WNBA's history to proclaim any of its franchises to be, say, "Clippers-like" in terms of never-ceasing bad mojo, if any WNBA team were to be proclaimed as such, it would have to be the Minnesota Lynx.
Oh, I know. It's still too soon this season to begin burial preparations for the Lynx. After all, if there's generally one truism about the WNBA, it's that often just when a team appears unequivocally headed in a certain direction, it changes course.
It's just the start of June, and so a lot can still happen in the remainder of the regular season to take the pain out of what right now appears to be a giant toothache of a season for the Lynx.
But it might be as bad as it looks. Or … yikes … it might get worse. Although despairing Minnesota fans might say to that, "Really? How?"
Admittedly, the Lynx technically don't have the league's worst record. That belongs to the 1-6 Sparks, who also are obviously unhappy. But Los Angeles has lost its games by an average of just 7.7 points, including two excruciating one-point losses to Phoenix. The Sparks should be very irritated, but not completely dispirited.
The Lynx, though, might be only a step away from demoralized. They are 2-7, and while that's one more victory than the Sparks, Minnesota's losses are by an average of 16.9 points. And the misery was punctuated by Sunday's 38-point defeat at home to Indiana -- the 89-51 blowout being the Lynx's worst pounding this season.
Yes, Lynx guard Lindsay Whalen missed the game because of an "undisclosed" illness, and forward Seimone Augustus is still out after abdominal surgery. Plus it's a bad time right now to face the Fever -- it might stay that way the rest of the season -- as the defending Eastern Conference champs have won three in a row and five of their last six.
Still, this is exactly opposite of what the Lynx were hoping for this summer. After an offseason trade to bring home-state legend Whalen home, Minnesota looked poised to change its fortunes. The Lynx have made the playoffs just twice in their previous 11 seasons, but a young, talented team with Whalen's leadership at point guard was supposed to make 2010 a very different story.
And, as mentioned, it still could be. Hey, it was just a week ago -- June 1 -- that the Lynx defeated 2009 WNBA champion Phoenix. After a rough start to the season, that looked like a potential turning point.
But then came a 92-79 loss to Tulsa on Friday, followed by the truly awful game against the Fever. How bad was it versus Indiana? Try 20.7 percent shooting from the field by the Lynx (12 of 58).
Admittedly, Indiana's defense is very good. But come on. The Lynx should be able to shoot as if they're not catastrophically visually impaired even against the Fever, and even without Whalen.
This was primarily a guard/wing problem, with three principle offenders: rookie Monica Wright (1 of 13), recently back-from-injury Candice Wiggins (1 of 8), and sometimes-also-went-cold-at-North Carolina Rashanda McCants (0 of 6).
Wright started her first WNBA season well, scoring 18 points at Tulsa in a victory on May 15. And in the Lynx's other win, against the Mercury, she had 32 points. But there have been some rough waters otherwise for Wright, who finished college as the Virginia program's all-time leading scorer.
She has taken more shots, 127, than any Lynx player thus far, but has made just 40 of them (31.5 percent). As a team, Minnesota is shooting a league-worst 37.7 percent from the field, while allowing its opponents to shoot 44.4 percent.
Coach Cheryl Reeve summed it up Sunday by saying, "We are a bad basketball team," and you've got to figure nobody is more surprised about this than she is. Reeve apprenticed under Bill Laimbeer at Detroit and seemed very ready to have her chance at running the show with the Lynx. Which she got when Jennifer Gillom left to coach the Sparks.
Reeve didn't dodge high preseason expectations. To the contrary, she embraced them, saying it was time for the Lynx to take some big steps forward, including making the playoffs. And she fully endorsed the Whalen deal that sent the No. 1 pick to Connecticut, which used it to select Tina Charles (who -- no surprise -- is leading all rookies in scoring, rebounding, field goal percentage, blocks and efficiency rating).
Reeve might have underestimated the effect and duration of the various injuries Minnesota has dealt with. And team chemistry perhaps has been more elusive because of that.
And, unfortunately, we've saved the worst part for last, Lynx fans. Minnesota has only one home game left in June, which will be on the 18th, against Tulsa. From Thursday, June 10, through July 1, the Lynx have six of their next seven games on the road. Which could be lethal for a team trying to right itself.
Then again, considering how horrible Sunday's game must have looked to the home fans at the Target Center, maybe the road is not such a bad place after all for the Lynx.
April, 8, 2010
04/08/10
10:51
AM ET
Editor's note: ESPN.com senior writer Elizabeth Merrill spent the day with Connecticut Huskies senior Tina Charles, who was the top pick in Thursday's WNBA draft.
3:27 p.m. ET
About four hours ago, Tina Charles said she wasn't nervous. All that changed in the moments before the draft, when Charles said her heart was about to pound out of her chest.
She composed herself and stood in front of about 15 media members and told them that going No. 1 to the Connecticut Sun was "a dream come true."
She'll stay close to her home in Queens, N.Y., and will get to play in front of the same rabid fan base that cheered her on with the Connecticut Huskies.
"My family is Connecticut now," she said.
3:10 p.m. ET
Well, it's official. Tina Charles goes No. 1 overall to the Connecticut Sun. She hugged her mom and dad, then Geno Auriemma, and grabbed her new jersey.
2:20 p.m. ET
Basketball players do not roam around in 4-inch heels with perfectly sprayed hairdos very often. That's why a couple of WNBA reps are running the draftees through a pre-draft rehearsal, sort of a walk-through, just before the draft.
"Make sure you're standing up straight," one WNBA official says.
"When your name is called, take your time … hug it out [with friends and family]."
No cell phones, the players are told. No gum chewing, either.
Each player will sit at her own table with a select group of loved ones. UConn coach Geno Auriemma is expected to be perched at Tina Charles' spot, which is positioned in the middle of the room.
A number of Huskies players are making the trek to New Jersey, too, to show their support.
"I miss my team," Charles says. "I miss waking up and seeing my teammates. That's my comfort zone."
12:29 p.m. ET
Here's a strange scene: Tina Charles has just arrived at the WNBA draft, and in the players lounge, she's laughing and chatting it up with Jayne Appel. You remember Appel? Two nights ago, the Stanford center was battling Charles in the national championship game. Now she's Charles' buddy?
Actually, they've been friends for years, since fighting for rebounds on the AAU circuit, and Appel and Charles are BlackBerry Messenger friends and chat all the time. A few hours after Tuesday's game, Charles and Appel texted and eventually met up and hung out on the River Walk in San Antonio. They also had talked before the Final Four semifinals, wishing each other luck.
Appel's boyfriend thinks it's kind of strange how Appel and Charles can be fierce competitors on the court, then hang out after a game. Then again, Appel's boyfriend is Chris Marinelli, a 6-foot-7, 301-pound offensive lineman from Stanford who's gearing up for the NFL draft.
"A lot of male athletes don't have that [camaraderie]," Appel says. "I think it's special."
Marinelli will be here for the WNBA draft, and Appel could no doubt use somebody to lean on. She's hobbling around with a stress fracture in her foot and a twisted ankle. Appel says she feels fine thanks to some pain medication and is eager to play regardless of where she's drafted.
Still, she needed a few hours to compose herself after Tuesday night's 53-47 loss. When she finally met up with Charles and some of her UConn teammates, Appel tried to turn away when highlights played on the TV. But Appel was glad she spent her last night in San Antonio with her old friend.
"Tina is a great person," Appel says. "A very classy player."
11:30 a.m. ET
OK, so it's not even noon yet, and Tina Charles has shaken at least 20 hands and done four interviews. But the thing she dreaded the most about today? Getting dressed up.
"Getting all dolled up … this is a drag," Charles said as she fidgeted in her seat.
Charles will head over to the draft in a few minutes.
A little-known fact: Charles, a Queens, N.Y., native, is a Mets fan, and actually thought as a kid that baseball would be the sport she'd play the longest.
Charles won her first trophy in baseball and kept it displayed prominently in her family's house.
9:15 a.m. ET
The alarm on Tina Charles' BlackBerry went off a little bit ago. Most Thursdays, it wakes her up for a morning class at UConn. This morning, she glanced at it and hit the off button.
Charles has been up for a couple of hours, and it's a big day. In six hours, she's expected to be the No. 1 pick in the WNBA draft.
Charles says she isn't nervous, because, really, this is nothing compared to the past month or so. Her Huskies have carried the weight of a two-year winning streak and just made it 78 in a row Tuesday night with a win over Stanford in the national championship game.
Critics said UConn's dominance was bad for women's basketball. Charles bristled at that. "Because we knew all the hard work we put in at practice," Charles says. "People were still diving on the floor for loose balls.
"We take pride in what we do. That was ridiculous."
This has been a whirlwind week for Charles. There was the late-night national championship reception in San Antonio, the flight back to Connecticut, the pep rally on campus. Charles rolled into Secaucus, N.J., late Wednesday.
Today, she's doing the media circuit in Manhattan before ending up back in New Jersey to hear her name called.
Traffic has been the only headache so far. She spent an hour in an SUV with her mom, Angella, and passed the time by fiddling with her phone, reading e-mails and playing games.
April, 7, 2010
04/07/10
11:19
PM ET
So Tina Charles seems to be making a regular habit of extinguishing suspense. Her UConn team was predicted to win the past two NCAA titles. And despite things looking shaky for a while against Stanford on Tuesday, the Huskies did just that.
[+] Enlarge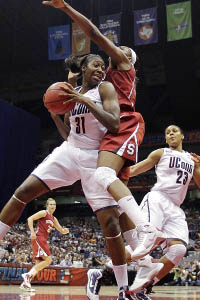 AP Photo/Eric GayProjected No. 1 draft pick Tina Charles led UConn to the NCAA title and its second consecutive unbeaten season on Tuesday.
Similarly, Charles has been the cinch No. 1 pick in the WNBA draft pretty much all her senior season. Thus, we can be certain how things will get started in Thursday's draft (ESPN2/ESPN3.com, 3 p.m. ET).
"With the first pick of the WNBA draft, the Connecticut Sun select … Tina Charles."
After that, it's hard to say who's going to go where. But it's not difficult to recognize how to label this draft. Someone like Charles aside, it's not regarded as a superstar-potential senior class.
In a teleconference last week, coach Nolan Richardson of the relocated Tulsa Shock said, "I may have to move my pick. We've got a lot of gaps and things we need to do."
Meaning he didn't think that at No. 7, he was going to get what he needed. So, indeed, on Wednesday the Shock sent their 2010 first-round pick and a 2011 second-round selection to Connecticut for Amber Holt and Chante Black.
Which one could assume is Richardson's way of saying, "Kinda slim draft pickings."
Richardson is, of course, getting a crash course on the women's game and is trying to rebuild a Shock team that isn't the same squad that was in Detroit. Several of those veterans seem to have treated Oklahoma as if it's rampant with the plague and wanted no part of going to Tulsa. Kudos to those Shock players who are giving the new WNBA city a chance.
[+] Enlarge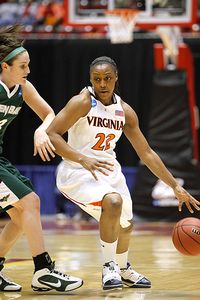 AP Photo/Charlie NeibergallVirginia guard Monica Wright is among the players rumored to be picked not long after Tina Charles goes first in the WNBA draft.
Richardson, understandably, would prefer experienced average players to rookie average players. And if that sounds like a harsh assessment of the class of 2010, it's not meant to be. Just realistic.
With only 12 teams and jobs at a premium, rookies will find it hard to make rosters unless they bring specific needs to teams. Being a good role player, though, is indeed filling a need.
Minnesota has the second and third picks, and new Lynx coach Cheryl Reeve suggested a couple of weeks ago that she thought she had her mind made up about who the franchise needed to take. We'll see if she has had second thoughts since then, in the wake of NCAA tournament performances.
"I think the people we've all projected to be solid players in the league are still solid," Reeve said. "How deep is this draft? It's an interesting time with the contraction. With the way we shape our rosters, positional need is becoming more important.
"I use the word 'serviceable.' There are a lot of serviceable players in the draft. There's not the Cappie Pondexters and the Candace Parkers. But still some good players. We have two high draft picks. We'll try to maximize them."