Category archive:

Minnesota Lynx
October, 19, 2012
10/19/12
4:13
PM ET
INDIANAPOLIS -- A ho-hum Friday morning shootaround before Game 3 of the WNBA Finals?
Not exactly. Instead, the media were crowded around Fever coach Lin Dunn and Lynx coach Cheryl Reeve to play a couple rounds of she said/she said.
Dunn appeared to try to diffuse Thursday's comments, which appeared critical of Reeve for both her team's physical play and the technical foul the Minnesota coach drew after throwing off her jacket in protest of a technical called on Lindsay Whalen.
Dunn said Thursday that Reeve showed a "lack of respect" for the game and the officials and should have been ejected.
On Friday, Dunn said she wasn't criticizing Reeve but questioning why the officials didn't hit her with a second technical since she threw her jacket after receiving the initial call. Dunn also received a technical in the game.
"I wish I had been wearing a jacket," Dunn said.
As far as Reeve's halftime comments to her players -- encouraging them to go to the basket with their "elbow out" -- Dunn said she was just gaining an "understanding" of how the Lynx wanted to play.
"What I was commenting on was if that is how she is teaching them to play, then we have to understand that and understand how someone could get a concussion or an injury," Dunn said.
She said her team is willing to be "just as physical as [the Lynx] are going to be."
Dunn said she and Reeve are "great friends."
Asked if this will impact their relationship, Dunn said, "Oh, hell, I mean heck, no."
For her part, Reeve wasn't backing down.
Asked what she thought of Dunn's criticism, Reeve said she didn't read the comments and "doesn't give a hoot what Lin thinks about me or my players. We don't answer to her."
Reeve added that Dunn's criticism "seems a little bit to me as the pot calling the kettle black," especially since, Reeve indicated, Indiana is regarded as one of the league's most physical teams.
"After Game 1," she said, "we decided that if this was how it was going to be played, we were going to join the party."
Reeve had no comment on being fined by the league for throwing off her jacket, but said she has "no regrets."
Indiana guard Katie Douglas, whose injured left ankle has kept her out of the Finals, was not at shootaround and is not likely to be able to play Friday night. Dunn talked with Douglas on Thursday as well as her doctors, and she will be sitting for Game 3.
"There is a very little window of hope for Sunday," Dunn said. "But it's very little." Jeanette Pohlen, who sustained what appeared to be a potentially serious knee injury in the second quarter of Game 2, was at practice, her left knee wrapped in a bandage. She will also be out for Game 3. Neither Dunn nor Pohlen were specific about her diagnosis.
October, 6, 2012
10/06/12
10:54
PM ET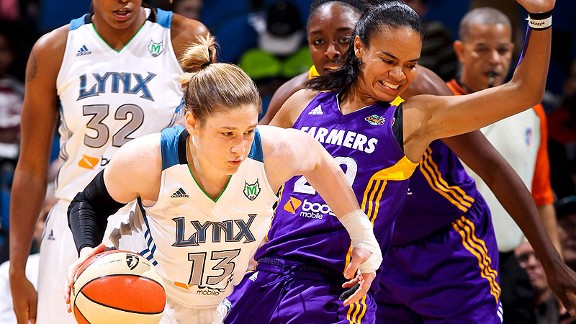 David Sherman/NBAE via Getty ImagesKristi Toliver and the Sparks host the Lynx in a must-win Sunday (ABC, 3:30 p.m. ET).
In the immediate aftermath of falling surprisingly flat to open the Western Conference finals Thursday, the Los Angeles Sparks had different ideas about what had gone wrong in a 94-77 loss to Minnesota.
Candace Parker was irritated by her team's indecisive pick-and-roll defense and lack of overall fight. DeLisha Milton-Jones saw a deficient sense of urgency. Alana Beard thought the Sparks didn't defend or rebound well enough to get their all-important transition game going. Kristi Toliver felt the Sparks started the game back on their heels, and never recovered.
Coach Carol Ross noticed all of the above, along with delivering the quintessential coach's line, "I'm going to have to look at film to review it all, but …"
It was bad, period. However, it's because the Sparks are such a good team that they can be that blunt about it.
[+] Enlarge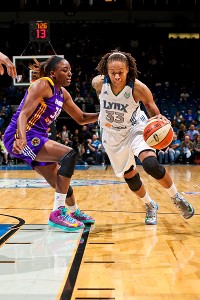 Jordan Johnson/NBAE/Getty ImagesSeimone Augustus and the Lynx outrebounded Nneka Ogwumike's Sparks 37-25 in Game 1.
The Sparks now have a do-or-die game Sunday at the Staples Center (ABC, 3:30 p.m. ET). Parker indicated maybe it was just as well that the Sparks feel the heat.
"I would take our team down 10 or 15 than up 20 any day," Parker said, "because I think we play with a lot more aggression, a lot more heart and effort, when we're down."
That's the kind of spin a player needs to make the best of the predicament the Sparks are in. Parker undoubtedly would have preferred that Los Angeles never gets into the situation of being forced to rally in a game or a series. But since that's where the Sparks are, she will remind them that they actually did play their best basketball Thursday when they were in comeback mode.
There wasn't any panic in L.A.'s locker room at an otherwise joyful Target Center after Game 1. The Sparks seemed annoyed at themselves more than anything else.
Which they should have been. The Sparks had to travel for the series opener, but they were the more rested team considering that in the time since they had finished their first-round sweep of San Antonio, the Lynx had played twice.
During the first round, it seemed Seattle had revealed a potential crack in Minnesota's title defense and that the Sparks just needed to come in and pound away at that vulnerability. It just didn't turn out that way.
After a close first quarter, Minnesota all but sealed the victory by scoring twice as many points as Los Angeles in the second quarter. The Sparks went on some runs in the second half, but every time they'd be on the verge of making the Lynx uncomfortable, Minnesota would get a basket or defensive stop.
"When you don't rebound, No. 1, you don't deserve to win," Ross said of the Lynx's 37-25 edge on the boards. "And, No. 2, everything else you try to do is more difficult. They had 24 more shot attempts than us, and quite a few came off offensive rebounding."
The Sparks, like the Lynx, were very good at home this summer, going 16-1 in the regular season in L.A. Their only loss there was June 24 against San Antonio.
Los Angeles is trying to make the league finals for the first time since 2003, which is a long time ago in terms of personnel in the league. But the Sparks do have one player, Milton-Jones, who was with them, in 2001-02, when they won back-to-back WNBA titles.
"It looked very chaotic," Milton-Jones said of the Sparks at their worst Thursday.
Then, like Ross, her former college coach at Florida, she stressed how imperative it is for the Sparks to hit the boards Sunday in order to extend their season.
"We really have to put a lot of our focus on our effort and what we do once the ball is shot and hits the rim," she said. "From that moment on, we have to know the ball is the most important thing."
September, 4, 2012
09/04/12
11:38
PM ET
The first few weeks of this WNBA season, it appeared Minnesota undoubtedly was on its way to a second championship. Then the Lynx had a hiccup in early July, losing three in a row. Well … maybe not so fast on that repeat thing.
But, now, it again appears we might already know the winner for this year's WNBA race. Since the Olympic break ended, the Lynx have looked like they're ready to make like Usain Bolt on the rest of the league.
Tuesday in Minneapolis, the Lynx beat Los Angeles 88-77, giving Minnesota its ninth consecutive victory. And they did it in the now-standard Los Lynx way: spectacular performances from their two superstars, Seimone Augustus and Maya Moore, excellent game management from point guard Lindsay Whalen, very solid interior defense, and good contributions off the bench.
[+] Enlarge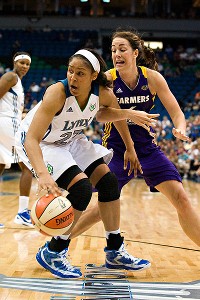 Marilyn Indahl/US PresswireMaya Moore tied a Lynx record with five first-half steals Tuesday en route to a career-high seven.
How do you beat the Lynx? When they're playing like this, nobody else in the league can.
It was a historic night for Augustus, who passed Katie Smith to become the franchise's all-time scoring leader. Of course, it was a very different Lynx franchise that Smith played for -- one that had little postseason success and always seemed mired in mediocrity. One of Minnesota's low points was trading away Smith in 2005 for what ended up being essentially nothing.
But Augustus arrived the next year, as the No. 1 draft pick in 2006, and that was when you could perhaps start to see the faintest light at the end of the tunnel. Well, maybe. Truth is, it was still hard to find a lot of optimism about the Lynx even then. Augustus got through those hard times, though, accepting the fact that much of the franchise's future was on her shoulders.
She was more than happy to share some of that load with the Lynx's No. 1 draft pick in 2011, Moore. And all the parts that have surrounded them last season and this one have fit pretty perfectly, too.
Moore said at the start of 2012 that the challenge for the Lynx would be to stay as hungry as they were last year when they were chasing the franchise's first title. Well, the Lynx appear to be just as ravenous now as they were a year ago.
Augustus had 23 points and four assists against the Sparks. Moore had 23 points, nine rebounds and a career-high seven steals. She threw in two assists and a blocked shot, too. If you wanted to do an instructional video on hustle from a great player, this game by Moore would be fantastic footage.
Rebekkah Brunson and Taj McWilliams-Franklin led the effort to clog up the Sparks' inside game. Guard Alana Beard led the Sparks with 17 points, and she's really coming into her own again offensively. Since the Olympic break, Beard has scored in double figures in six of the Sparks' seven games.
The problem is, the Sparks are not playing as well on either end of the court as they need to. It seems pretty clear that center Candace Parker is not physically 100 percent; on Tuesday she had just six points on 3-of-8 shooting.
The Sparks have lost three in a row. They have two road games left before finishing out the regular season with four at home. The best news L.A. has right now is that next up is the team with the league's worst record, 5-22 Washington.
The D.C. fans are likely to give a warm greeting to former Mystic Beard, but she will have serious business on her mind in trying to get the Sparks out of this slump. Now four games back of first-place Minnesota in the West, it seems unlikely that the Sparks are going to catch the Lynx. Instead, L.A. has to concentrate on getting Parker in as good a shape as possible for the postseason, and trying to go into the playoffs with some momentum.
That's something the Lynx have in abundance right now. The biggest challenge Minnesota faces for the rest of the regular season is weariness from travel: The Lynx play six of their last eight games on the road.
If any team is prepared for that grind, though, it appears to be Minnesota. The Lynx look ready for anything.
October, 4, 2011
10/04/11
10:26
PM ET
Atlanta's Iziane Castro Marques talks about having back center Erika de Souza and how that impacts her role and the rest of the Dream.
Minnesota's Maya Moore talks about the adjustments she expects both teams to make for Game 2 of the WNBA Finals.