Category archive:

New York Liberty
June, 22, 2011
06/22/11
12:34
AM ET
Seattle's Sue Bird and Swin Cash talk about their memories of the WNBA's launch on June 21, 1997. That summer, they were getting ready for their high school senior year.
September, 21, 2010
09/21/10
11:27
AM ET
This truth is self-evident: We ought to be just as surprised when not-very-well-explained things happen with the New York Liberty as we are when cats express an interest in chasing mice.
And so it is after 14 years of Carol Blazejowski being the Liberty's general manager, she is out of that job following … a very good season. Of course.
To paraphrase what a friend who is a Liberty season ticket-holder once told me about the relationship between the team's front office and its fandom, "The way they always seem to miss opportunities to connect with us, but never miss a chance to make us wonder what in the hell is going on … I'm telling you, that's a skill."
Blaze has long had her detractors, in part because hard-core New York fans don't miss anything, nor do they forget. They can recite chapter and verse since 1997 how this move led to … that move which … should have been a different move because … ultimately, we were left totally … hosed. (Although that might not be the word they'd use.)
A scoring legend from when the ground floor was being laid for modern-day women's collegiate hoops in the 1970s, Blazejowski was also in at the beginning of the WNBA in 1997. She has presided over the best and worst moments for the Liberty. She has celebrated successes and lamented disappointments. She has been praised, and she has caught plenty of hell (including some from me).
Blaze's love for the sport couldn't be questioned, even if some of her trades could be. Moves like the one that sent Becky Hammon to San Antonio for nothing that ended up helping New York, or the one that cost the Liberty a chance at drafting UConn star Tina Charles … those ate away at the fan base.
A good trade, though, brought Cappie Pondexter to New York; she requested the deal from Phoenix.
And after watching Pondexter and the Liberty end their season in the Eastern Conference finals, Blaze from all accounts was looking forward to 2011's challenges and possibilities.
Then -- bam -- a brief announcement came Monday afternoon from MSG Sports president Scott O'Neil: Liberty president/GM Blazejowski was leaving the team. O'Neil called Blaze a "class act" and wished her the best in "future endeavors." No quote from Blaze, but there was a sentence that said the search for new leadership for the Liberty would "begin immediately."
So let's recap, quickly, the last couple of weeks for the New York franchise. The Liberty beat Indiana in the first round of the playoffs, but Janel McCarville got hurt. They lost to Atlanta in East finals, which ended coach Anne Donovan's brief stay, as she went to take over at Seton Hall. The team's home for the next three seasons was finally announced: Hello, Newark! Pondexter ended up not being on the FIBA World Championship team for the United States, and she said that was her decision for personal reasons. Then it was announced Blaze was departing.
Thus, the Liberty went from a splendid second half of the WNBA season to a late September filled with question marks. MSG Sports, which owns the team, must have at least some idea already what those answers are. If not, the Liberty really are in trouble.
There are decisions to be made about a number of things that will affect the team's future. And if there were ever a time fan relations needed to be paramount, it's now.
Because of renovations to Madison Square Garden that will be done over the next three summers, the Liberty will play at the Prudential Center in Newark, N.J. Fans need to believe they are listened to and valued as many have to change their routines to travel to Jersey to see the team.
Whatever fans thought of Blaze, at least they had a pretty clear idea that was where the buck stopped in terms of Liberty decisions. Now, they'll have to wait to see who's going to be calling the shots.
September, 1, 2010
09/01/10
12:09
AM ET
A year ago, Indiana had the biggest breakthrough in the franchise's history when the Fever at last bested the Detroit Shock in the postseason and made their first appearance in the WNBA finals.
What a very happy day for Indiana. But as it turned out, for Detroit, it was an even sadder day than anyone fully realized at the time.
[+] Enlarge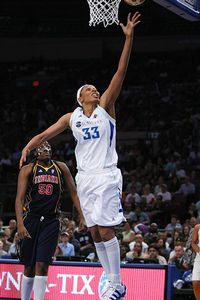 Alan Maglaque/US PresswireAfter eight games with Tulsa, Plenette Pierson has averaged 9.0 points and nearly four rebounds in 25 games for New York this season.
That Game 3 of the Eastern Conference finals was actually the very last game for the Detroit franchise. Pistons ownership cut loose its three-time champion WNBA team, which then relocated, sort of, to Tulsa.
The name "Shock" went south to Oklahoma, that is. Along with some, but not all, of the players. By late July, though, everyone who had worn a Detroit Shock uniform the previous season was no longer wearing a Tulsa Shock jersey.
Three of those players, in fact, will be in action Wednesday at Madison Square Garden for the deciding Game 3 of the East semifinal between New York and Indiana.
Taj McWilliams-Franklin, who finally won a long-deserved WNBA title with Detroit in 2008, was a free agent who signed with New York in April. Plenette Pierson started the season in Tulsa. But her disdain for the system -- or lack thereof, as far as she was concerned -- of coach Nolan Richardson made it pretty clear to her that she couldn't wait to get out.
Tulsa obliged that wish, dealing Pierson to the Liberty on June 14, aka "Flag Day." And Pierson was more than happy then to take up the flag of the Liberty, a team she'd had her battles with over the years.
Meanwhile, Shavonte Zellous, who had a solid rookie debut in 2009 with Detroit by averaging 11.9 points, would have seemed a good young player to build with in Tulsa. But just four games into the season, she was dealt to Indiana for a 2011 second-round draft pick. With the Fever, Zellous hasn't thus far matched her rookie numbers. But she has been able to provide some scoring off the bench, and was a needed addition for the Fever.
Either McWilliams-Franklin/Pierson or Zellous will move on to the East finals. Meanwhile Kara Braxton, who was dealt in late July from Tulsa to Phoenix, provides the "ex-Shock factor" in the West finals. So does Seattle's Swin Cash, whose relationship with former Detroit coach Bill Laimbeer went so sour in 2007 that she welcomed her trade to Seattle for the 2008 season.
Understandably, those Detroit fans who stayed loyal to a franchise that then was ripped away from them might not be up to watching the playoffs this year. Or if they are, they are probably viewing it with no small amount of sadness.
However, they might smile watching Wednesday's Game 3, being reminded of the former Shock players who competed so hard for them.
Pierson is a Texas native, but she fit the blue-collar mentality of the Motor City very well. She loved Detroit, almost as if she were born and grew up there.
Now Pierson says she has adjusted to New York City, even if "it's too fast-paced for me." The hassles of needing to allow for so much time to get to and from Manhattan -- she lives in White Plains, N.Y. -- have been more than bearable compared to the frustration that overwhelmed her in Tulsa.
Getting around that city had been very easy, of course. But Pierson felt she rarely knew what direction she was supposed to go on court in Tulsa. And that was what really bugged her.
Pierson appreciates the structure she has found with the Liberty, and everyone in the WNBA saw what she brought to the franchise.
"Well, of course, the addition of Cappie (Pondexter) was a huge, major move," Indiana coach Lin Dunn said of New York's team makeup. "But I did think when they were able to get Pierson from Tulsa, it added a toughness to that team.
"All of those former Detroit players have a toughness and experience about them. You can get one of those players on your team, especially someone like Pierson, it's really an advantage."
And while it's not necessarily going to make Detroit's WNBA fans feel any better, at least the legacy of what their Shock meant to the league is still alive. It's carried on by the players that made it happen for Detroit -- and now are doing the same for other teams.
August, 21, 2010
08/21/10
2:29
AM ET
Los Angeles' DeLisha Milton-Jones didn't try to avoid the obvious recently when asked about the struggles the Sparks have had this summer.
After Lisa Leslie retired, Candace Parker was going to be the team's undisputed centerpiece. But Parker's season ended after 10 games because of a shoulder injury.
"You know, you go through the whole list of clichés to try to make it seem like it won't be that bad," Milton-Jones said. "Like, 'It doesn't matter; one player doesn't make the whole team.' But at the end of the day, that one player is vital.
"When it's someone who is also one of the faces of women's basketball … that is not just a hole. That is an astronomically large crater that we have to fill. What that player brought to us is something that can't be replaced. The way teams had to formulate defenses to stop Candace when she is in transition, when she is setting a pick, when a pick is set for her, when she's on the block, when she's on the 3-point line …"
Yep, Parker is a multifaceted nightmare for defenders. Milton-Jones knew as soon as she found out that Parker was done for the season that the Sparks were in trouble. It was an additional blow to L.A. to lose guard Betty Lennox to injury, too; she appeared in just 11 games.
But Milton-Jones held on to the hope that the Sparks would find a way to still get into the playoffs. She expected it would be kind of like dragging several large pieces of heavy luggage -- which had the wheels fall off -- to an airport gate that seemed five miles away. Oh, and don't even think there is a luggage cart available to help.
Well, on Friday night, the Sparks finally made it to that gate. And they didn't miss their flight. L.A. is going to the postseason. A 98-91 win over the Minnesota Lynx put the Sparks in the playoffs.
Milton-Jones had a season-high 24 points. Her fellow "old ladies" on the Sparks were also critically important. Tina Thompson led L.A. with 26 points, while Ticha Penicheiro had 12 assists. All three players are 35; Milton-Jones and Penicheiro will be 36 in September.
Thompson, who became the WNBA's career scoring leader last week, also had nine rebounds, while Milton-Jones had seven.
"We're feeling very, very good, but we know the hard part is about to begin for us," Milton-Jones said. "This win tonight … we can't get too high off it because we want to go in [to the postseason] and represent ourselves well."
Actually, they should take some pride in just making the playoffs. Thompson, Milton-Jones and Penicheiro have all won WNBA titles, and their resolve and leadership carried the Sparks in the worst times. When the going got rough this season, they kept on going.
The Sparks' victory added one more piece to the playoff puzzle, which is still not fully formed. Now we have seven of the eight postseason teams, but the matchups remain to be determined.
There was a fair amount of drama Friday in that regard. The San Antonio Silver Stars, despite losing Chamique Holdsclaw to an Achilles tendon injury earlier this week, scrambled for an important 75-61 victory over the Indiana Fever. It put the Silver Stars closer to the last Western Conference playoff spot, while the Lynx were pushed a little further away by the loss to L.A.
Speaking of pushing, a little of that went on in D.C., as the Washington Mystics edged the New York Liberty in a 75-74 thriller that ended New York's 10-game winning streak. There was a bit of a postgame scuffle that fortunately didn't last long or amount to much … but it did show that passions are more than a little inflamed at this point in the season.
Going into the final two days of the regular season, Washington, New York and Indiana are all at 21-12 and tied for first place in the Eastern Conference.
Ready for the big finish?