Kentucky rises to second place in SEC
February, 26, 2010
02/26/10
12:17
AM ET
Yes, Tennessee wrapped up the SEC title again, clinching the top seed in next week's conference tournament with an 81-65 victory over Kentucky on Thursday. The Orange Crush are once again the boss of the league, restoring order and all that. But …
[+] Enlarge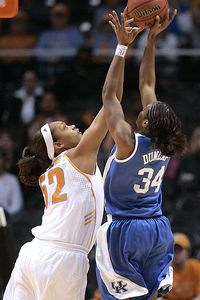 AP Photo/Wade Payne Kentucky's Victoria Dunlap scored a game-high 22 points Thursday. But five Lady Vols scored in double figures.
Let's give a nod, also, to Kentucky. It's not easy being blue in Knoxville, facing a legendary program that has now won 15 regular-season titles.
Who on the outside was really expecting that the Wildcats would have so much on the inside this season? So much in the way of guts, heart and ambition? Pretty much no one was predicting any glory for the Wildcats. Kentucky was picked to finish next-to-last in the SEC. Instead, the Wildcats (11-4, 23-5) are going to finish next-to-first.
Last year, Kentucky went 16-16 overall, 5-9 in the SEC. But one of those five wins was against Tennessee, a 10-point victory in Lexington, Ky. After that game, Tennessee coach Pat Summitt revoked her team's locker-room privileges because, obviously, she isn't as thrilled as neutral observers to see other programs try to shake Tennessee from the top of the totem and spread the wealth in women's basketball.
So Tennessee's players probably brought in a little extra motivation Thursday. The Wildcats really didn't stand much of a chance on this night.
But, of course, they could meet again, in the SEC final at Duluth, Ga. And regardless of what happens in the Wildcats' regular-season finale at Auburn on Sunday or in the league tournament that starts March 4, Kentucky is going to the NCAA tournament for only the seventh time overall, and the second time in the past decade. The Wildcats' most recent visit was in 2006, when Summitt's close friend and longtime assistant Mickie DeMoss was Kentucky's head coach.
"I think this is gonna be a special time," said Kentucky coach Matt Mitchell, who took over the program in 2007 after DeMoss had the world's shortest "retirement" before moving on to be an assistant at Texas.
"Because the team in 2006 had some expectation level that they would have a good team. And for whatever reason, nobody thought this year's team was gonna be very good. It makes it special to see a group of players commit to each other the way ours have."
Junior post player Victoria Dunlap has been one of the top performers in the SEC, and she had 22 points and 10 rebounds against Tennessee. Admittedly, it was a hard-to-come-by double-double, as Dunlap was 6-of-19 from the field.
"I think we [showed] that we could play basketball and play hard against the rest of the teams in the SEC," Dunlap said of what the Wildcats have already proved this season. "We won't just lay down and accept that we were picked 11th."
Mitchell says even while folks are, of course, as enthralled/entranced as ever by the Kentucky men's program, a lot of Wildcats fans really have noticed that the women are succeeding in a year when most figured they wouldn't.
"People around here really appreciate that," he said. "I think they might even be more proud of this team than if we'd been picked to have a good year. And if you just know the character of these players, how hard they've worked, all the different stories on this team.
"I know every team has neat stories. But we have a good group that I'm so proud of; they're really in it for each other. I don't take them for granted at all. I've told them, 'You've put yourself into a position through your hard work, so let's push this thing even further.'"
Led by the contributions of Dunlap and standout freshman A'dia Mathies, the Wildcats look to make the SEC tournament final for the first time since the NCAA era began in women's basketball.
Kentucky's only appearance in the SEC final came in 1982, when it beat Tennessee. (It might have helped a bit that the tournament was held in Lexington that year.)
Mitchell gives a great deal of credit to Summitt and DeMoss for giving him a start in the college coaching business, as he began as a grad assistant at Tennessee. He went on to be an assistant at Florida, an assistant to DeMoss at Kentucky and then decided to move to a head coaching job at Morehead State.
Some people warned him against that, saying he should just stay put a while longer as an assistant, but Mitchell felt he needed experience running the show. And it worked out well, as DeMoss decided to leave in 2007. By then, Mitchell had had two years of head coaching and was ready to take over at Kentucky.
Mitchell has two former Tennessee players -- Kyra Elzy and Shalon Pillow -- on his Wildcats staff. And he feels there is ample opportunity for the program to grow.
Sure, the Wildcats had to watch mighty Tennessee win another SEC title Thursday. But with the progress Kentucky has made, maybe there will be an SEC trophy in the Wildcats' not-so-distant future.