Stage set for Big 12 semifinals
March, 13, 2010
03/13/10
1:00
AM ET
KANSAS CITY, Mo. -- Quarterfinal day at the Big 12 tournament started with the road to perfection continued, and ended with the road to redemption established. In between, Texas lost the ball a lot, and Oklahoma State's Andrea Riley shot it a lot.
[+] Enlarge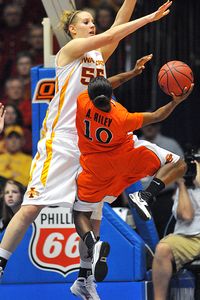 AP Photo/Denny MedleyOklahoma State's Andrea Riley set two Big 12 tournament marks Friday: a single-game record 43 points on a tourney-record 44 field goal attempts.
Now we get this: Nebraska, which improved to 30-0 after beating Kansas State 63-46, trying to move to its first Big 12 tournament final and … Bedlam No. 3, as Oklahoma and Oklahoma State face off in the other semifinal.
The Huskers will meet Texas A&M, which forced 26 Texas turnovers in beating the Longhorns 77-64. Oklahoma State then pulled the day's upset, as the No. 7 seed Cowgirls topped No. 2 Iowa State 62-59 behind Riley's 43 points, a Big 12 tournament single-game record.
Riley took a Big 12-record 44 shots from the field -- she'd had the record previously with 42 earlier this season -- and made 16 of them. With her first basket, she became the conference's all-time leading scorer, surpassing Oklahoma's Courtney Paris.
Riley now has 2,772 career points, and said coach Kurt Budke told her if she had to shoot it 50 times on Friday, he was fine with that.
"And I got close!" Riley said, laughing. (Budke confirmed he did, indeed, tell her to basically shoot until the game ended or her arm fell off, whichever came first.)
Then the highlight of Friday at Municipal Auditorium was the last game, in which Baylor freshman Brittney Griner returned after a two-game suspension and did the same thing to No. 12 Oklahoma that she had during two regular-season meetings: made it very difficult for the Sooners to get much inside.
Griner blocked 10 shots -- she had 11 blocks in both other matchups with the Sooners -- and had 13 points and six rebounds in 40 minutes. Plus, No. 18 Baylor's "glue" player, Melissa Jones, who has been battling a stress reaction in her leg and hadn't played since Jan. 31, returned for 17 minutes of action.
It wasn't enough, though, on a night when Oklahoma had just seven turnovers, none by point guard Danielle Robinson. It was the fourth meeting between Oklahoma and Baylor in Big 12 tournament history, and the Sooners have won all four.
This one went down to the wire, 59-54, and afterward OU coach Sherri Coale said Griner coming off the suspension, "Looked exactly the same to me."
Griner said she felt with her first blocked shot, "I was back in the groove. I missed being out there with my team. It felt good to be back and playing with everybody."
But Baylor coach Kim Mulkey voiced what seemed pretty obvious to most observers, "I thought she was tentative. She probably wasn't as much of a presence in the paint as she had been."
That would be understandable with Griner facing the degree of public scrutiny she has since punching a Texas Tech player March 3.
Griner said she wasn't nervous before the game and didn't really hear the smattering of boos that came from the crowd when she was announced. However, Mulkey noticed and said, "I was disappointed. It's a teenager that made a mistake. She's good for the women's game, and she's human."
Griner did look more comfortable in the second half, saying that while she didn't think she was really holding back before that, "I knew I had to step it up. I was trying to help my team out."
Mulkey gave an impassioned and heartfelt explanation of what Griner has been going through the past nine days.
"I'm a mother, and when I go into that home and recruit a kid," Mulkey said, "and I look at her parents in the eyes and they say, 'I want that kid to play for you because you run a disciplined program' -- that came out of Brittney Griner's father's mouth.
"And he expects, when she fails, for me to discipline her and not throw her on the street. I would think if I coached your daughter, you would want that, too. Brittney Griner will learn from this. And if she doesn't, Brittney will eliminate herself."
Mulkey has spoken often about Griner's gentle demeanor, and she reiterated that in regard to how one action in the heat of battle is not at all indicative of Griner's real personality.
"She is the sweetest child in a 6-8 body," Mulkey said. "All I ask is that you judge Brittney Griner before the incident and you judge her after the incident. What made [it] so bad is it was done in a public forum. There is not a coach in America that has not had to discipline a kid for taking a swing at a teammate in private that none of you ever knew about. Not on the men's side, not on the women's side. … It was, again, a horrible, horrible thing, and she hurts because of it."
But it's also over. And with Griner back in action -- still facing, however, private disciplinary measures from Mulkey to help her learn from the mistake -- there's not much else to say about it. It's time to move forward and look at Baylor's NCAA tournament chances.
Jones was not her normal self in some ways, going 1 of 7 from the field, but her mere presence made Baylor function better. Baylor also got Morghan Medlock's best game of the season; the team's lone senior had 18 points and five rebounds.
If Jones can return to full health -- or close to it -- and Griner feels comfortable asserting herself, Baylor is going to be a really tough NCAA matchup.
"I was excited to have those two back in the lineup," Medlock said, no doubt speaking for all Baylor followers, too.
But now while Baylor prepares for the NCAA tournament, Oklahoma faces its third meeting this season with in-state rival Oklahoma State. Well, actually it hasn't been that much of a rivalry: the Cowgirls have won only once in the last 22 meetings.
Oklahoma won this season's matchups 77-66 in Stillwater and 95-62 in Norman. The latter game was the regular-season finale, and the Sooners could do no wrong in that game.
The semifinal meeting will pit two of the top point guards in the women's college game, with Riley and Robinson, who had 26 points and four assists Friday.
And Nebraska -- whose only "worry" against the Wildcats was an ugly 1-for-21 struggle from behind the arc, not that it mattered -- will go against an A&M team that is looking really good in March -- much like the Aggies did two years ago when they won the Big 12 tournament here in KC.
"Well, obviously, no one would have expected us to be 30-0 -- nor did I," Nebraska coach Connie Yori said. "You've got to find different ways to win. This is a rarity. I might coach for another 30 years and not have this happen."