Cowgirls survive life without Riley
March, 20, 2010
03/20/10
11:09
PM ET
Oklahoma State star Andrea Riley said after the Big 12 tournament -- during which she scored 112 points in three games -- that she had total faith that her teammates would win their first-round NCAA tournament game without her.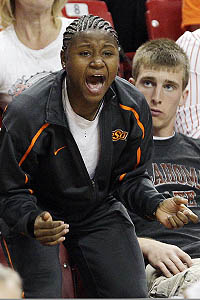 AP Photo/Ross D. FranklinOklahoma State won in the first round despite Andrea Riley -- who accounts for 36 percent of the Cowgirls' offense -- sitting out on a one-game suspension.
But during a first half in which the Cowgirls struggled mightily and trailed Chattanooga by 18 points, that faith had to have been tested. However, Oklahoma State had just as good a second half as it had a lousy first half. And Riley, the Cowgirl's leading scorer who was suspended for the first round because of a punch thrown in a 2008 Sweet 16 game, will not end her Oklahoma State career sitting in the stands.
That's where she was in Tempe, Ariz., on Saturday as No. 4 seed Oklahoma State rallied for a 70-63 victory over 13th-seeded Chattanooga.
In some ways, this game was like the Cowgirls' season -- some really down moments, but ultimately good stuff prevailing. Oklahoma State got pounded at Nebraska on Feb. 3 to start a five-game losing streak, which included what seemed like a season-killing three consecutive losses at home.
Then the Cowgirls were down to Texas in Stillwater, Okla., on Feb. 24, and it really appeared they were headed to the ocean floor. But … Oklahoma State rallied and won that game in overtime, and their only losses since have been to Oklahoma (in the regular-season finale and in the Big 12 semifinals).
During Oklahoma State's slump this season, coach Kurt Budke was frustrated with his seniors and said that freshman Toni Young was doing the best job of being a leader. Saturday, it was both senior Tegan Cunningham and the rookie Young who led the Cowgirls.
Young had her best game of the season, scoring 22 points on 9-of-14 shooting. Meanwhile, after a nightmarish shooting performance in the first half, Cunningham was terrific in the second half, finishing with 25 points.
But defense was also a critical part of the comeback, as the Cowgirls forced 23 turnovers from Chattanooga compared to committing just 10 themselves. Now, Riley will be back Monday night -- against either 5-seed Georgia or 12th-seeded Tulane -- for Oklahoma State in the second round.
Meanwhile, the other close game of the first evening session Saturday had the exact same score as Oklahoma State-Chattanooga. No. 8 seed Iowa beat No. 9 Rutgers 70-63 behind 18 points from Kachine Alexander.
The Hawkeyes had not won an NCAA tournament game since 2002, and they won this one against former Iowa coach C. Vivian Stringer, whose own up-and-down season came to an end.
But another Big East team, Georgetown, kept its season going. Playing in the program's first NCAA tournament game since 1993, the 5-seed Hoyas crunched No. 12 Marist 62-42. And the Big 12 tournament champion, No. 2 Texas A&M, got off to a strong start as the Aggies downed Portland State 84-53.