Zags upend second-seeded Aggies
March, 23, 2010
03/23/10
12:33
AM ET
Did you think you knew just how this women's NCAA tournament was going to turn out? Well, yes, UConn remains the big favorite. But a whole lot else has gone haywire on most people's brackets.
[+] Enlarge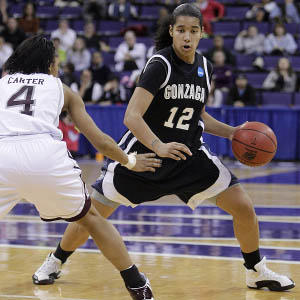 AP Photo/Elaine ThompsonWhen Zags star Courtney Vandersloot fouled out with 1:23 to play, Vivian Frieson delivered, hitting the winner on a 12-footer and finishing with 23 points.
After a Sunday of upsets in which 10th-seeded Vermont, No. 12 Green Bay and 11 seeds Arkansas-Little Rock and San Diego State all won, Monday was another big night for a team outside of the "Big Six" conferences.
This time, it was No. 7 seed Gonzaga, a program that has been knocking on the door of the nation's elite for a while. Monday, the Bulldogs officially stopped just knocking and marched right into the Sweet 16 for the first time in program history with a thrilling 72-71 victory over No. 2 seed Texas A&M.
Furthermore, the Bulldogs did it with star point guard Courtney Vandersloot on the bench after fouling out with 1 minute, 23 seconds left. The winning basket came from Vivian Frieson, whose jumper with 21 seconds left gave her a game-high 23 points. She also had nine rebounds and six assists on the biggest night of the senior's Gonzaga career.
A school that has celebrated its men's program as "giant-slayers" in the past now has the women to laud for the same thing. It was a crushing defeat for Texas A&M, which had won the Big 12 tournament and came into the NCAA tournament considered a realistic challenge to top seed Stanford in the Sacramento Regional for a Final Four berth.
But the Aggies won't even make it to California's capital; they go home while the Bulldogs move on to face the winner of Tuesday's Xavier-Vanderbilt game.
It was a rough evening for the Big 12 as two of its three teams in action fell. No. 4 seed Oklahoma State lost 74-71 in overtime to No. 5 Georgia. No. 4 seed Baylor, though, did beat No. 5 Georgetown 49-33 and will meet Tennessee in the Sweet 16.
Earlier in the evening, two ACC teams had to scramble to avoid being upset.
Nobody but the most gung-ho (and slightly delusional) ACC fans would have proclaimed this as a very strong year for the league. Even ardent followers of the ACC understood that a combination of graduation losses, injuries and illness -- specifically with the league's top post player, North Carolina's Jessica Breland, who battled cancer over the summer -- had left the ACC below where it's been in some previous seasons.
That said, few were expecting the ACC might go down in flames before even the NCAA Sweet 16. Yet the league had some anxious moments Monday night -- after a very bad weekend in which North Carolina, Georgia Tech, Virginia and NC State lost -- that just that might happen.
Duke, seeded No. 2 in the Memphis Regional, and Florida State, No. 3 in the Dayton Regional, were both in peril -- worse yet, it was on their home courts. But the Blue Devils and Seminoles, who finished 1-2 in the ACC this season, both pulled out victories and will head to the regional semifinals with a sigh of relief.
Duke pulled away for a 60-52 victory over seventh-seeded LSU in what was, as expected, a defensive battle. In the closing minutes, though, the Blue Devils got the upper hand with hustle plays -- led by Jasmine Thomas -- and avoided a second consecutive loss in the NCAA second round. Last year, playing on Michigan State's home court as a No. 1 seed, Duke was upset by the Spartans.
The Blue Devils made just 1 of 10 3-point attempts, and Thomas was the only Duke starter in double figures with her 15 points. Duke got a lift off the bench from Bridgette Mitchell, who had 12 points and six rebounds.
Duke forced 22 turnovers -- although the Blue Devils did have 19 of their own. LSU star Allison Hightower finished her career with a 19-point game as the Tigers became the first of the six SEC teams to lose in this NCAA tourney.
After Duke survived, Florida State did the same -- although the Seminoles had to go to overtime to do it against No. 6 seed St. John's, 66-65. The Red Storm were trying to make the Sweet 16 for the first time in program history, and they came agonizingly close.
FSU senior post player Jacinta Monroe hit a tying layup with 17 seconds left, then St. John's freshman Eugeneia McPherson missed a shot at the buzzer and the teams went to overtime at 62-62.
All the Red Storm were able to get in the extra period was a free throw from Da'Shena Stevens and a layup from Joy McCorvey. The Seminoles didn't get much more -- baskets from Cierra Bravard and Monroe -- but that was enough to send Florida State to the Sweet 16. Monroe led FSU with 16 points, and Nadirah McKenith had 15 for St. John's.
Stevens missed a good look at game's end that could have won it. But instead, the Red Storm finished the season 25-7, intensely disappointed but with a lot to look forward to next season. Six of St. John's top eight players -- including this season's leading scorers Stevens and Shenneika Smith -- are returning.