Can 2-7 Lynx turn it around?
June, 7, 2010
06/07/10
7:38
PM ET
It's really folly to believe in the idea of franchises being jinxed, isn't it? In any professional sports league, if you consistently struggle, it pretty much has to come down to it being your fault, right? There's no such thing as just perpetual bad luck. There is such a thing as continual management missteps that seep down to coaching moves and player performance, though.
[+] Enlarge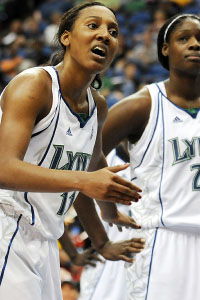 AP Photo/A.J. OlmscheidCandice Wiggins, Nicky Anosike and the Lynx (2-7) play just one more home game in June.
Yet, it can feel like a team is under a constant hex. And while it's probably still too early in the WNBA's history to proclaim any of its franchises to be, say, "Clippers-like" in terms of never-ceasing bad mojo, if any WNBA team were to be proclaimed as such, it would have to be the Minnesota Lynx.
Oh, I know. It's still too soon this season to begin burial preparations for the Lynx. After all, if there's generally one truism about the WNBA, it's that often just when a team appears unequivocally headed in a certain direction, it changes course.
It's just the start of June, and so a lot can still happen in the remainder of the regular season to take the pain out of what right now appears to be a giant toothache of a season for the Lynx.
But it might be as bad as it looks. Or … yikes … it might get worse. Although despairing Minnesota fans might say to that, "Really? How?"
Admittedly, the Lynx technically don't have the league's worst record. That belongs to the 1-6 Sparks, who also are obviously unhappy. But Los Angeles has lost its games by an average of just 7.7 points, including two excruciating one-point losses to Phoenix. The Sparks should be very irritated, but not completely dispirited.
The Lynx, though, might be only a step away from demoralized. They are 2-7, and while that's one more victory than the Sparks, Minnesota's losses are by an average of 16.9 points. And the misery was punctuated by Sunday's 38-point defeat at home to Indiana -- the 89-51 blowout being the Lynx's worst pounding this season.
Yes, Lynx guard Lindsay Whalen missed the game because of an "undisclosed" illness, and forward Seimone Augustus is still out after abdominal surgery. Plus it's a bad time right now to face the Fever -- it might stay that way the rest of the season -- as the defending Eastern Conference champs have won three in a row and five of their last six.
Still, this is exactly opposite of what the Lynx were hoping for this summer. After an offseason trade to bring home-state legend Whalen home, Minnesota looked poised to change its fortunes. The Lynx have made the playoffs just twice in their previous 11 seasons, but a young, talented team with Whalen's leadership at point guard was supposed to make 2010 a very different story.
And, as mentioned, it still could be. Hey, it was just a week ago -- June 1 -- that the Lynx defeated 2009 WNBA champion Phoenix. After a rough start to the season, that looked like a potential turning point.
But then came a 92-79 loss to Tulsa on Friday, followed by the truly awful game against the Fever. How bad was it versus Indiana? Try 20.7 percent shooting from the field by the Lynx (12 of 58).
Admittedly, Indiana's defense is very good. But come on. The Lynx should be able to shoot as if they're not catastrophically visually impaired even against the Fever, and even without Whalen.
This was primarily a guard/wing problem, with three principle offenders: rookie Monica Wright (1 of 13), recently back-from-injury Candice Wiggins (1 of 8), and sometimes-also-went-cold-at-North Carolina Rashanda McCants (0 of 6).
Wright started her first WNBA season well, scoring 18 points at Tulsa in a victory on May 15. And in the Lynx's other win, against the Mercury, she had 32 points. But there have been some rough waters otherwise for Wright, who finished college as the Virginia program's all-time leading scorer.
She has taken more shots, 127, than any Lynx player thus far, but has made just 40 of them (31.5 percent). As a team, Minnesota is shooting a league-worst 37.7 percent from the field, while allowing its opponents to shoot 44.4 percent.
Coach Cheryl Reeve summed it up Sunday by saying, "We are a bad basketball team," and you've got to figure nobody is more surprised about this than she is. Reeve apprenticed under Bill Laimbeer at Detroit and seemed very ready to have her chance at running the show with the Lynx. Which she got when Jennifer Gillom left to coach the Sparks.
Reeve didn't dodge high preseason expectations. To the contrary, she embraced them, saying it was time for the Lynx to take some big steps forward, including making the playoffs. And she fully endorsed the Whalen deal that sent the No. 1 pick to Connecticut, which used it to select Tina Charles (who -- no surprise -- is leading all rookies in scoring, rebounding, field goal percentage, blocks and efficiency rating).
Reeve might have underestimated the effect and duration of the various injuries Minnesota has dealt with. And team chemistry perhaps has been more elusive because of that.
And, unfortunately, we've saved the worst part for last, Lynx fans. Minnesota has only one home game left in June, which will be on the 18th, against Tulsa. From Thursday, June 10, through July 1, the Lynx have six of their next seven games on the road. Which could be lethal for a team trying to right itself.
Then again, considering how horrible Sunday's game must have looked to the home fans at the Target Center, maybe the road is not such a bad place after all for the Lynx.