Ohlde among Tulsa's latest roster changes
July, 8, 2010
07/08/10
8:49
PM ET
TULSA, Okla. -- Nicole Ohlde was eating breakfast Friday in Tulsa, anticipating Phoenix's trip to play Minnesota the next day. Ohlde played five seasons for the Lynx before being dealt to Phoenix in January 2009, and she was eager to visit friends in Minneapolis.
[+] Enlarge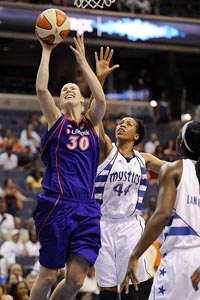 Rafael Suanes/US PresswireNicole Ohlde scored 14 points Tuesday on 7-for-13 shooting and added seven rebounds.
Ohlde's parents had come to Tulsa to see her and the Mercury play Thursday, and they were about to leave the next morning to head back to their home in Clay Center, Kan., about five hours north. And Ohlde herself was headed for the team bus when she got the news from Mercury coach Corey Gaines: "You're staying in Tulsa."
Another former Detroit Shock player still on the Tulsa roster, Kara Braxton, had been dealt to Phoenix for Ohlde and a 2011 draft pick.
"Luckily, we were on a 10-day road trip, so I had a big bag full of clothes," Ohlde said of suddenly being relocated. "I've been on teams where this has happened before [a trade in season], but it's never personally affected me. So it was quite the experience, to say the least."
Mom and Dad stayed around to provide some consolation and support. Her poodle, Gus, was back in Phoenix at the pet resort. Luckily, other than that precious possession, Ohlde doesn't have many valuables in Arizona. Her brother already had a trip to Phoenix planned for this weekend, so he'll pick up her stuff (and Gus) and bring everything to Tulsa.
"There were some tears," Ohlde said. "I had to say goodbye to everyone and figure out how to get my dog. People told me when I was younger, 'You have to understand the business part of the league.' And that's what I kept telling myself. This is what happens. One door closes, and another one opens."
Of course, here in Tulsa, it has been more like a revolving door. Players have come in and come out all summer in this inaugural season for the team in Oklahoma. Coach Nolan Richardson has been wheeling and dealing -- and his critics would say other teams have been "stealing." That is, taking more talent from Tulsa than they've been giving back.
Richardson insists, though, that there is method to the apparent madness. That even though not all the trades have seemed to make the Shock any better on the floor -- their 105-89 loss to Atlanta on Tuesday afternoon was the franchise's fifth in a row after a previous 12-game skid -- they are improving the off-court chemistry as part of an overriding grand plan.
Not surprisingly, some folks aren't giving Richardson the benefit of the doubt because of his lack of previous experience in women's basketball. Others say, "Let's see where the Shock are a year from now."
I think it's accurate to view it both ways. This season has been too chaotic to reasonably be considered "just part of the plan." But maybe somehow -- even despite what seems to be pretty much a mess -- the pieces will come together for 2011.
For now, there has been so much turnover, you hear conversations like this in the BOK Center hallways as security folks try to remember who's still with the Shock and who isn't.
"So did Kara leave?"
"Yeah, Friday. She went to Phoenix."
"But Alexis is here, right?"
"No, she went to Minnesota yesterday."
"No way! Alexis is gone, too?"
Yep, 'fraid so. On Monday, one more link to Detroit was broken, as Alexis Hornbuckle was dealt to Minnesota for Rashanda McCants. In other words, Ohlde was the newest member of the Shock for all of three days. Then it was McCants' turn to be the newbie.
The introduction video played on the giant video screen for the Shock is, to say the least, way out of date. They filmed it before the season started. A relatively short time but a lot of different players ago. Plenette Pierson and Shavonte Zellous are among those former Detroit Shock members previously traded.
"It's gone both ways," said Shanna Crossley, who came to Tulsa via a trade on April 14, which actually makes her one of the longest-tenured Shock players. "There are some people who've wanted to leave and some who maybe didn't, but they weren't a good fit according to coach Richardson.
"What's done is done, and I wish them all the best of luck, whichever teams they're with. I was heartbroken to see them go, because we did have a bond of sisterhood even though it was just a little while in some cases that we played together. But … if that's what the organization wants, you can't argue with that. You just do what you can do."
Crossley says all this with the brave face and positive-sounding voice of a good soldier. But one can imagine that in her head she has been saying, "Good grief, what next?"
On Tuesday, while the other five WNBA contests had playoff implications of one sort or another for both teams involved, the matinee at the BOK certainly was not a potboiler. (Ohlde's now-former team, Phoenix, was part of one of those, though, as Seattle delighted its fans by rallying against the Mercury and clinching the West title.)
Atlanta got the chance to give its reserves some extended minutes since once the Dream took control of this game -- not very long after tipoff -- there was no worry that they were going to give it back.
Meanwhile, Ivory Latta -- who was waived by Tulsa on May 15 but then brought back July 5 and is the only player now on the Shock roster who previously played in Detroit -- led the team with 23 points.
Ohlde, who started every game while at Minnesota but then was a reserve in Phoenix, showed she's probably ready to go back to starting now that she's in Tulsa. She had 14 points and seven rebounds in 29 minutes.
Ohlde has a perpetually sunny personality and is a good fit in Tulsa because she's a good fit anywhere. She is not just low maintenance; she's no maintenance. She will learn about her new teammates as quickly as possible and do whatever is asked of her with a smile.
Although she will be smiling a little more when Gus is back with her. In the meantime, maybe a teammate can direct her to the nearest pet store to prepare for his arrival. Someone who has been in Tulsa long enough to know, that is.
At this point, the presence of players with that kind of "I'll do my very best" attitude is about all the Shock have going for them. That and the hope that they will get better for next year.
"As difficult as this is -- and I'll be the first one to tell you it's been extremely difficult -- you have to look at the future," Crossley said. "Tulsa is a great community, and they will support you. When things start to come together, this can still be a very successful city for basketball.
"We've just got to find the right combination. If this is going to be the groundbreaking season for what we can be, then I can persevere through four months, I guess."