Pierson a big plus for Liberty
September, 1, 2010
09/01/10
12:09
AM ET
A year ago, Indiana had the biggest breakthrough in the franchise's history when the Fever at last bested the Detroit Shock in the postseason and made their first appearance in the WNBA finals.
What a very happy day for Indiana. But as it turned out, for Detroit, it was an even sadder day than anyone fully realized at the time.
[+] Enlarge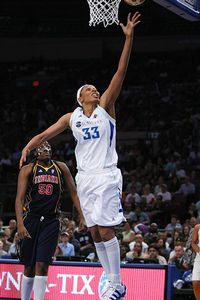 Alan Maglaque/US PresswireAfter eight games with Tulsa, Plenette Pierson has averaged 9.0 points and nearly four rebounds in 25 games for New York this season.
That Game 3 of the Eastern Conference finals was actually the very last game for the Detroit franchise. Pistons ownership cut loose its three-time champion WNBA team, which then relocated, sort of, to Tulsa.
The name "Shock" went south to Oklahoma, that is. Along with some, but not all, of the players. By late July, though, everyone who had worn a Detroit Shock uniform the previous season was no longer wearing a Tulsa Shock jersey.
Three of those players, in fact, will be in action Wednesday at Madison Square Garden for the deciding Game 3 of the East semifinal between New York and Indiana.
Taj McWilliams-Franklin, who finally won a long-deserved WNBA title with Detroit in 2008, was a free agent who signed with New York in April. Plenette Pierson started the season in Tulsa. But her disdain for the system -- or lack thereof, as far as she was concerned -- of coach Nolan Richardson made it pretty clear to her that she couldn't wait to get out.
Tulsa obliged that wish, dealing Pierson to the Liberty on June 14, aka "Flag Day." And Pierson was more than happy then to take up the flag of the Liberty, a team she'd had her battles with over the years.
Meanwhile, Shavonte Zellous, who had a solid rookie debut in 2009 with Detroit by averaging 11.9 points, would have seemed a good young player to build with in Tulsa. But just four games into the season, she was dealt to Indiana for a 2011 second-round draft pick. With the Fever, Zellous hasn't thus far matched her rookie numbers. But she has been able to provide some scoring off the bench, and was a needed addition for the Fever.
Either McWilliams-Franklin/Pierson or Zellous will move on to the East finals. Meanwhile Kara Braxton, who was dealt in late July from Tulsa to Phoenix, provides the "ex-Shock factor" in the West finals. So does Seattle's Swin Cash, whose relationship with former Detroit coach Bill Laimbeer went so sour in 2007 that she welcomed her trade to Seattle for the 2008 season.
Understandably, those Detroit fans who stayed loyal to a franchise that then was ripped away from them might not be up to watching the playoffs this year. Or if they are, they are probably viewing it with no small amount of sadness.
However, they might smile watching Wednesday's Game 3, being reminded of the former Shock players who competed so hard for them.
Pierson is a Texas native, but she fit the blue-collar mentality of the Motor City very well. She loved Detroit, almost as if she were born and grew up there.
Now Pierson says she has adjusted to New York City, even if "it's too fast-paced for me." The hassles of needing to allow for so much time to get to and from Manhattan -- she lives in White Plains, N.Y. -- have been more than bearable compared to the frustration that overwhelmed her in Tulsa.
Getting around that city had been very easy, of course. But Pierson felt she rarely knew what direction she was supposed to go on court in Tulsa. And that was what really bugged her.
Pierson appreciates the structure she has found with the Liberty, and everyone in the WNBA saw what she brought to the franchise.
"Well, of course, the addition of Cappie (Pondexter) was a huge, major move," Indiana coach Lin Dunn said of New York's team makeup. "But I did think when they were able to get Pierson from Tulsa, it added a toughness to that team.
"All of those former Detroit players have a toughness and experience about them. You can get one of those players on your team, especially someone like Pierson, it's really an advantage."
And while it's not necessarily going to make Detroit's WNBA fans feel any better, at least the legacy of what their Shock meant to the league is still alive. It's carried on by the players that made it happen for Detroit -- and now are doing the same for other teams.