Tennessee passes Marquette's tough test
March, 22, 2011
03/22/11
12:29
AM ET
You have to figure this was shaping up as an epic bad day for Tennessee coach Pat Summitt. Her good friend, Bruce Pearl, was fired as coach of the Vols' men's program. And no matter what you think of Pearl and everything that has gone on with him in Knoxville, his support for and comradeship with Summitt was very real.
It had to have pained her for this to happen, but Summitt had her own business at hand to deal with Monday. Marquette, looking like a much better foe than a No. 8 seed, decided to take it right at the Dayton No. 1 seed Lady Vols.
And for a while, it looked like the Golden Eagles just might be able to pull what would have been one of the bigger upsets ever in the women's NCAA tournament. Not because Marquette isn't a strong team; the Golden Eagles proved they were. But because Tennessee has been impossible to beat at home in Thompson-Boling Arena in NCAA tournament games.
[+] Enlarge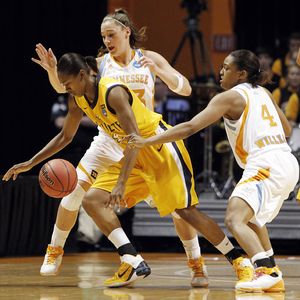 AP Photo/Mark HumphreyThe Lady Vols play Ohio State in the Sweet 16 Saturday on ESPN.
That record remained intact, but not until after the Orange Nation probably needed to munch on a Tums or two.
"We get everyone's best shot, so we knew that the guard play was really good," Summitt said after Tennessee held on for a 79-70 second-round victory to advance to the Dayton Regional semifinals. "They've got size inside. I think their guard play was probably a little bit better than ours, especially in that first half. That's when we tried to pick things up."
Marquette senior Angel Robinson had a superb game, with 19 points, eight assists and six rebounds. She was undoubtedly responsible for Tennessee's defenders, including SEC player of the year Shekinna Stricklen, getting an earful from Summitt at the break.
"I just didn't think that we had that high energy and intensity and competitive drive," Summitt said. "That's where I really challenged Shekinna and the whole team. I thought they responded after halftime."
The SEC, which got only four teams in the NCAA field this year, was not as strong as it normally is. And Tennessee did not get any challenge from first-round foe Stetson. But it was a very different situation Monday as Marquette made this quite an entertaining game.
Freshman Meighan Simmons led Tennessee with 18 points, while Glory Johnson added 16 and Stricklen had 10 points and 10 rebounds. Alicia Manning contributed 11 points off the bench for Tennessee.
But the Lady Vols forced only 10 turnovers -- Robinson's ball-handling prowess was part of that -- and that impacted Tennessee's ability to defend.
Tennessee will need to have a stronger defensive effort in the regional semifinals in facing No. 4 seed Ohio State and Jantel Lavender, who had 21 points and 11 rebounds in the Buckeyes' 67-60 win Monday over Georgia Tech.
"Our defense and our board play have got to be a lot better if we want to be a championship team," Summitt said. "I think this team will hear that every day we go to practice from here on out. We still could get so much better, and we will."