Pohlen will keep shooting for Stanford
March, 27, 2011
03/27/11
4:05
AM ET
Stanford's Tara VanDerveer talks about the Ogwumike sisters' performance against North Carolina and facing Gonzaga in the Elite Eight.
SPOKANE, Wash. -- Stanford's Jeanette Pohlen wasn't really sure what was off for her on Saturday, but something definitely was.
"I felt like I was getting really good looks, actually, and screens set for me," Pohlen said after the No. 1 seed Cardinal's close call against North Carolina in the Sweet 16. "The shots I was taking were usually ones where I was open. I didn't have anybody on me. I really don't have an explanation for it. I felt like I was pretty hot in practice and in shootaround."
[+] Enlarge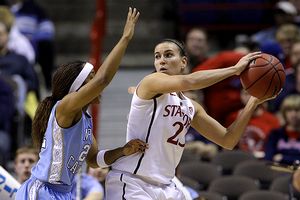 AP Photo/Elaine ThompsonPac-10 player of the year Jeanette Pohlen went 1-for-9 from the field Saturday.
But she was cold in the game, going 1-of-9 and missing all seven of her 3-point attempts in the Cardinal's 72-65 victory over the fifth-seeded Tar Heels. Stanford looked in peril of suffering an upset, but instead survived to face No. 11 seed Gonzaga in the Spokane Regional final.
"I'm going to keep shooting; I'm very confident in my shot," said Pohlen, who was the Pac-10 player of the year and has made 88 3-pointers this season. "I feel like we were running plays for me, so I know my team had confidence in me.
"This was one of those games where we obviously had to fight hard. I felt if we had made some of those 3s, it could have been a better game for us. At the end, though, people stepped up and we took care of the ball, made some big stops. To win the game like that against a very aggressive team that rebounds like that, without shooting the way we normally do, it kind of gives us confidence."
Pohlen finished with six points, four rebounds and three assists Saturday. She and the Cardinal met Courtney Vandersloot and Gonzaga at the beginning of this season, with the Cardinal winning 84-78 on Nov. 21. Vandersloot had 24 points in that game, Pohlen 19.
"I think it may help us that we've played them already, but it's also helped them that they've played us," Pohlen said. "Both teams have some familiarity with each other.
"We have to have a game plan not only for Courtney, but they've got some other great shooters as well. She distributes to people who can really knock down shots."
The Cardinal also will have to beware of putting Vandersloot on the line, as she was 12-of-14 there Saturday in the Bulldogs' 76-69 victory over Louisville.
"That's something that's helped me throughout the NCAA tournament -- getting the flow at the free throw line," Vandersloot said. "So I try to get there early.
"It does help a little that we've played Stanford. A lot of times in the NCAA tournament, you're not familiar with the other team. From the get-go, we hoped we might get the opportunity to play Stanford again."