New coaches seek success in first seasons
November, 9, 2011
11/09/11
2:20
PM ET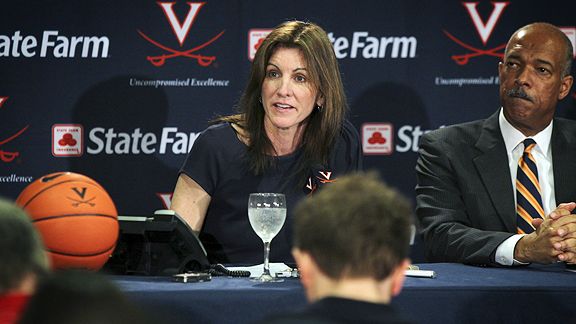 AP Photo/University of Virginia/Matt RileyJoanne Boyle gives Virginia a new coach for the first time since 1977-78.
There are always different faces in new places every college season. But it's still strange to get used to it when very familiar faces aren't in the same places anymore.
For the first time since the year of the Bicentennial and Jimmy Carter's election as president, Virginia's women's basketball team will be starting a season without Debbie Ryan as head coach.
She took over for the 1977-78 season, and led the Cavaliers to three Final Four appearances in her time in Charlottesville, Va. Those came in consecutive years -- 1990 through 1992 -- and represented the peak of her program. Ryan really wasn't ready to leave after last season, which ended in the WNIT for the Cavs. But she stepped down because the athletic department wanted a fresh start for Virginia, which had not advanced past the second round of the NCAA tournament since 2000.
Enter Joanne Boyle, a Duke graduate who previously had been head of another program in the state, Richmond, from 2002 to 2005. Boyle passed on a chance to coach at her alma mater in 2007, when her former boss Gail Goestenkors went to Texas. Boyle said then she was committed to what she was building in Cal, a program she took over in 2005.
[+] Enlarge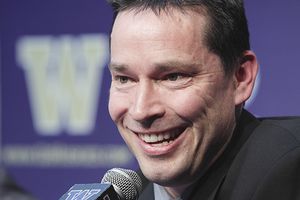 AP Photo/Elaine ThompsonAmong the many coaching changes, Kevin McGuff left Xavier to take over at Washington.
But Boyle ended up wanting to get back to the East Coast. Virginia -- with its still-like-new John Paul Jones Arena and high academic standards -- was a perfect chance for her to return.
Boyle's move created an opening at Cal, which was filled by her former assistant Lindsay Gottlieb, who spent the past three years at UCSB.
Boyle had brought a new energy to the Pac-10 (now 12), as did Nikki Caldwell when she came to UCLA. But Caldwell also moved back east this spring. Like Boyle with the ACC, Caldwell went to the conference she'd both played and coached in, the SEC. Caldwell took over for Van Chancellor at LSU, which seems a logical fit.
The Bruins had given Caldwell her first head-coaching job in 2008. When she left, they once again filled the job with a longtime assistant: Cori Close, who played collegiately at UC Santa Barbara, then was an assistant for 18 seasons with UCLA, UCSB and Florida State. While being a California native wasn't a requirement for the Bruins job, it certainly helped that Close is from the Golden State and immediately knew the recruiting landscape.
Another important figure in the coaching merry-go-round was Kevin McGuff going to Washington to try to re-establish success at that program.
McGuff, an Ohio native, moved with his wife and five children to the Pacific Northwest after spending his career in the Midwest as an assistant at Miami of Ohio and Notre Dame, and head coach at Xavier.
Tia Jackson had gone 45-75 in four seasons at Washington, a program that a long time ago seemed like it might be at least an occasional strong challenger to conference giant Stanford. Now we'll see if McGuff, whose Xavier team lost a heartbreaker in the 2010 Elite Eight to Stanford, can make that happen.