Lady Vols still look like a No. 2 seed
February, 24, 2012
02/24/12
2:15
AM ET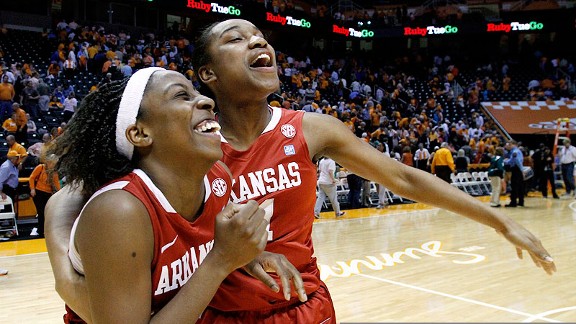 AP Photo/Wade PayneThe Razorbacks beat Tennessee after losing 18 consecutive games against the Lady Vols.
Few things in the women's game get more attention or elicit greater response than a Tennessee loss (these days it probably ranks between a Connecticut loss and a Brittney Griner dunk). The Lady Vols did it again on Thursday, 72-71 in overtime, and at home for an unprecedented third time in a season. This time, Arkansas did the trick, avenging a 31-point loss and snapping an 18-game losing streak to Tennessee.
While the earth might have moved in Knoxville, the foundation of the bracket didn't move much. For those who don't find orange and white ensembles becoming, this isn't going to sit well … but the Lady Vols are still a No. 2 seed. Forget "what have you done for me lately?" We've come to live in an in-the-moment world, where "what have you done for me in the last 10 minutes?" is the mindset. That's why the idea of Tennessee dropping will likely be met with some grumbles, many of which will be expressed in 140 characters or less.
But the bracket is a bigger picture, not a 10-minutes-ago concept. Yes, Tennessee lost to Arkansas and, theoretically, that should cost them. In fact, two and a half weeks ago when Vanderbilt beat the Lady Vols, they did pay. Tennessee was a No. 3 seed in that week's bracket. However, it's not always that simple.
Remember, the bracket needs four seeds on each line. So if Tennessee drops down, someone has to slide up as a replacement. Who is that someone?
Ohio State? The Buckeyes also lost this week, just like Tennessee. In fact, they were dominated at Penn State. And beating a sub-.500 Minnesota (a team Ohio State had earlier lost to) on Thursday doesn't erase that.
Texas A&M? The Aggies also lost this week. A&M can be excused for losing to Baylor on Feb. 11 and still had an argument to be a No. 2 seed -- right up until losing at Oklahoma on Tuesday.
Kentucky? The Wildcats could have a case with 10 top-50 RPI wins (to Tennessee's 11) and five victories against the top 25 in the Sagarin ratings (the same as Tennessee). Kentucky seems to have recovered after that three-game losing streak, but that is just it. The Wildcats aren't that far removed from losing three in a row, and while head-to-head doesn't mean everything, nor is it weighted more heavily than anything else in the process, it is hard to ignore the 91-54 teeth-kicking the Lady Vols gave Kentucky just a week and a half ago.
Delaware? Great season for the Blue Hens, but the overall résumé just isn't there to warrant a No. 2 seed. With possible apologies to James Madison, the argument can be made that Delaware hasn't won a truly big game since late November or early December. Not to mention history tells us, like it or not, that a mid-major won't climb that high. Call it unfair, and that might be an argument for a different column, but it just hasn't happened.
Penn State? The Lady Lions probably have the best case of any of the above teams. They have nine top-50 RPI wins, are hot with six straight victories and will at least share a conference title.
What works against Penn State is that only one of those top-50 wins also came against someone in the top 25 (the most recent Ohio State win), and six of those nine came within the Big Ten. Yes, six of Tennessee's 11 top-50 victories came in the SEC, but (and let the tweets and emails fly) the SEC has a deeper, better group of teams than the Big Ten. Entering the week, the Lady Lions were barely a top-25 RPI team themselves. While that is not the end-all, be-all, either, it is another factor. The strength of schedule and number of quality wins against that schedule still don't quite match that of the Lady Vols. Penn State as the team to supplant Tennessee as a No. 2 seed is reasonable, but Thursday, the Lady Lions still fall a bit short.