Duke keeps overcoming setbacks
February, 25, 2012
02/25/12
11:32
AM ET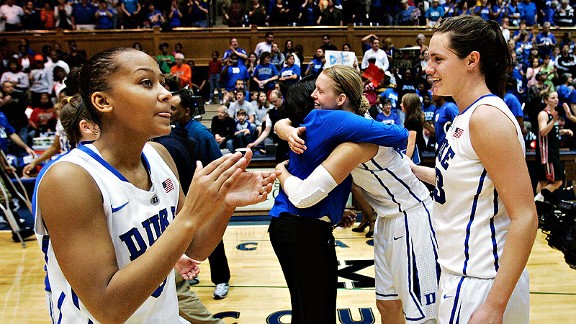 Mark Dolejs/US PresswireDuke clinched the No. 1 seed in the ACC tourney and at least a share of the league title.
Friday morning, I listed some of the candidates for the coach of the year … but, of course, there are always others who deserve mentioning. One, in fact, got a big victory Friday night.
Duke maintained its mastery over Miami, and in the process earned the No. 1 seed in the ACC tournament and at least a share of the league's regular-season championship.
The No. 7 Blue Devils' 74-64 victory over the No. 5 Hurricanes moved Duke's all-time record over Miami to 9-0. And Duke coach Joanne P. McCallie did it with a team that doesn't really look like what she was hoping/expecting it to when the school year began.
The two biggest puzzle pieces -- sophomore guard Chelsea Gray and freshman center Elizabeth Williams -- have stayed in place all season for Duke. And they were excellent Friday at Cameron Indoor Stadium. Williams had 19 points, nine rebounds and four steals. Gray had 12 points and nine assists.
Even more weight has been on them because Duke has taken such a large personnel hit. The Blue Devils have lost two forwards to injury -- freshman Amber Henson is redshirting the season with a knee injury and sophomore Richa Jackson suffered a torn ACL on Feb. 15 -- and guard Chloe Wells was suspended for this semester because of a violation of university policy.
Add in the fact that Duke lost three senior starters from last season: Jasmine Thomas, Krystal Thomas and Karima Christmas. There also are two assistant coaches in their first year in that role with the Blue Devils, both of whom previously played for McCallie: Candace Jackson at Michigan State and Joy Cheek at Duke.
As a result of all of this, McCallie has needed to do as much nurturing of young talent as any coach of a top program this season. Duke is 23-4 overall and 14-1 in the ACC. Friday, the Blue Devils showed both the defensive prowess that McCallie's teams are know for … but also more of a needed consistency on offense. Duke shot 48.5 percent from the field.
All things considered -- including the fact that Miami was riding a 13-game winning streak -- Duke appeared vulnerable coming into this game. But that didn't manifest itself the way the Hurricane would have hoped.
One of Duke's primary storylines this season is how a young squad is playing older than its years. Yet Friday showed that some credit does go to Duke's two seniors, Kathleen Scheer and Shay Selby, too. Both had a memorable senior night Friday, starting and combining for 12 points and nine rebounds.
It's been a decade since Duke's "Eight is Enough" team made it to the Women's Final Four in 2002. This squad is also down to eight scholarship players, and Friday's win gives the Blue Devils just a little more cushion come NCAA tournament time in regard to seeding.
That said, Duke still has to face North Carolina in Chapel Hill on Sunday (ESPN2, 3 p.m. ET). The Tar Heels -- who lost by 20 points Friday at Maryland -- definitely have something to play for in terms of adding more security to their postseason position. UNC is 19-9 overall and 9-6 in the ACC.
Duke absolutely shellacked the Tar Heels 96-56 in Durham on Feb. 6, so there is a bit of a pride factor for UNC, too.
Duke has displayed a lot of pride this season. This past Sunday -- just four days after the disappointment and sadness of seeing Jackson get hurt -- the Blue Devils played a gutsy game at Maryland. Though Duke lost 63-61 for its first ACC defeat this year, it showed the Blue Devils' resiliency.
Meanwhile, Miami could still share the ACC title if the Hurricanes (24-4, 13-2) beat Boston College at home Sunday and UNC defeats Duke. But the top seed in next week's ACC tournament is set, as Duke secured it for the third consecutive season.
McCallie's Blue Devils have won the league tournament title the last two years, and were expected to challenge for it again this season, of course. But to still be in such strong position to do that despite the setbacks Duke has faced is one of the national success stories that perhaps has been underappreciated this season.