Duke first 1-seed to lose before ACC semis
March, 3, 2012
03/03/12
1:30
AM ET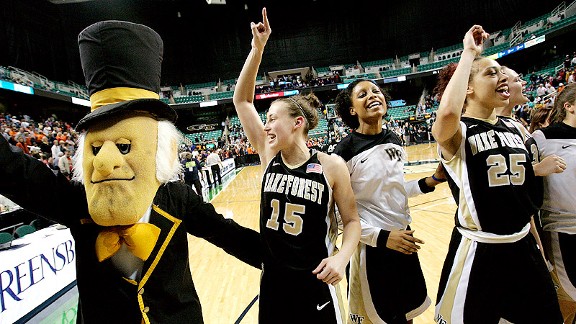 Mark Dolejs/US PresswireWake Forest knocked off No. 2 seed Miami in Friday's ACC quarterfinals.
Quarterfinal Friday at the ACC tournament was the perfect example of why conference tournaments are terrific. And it was also the perfect example of why they aren't. It all depends on your point of view, of course.
If you were wearing NC State red or Wake Forest black on Friday, then you're singing the praises of that extra chance to do something special in a second season that the league tourney provides.
But if you were clad in Duke blue or Miami green/orange, guess what? You overpacked for the trip to Greensboro, N.C., because your team's stay is finished. Then again, you can stick around to grumpily watch the 9-seed Wolfpack meet 4-seed Georgia Tech, followed by No. 3 Maryland -- the Terps avoided the upset bug in their quarterfinal nightcap victory over Virginia -- versus No. 7 Wake Forest.
Now who out there would have picked those matchups for semifinal Saturday? Probably nobody. Duke and Miami were the Nos. 1 and 2 seeds in the ACC tournament and projected as No. 2 seeds in the NCAA field, along with Maryland. Now we'll see how that holds up with both the Blue Devils and Hurricanes forced into spectator status so early.
How odd was all this? The top seed at the ACC tournament previously had never been eliminated before the semifinals. And how unlikely was it that NC State would be the one to bounce Duke? The Wolfpack were just 5-11 in conference play this season, losing 83-59 to the Blue Devils back in early January.
Furthermore, there was nothing results-wise in the last month to suggest the Wolfpack would make any noise in Greensboro: They had lost six of their eight games in February. Yet they are in the ACC semifinals thanks to a 74-71 win over Florida State, a mild upset, and a 75-73 win over Duke, a major surprise.
Meanwhile, Wake Forest's 81-74 win over Miami was actually a bit less of a surprise. The Demon Deacons had a pretty good February, winning five of eight. That came after a rough January when Wake went 2-7, but seemed to figure out some things. So have the Deacs now done enough to nudge themselves into NCAA tournament discussion? Also, did No. 5 seed North Carolina, which fell to No. 4 seed Georgia Tech 54-53 in Friday's first quarterfinal, move to the wrong side of the bubble?
One thing is for sure: The big winner seems to be Maryland, which now might well end up getting the best seeding/placement of all the ACC squads. That is, if the Terps can avoid the fate that befell Duke and Miami.