Kansas rocks the chalk, upsets Nebraska
March, 19, 2012
03/19/12
12:01
AM ET
You want to know just how much No. 11 seed Kansas' 57-49 victory over sixth-seeded Nebraska in the NCAA tournament's first round meant to the Jayhawks? A whole rock-chalking lot.
Exactly one month ago -- Feb. 18 -- the interview room at Kansas' Allen Fieldhouse was a depressing place to be for the home team.
The Jayhawks had just lost to archrival Missouri 70-65. It was the Tigers' first Big 12 victory and threw what KU coach Bonnie Henrickson called "a dagger" at the Jayhawks' NCAA tournament hopes.
Six days previously, the Jayhawks had lost their leading scorer, junior post Carolyn Davis, to a gruesome-looking ACL injury early in their game at Kansas State. After she went down, her cries echoed around a hushed Bramlage Coliseum.
And as Henrickson leaned over to console her, Davis kept saying, "I'm so sorry! I'm so sorry!" As if that dastardly ligament tearing -- as it does far too often in women's hoops -- had been her fault.
And there were the Jayhawks -- still battling for their first NCAA berth since 2000 -- letting a home game slip away to the last-place team in the Big 12. Just before tipoff of that Mizzou game, Davis had been in the team huddle and fell down, the injured knee giving way suddenly, as they sometimes do. She'd fallen to the court, in pain again.
In the postgame news conference, Henrickson struggled with her emotions in saying that the team had dealt with Davis' injury better than she had. Then senior Aisha Sutherland, trying to keep her composure talking about what looked to be the downward spiral of her final college season, dissolved into tears. And Sutherland is not the crying type.
[+] Enlarge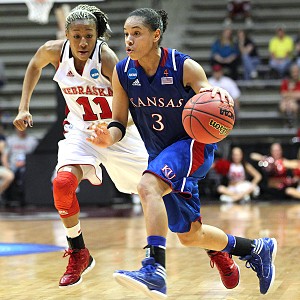 Nelson Chenault/US PresswireAngel Goodrich helped Kansas win its first NCAA tournament game since 1999.
Yeah, we told you it was depressing.
But another player, her composure unbroken, vowed that the Jayhawks were not going to give up and that they still had a chance to be an NCAA tournament team. That was junior point guard Angel Goodrich, who had been through two ACL injuries herself at KU.
Nothing came easily, though. Kansas did win its next game after the Missouri debacle, getting the program's first victory at Texas Tech since 1978. Goodrich broke the school's single-season assist record in that game.
After an expected loss to No. 1 Baylor, the Jayhawks came home to face Oklahoma State … and fell by three points. Now they really were sunk, right?
Nope, they went on the road again and won their regular-season finale, giving Henrickson her first victory over Oklahoma in her eight seasons at KU. After a respectable and hard-fought 78-63 loss to defending national champ Texas A&M in the Big 12 tournament quarterfinals, the Jayhawks were left to nervously watch the NCAA selection show to see if their roller-coaster season had been enough. And they erupted in joy when they found out it was.
All that puts into context what you saw Sunday, when KU downed familiar foe Nebraska, long a conference rival before the Huskers' move to the Big Ten this season.
The Huskers didn't have injured sophomore Jordan Hooper at full strength; she played 32 minutes but made just 4 of 18 shots. Point guard Lindsey Moore also struggled, going 5-of-21 from the field. As a team, the Huskers were 1-of-19 from behind the arc. Nebraska really didn't look like the same team that had played in the Big Ten tournament title game two weeks ago.
But credit Kansas for staying composed and holding onto a lead, something the Jayhawks have not been able to do enough over the past few years. Too many breakdowns at the ends of winnable games have cost the Jayhawks dearly, and kept them from making an NCAA appearance sooner than this.
However, despite those past disappointments, her knee problems, the injury to her close friend Davis, and the pressure of her first NCAA tournament game, Goodrich on Sunday showed why Henrickson has called her, "the most accountable kid I have ever coached."
Goodrich had a team-high 20 points and five assists. Even though she had six turnovers, the Jayhawks always feel better when the ball is in her hands for a lot of each possession. She makes things happen, including the driving basket and two free throws in the final 39 seconds that sealed this win for KU.
Sutherland had eight points and five rebounds, plus two blocked shots as her defense was important in clogging up Nebraska's attack. But the breakout star of the game was the youngster who is starting because of the injury to Davis: freshman Chelsea Gardner. Both are 6-foot-3 posts from Texas; Davis from Houston and Gardner from DeSoto. Gardner had career highs in both points (15) and rebounds (16) against the Huskers.
Kansas now will face No. 3 seed Delaware and sensation Elena Delle Donne for a trip to the Sweet 16, someplace the Jayhawks have not been since 1998.
And Goodrich's words on that bleak afternoon a month ago in Lawrence, Kan., are worth revisiting. Because it's those moments of resolve through the hardest times -- which most folks don't really see -- that are such a big part of what makes some athletes' journeys so inspiring.
"I feel like we can still pull it together," Goodrich said after the Mizzou loss. "That's the key thing right now for us: Just staying together as a team and continuing to get better. Even if you lose, just go out there and give it your all. Have no regrets. If we just do that, I'll be happy at the end of the day."
Sunday, she was very happy. She and the Jayhawks have, indeed, given it their all.