Mystics take first step in new direction
September, 24, 2012
09/24/12
8:19
PM ET
It looks like a "changing fortunes" kind of week for the Washington Mystics. And if any WNBA team needs a new direction and new blood, it's them. They ended the regular season Saturday with a 5-29 record, somehow doing even worse than last year's moribund 6-28.
Just two years removed from finishing first in the Eastern Conference, the Mystics seem eons away from that kind of success. So what can stop their downward spiral and give their exasperated fans hope for 2013?
[+] Enlarge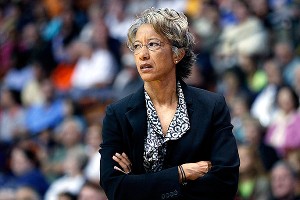 David Butler II-US PresswwireTrudi Lacey went 11-57 in two seasons as the Mystics' head coach.
The first essential step came Monday, with the announcement that the team and coach/general manager Trudi Lacey were -- as the Mystics' news release said -- "parting ways." The team also did not retain assistant coaches Marianne Stanley and Jennifer Gillom, both of whom are former head coaches in the WNBA.
Lacey, the architect of two consecutive teams that went nowhere, was hired in November 2010, a time that will live in infamy in Mystics' lore. Washington had, for the first time, finished in first place in the Eastern Conference earlier that year under the guidance of coach Julie Plank and general manager Angela Taylor.
Despite Washington's first-round playoff loss to Atlanta, it looked like the often-snakebit Mystics finally had found a really good blueprint for consistent success. Then, apparently over salary and/or control issues, it all blew up. Taylor left, and Plank did not want the combo job of coach/GM.
There was an infamous teleconference in which Mystics president and managing partner Sheila Johnson told the media that she would "idiot-proof" for them her explanation of what went down with Plank's and Taylor's departures. Instead, the Mystics' management looked clueless and desperate, with Johnson referring to the just-hired Lacey's chances for success as a "crap shoot."
It was a losing move for Washington, which now will try to turn the tide yet again. Whoever is hired will be the 13th coach in the history of a franchise that began play in 1998. The Mystics have been to the playoffs six times, while subjecting their fans to now four seasons of only single-digit victory totals.
Will the Mystics now hire two people -- one a coach and one a GM -- or go with a combo job again? That decision will impact who might be candidates for the Mystics to consider.
Getting the No. 1 pick, especially, and a new mentor might not cure everything that has ailed the Mystics the last two years, but could go a long ways to doing that.
Another factor in the hiring(s), though, will be how Wednesday's draft lottery goes. The Mystics, with the league's worst record, have a 44.2 percent chance of getting the No. 1 pick in the 2013 draft, which seems a virtual lock to be Baylor center Brittney Griner.
So the Mystics organization will already know its lottery position before it hires its next coach, which could make the job more attractive and could also impact whom the franchise prefers to be in charge of X's and O's.
The Mystics "celebrated" their 15 seasons in Washington this summer, but that was bittersweet at best, coming in the midst of so many losses. Post player Crystal Langhorne had another solid season, averaging 14.7 points and 6.3 rebounds. She turns 26 in October, so she's still in the heart of her prime as a pro.
But Langhorne needs more help, and the Mystics need a major confidence boost. They lost their last 13 games in a row and won just once on the road all season. Add to the team's frustration that former Mystics star Alana Beard has had a very good comeback season for playoffs-bound Los Angeles. She signed as a free agent with the Sparks after missing the past two seasons in Washington with ankle problems.
Getting the No. 1 pick, especially, and a new mentor might not cure everything that has ailed the Mystics the past two years but could go a long ways to doing that.
If, that is, the lottery balls fall in the Mystics' favor and the team's management makes a wiser decision when handing over the reins.
The Mystics have plummeted a long way in the past two years. Now is a chance to start climbing back out of that hole.