Martin must rally Delaware
December, 7, 2012
12/07/12
4:29
PM ET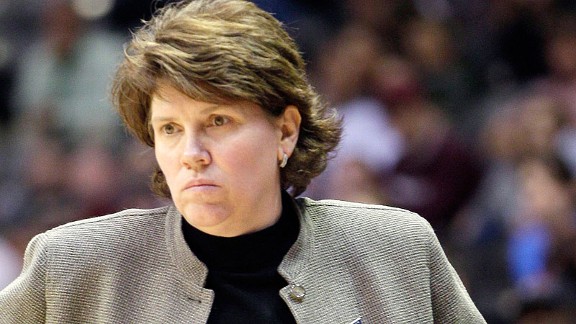 AP Photo/Danny JohnstonTina Martin's heart likely aches for Elena Delle Donne. But she and her team have to move on.
During the 2011-12 season, Delaware's Elena Delle Donne led the nation in scoring and took her team to the third round of the NCAA tournament. Now she is sidelined, again, with a recurrence of the symptoms of Lyme disease.
Delle Donne missed 12 games as a sophomore. During one game she grabbed a rebound, dribbled over to Delaware coach Tina Martin and said, "I'm gonna pass out if you don't take me out." Martin knew people in the stands were wondering why she wasn't putting her All-American back in the game.
Martin likely went into this season feeling pretty optimistic. The Blue Hens finished 31-2 last season and all five of their starters returned. Delaware was picked to win the Colonial Athletic Association conference. It will face ranked teams to help with seeding for the NCAA tournament. Martin set the strategic plan of attack in motion. She has a counter for every type of junk defense the Blue Hens could possibly face. Ready, set, go!
But wait! Imagine, as the head coach in charge of this well-laid plan, you get a phone call in August, "Coach, I don't feel well." The person on the other end of the line is Elena Delle Donne.
As a coach, your No. 1 concern is your player's health. Delle Donne is like a daughter, as are all your players. After experiencing firsthand what Delle Donne went through two years ago, Martin's heart must ache for her. As a coach, you pray it's the flu and not reoccurring symptoms of Lyme disease. "Not again!" is what I would be thinking. So did Martin, temporarily, I'm sure.
Martin also has to think about the rest of her "daughters" on her team, the rest of her basketball family. They have plans for this season too, especially the five other seniors. After winning two games in the NCAA tournament and advancing to the Sweet 16, the carrot has been dangled and they want more.
They have practiced for multiple scenarios, when other teams have tried to take Delle Donne away with defense like the box-and-1 and triangle-and-2. But they never would have predicted having to prepare for not having her in the lineup.
Solution? Being from the south I would say, "Wollar in it," or move forward. Martin has chosen to move forward. She is realistic and knows you aren't going to get 28 points and 10 rebounds from any one player to replace your superstar. She has challenged each player to do just a little bit more.
Lauren Carra is leading the team in scoring, Danielle Parker is averaging a double-double and Jaquetta May, a 5-foot-9 guard, is playing in the post. The Blue Hens are outrebounding their opponents and holding them under 50 points a game.
How do you adjust to such a disappointing -- potentially devastating -- situation? As tempting as it is to dwell on what you don't have, as the head coach, you have to focus on what you do have. Martin has a team with five seniors that she wants to guide to a season to remember. A good one.