2010 draft class lacking in star power
April, 7, 2010
04/07/10
11:19
PM ET
So Tina Charles seems to be making a regular habit of extinguishing suspense. Her UConn team was predicted to win the past two NCAA titles. And despite things looking shaky for a while against Stanford on Tuesday, the Huskies did just that.
[+] Enlarge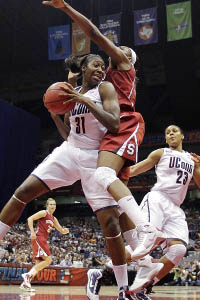 AP Photo/Eric GayProjected No. 1 draft pick Tina Charles led UConn to the NCAA title and its second consecutive unbeaten season on Tuesday.
Similarly, Charles has been the cinch No. 1 pick in the WNBA draft pretty much all her senior season. Thus, we can be certain how things will get started in Thursday's draft (ESPN2/ESPN3.com, 3 p.m. ET).
"With the first pick of the WNBA draft, the Connecticut Sun select … Tina Charles."
After that, it's hard to say who's going to go where. But it's not difficult to recognize how to label this draft. Someone like Charles aside, it's not regarded as a superstar-potential senior class.
In a teleconference last week, coach Nolan Richardson of the relocated Tulsa Shock said, "I may have to move my pick. We've got a lot of gaps and things we need to do."
Meaning he didn't think that at No. 7, he was going to get what he needed. So, indeed, on Wednesday the Shock sent their 2010 first-round pick and a 2011 second-round selection to Connecticut for Amber Holt and Chante Black.
Which one could assume is Richardson's way of saying, "Kinda slim draft pickings."
Richardson is, of course, getting a crash course on the women's game and is trying to rebuild a Shock team that isn't the same squad that was in Detroit. Several of those veterans seem to have treated Oklahoma as if it's rampant with the plague and wanted no part of going to Tulsa. Kudos to those Shock players who are giving the new WNBA city a chance.
[+] Enlarge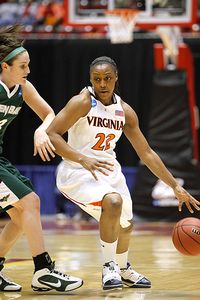 AP Photo/Charlie NeibergallVirginia guard Monica Wright is among the players rumored to be picked not long after Tina Charles goes first in the WNBA draft.
Richardson, understandably, would prefer experienced average players to rookie average players. And if that sounds like a harsh assessment of the class of 2010, it's not meant to be. Just realistic.
With only 12 teams and jobs at a premium, rookies will find it hard to make rosters unless they bring specific needs to teams. Being a good role player, though, is indeed filling a need.
Minnesota has the second and third picks, and new Lynx coach Cheryl Reeve suggested a couple of weeks ago that she thought she had her mind made up about who the franchise needed to take. We'll see if she has had second thoughts since then, in the wake of NCAA tournament performances.
"I think the people we've all projected to be solid players in the league are still solid," Reeve said. "How deep is this draft? It's an interesting time with the contraction. With the way we shape our rosters, positional need is becoming more important.
"I use the word 'serviceable.' There are a lot of serviceable players in the draft. There's not the Cappie Pondexters and the Candace Parkers. But still some good players. We have two high draft picks. We'll try to maximize them."