Tuesday, October 19 2021
Dean Of Ws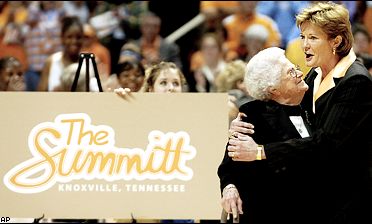 Pat scored a new record (880 wins) and court (The Summitt).


Pat Summitt's Lady Vols joined the Sweet 16 on Tuesday. But Tennessee's coach stands alone in career wins. Summitt got No. 880 to pass Dean Smith for the D-I record -- and had a court named after her -- as UT beat Purdue. Story
• Mowins: Old court, new name | Summitt's résumé
• Voepel: Summitt's haunting success | Inside Fort Knoxville


---
HUNDREDS AT A TIME

ESPN.com takes a look at Pat Summitt's milestones as she inches toward Dean Smith's all-time coaching mark.
Win No. 1: Jan. 10, 1975
In second game of career, Summitt scores 69-32 win over Middle Tennessee State at UT's Alumni Gym, in front of 53 fans.
Win No. 500: Nov. 21, 1993
The 80-45 rout of Ohio State came in the inaguaral State Farm Classic, vs. former asst. Nancy Darsch. Span: three years, 300 days.
Win No. 100: Jan. 13, 1979
Three years and 362 days into her career, Summitt reaches century mark with 79-66 win over North Carolina State in Raleigh, N.C.
Win No. 600: Nov. 23, 1996
Fastest woman to reach 600 (734 games) given cake by then-Vermont Gov. Howard Dean after 83-68 win over Marquette. Fastest 100.
Win No. 200: Dec. 3, 1982
Lady Vols hold off off St. John's 69-56 at Detroit's Coca-Cola Classic. Wins 100-200 accomplished in three years, 324 days.
Win No. 700: Dec 5, 1999
Set of 100, capped with 85-62 win at Wisconsin, came in three years, 12 days; included three NCAA titles, perfect 39-0 in '98.
Win No. 300: Jan. 4, 1987
Five years and 32 days later, Summitt claimed No. 300 with a 87-68 win over UNC. More importantly, NCAA title No. 1 came just 19 wins later.
Win No. 800: Jan. 14, 2002
Latest set of 100 wins took three years, 38 days, and was accomplished at home in Thompson-Boling Arena with a 76-57 win over DePaul.
Win No. 400: Jan. 25, 1990
This group, capped with 70-69 win over South Carolina, came fast (three years, 21 days) and wrapped around NCAA titles in '87, '89.
Win No. 880: March 22, 2005
Tennessee tops Purdue 75-54 as Summitt overtakes Dean Smith to become the all-time winningest coach in Division I history.
More Features

Lieberman: Learning Curve
Despite all her success, Pat Summitt has never hesitated to turn to her peers to add to her repertoire.

UT a stepping stone to coaching ranks
In all, 57 of Pat Summitt's former players and assistants are coaching at the pro, college or high school ranks.

Lieberman: Playing for the pioneer
Nancy Lieberman was fortunate to play for Pat Summitt. Read her favorite anecdote about the coaching legend.

The List: Best college basketball coaches
With legends Jim Calhoun and Jim Boeheim passing the 700-win milestone, we rank the greatest college coaches ever.

Lieberman: Summitt the best ever
There are many great women's coaches. But Tennessee's Pat Summitt is the best.