Grand Avenue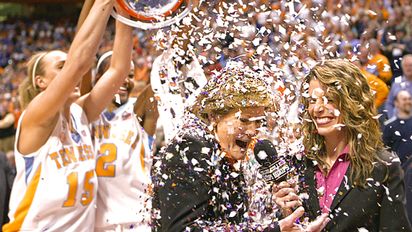 AP Photo/Wade Payne
Pat Summitt's 17th victory this season gave her 1,000 for her career.
Pat Summitt became the first D-I men's or women's coach to win 1,000 games because she worked just as hard before Thursday's milestone as she did before every victory along the way.
Mechelle Voepel
•
Lady Vols top Georgia
|
Replay: ESPN360.com

|
Classic Tribute
•
Summitt signs extension through '14
|
Rank Summitt
|
Rank the titles
Must Read
The Stuff Legends Are Made Of
Milestone Wins

12,438 days passed between Pat Summitt's first victory on Jan. 10, 1975, and her 999th win Thursday. Travel back in time as we track the most memorable moments on the path to 1,000 wins. Story
Year-By-Year

From her first season in 1974-75 to midway through her 35th season in Knoxville, Tenn., check out Pat Summitt's records, eight national championships and other highlights along the way. Story
Coaching Cradle

The New York Times calls it "the sisterhood of the traveling Pats." That's because former players, graduate assistants, assistant coaches and even managers currently fill 70 head-coaching positions at various levels. Story
Look Back: Title No. 8

Candace Parker's dislocated shoulder and heavily favored Stanford couldn't stop Pat Summitt and Tennessee from title No. 8 last April. Relive the championship run here.
2008 NCAA tournament