Field Goal %

Three Point %

Turnovers

Rebounds
Bridgestone Arena
Nashville, Tennessee

37250
Attendance: 17,519
Referees:
Lisa Mattingly, Dee Kantner, Denise Brooks
Breanna Stewart scored 21 points and Stefanie Dolson added 17 points and 16 rebounds to help UConn beat Notre Dame 79-58 on Tuesday night, giving coach Geno Auriemma and the Huskies a record ninth national championship.
| ESPN | 1 | 2 | T |
| --- | --- | --- | --- |
| Notre Dame | 38 | 20 | 58 |
| Connecticut | 45 | 34 | 79 |
0:00 - 2nd Quarter
End of Game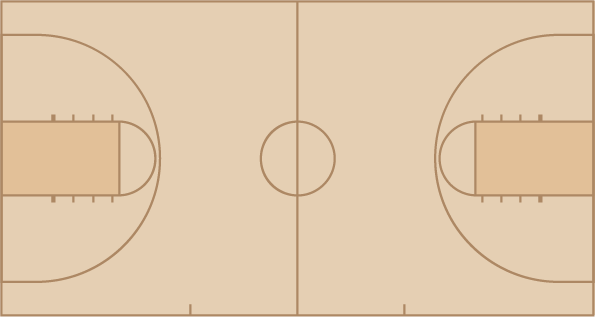 Notre Dame
*Notre Dame scored 25 of its 38 first-half points outside the paint but scored three such points in the second half.

Notre Dame didn't miss Natalie Achonwa in its win against Maryland, but without her interior presence Connecticut dominated the paint on Monday.

*Connecticut was outscored 19-17 in transition but dominated Notre Dame in the half court, scoring 23 more points than the Fighting Irish.

Notre Dame wasn't able to stop Breanna Stewart in either of the last two Final Fours. She scored 50 points and made nearly two-thirds of her shots while being named Most Outstanding Player of Final Four both seasons.

*Connecticut took advantage of Natalie Achonwa's absence inside, outscoring Notre Dame by 30 in the paint. Breanna Stewart scored 18 of her game-high 21 points in the paint.

Exactly 10 years after it became the 1st Division I school to win both basketball titles in the same season, Connecticut did it again.

Connecticut now has 9 women's titles, snapping a tie with Tennessee for most all-time.

This is the 3rd time that Connecticut has won back-to-back titles.

There have been 8 undefeated seasons in the history of NCAA Women's Division I Basketball. UConn is responsible for 5 of them.

Connecticut's 21-point win is the 5th-largest in a national championship game in NCAA Women's Championship history. UConn now has 3 of the 5 wins by 20+ points in the national championship game.

Connecticut scored 32 points in the paint in the 1st half. In Notre Dame's win on Sunday, the Fighting Irish only allowed 28 points in the paint the entire game.

At the half, Connecticut's Stefanie Dolson has 10 points, 6 rebounds and 5 assists. There has never been a triple-double in the Women's Final Four.

Notre Dame trailed by as many as 14 points in the first half; before today, its largest deficit this season was 12 points in the 1st half vs Tennessee. The Fighting Irish ended up winning that game by 16 points.