Nina Davis always in right place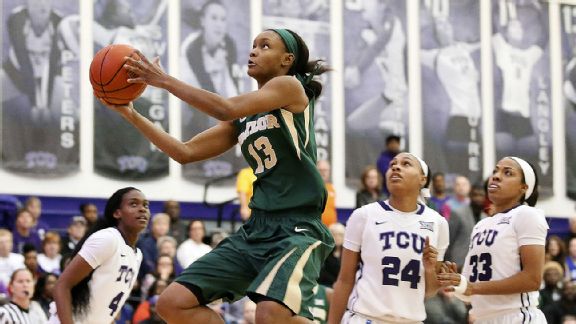 AP Photo/Tony GutierrezAn undersized post with the skills of a guard, Nina Davis is averaging 21.1 points and 8.4 rebounds.
WACO, Texas -- There's a quality that exists among certain basketball players that really can't quite be attributed to their size, or quickness, or even skill level. And that is their magnetism to the basketball. Or vice versa.
It seems almost freakish sometimes, doesn't it? In a good way, of course, for the people who have it. Although even they often can't explain it.
"I guess from playing for so long," Baylor forward Nina Davis said, "I just know where the ball is going next."
Well, that's not exactly it. She's only a sophomore, so we're not talking about a grizzled veteran. The bottom line is that Davis has a knack for being where the ball is, and we're probably never going to be completely sure how she does it.
But it's something that Baylor assistant coach Bill Brock noticed when he was recruiting the 5-foot-11 Davis.
"I kept watching Nina the summer before her senior year," Brock said, "and the thing that kept intriguing me about her was she was always around the basketball. Obviously, a lot of people thought she was too small. But I just threw that out of the equation and reversed my thinking: Instead of talking about her deficiencies, let's talk about what she can do."
Turns out that there is plenty to say in that regard. Davis, the Big 12's top freshman last season, recently was named the league's player of the year for 2014-15. She's been the Big 12 tournament's most outstanding player both seasons.
• Read the complete story
espnW.com
Mechelle Voepel covers the WNBA, women's college basketball, and other college sports for espnW. Voepel began covering women's basketball in 1984, and has been with ESPN since 1996.
Everybody's All-Americans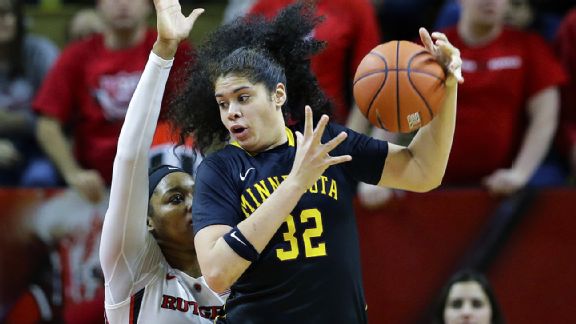 AP Photo/Mel EvansAmanda Zahui B. had 25 points, 11 rebounds and 11 blocks in her last game.
Five of ESPN's Need to Know players were included on espnW's 2015 All-America teams.
Of Minnesota's Amanda Zahui B., a second-team honoree, Graham Hays wrote: There were nights when Minnesota's Big Ten opponents simply couldn't deal with Zahui B., like she was a middle schooler playing with elementary school students at recess. Zahui B. is big and quick in the post, averaging 18.8 points, 12.6 rebounds and 4.2 blocks per game, but the relentlessness with which she attacks the basket, with the ball or in pursuit of it, sets her apart.
• Check out espnW's first- and second-team All-Americans
Need To Know
What is Need to Know?
ESPN and espnW polled women's basketball analysts and experts in the industry to finalize a list of 10 of the best players in the country to focus on throughout 2014-15.
(Please also check out our 3 to See page.)
| Player | Vitals |
| --- | --- |
| Brittany Boyd, Cal | G, 5-9, sr. |
| Lexie Brown, Maryland | G, 5-9, so. |
| Nina Davis, Baylor | F, 5-11, so. |
| Moriah Jefferson, UConn | G, 5-7, jr. |
| Tiffany Mitchell, S. Carolina | G, 5-9, jr. |
| Aleighsa Welch, S. Carolina | F, 6-0, sr. |
| Elizabeth Williams, Duke | C, 6-3, sr. |
| A'ja Wilson, South Carolina | G/F, 6-5, fr. |
| Amanda Zahui B., Minnesota | C, 6-5, so. |