Duke rebounds, deals first loss to Kentucky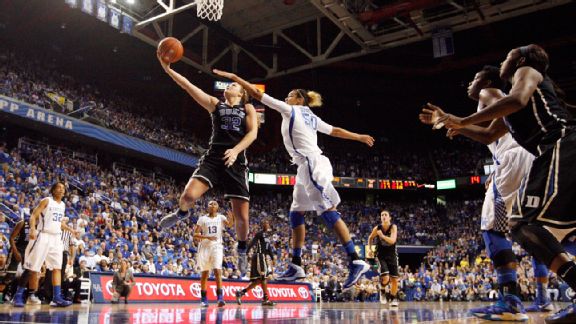 AP Photo/James CrispDuke's Tricia Liston scored a game-high 28 points on 10-of-19 shooting.
LEXINGTON, Ky. -- Not better than the best. Still better than the rest?
As Duke concludes the 2013 portion of its 2013-14 season, that's the question college basketball is left to ponder. Duke wasn't as good as Connecticut in a marquee game. Again. But after a week in which not just Duke but Tennessee, Kentucky, Colorado and South Carolina lost for the first time, is anybody else better?
Duke remains better than the rest of its schedule. That much we know. The Blue Devils ensured as much with a 69-61 win at No. 5 Kentucky on Sunday, their third win in the past 18 days against a ranked opponent. This one came in front of 23,706 fans in a packed Rupp Arena, the seventh-largest crowd for a women's regular-season game in NCAA history and the largest for a game that didn't involve either Connecticut or Tennessee.
It wasn't Breanna Stewart, but it wasn't a walk in the park, either.
After a loss at Connecticut a season ago, Duke had two weeks of easy games before a potential challenge at North Carolina. This time it had five days.
"This has been an incredibly challenging week for us," Duke coach Joanne P. McCallie said. "Connecticut is a cut above everybody in the country. We didn't do some things we wanted to do there, and we were much more poised in front of 24,000 in Kentucky than we were at home against Connecticut."
Give much of the credit for that to Tricia Liston, who led all scorers with 28 points. Arguably the nation's best 3-point shooter, she did most of her damage well inside the arc, often inside the lane. From the outset, Duke tried to get the ball inside against smaller Kentucky. But as player after player went to the bench in foul trouble, including post scorers such as Elizabeth Williams and those tasked with making entry passes like Chelsea Gray and Alexis Jones, Liston was the constant in sticking to the plan.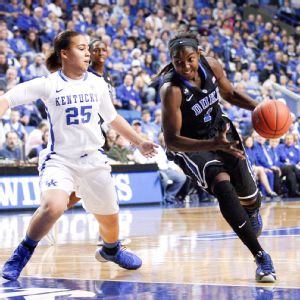 Mark Zerof/USA TODAY SportsHampered all season by foul trouble, Elizabeth Williams netted 17 points and eight rebounds, and shot 6-for-10 from the field.
Against Connecticut, Duke was on the wrong end of a first-half run that defined the game. After Kentucky tied the score at 17, Duke went on a 12-2 run and never again led by less than two possessions. Liston scored five points during the run and helped Jones handle the ball against pressure with Gray on the bench.
"You need to score so you can get them sped up," Kentucky coach Matthew Mitchell said of playing against a bigger team. "I think you saw in the few times we were really able to get the speed where we needed it, we could affect them. But we went that long stretch [during the first-half run] and that was just many, many possessions where the tempo favored them as opposed to us."
After a win against Albany that was sandwiched between the Connecticut game and Sunday, McCallie indicated there was very much a message directed at Liston in leaving her on the bench to start the second half. If the senior wasn't going to rebound, she wasn't going to play. She rebounded well enough against the Wildcats, essentially matching her season average with six, but it was her scoring that mattered.
"She's a fighter," McCallie said. "She'll bounce back against anything. She rebounded and led and dictated and had the poise. She was a really, really special player today, and she's capable of so much. I don't have any doubt about her. She's a fighter. And if I have to remind her now and again, 'Play the whole game, get your rebounds, do what you can do,' I will. But she's a very special player."
That's also a label that could reasonably be placed on Williams, certainly one people have placed on her since she arrived in Durham three seasons ago. She nonetheless hasn't played this month like one of the five or 10 best players in the country, as her All-American honors suggest she is. Partly that's because she hasn't played, period, foul trouble resigning her to the bench for long stretches.
But fouls alone weren't the only reason she entered the game against Kentucky with December averages of 9.0 points and 5.0 rebounds. Connecticut dared her to hit midrange jumpers. She missed nine shots and finished with six rebounds and one block in 33 ineffective minutes.
Fouls were again an issue Sunday, but they were all that slowed her. She finished with 17 points, 8 rebounds and 3 blocks in 23 minutes. Williams should have an advantage against an already undersized team made smaller in playing without injured DeNesha Stallworth. It was still encouraging for Duke to see her play like it.
Like Liston, like the entire team, all she can do is respond.
"Her game is absolutely fantastic, as of today," McCallie said. "She's had struggles. She's had difficulty with foul trouble. Some she brought on herself, like at Oklahoma [when she fouled out in 10 minutes], and some she really hasn't brought on herself. She basically is learning how it is to be who she is. She's doing great, and that was a fantastic game for her."
In the end, maybe it doesn't really matter which team is No. 2. Maybe Connecticut is so good that the whole endeavor is moot. It wouldn't be the first time. Maybe a team that hasn't already come up short against the Huskies will get a chance, all the more intriguingly so if it's an old rival like Notre Dame or Tennessee. But someone has to take the court against them in Nashville.
"I just think we're getting stronger," McCallie said. "You get stronger through experiences, whether they go your way or they don't. We're figuring out how resilient we could be, and it's important to us. To be a special team, you've got to go ahead and do special things. Winning at Cal, winning at Oklahoma, winning at Kentucky, things like that."
And so the race for No. 2 continues.
espnW.com
Graham Hays covers college sports for espnW, including softball and soccer. Hays began with ESPN in 1999.
Kresl taking care of ball for Colorado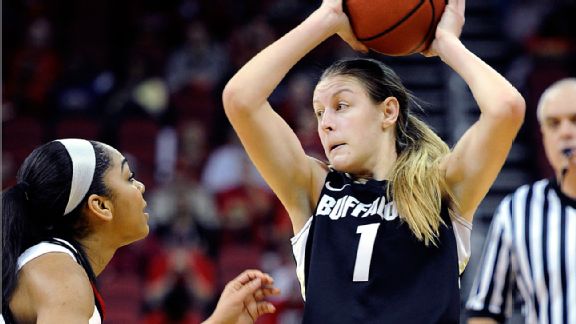 Jamie Rhodes/USA TODAY SportsColorado's Lexy Kresl has 38 assists this season to only 16 turnovers.
Anyone making a preseason list of the Pac-12's best point guards would have been out on a frail limb had they included Lexy Kresl in the discussion. Such lists rarely include a player who totaled 65 assists in her first two seasons -- all the more so when those seasons encompassed more than 1,500 minutes on the court.
Well, we've arrived at Christmas, and what do you know, here we have Kresl hanging around the likes of Cal's Brittany Boyd, Stanford's Amber Orrange and Utah's Danielle Rodriguez.
This might seem a strange time to bring up Kresl's new position, considering she is coming off a game against Louisville in which she posted her worst point guard numbers (one assist, six turnovers) of the season against the best defense Colorado has faced. But part of what makes a point guard special is an ability to do whatever it takes to get an offense going. Kresl did that in the first half against the Cardinals, reading a defense intent on trapping and harassing passes and attacking it. Her 15 points in the first half kept Colorado in a game that could have spiraled away from a team with less composure.
Tuesday on espnW.com, we're running a list of 10 players rising to the occasion this season. Kresl isn't part of that particular list, but she certainly fits the bill. That's true both because of the distribution skills behind 39 assists and a nearly two-to-one assist-to-turnover ratio and because of those scoring skills.
"It's kind of what this team needs," coach Linda Lappe said of Kresl's role on a team that had to replace Chucky Jeffery's four assists per game. "She is an unselfish player. She came here as a shooter, came here as a 2-guard and really has developed. Brittany [Wilson] was hurt early in the season, and so she was really our only point guard for a while, her and Jasmine [Sborov], neither of whom played too much point last year. She's been able to kind of learn the position, learn what we need and really just run the team.
"You've got to like just her unselfishness to maybe play outside of her natural position. But she's become, I think, a really good point guard."
The rest of the season sets up nicely for the Buffaloes, who don't have to make a trip to the Bay Area this season in conference play. Their tournament seeding fate is in their hands. And if those are Kresl's hands, that's a good thing.
She Also Starred

There are too many candidates this week to devote the space solely to one player, so in the holiday spirit, here's a four-way tie.
Jazmine Davis, Washington: Davis (pictured) and the Huskies would surely like a mulligan on the middle game of their stay in Las Vegas, a loss against DePaul in which Davis struggled, but the kid had a pair of 30-point games in the span of 48 hours. Davis scored 30 on 10-of-15 shooting in a win against Louisiana-Monroe on Thursday afternoon, then put up another 30 points in 40 minutes in a win against Pittsburgh on Saturday. A prolific scorer but 37 percent shooter a season ago, she's shooting 45 percent through 10 games this season and still putting up 19 points per game.
Ebony Rowe, Middle Tennessee: Home or road. Major or mid-major. Day or night. Sunny or overcast. It really doesn't matter what variables you want to add, Rowe is going to put up 20 points and 10 rebounds. Middle Tennessee's senior star did that three times in three wins this past week -- 29 points and 13 rebounds against South Dakota State, 25 points and 11 rebounds against South Florida, and 20 points and 11 rebounds against Central Florida.
Shoni Schimmel, Louisville: It lacked the highlight-reel moments she makes a habit of producing, but Schimmel played one of the best games of her career in a 69-62 win against Colorado on Saturday. She totaled 30 points and eight rebounds and turned over the ball just once in 38 minutes. In a game in which whistles came freely, she attacked the basket and set a career high with 16 free throw attempts. That came on the heels of a midweek win at Ball State in which she had 17 points, 8 rebounds, 7 assists and no turnovers.
Jennifer Schlott, Utah State: This is a repeat appearance for Utah State's star, who totaled 44 points and seven assists in an 81-70 win against UCSB on Wednesday. The Aggies scored only seven field goals in which she didn't have a hand, and she went 18-for-18 from the free throw line. Her 22 points on a rough shooting day at BYU on Saturday weren't enough to complete a sweep of BYU and Utah, but between Schlott, Utah's Michelle Plouffe and BYU's Jennifer Hamson, state player of the year would be a fun vote.
Team of the Week
Marist: As much as a mid-major flagship as Marist has been in more than a decade under the direction of Brian Giorgis, particularly when the NCAA tournament rolls around, there were some feats it still had not accomplished when the past week began.
The Red Foxes had never scored 100 points in a game. They had never beaten a ranked opponent at home in Poughkeepsie, N.Y.
Scratch both off the list. After routing Northeastern 103-66 midweek, Marist turned around and beat No. 20 Oklahoma 76-69 on Saturday to extend its winning streak to six games entering the holiday break.
The streak dates back to around Thanksgiving, but it's no coincidence the back end of it came at the same time that Marist welcomed senior Casey Dulin back to the court. There is a reason Giorgis has called her one of his favorite players. She wasn't the scoring star in either of the past week's wins -- Madeline Blais scored 25 points on 10-of-15 shooting against Northeastern and Sydney Coffey scored 25 points on 7-of-9 shooting and a bevy of free throws against Oklahoma. But Dulin, who had 17 points and seven assists against the Sooners, makes everyone around her better. And in Blais, Coffey, Emma O'Connor and Leanne Ockenden, there are a lot of people who are already pretty good on what could yet be among the best Marist teams.
The return of Tori Jarosz would only make things brighter still. Out all season with an Achilles tendon injury after missing all but the first game a season ago with a wrist injury, the 6-foot-3 Jarosz is potentially the most talented player on the roster and in the MAAC.
Marist didn't pull the week's only upset. Both NC State and Rutgers deserve mention. NC State's 89-79 win against No. 12 LSU will make a lot of people look a little more closely at the 11-1 record the Wolfpack have put together in Wes Moore's first season. Markeisha Gatling and Kody Burke combined for 50 points in the win, and Gatling's 71.7 field goal percentage as the team's leading scorer is one of the more eye-popping statistics of the first half of the season.
If NC State's lone loss against Wright State is a puzzler, Rutgers had the ultimate head scratcher with a loss at Massachusetts. But between its defense and the development of sophomore Kahlea Copper, both of which flummoxed Georgia, things are looking up.
Before Next Weekend
Apart from three games Monday, college basketball shuts down this week. Most top teams return with less than compelling matchups to ease back into things, but there are some games to keep an eye on next weekend.
Central Michigan at Purdue (Saturday): Purdue narrowly escaped a pair of upsets in the past week, holding on for a 49-45 win at Green Bay on Wednesday and then coming up enough in the second half to beat Bowling Green 57-48 on Sunday. Those are quality opponents, conference affiliations aside, and it's a defensive accomplishment to hold both below 50 points, but Central Michigan puts up points even when it loses. Purdue coach Sharon Versyp said after the Green Bay game this was a better rebounding team than a season ago, but the stats don't show it. The Boilermakers need to start looking like a team with a Big Ten frontcourt.
Gonzaga at Saint Mary's (Saturday): There are too many good teams in the West Coast Conference for any one pairing to decide things, but this is a good way to start conference play. Gonzaga is in the strange position of playing seven of its first nine conference games on the road (at which point it will have played 11 of its past 14 games overall on the road). The game at Saint Mary's was the lone conference loss for the Bulldogs a season ago, and the Gaels had the rebounding edge across two meetings.
Saint Joseph's at Florida Gulf Coast (ESPN3, 6:05 p.m. ET Sunday): Just about every FGCU home game is on ESPN3, so go ahead and get familiar with the Eagles. Saint Joseph's missed out on an opportunity for a résumé-enhancing win, dropping a 64-62 decision at Syracuse on Saturday. It can ill afford to slip up here in its final game before conference play. The Hawks have just one player with more than five 3-pointers (albeit a lot more in the case of Erin Shields). The Eagles have six players with double-digit 3-pointers.
Villanova at Creighton (Sunday): Welcome to the Big East, Creighton. The team's conference debut comes with a visit from one of the trickier teams to play. Villanova hasn't played much of a schedule, so a 9-1 record is a bit hollow, but 92 turnovers in 10 games makes for impressive ball control no matter the opposition. Creighton's 6-6 record is partly an indication of a brutal schedule but also of a team shooting 27 percent from the 3-point line, compared to 35 percent a season ago. Both teams love to launch from long range.