Should UConn be No. 1 in the top-25 polls?


During the first full week of January one year ago, teams ranked in the top 10 of the Associated Press poll went 16-2. One of those losses was at the hands of another top-10 team (Kentucky losing to South Carolina, which might sound familiar), and the other teams that won did so by an average of 24.6 points per game. Not until the final day of that week did any challenger come within double digits of a top-10 team, capped by Vanderbilt's upset of Tennessee.
The first full week of 2015 was a little different in a season that has itself been a little different than the norm.
Half of the top 10 lost a game this week. Eight of those teams trailed in the final 10 minutes of a game, with Baylor, Louisville and Tennessee needing weekend comebacks on the road to avoid making it eight losers.
So where do things stand in a top 10 that needs some revision? Here's one attempt at putting them in some semblance of order.
1. Connecticut (14-1): With apologies to the program in Dallas, making too much of a win over SMU when the conversation is about the national elite is foolish. South Carolina, after all, put up 101 points this week at Alabama and ran Clemson and San Diego State off the court earlier this season by 58 and 51 points, respectively. A team good enough to win a title can produce cringe-worthy scores against lesser competition. In the Jerry Tarkanian portion of their schedule, playing teams that are in the same conference but not the same league in the same way Tarkanian's teams did at UNLV, the Huskies are going to have a lot of those games. Still, Connecticut's 74-9 lead with eight minutes to play at SMU on Sunday was, well, staggering.
Connecticut lost at Stanford against what might be, by Palo Alto standards, less than a vintage Cardinal team. But it also won at Notre Dame when the margin was closer to 20 points than 10 points for most of the second half and blitzed Duke at home. It has a better scoring margin than South Carolina, better field goal defense, a better field goal offense and a better assist-to-turnover ratio (albeit by a margin too small to really matter in the last case). It has, by a slim margin, the best résumé … for now.
2. South Carolina (16-0): By the standards to which No. 1 teams are held in women's basketball, South Carolina was not entirely convincing in Sunday's 68-60 victory over No. 10 Kentucky. That will seem harsh after a conference win against a top-10 team that already beat both Baylor and Louisville, but it's the territory. It's not as if Kentucky just buried a bunch of 3-pointers or benefitted from the whistle putting South Carolina's key players in foul trouble. The Wildcats went into Columbia and went at the Gamecocks. The visitors got in the paint and got rebounds against a team that should have controlled those facets of the game. That said, as we saw all week, a lot of teams -- even very good teams -- can lose games when they play at less than their peak against peers. South Carolina, by contrast, doubled up Kentucky on the boards in the second half and avoided the truly late drama that befell other top-10 teams this past week.
There is also nobody on Connecticut's roster with as much untapped potential as A'ja Wilson, who mixed in more than a few "wow" moments amid a 3-of-13 shooting day against Kentucky. Like Breanna Stewart as a freshman in the NCAA tournament, Wilson could find the greatness that awaits her in the blink of an eye.
3. Tennessee (14-2): It wasn't aesthetically pleasing, particularly in the first half, but Tennessee's comeback against Arkansas in a 60-51 victory completed another successful week in an increasingly impressive body of work. Tennessee's offense, or lack thereof, might have helped the home cause early Sunday, but Arkansas has wins against Iowa, Oklahoma and Middle Tennessee State and scared Texas A&M a week ago. It is no pushover. So while the Lady Vols were close to perfect Thursday against the Aggies, in shooting 53 percent and assisting on 24-of-33 field goals, Ariel Massengale's ability to take over in a tough spot Sunday was equally notable. Tennessee has limitations. Every team has limitations this season. Over the past month, the Lady Vols have played to their strengths.
4. Oregon State (14-1): No, this isn't where AP voters will have the Beavers, who barely broke a sweat to roll to home-and-home wins against Oregon this past weekend. Although victories against Butler and BYU earlier this season look slightly better as those teams keep winning in the Big East and WCC, respectively, we're still talking about a résumé that rests heavily on a decisive win at North Carolina and a near-miss at Tennessee. For now, that's enough. There are three teams in the nation that entered the weekend ranked in the top 10 in rebound margin and assist-to-turnover ratio, two things that don't always go together: Baylor, South Carolina and Oregon State. Only one of those teams also ranked in the top 10 nationally in 3-point accuracy, and you don't need a spoiler alert to hear it's Oregon State.
5. Texas (13-1): Texas is far from the first team to stumble against Iowa State in Ames, and it has some capital built up from the victories at Stanford and against Tennessee earlier the season and a balanced, if unspectacular, win in a physical game against West Virginia this past Wednesday. More concerning than the loss is the continued absence of Ariel Atkins with an ankle injury and Kelsey Lang's quiet numbers since she missed a game Dec. 30 due to a knee injury. Some surprising 3-point production from Nekia Jones and Brady Sanders kept the Longhorns in the game at Iowa State, but it's balance that allows this offense to complement a championship-caliber defense.
6. Notre Dame (15-2): Win or lose, though it has admittedly been mostly the former in recent seasons, Notre Dame has been a pillar of stability for a long time. That was shaken to at least a small degree this week, both as a result of an abysmal first half at Miami in a 78-63 loss and uncertainty over the status of starting center Taya Reimer. The sophomore didn't play in either game, with some reports suggesting she was mulling a transfer. Notre Dame coach Muffet McGraw said after Sunday's rout of Boston College that Reimer was staying put in South Bend. Her status matters much more in the long run than the poor showing in Florida, though freshmen Brianna Turner and Kathryn Westbeld (a combined 13-of-18 from the field for 36 points) offered some measure of reassurance on both counts against Boston College.
7. Baylor (14-1): It took until Jan. 11, but Baylor finally got its first significant true road win (winning at Ole Miss is all but required of a top-10 team). But just barely. The Lady Bears rallied late to beat West Virginia on Saturday in Morgantown. Khadijiah Cave, who totaled 20 points and eight rebounds against the Mountaineers, is averaging 27.9 points and 12.7 rebounds per 40 minutes, which, given she's only averaging 19.7 actual minutes per game, makes her one of the more intriguing players on this list.
8. Louisville (15-1): Is any top-tier program getting more out of a freshman class than Louisville? It isn't necessarily happening with a lot of fanfare, but former McDonald's All-Americans Mariya Moore and Myisha Hines-Allen combined for 36 points, 17 rebounds and five assists in Sunday's win at Wake Forest, a game in which Louisville trailed late. Even freshman reserve Arica Carter, whose free throws and box-outs saved a win at Pitt a week earlier, chipped in 16 effective minutes.
9. Maryland (13-2): One of the best games of the weekend saw Maryland hold off Minnesota in its first trip to Minneapolis as a member of the Big Ten. It was interesting and perhaps revealing of Maryland's rebounding balance that it struggled to contain two individual forces this past week -- giving up 19 points and 12 rebounds to Purdue's Whitney Bays and 26 points and 15 rebounds to Minnesota's sensational Amanda Zahui B. -- but not only won both games but also finished with commanding advantages on the boards in both games (albeit with a 17-rebound effort in there from Brionna Jones against the Boilermakers).
10. Kentucky (14-3): Janee Thompson's injury, a dislocated left ankle and broken fibula, obviously casts an enormous shadow over everything else that happened in the game against South Carolina, including coach Matthew Mitchell earning two technical fouls after a later sequence. The team leader in assists and its fourth-leading scorer, Thompson will be difficult to replace, even as Bria Goss nears a return. Kentucky has generally done a good job of accruing free throws against quality opponents, not just overmatched ones, but it got to the line just 14 times Sunday, half its season average.
espnW.com
Graham Hays covers college sports for espnW, including softball and soccer. Hays began with ESPN in 1999.
Weekend headlines
• 1. As mentioned a week ago, surprise eligibility for Leticia Romero makes Florida State a team capable of competing with just about any opponent in the country on a given night and maybe most nights. Romero was at it again in Sunday's win against Duke, contributing 16 points, seven rebounds and four assists in 30 minutes in her now customary role off the bench. Adut Bulgak also played a strong game, totaling 18 points and 18 rebounds and getting every bit the better of a foul-plagued Elizabeth Williams.
But one question for the Seminoles after Romero's return was how her place on the court would affect other guards used to more shots and more time with the ball in their hands. So far, Maegan Conwright is providing a rather emphatic answer. In two games this week, victories against Duke and Clemson, Conwright scored 33 points and hit eight 3-pointers. Both represent improvements on her overall season production. Like Ariel Massengale at Tennessee, the ability to spend time off the ball might make her that much more effective.
• 2. Early though it might be in conference play, there were only three games Sunday in which both teams entered without a conference loss. Two were high-profile games already mentioned: South Carolina against Kentucky and Minnesota against Maryland. The third didn't involve a ranked team, but the winner has a decent case for consideration. South Florida's 70-58 win against Temple left the Bulls perfect through four games in the American Athletic Conference and 13-3 overall. There is a giant roadblock looming with next week's visit to Connecticut, but Jose Fernandez is cruising toward yet another 20-win season, potentially with an out-of-conference résumé (victories at Chattanooga and against Oklahoma and Illinois) that could help NCAA tournament at-large consideration.
• 3. A wrap favorite for the uniqueness of its free-shooting ways, Sacramento State sadly struggled through the early portion of the season against a brutal schedule (at one point playing five consecutive road games at Saint Mary's, California, Oregon State, UCLA and USC). But the Hornets are back in Big Sky play now and took a step toward mattering in that race, with victories this past week against North Dakota and Northern Colorado.
The win against North Dakota was particularly interesting in that Sacramento State attempted just 18 3-pointers in the 93-86 victory. That might not be a small number for most teams, but it marked the second time this season that Bunky Harkleroad's team attempted fewer than 35 3-pointers in a game. Then they did it again against Northern Colorado, albeit barely, in getting off 34 shots from behind the arc. Sophomore Hallie Gennett, who averages more than 10 3-point attempts per game all by herself, led the team with 31 points in the two wins.
She Also Starred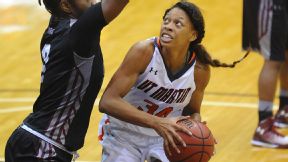 Courtesy UT-Martin
Ashia Jones, UT-Martin:
Who had the most difficult act to follow in women's college basketball this season? Those at Stanford trying to make up for Chiney Ogwumike? Sure, that's difficult. How about anyone asked to score the points Odyssey Sims produced for Baylor? Tricky, to be sure. But consider the task that faced Ashia Jones at Tennessee-Martin. The Skyhawks had to replace not just the No. 17 all-time scorer in NCAA history, Heather Butler, but also the No. 50 all-time scorer, Jasmine Newsome, from a team that pushed North Carolina to the wire in the first round of the NCAA tournament.
As might be expected in such circumstances, it has been a difficult season for UT-Martin. But with three wins in a row, including victories this past week against Eastern Kentucky and Morehead State, the team is closing in on .500 for the season and, more importantly, is setting the pace atop the Ohio Valley Conference. Filling much of that scoring void is Jones, a sophomore forward. She scored 36 points on 12-of-17 shooting against Eastern Kentucky on Thursday and might have been even better Saturday against Morehead State, when she scored 30 points on 13-of-19 shooting and finished with five assists and no turnovers. All of that came the week after she was named OVC player of the week. She's shooting 56 percent from the field this season; the rest of the team is shooting 38 percent.
Honorable mention: Like Jones, Alex Harden was a recent conference player of the week, the Missouri Valley Conference in the latter case. Like Jones, she was even better this week. Harden matched a career high with 31 points in a win at Missouri State and needed just 18 shots to get there. She also added seven assists, five rebounds, two blocks and a steal against just one turnover in 40 minutes. So far, the MVC is no match for a guard with pro potential. In three conference games, she's shooting 55 percent and has 16 steals.
Teams of the Week
Pittsburgh: At this time two years ago, Suzie McConnell-Serio was coaching Duquesne, Kathy McConnell-Miller was working in the WNBA, Monica Wignot was in the early weeks of the college volleyball offseason and Brianna Kiesel was a talented but unsteady young guard who shot 34 percent from the field and had almost as many turnovers as assists.
Oh, and Pittsburgh was coming off a loss at Seton Hall, the first of 16 losses in 16 Big East games.
Some things in the Steel City, like Primani Brothers, never seem to change. That the basketball program isn't one of them is much to North Carolina's chagrin, after Pitt didn't just upset the nation's eighth-ranked team but routed it 84-59 this past Thursday, It was North Carolina's worst loss against an unranked team since a 31-point setback against South Carolina in 2011. That's worth mentioning because Pitt would love to follow the same kind of blueprint used by a former star point guard, Dawn Staley, to build South Carolina into the nation's top-ranked team in seven seasons.
Kiesel and Wignot won't be around for the final stages of any such rebuilding, but against North Carolina they took a step toward laying an NCAA tournament foundation. Kiesel, now shooting 42 percent, didn't have the most efficient shooting day, but she totaled 22 points, five assists and just two turnovers. She has a 3-to-1 turnover-to-assist ratio in more than 500 minutes. Spending one season on the basketball court after four on the volleyball court, Wignot added 18 points and 12 rebounds. She and Kiesel, the team's two leading scorers, have committed a total of 38 turnovers this season -- almost as many as North Carolina leading scorer Allisha Gray by herself, and Gray is one of the nation's better go-to scorers when it comes to ball control.
Pittsburgh very nearly came close to pulling a Chattanooga, with two wins against top-10 teams, only the Panthers would have accomplished the feat in back-to-back games. Four days before the victory against North Carolina, they took Louisville down to the wire before losing to Jeff Walz and Co. 63-57 after going the final three minutes without a field goal.
"Suzie does a great job there," Walz said "I mean, both sisters, they know basketball. They competed at the highest levels. They've got their kids believing in themselves. … The kids believe in what she's doing. Kiesel is a heck of a ballplayer. The Wignot kid can shoot the basketball. They've got a good team, and they've got good pieces that play well together."
It's not going to get easier for Pitt, which travels to Florida State for a suddenly compelling game Thursday and still has to play at Duke, Louisville and Notre Dame, among others.
Before Next Weekend
Iowa State at Baylor (Tuesday): This isn't quite as intriguing as it would be, were Iowa State going for a second upset in a row at home. Baylor won all six games the teams played in the past three regular seasons, but it won in Waco by an average of 33 points, compared to a more competitive average margin of victory of 14 points in Ames. Baylor beat West Virginia by four points Saturday; it also hit four more free throws than its host. It seems counterintuitive, given how much Odyssey Sims got to the line, but the Lady Bears are attempting more free throws per game this season.
Notre Dame at North Carolina (Thursday): Like the team it will play in this game, North Carolina bounced back from its blowout loss against Pittsburgh with a win Sunday in which it nearly reached triple digits. It was Clemson, so it's hard to know what to make of it, but the Tar Heels won the rebounding battle for the first time in three ACC games without the injured Xylina McDaniel. The Fighting Irish were decisive winners on the boards (and the scoreboard) when the teams met last season in South Bend.
Maryland at Rutgers (Thursday): It just screams Big Ten bragging rights. The first meeting between the teams as conference opponents is one of two high-profile conference games Thursday, along with Minnesota's visit to Ohio State. It's a tad early to say the Scarlet Knights can't afford a loss, but a second home loss in the span of a week would certainly damage any Big Ten aspirations. Rutgers senior Syessence Davis has a remarkable line through five league games, with more assists (29) an steals (26) than points (19) and nearly more rebounds than points.
Pacific at BYU (Thursday): The same night features another big West Coast Conference game, as Saint Mary's visits San Diego, but Pacific's overtime win at Saint Mary's this past Saturday, courtesy of a Hailie Eckles 3-pointer with less than 20 seconds to play, leaves it and Gonzaga as the only unbeaten teams in league play. BYU is one of the teams a game behind in the loss column. This one is worth watching just for Pacific's Kendall Kenyon against BYU's Morgan Bailey in a battle of rebounders. Kenyon became Pacific's all-time rebound leader this past week and leads the WCC at 11.2 per game, but Bailey is next in line this season, at 10.9 per game.
Arizona State at California (Friday): The Bay Area trip has been the mountain to climb for Pac-12 challengers for a few seasons now -- really since Arizona State slipped a notch from its regional final form circa 2008-09. But never has that trip looked more manageable, if still difficult. Coming off a sweep of a home-and-home against in-state rival Arizona this past week, Arizona State has assists on 63 percent of its field goals this season, better than Connecticut and only slightly worse than South Carolina.
DePaul at St. John's (Friday): This is the first stop of a potentially Big East-defining weekend for DePaul, which plays at Seton Hall on Sunday before playing seven of its final 11 games at home. St. John's is 13-1 this season against teams that aren't from Indiana, and while Chicago is near the border, the Blue Demons don't qualify. More seriously, the Red Storm bounced back from a loss against Butler on Friday to hold Creighton to 39 points and 24 percent shooting in Omaha on Sunday. DePaul shot 50 percent in two of three games between the teams the past season.