Perfect semifinal keeps Irish's perfect run alive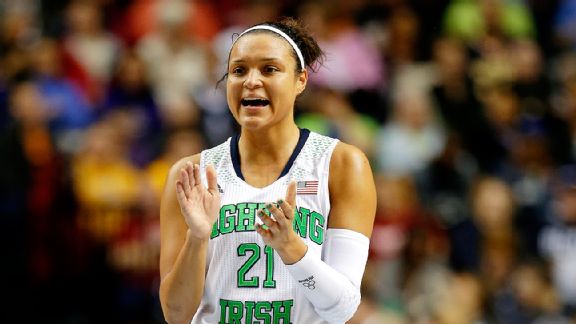 AP Photo/Mark HumphreyTeammate Natalie Achonwa said "no one in the country can guard" Kayla McBride. Sunday, it was true.
NASHVILLE, Tenn. -- If a team is going to make a run at a perfection, it might as well play a perfect game. What Notre Dame did in dismantling Maryland 87-61 was as close as a team is likely to come at this stage of the season.
"We look at the players individually and say if everybody played well on the same night, imagine how good we would be," Notre Dame coach Muffet McGraw said. "We were pretty darn close tonight."
Kayla McBride scored 28 points on 12-of-21 shooting and could have had more if needed in the second half. More …
ESPN.com
Graham Hays covers college sports for espnW, including softball and soccer. Hays began with ESPN in 1999.
Everybody's All-Americans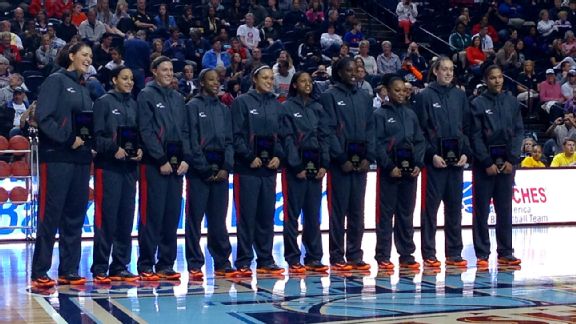 ESPNWThe 2014 WBCA All-America team included three sophomores.
Nashville, Tenn. -- All five players on ESPN's "Need to Know" list were named to the 2014 WBCA All-America team Saturday at Bridgestone Arena.
UConn and Notre Dame combined to put five members on the 10-player squad.
For a closer look at the team, its history and which school got its first All-American, click here.
ESPN.com
Mechelle Voepel covers the WNBA, women's college basketball, and other college sports for espnW. Voepel began covering women's basketball in 1984, and has been with ESPN since 1996.
Elite Eight loss caps Sims' stellar NCAA career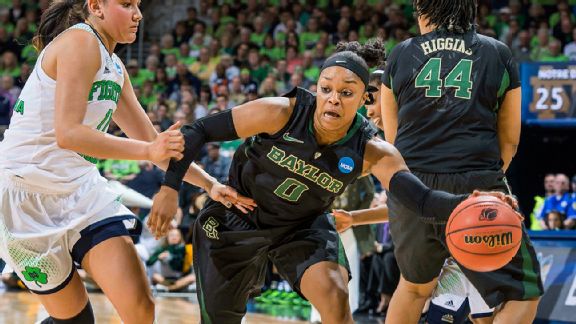 Matt Cashore/USA TODAY SportsAt times in her career, Sims might have been the nation's best point guard and its best scorer.
SOUTH BEND, Ind. -- After a game between Baylor and Connecticut early in the 2010-11 season, Connecticut coach Geno Auriemma suggested that the season for both teams would be defined in part by finding options other than those most obvious -- Maya Moore for the Huskies and Brittney Griner for the Lady Bears. After watching Odyssey Sims knock down 7 of 9 shots on the road in her fourth college game, including three 3-pointers he called "backbreakers," he was pretty sure he knew who one of them would end up being for Baylor coach Kim Mulkey.
Fast-forward to the closing seconds of Monday's regional final between Baylor and Notre Dame. The final shot of Sims' college career was a 3-pointer that looked good when it left her hand but rattled around the rim and out.
Nobody ever did really figure out a way to stop her from scoring. She just ran out of shots.
A season after the disappointment of a stunning Sweet 16 exit as the No. 1 seed and presumptive championship favorite, Sims took Baylor about as far as a talented but inexperienced team could go. Fans in Waco will wonder what might have been had not quite so many whistles gone against their team in South Bend -- four of them on Sims, including an offensive foul that led to a technical on her coach and an intentional foul of her own -- but the Lady Bears probably fulfilled their potential by pushing the Fighting Irish, just as they pushed Connecticut in January.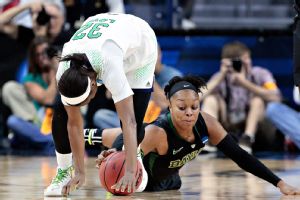 AP Photo/Paul SancyaOdyssey Sims scored 33 points to raise her season total to 1,054 -- just eight shy of Jackie Stiles' NCAA D-I record (1,062).
They did that in large part because Sims gave them the cover to do so. Without Griner and all the other seniors who brought a second national championship to Waco in 2012, Sims shouldered the scoring load while others found their footing. She came up just eight points shy of the NCAA single-season scoring record and did it without sacrificing quality for quantity -- she shot 45 percent from the field this season, including 40 percent from the 3-point line, and for all her touches, she committed fewer than three turnovers per game. At various times in her career, she might have been both the nation's best point guard and its best scorer.
The Fighting Irish stuck Jewell Loyd on Sims for long stretches of Monday's game, rotating in Lindsay Allen at other times. There isn't a more athletic guard in the game at the moment than Loyd, whose quickness and leaping ability allow her to stay with just about any assignment and make up ground in the rare instances in which she loses contact.
And it wasn't just Loyd. Just about any time Sims went around a screen, both her defender and the other defender stayed with her as long as possible.
It was a good defensive effort. Sims still put up 33 points, 5 rebounds and 6 assists.
"Yeah, 33, 5 and 6 -- we were real effective," Notre Dame's Kayla McBride said with a shake of her head afterward. "But Odyssey is a great player; she's outstanding. The way she breaks down defenses is unbelievable. I give her so much credit. She has had an outstanding career, All-American, and somebody that I admire as a basketball player."
The point guard on an undefeated national championship team and a scorer who almost went where only Jackie Sties went before.
Sometimes first impressions don't need revision.
A look at the all-time leaders for most points in a season -- Women's Division I history:
1. Jackie Stiles, Missouri State, 2000-01: 1,062 points
2. Odyssey Sims, Baylor, 2013-14: 1,054 points
3. Cindy Brown, Long Beach State, 1986-87: 974 points
4. Jerica Coley, Florida International, 2013-14: 972 points
5. Genia Miller, Cal State Fullerton, 1990-91: 969 points
ESPN.com
Graham Hays covers college sports for espnW, including softball and soccer. Hays began with ESPN in 1999.