Five observations (and one tweet) from Tuesday
The field has been pared to 16 teams, and we are a lot wiser than we were when the brackets came out. Here's what we know now.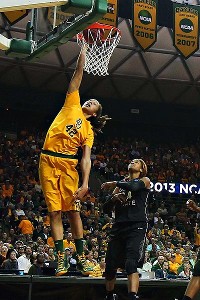 Kevin Jairaj/USA TODAY SportsBrittney Griner dunked once in the first half, tweeted at halftime that she needed to get two more, then added two slams after the break for 18 in her college career.
• 1. Brittney Griner recognizes a big moment when she sees it: Was it because former President George W. Bush and his wife were in the house? Or was she trying to give the home crowd at the Ferrell Center something to remember? Let's go with the latter and say Griner's three dunks in Baylor's otherwise typically dominant win over Florida State was just the 6-foot-8 superstar making herself a little memory.
Griner dunked three times in a game for the first time in her career, and her 18 career dunks now are three more than all the other players combined in women's NCAA history.
The best part was that she stated her exact intentions during a halftime tweet: @Brittney4Griner: "Need two more dunks on home court for the best crowd ever! #BaylorNation"
Two burning questions come to mind: (A) Why does she have her phone in her hand at halftime? (B) Is Kim Mulkey really going to tell her to put it away?
• 2. Politics and women's basketball apparently make good bedfellows: With the ex-president and Mrs. Bush making the short drive from Crawford to Waco to see Griner's farewell game at the Ferrell Center, the current administration was not to be outdone. Vice President Joe Biden, who served as a U.S. senator from Delaware for 37 years, was in the stands at the Bob Carpenter Center as the Blue Hens and their own senior superstar, Elena Delle Donne, played for the program's first trip to the Sweet 16.
Biden was into it, standing for large stretches and joining in the protest of a foul call against Delle Donne. While George Bush left before Griner's two second-half dunks in Waco, Biden was in the gym until the end, watching the Blue Hens celebrate their historic victory.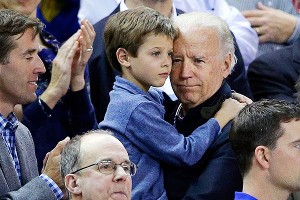 AP Photo/Patrick SemanskyVice President Joe Biden holds his grandson while watching Delaware take on North Carolina.
• 3. Conference call: Here's the conference tote board for the Sweet 16:
SEC: 11-3 (4 teams in Sweet 16)
Pac-12: 5-2 (2 teams)
Big 12: 8-4 (3 teams)
ACC: 6-3 (2 teams)
Big Ten: 7-5 (1 team)
Big East: 7-5 (3 teams)
The CAA is the only undefeated conference at 2-0, thanks to Delaware.
• 4. No. 3 seed is not a charm, but No. 6 apparently is: There are no No. 3 seeds left in the tournament field for the first time since 2003 after second-round losses by UCLA, Penn State, Texas A&M and North Carolina. But for the first time in tournament history, all No. 6 seeds -- Delaware, Oklahoma, LSU and Nebraska -- have advanced to the Sweet 16.
• 5. About that home-court advantage: With 15 of the 16 subregional sites in this tournament featuring home teams that earned berths, it didn't appear to have a dramatic influence on the brackets as we move to the regionals. Nine of the 15 home teams advanced, which is the largest number since the NCAA returned to the 16-site format for the first and second rounds in 2009, but this was the largest number of home teams at host sites since 2009 as well.
As a point of comparison, last year six host teams at the 16 sites moved on, and it was 8-of-14 in 2011. Hosting is no guarantee, however. Three of the host teams -- Gonzaga, St. John's and Colorado -- lost in the first round.
Contributor, espnW.com
Michelle Smith has covered pro and college sports for AOL Fanhouse, the San Francisco Chronicle and espnW.
Five Questions with Elizabeth Williams
Duke's Elizabeth Williams shows off a hidden talent in this edition of Rebecca Lobo's Five questions.
Contributor, espnW.com
Rebecca Lobo won the 1995 Naismith National Player of the Year Award after leading the University of Connecticut women's basketball team to its first national championship. She was the youngest member of the 1996 gold-medal-winning Olympic team, and now, after seven seasons in the WNBA, she covers basketball for ESPN.
Watch: Today's Top Videos
Today's Best

Adrienne Webb, LSU: On a night when several players stood out, we'll go with Webb, who helped will the sixth-seeded Lady Tigers into the Sweet 16 with a 71-66 upset of 3-seed Penn State. The 5-foot-9 senior guard scored a career-high 29 points (all while LSU's regular point guard was sidelined with a concussion). Even better, Webb's defense helped limit Penn State star Maggie Lucas to just nine points on 2-for-10 shooting (Lucas scored 30 last season when the two teams met in the NCAA tournament).
Sweet 16 Schedule
Saturday on ESPN and ESPN2
• Delaware vs. Kentucky, noon
• Maryland vs. Connecticut, 2:30 p.m.
• Georgia vs. Stanford, 9 p.m.
• LSU vs. California, 11:30 p.m.
Sunday on ESPN and ESPN2
• Kansas vs. Notre Dame, noon
• Nebraska vs. Duke, 2:30 p.m.
• Oklahoma vs. Tennessee, 4:30 p.m.
• Louisville vs. Baylor, 6:30 p.m.
• Complete schedule and results
All tipoff times ET.
NCAA Tournament Snapshots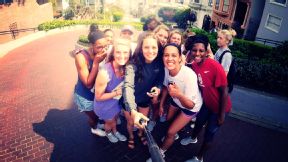 @OU_WBBall/Twitter
Check out the latest photos teams and players are sharing during the NCAA tourney. Photos »