Five biggest NCAA tourney upsets
The Louisville Cardinals did the unthinkable Sunday night, defeating the Goliath of women's college basketball, the top-seeded Baylor Lady Bears. Louisville, the fifth seed, shot an inconceivable 64 percent from beyond the arc, making 16 of its 25 attempts. And, at one point in the game, the Cardinals were 15-for-20 from the 3-point line. Louisville led by as many as 19 points in the second half and held on for an 82-81 victory.
So, in honor of Louisville's big-time upset, we rank the five greatest shockers in the history of the NCAA women's tournament, starting with ...
1. No. 5 Louisville beats No. 1 Baylor, 82-81 (2013)
This is the most jaw-dropping result in women's tourney history. Baylor was considered an absolute mortal lock for the Final Four and the heavy favorite to repeat as NCAA champions. Baylor entered the game having won 74 of its previous 75 games. The Lady Bears' only loss came against Stanford early in the season, when Baylor was missing star point guard Odyssey Sims. So, it seemed that when the Lady Bears were at full strength, they were unbeatable. In addition, Baylor was led by 6-foot-8 senior center Brittney Griner, one of the greatest players in college history. Louisville came into the tourney as just the third-best team out of the Big East, and had lost multiple games to unranked teams.
2. No. 16 Harvard beats No. 1 Stanford, 71-67 (1998)
When fans of women's basketball talk about all-time greatest upsets, one game always springs to mind: Harvard ousting Stanford in the first round of the 1998 NCAA tournament. The game was on Stanford's home floor and remains the only time a No. 16 seed has defeated a No. 1, in the men's or women's tournament. But what most casual fans don't know is that Stanford lost two key starters due to injury in the week before the game, and Harvard possessed one of the best players in the college game, Allison Feaster, who would go on to have a successful WNBA career. Still, this one resonates because it was the ultimate postseason upset -- an underdog taking down a big-time program on its home floor.
3. No. 3 Duke beats No. 1 Tennessee, 69-63 (1999)
Duke announced its arrival on the national stage with this shocking victory. Although Duke was seeded third, the Blue Devils were matched up against one of the greatest dynasties in women's college basketball history: the late '90s version of the Lady Vols, led by All-Americans Chamique Holdsclaw and Tamika Catchings. Before Duke's epic upset, Tennessee had won three consecutive national championships and advanced to four consecutive Final Fours. Even more shocking was Holdsclaw's stat line in the game -- she ended her college career that night by shooting only 2-for-18 from the floor.
4. No. 5 Southwest Missouri State ousts No. 1 Duke, 81-71 (2001)
This game sticks out because of the play of Southwest Missouri guard Jackie Stiles, who poured in 41 points -- 25 in the second half -- to knock off a Duke team led by star guard Alana Beard. Duke entered the NCAA tournament as one of the favorites to win its first title, but Stiles was magnificent in front of a sold-out crowd at Spokane Arena. She scored 16 points as Southwest Missouri State outscored Duke 22-10 over the final 8:11 of the game. To this day, Stiles' performance (she was 15-for-22 from the floor) remains one of the best in tourney history.
5. No. 9 Notre Dame over No. 1 Texas Tech, 74-59 (1998)
Texas Tech had won the NCAA title in 1993 with star Sheryl Swoopes, and the Lady Raiders remained a national power for years afterward. But this win by Notre Dame, led by center Ruth Riley's 23 second-half points, signaled a change: The Fighting Irish were here to stay. Also, Notre Dame won the game on Texas Tech's home floor in front of a sold-out crowd. Afterward, Tech coach Marsha Sharp began her press conference by saying, "First, I want to apologize to our fans and our administration." Three years after the win, Notre Dame, led again by Riley, won the 2001 national title.
ESPN.com
Kate Fagan joined espnW in January 2012 after three seasons covering the 76ers for The Philadelphia Inquirer. She played basketball at the University of Colorado from 1999 to 2004.
Watch: Today's Top Videos
Today's Best

Antonita Slaughter, Louisville: As expected, teammate Shoni Schimmel did plenty of damage, dropping a team-high 22 points and 5 of 8 3-pointers in the upset of Baylor. But fellow junior guard Slaughter hit 7 of 9 treys to finish with 21 points (she was 7-for-10 overall from the field). Slaughter came into the game averaging 9.7 points and was 49 of 150 on 3-point attempts.
Schedule
Monday: Elite Eight
• Maryland vs. UConn, 7:30 p.m. (ESPN)
• Georgia vs. California, 9:30 p.m. (ESPN)
Tuesday: Elite Eight
• Duke vs. Notre Dame, 7 p.m. (ESPN)
• Louisville vs. Tennessee, 9 p.m. (ESPN)
• Complete schedule and results
All tipoff times ET.
NCAA Tournament Snapshots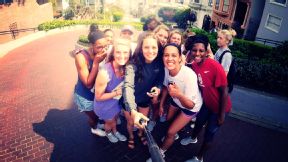 @OU_WBBall/Twitter
Check out the latest photos teams and players are sharing during the NCAA tourney. Photos »