Getting ahead: Previewing Baylor vs. Notre Dame
Only two teams with worse seeds won games in the Notre Dame Regional to this point, so it no surprise that No. 1 seed Notre Dame and second-seeded Baylor meet Monday night (ESPN, 7:30 p.m. ET) with a trip to Nashville and the Final Four at stake.
The game features two great offenses, three of the best players in the country in Baylor's Odyssey Sims and Notre Dame's Kayla McBride and Jewell Loyd, and programs that have combined for five Final Fours appearances since 2010, including a meeting in the 2012 national championship game.
Here are five observations heading into what could be the most explosive of all the Elite Eight games:
1. Exceeding expectations: Brittney Griner is gone. Sklyar Diggins is gone. The two best players a year ago at Baylor and Notre Dame, respectively, have completed their college careers, and each program was expected to take a step back. Instead, both are better, or at least more successful to this point. Their Elite Eight matchup represents perhaps the two most surprisingly successful teams of 2013-2014.
Baylor did not have the regular season that it did in 2012-13, but after having to replace Griner, Brooklyn Pope, Nae Nae Hayden, Destiny Williams and Jordan Madden -- program mainstays who won a national championship and went 74-2 in their final two seasons -- few expected Big 12 regular-season and conference tournament championships or a deeper run in the NCAA tournament. Yet, here are the Lady Bears in the Elite Eight one year after the bitterness of being stunned by Louisville in the Sweet 16.
When the Irish said goodbye to Diggins, they were saying goodbye to the most important player in program history, if not also the best. Plenty of talent remained, but with no Diggins and the move to the deep ACC, certainly Notre Dame would take a step back? Not only did that not happen, but the Irish got better -- undefeated better.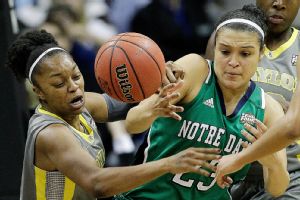 AP Photo/Eric GayOdyssey Sims and Kayla McBride are among the four finalists for the Naismith national player of the year award.
The good, veteran players -- Kayla McBride and Natalie Achonwa -- got better. The freshmen -- Lindsay Allen and Taya Reimer -- have been reminiscent to what McBride and Achonwa were as rookies when Notre Dame reached the national title game. And we haven't even touched on Loyd's steady maturation. Deeper and even more balanced, the Irish stormed through the ACC and arrive at the regional final at 35-0, enjoying a season of unprecedented success.
2. High-powered offenses: Both Notre Dame and Baylor are identified with their abilities to put the ball in the basket. No game in this tournament has or will match two teams as collectively proficient at producing points. Notre Dame ranks second (86.8 ppg) and Baylor is fourth (84.0) in the nation, and both exceeded those numbers in their respective Sweet 16 victories. Not surprisingly, the Irish and Lady Bears are also second and fifth in assists, respectively, and Notre Dame is tops in field goal percentage (51.3 percent). UConn is the only other team in the country that even shoots 50 percent.
With Sims and her aggressiveness leading the way, Baylor is a powerful offensive team. The Lady Bears want to get into the lane and get to the rim. They are fifth in the country in rebounding, led by 5-foot-11 Nina Davis, who has emerged as a major weapon near the basket. She has averaged more rebounds per game as a freshman than Griner did.
Muffet McGraw has created an offensive system at Notre Dame that is virtually unrivaled. It is designed to beat a defense in many different ways, and the Irish do. Notre Dame excels in transition, is a fantastic passing team and is the most accurate 3-point shooting team in the country. Five different Irish players have led them in scoring this year. Meanwhile, only five times all season did someone other than Sims lead Baylor's attack.
This game will almost certainly come down to one team outscoring the other.
3. Containing Sims: The matchup within the matchup centers on how Notre Dame, not necessarily known as a defensive-oriented club, will slow down Sims. Let's face it: Every game involving Baylor comes down to this concept. Sims, as integral to her team as any player in the country, caught fire after a slow start in the regional semifinal win over Kentucky, making 11 of her last 17 shots, and has been better about letting the game come to her in the NCAA tournament.
The knock on Sims is that she needs a high volume of shots (nearly 22 per game) to get to her 28.4 average. The goal of the Irish, ultimately, will be to force her into as many attempts as possible. The primary responsibility for that will be Loyd's, creating the most intriguing individual matchup of not just this game, but perhaps this entire season. The 5-10 Loyd is probably the best athlete Sims has faced. How Loyd handles the numerous ball and off-ball elbow screens she is bound to see will go a long way in determining how successful the Irish are at containing one of the country's top two or three players.
4. Bench versus bench: Notre Dame gets 26 points per game from its reserves. McBride, Achonwa and Loyd don't have to be perfect. McGraw can turn to 3-point sharp shooters Madison Cable and Michaela Mabrey or to Reimer in the low post.
With Baylor, it's more valuable to look at the entire supporting cast than just at what's on the bench. Davis looks like an All-American-in-waiting, and players such as Niya Johnson and Sune Agbuke are much better now than they were in December and January. Makenzie Robertson has been a steadying influence all season and has hit some big shots. Early in the season, Kim Mulkey's club was too reliant on Sims. While the Lady Bears are not Notre Dame in terms of balance, Saturday's win over Kentucky was an illustration of just how far they have come. Freshman Khadijiah Cave had a huge game off the bench; averaging 5.3 points this season, the 6-2 Cave provided 18 points and nine rebounds.
5. Home-court advantage: Given the uniqueness of the 2014 tournament, where the regional hosts are playing in their home arenas, the Irish will have an advantage playing at Purcell Pavilion on Monday night. The Irish's regional semifinal win over Oklahoma State was a sellout of 8,744, and McGraw acknowledged that the crowd was a boost to her team.
Against Baylor, the Notre Dame fans will be trying to will their team to a fourth consecutive Final Four. Ironically, the Irish will be trying to win their 28th straight at home against the last team to beat them in South Bend. Notre Dame has not lost at home since Baylor knocked off the Irish 73-61 on Dec. 5, 2012.
ESPN.com
Charlie Creme projects the women's NCAA tournament bracket for ESPN.com.
Watch: Saturday's highlights
Saturday's Best

Odyssey Sims, Baylor: Yes, the senior point guard missed her first six shots. But she went 11-for-17 from the field after that, scoring 25 points -- which is below her season average. So what gives? On a layup with 12 minutes, 41 seconds to play in the first half, Sims became the second woman in Division I history to score 1,000 points in a season. Sims pushed her season total to 1,021 points, just 41 behind Jackie Stiles' NCAA Division I-record 1,062 points. Better yet? Despite graduating four starters last year, Baylor has reached the Elite Eight -- something the Lady Bears failed to do last season.
Sweet 16, Elite Eight Schedule
SUNDAY ON ESPN & WatchESPN
Louisville Regional
• Maryland vs. Tennessee, noon ET
SUNDAY ON ESPN2 & WatchESPN
Louisville Regional
• LSU vs. Louisville, 2:30 p.m. ET
Stanford Regional
• Penn State vs. Stanford, 4:30 p.m. ET
• North Carolina vs. South Carolina, 7 p.m. ET
MONDAY ON ESPN & WatchESPN
Notre Dame Regional
• Baylor vs. Notre Dame, 7:30 p.m. ET
Lincoln Regional
• Texas A&M vs. Connecticut, 9:30 p.m. ET
• Complete schedule and results
• Coverage maps, channel listings
Watch: Elite Eight look ahead
NCAA Tournament Snapshots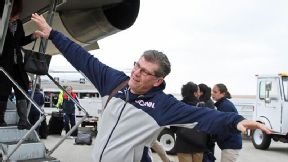 Courtesy of UConn Athletics
Check out the latest photos teams and players are sharing during the NCAA tourney. Photos »