Five Observations From Saturday
The first round is in the books. Here are five takeaways from Day 2 of the women's NCAA tournament.
1. ACC flies high: In two days, the ACC went from filling one eighth of the field to representing one quarter of it. While other teams are disappearing, everyone from the ACC remains present and accounted for. No one in the conference has lost, and the league is 8-0 after another four-win day Saturday. Pittsburgh, Florida State, North Carolina and Louisville all cruised into the second round. The Tar Heels had to withstand a late push by Liberty, but otherwise, the games were not only wins but also comfortable ones.
Even Pittsburgh, a No. 10 seed, thoroughly controlled Chattanooga from start to finish in handing the Lady Mocs their eighth straight tournament loss. For the second straight year, Chattanooga had a 25-game win streak snapped in the first round of the tournament. Panthers freshman Stasha Carey's 16 points and 13 rebounds were just the second double-double in Pittsburgh NCAA tournament history.
The ACC's unbeaten run through the first round marked just the third time in history that a conference has gone 8-0. The Big East went 8-0 in 2008 and 9-0 in 2011.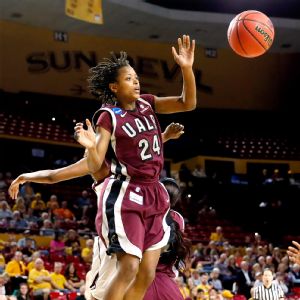 AP Photo/Matt YorkTaylor Gault helped UALR coach Joe Foley win his 700th game Saturday.
2. Solid as a Little Rock: It has been a good week for women's basketball in the state of Arkansas. Arkansas State won its first game in the WNIT on Wednesday. Jimmy Dykes' Razorbacks advanced to the second round of the NCAA tournament with a win over Northwestern on Friday. Then on Saturday, No. 11 seed UALR capped the run with a 69-60 upset of sixth-seeded Texas A&M in Tempe, Arizona.
Senior Taylor Gault led the way with 25 points -- 10 above her average -- as the Trojans earned just the second NCAA tournament win in school history.
What better way for a coach to hit a major milestone than an upset in the tournament? Saturday's victory marked the 700th win of Joe Foley's career (244 of those have come in Little Rock in his 12 seasons there). Meanwhile, Gary Blair, who once coached at the University of Arkansas, and his Aggies saw a streak of eight straight opening-round wins come to an end.
UALR also became the third No. 11 seed to win in the first round, following upset wins by Miami and Gonzaga on Friday. Add that to the two No. 11's that won a year ago, and the NCAA tournament has found its new starting point to look for surprises.
3. All the stats in Storrs: Of course, Connecticut was going to beat St. Francis-Brooklyn, which came into its first NCAA tournament with a losing record. But there are eye-popping numbers even in an 89-33 blowout. The Terriers made only six field goals inside the 3-point arc. UConn outscored St. Francis in the paint 66-2. Morgan Tuck, who finished with a career-high 26 points, outscored the Terriers by herself 20-14 in the first half. The Huskies shot a season-high 70.2 percent from the field -- the fourth most accurate shooting game in Connecticut NCAA tournament history -- and St. Francis made just 21.7 percent of its shots.
Every Huskies player made at least half her shots except Tierny Lawlor, who played the final four minutes, and Kaleena Mosqueda-Lewis, who holds the record for career 3-pointers at Connecticut but failed to make a trey and scored just two points Saturday.
Connecticut now has eight NCAA tournament wins by at least 50 points, the most by any school, and has beaten every first-round opponent since 1995 by at least 30 points.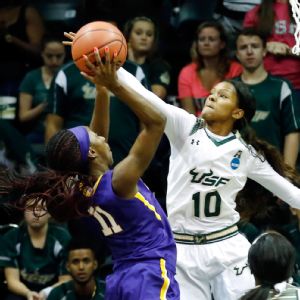 Aaron Doster/USA TODAY SportsCourtney Williams and No. 6 seed South Florida will have home-court advantage when they host third-seeded Louisville on Monday.
4. Princeton gets presidential on the boards: If the U.S. economy had rebounded as well as Princeton did Saturday, President Barack Obama's approval rating would likely be much higher. With the leader of the free world in attendance (Obama's niece, Leslie Robinson, is a Princeton freshman forward), the Tigers buried Green Bay on the boards to win their first NCAA tournament game and just the second victory in Ivy League history 90-80 in College Park.
Princeton, which was sixth in the country in rebounding margin, despite not having anyone in the rotation taller than 6-foot-2, took it to a new level Saturday in outrebounding the Phoenix 49-22. That was the key number in an otherwise fairly even game played between two similar teams. Eventually, the Tigers' dominance on the glass wore down Green Bay, which led the game by one point at halftime.
Nothing Phoenix coach Kevin Borseth could do found a way to penetrate the tractor beam that was Princeton junior Annie Tarakchian. Seemingly every Green Bay missed shot ended up in her hands. She snared 14 of those errant shots on her way to 17 rebounds to go with 19 points. The Phoenix only had eight offensive rebounds for the entire game. In life, people generally deserve second chances. Tarakchian and Princeton gave Green Bay almost none.
Monday's task for the 6-foot Tarakchian will be a little more challenging. She will have to contend with Maryland's 6-foot-3 Brionna Jones and 6-foot-4 Malina Howard on the glass. Those two combined for 17 rebounds in the Terps' easy win over New Mexico State.
5. Turnovers in Tampa: Louisville, unable to play at home despite being a No. 3 seed because of conflicts with the men's tournament at the KFC Yum! Center, certainly packed its defense for the trip to Florida. The Cardinals forced 30 BYU turnovers in a convincing 86-53 win. Those miscues turned into 38 points, and Louisville was never challenged.
South Florida, hosting its first NCAA tournament game, didn't create as many turnovers against LSU in the nightcap at the Sun Dome, but 16 points off 16 Lady Tiger mistakes were instrumental in a 73-64 victory. Just as important was junior Courtney Williams. She controlled the open floor throughout for the Bulls, and her 17 points helped her break USF's single-season scoring record. LSU, which made noise in the tournament the past year by winning two games at home, never led after the first five minutes playing on the road. The loss ended LSU's 16-year streak of at least one tournament win.
That sets up Monday's matchup between Louisville and South Florida, two teams that were together in the Big East two years ago and in the American the past season. The Cardinals beat the Bulls three times in 2013-14 after the two split a pair in 2013.
Louisville seems to like No. 3 seeds. As a 3-seed in 2009, the Cardinals reached the Final Four. As a No. 3 seed the past year, they got to the Elite Eight.
ESPN.com
Charlie Creme projects the women's NCAA tournament bracket for ESPN.com.
Performance Of The Day

Alexa Hart, Ohio State: So much attention has been given, deservedly so, to Ohio State freshman guard Kelsey Mitchell, she of the top scoring average in the country this year. That hasn't left much in the way of accolades for another Buckeye rookie, Alexa Hart. But on Saturday, she might have been the best all-around player on any court. The 6-foot-3 forward scored 20 points, grabbed 13 rebounds and blocked seven shots in Ohio State's never-easy 90-80 win over a stubborn James Madison club.
While Mitchell and backcourt mate Ameryst Alston were busy scoring in their usual impressive way, they were giving up nearly as many points to Duke guards Precious Hall and Ashley Perez. But while Hart was scoring and rebounding, she was also limiting JMU's other weapon, 6-foot-3 Lauren Okafor, who shot just 4-of-10 from the field for eight points and eight rebounds. Hart decisively won the battle of posts, and that was the difference in the game -- Charlie Creme
NCAA Tournament Snapshots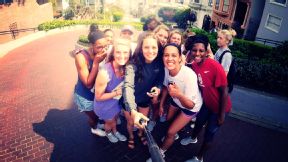 @OU_WBBall/Twitter
Check out the latest photos teams and players are sharing during the NCAA tourney. Photos »
Watch: Oklahoma City videos