Aztecs are first 11 seed in Sweet 16 since '04

By Graham Hays
ESPN.com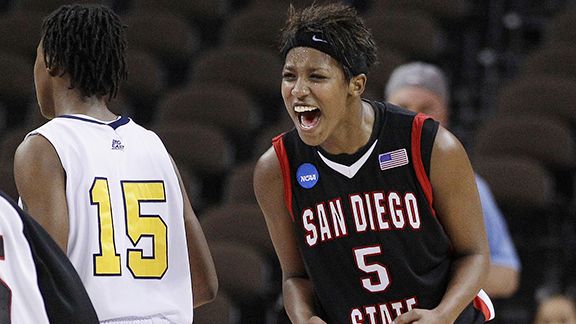 AP Photo/Eric GayJene Morris and San Diego State are into their first Sweet 16 since the field expanded to 64 teams.
Editor's note: This edition includes all of Tuesday's NCAA tournament games.
In second stint with Aztecs, Burns takes SDSU to new heights
Beth Burns already proved you can, in fact, go home again. Compared to beating that maxim, getting to the Sweet 16 was just a matter of time.
Burns left San Diego State for the top spot at Ohio State in 1997 after compiling a 151-83 record in eight seasons with the Aztecs. But she returned to San Diego State in 2005, revitalizing a program that had fallen into disrepair in her absence.
The first team of her second tenure in San Diego won three games through the entirety of the 2005-06 season.
After No. 11 seed San Diego State upset third-seeded West Virginia 64-55 on Tuesday night to reach the Sweet 16, Burns has matched that win total in just the last two NCAA tournaments.
That this win came in Austin, Texas, only makes sense for a story with as many twists and turns as that which Burns has crafted. In explaining late last season why she came back to San Diego State at all, and how much different the sport was despite similar surroundings, she kept coming back to having to learn to enjoy the moment.
As an example, she cited the team's win in a regular-season tournament final it hosted against a Texas team ranked fourth in the nation at the time.
"We put our hats on, we jumped around," Burns said then of the win in December 2008. "It was the highest-ranked team this university has ever beaten in women's basketball. What was, was. What is, is great. And what will be, I hope will be better."
Beating a No. 3 seed to become the first No. 11 seed to reach the Sweet 16 since UC Santa Barbara in 2004, on the heels of knocking off the Longhorns on their home court in the first round, seems like a lock to qualify in the last category.
"Our university is 109 years old, and this is the first Sweet 16 [in the 64-team era]," Burns said by phone Tuesday night. "And no one is ever the second first. It's the first. So it means an awful lot to every person associated with our program. I'm proud of our team, we're proud to represent our school, and we're really proud to represent the Mountain West Conference."
There's not much mystery to how she has gone about building the Aztecs -- who last reached the round of 16 in 1985, when the NCAA tournament consisted of a 32-team field -- into a winner. Any coach is as good as her talent, and Burns thrives on the challenge of recruiting (such as it is when you have the backdrop of one of America's best cities behind you in the sales pitch). She has brought in top-tier prep talent, most notably San Diego native Paris Johnson and Sacramento sisters Coco and Quenese Davis. And she has welcomed BCS-level players who were looking for a change of scenery in Cal transfer Jene Morris and Baylor transfer Jessika Bradley.
[+] Enlarge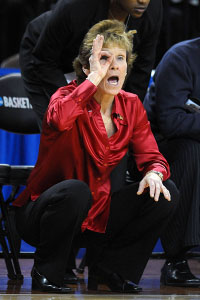 Brendan Maloney/US PresswireBeth Burns was SDSU's coach for eight seasons in the '90s. She then returned to the Aztecs in 2005.
On Tuesday against West Virginia -- a team Geno Auriemma earlier this season credited with being as tough and physical as any his UConn team had faced -- those five combined for 58 of SDSU's 64 points plus 27 rebounds. Morris, in particular, has seized the moment in her senior season. She scored four points and missed eight of her 10 shots in a Mountain West quarterfinal against Wyoming. In four games since, Morris has scored 28, 21, 32 and 27 points.
"She's just special," Burns said. "She loves March, she loves big games, she trusts her teammates, her teammates trust her. And I think especially as you start getting out of your league, people who are looking at you on film but don't really know what you do, I think that she's hot. I mean, she plays both ends of the floor, and she doesn't have many weaknesses in her game."
No, the only real mystery with San Diego State is how this team came as close as it did to missing the NCAA tournament in the first place -- the Aztecs trailed Utah by two points with 65 seconds remaining in the Mountain West title game and were not a lock for an at-large bid if they hadn't tied the score and then won in overtime. With four returning starters from a team that reached the second round last March and the addition of Bradley, who sat out last season to satisfy transfer requirements, this season seemed destined for this result.
But after missing early opportunities to gain attention against top foes, narrowly against Notre Dame and decidedly less so against Oklahoma, conference play brought a monthlong lull in which the Aztecs lost six of nine games.
"We couldn't get a finger on -- we had so much passion and emotion, but we couldn't generate it together," Burns said. "We couldn't get consistency at five spots. … We kind of had to sit down with Jene and [Quenese]. I told them, 'You know what, I could be here for the next 20 years. I'll have my opportunities. You've got about a month. What are we going to do? Get in the locker room and make it happen.'
"So I credit them for getting to the locker room and saying, 'Let's unify, let's figure out how we can get this done, let's listen to our coaches and let's go forward.' And since that point, I mean, we've been a pretty good basketball team."
As Burns said of her team's accomplishment, nobody gets to be the second first, even when it's the same person trying. Taking the job at San Diego State for the second time (after an 81-65 mark in five seasons from 1997-2002 at Ohio State) and leaving the security of a position as the strength and conditioning coach for Tara VanDerveer at Stanford in 2004-05 was a risk.
"I think good things happen when you don't look for them," Burns said last season. "I was in a wonderful situation with someone I have a world of respect for when I was at Stanford, in a position that … I could have been there for the rest of my life, if I so chose."
Instead, she chose to go home. And far from struggling to live up to memories embellished by time, as memories always are, she has taken San Diego State to new heights.
At the Mountain West tournament, she lived up to a promise to break out some bad 1970s dance moves for her players if they won the title. There would be more, she promised, but only if the team reached the Sweet 16. And so it was that more than two decades after first coaching a game at San Diego State, and five years after she returned, she stood in the locker room in Austin and paid homage to Elvis Presley.
"Life is too short to rush forward," Burns said as she prepared to fly home and start prepping for Duke. "We are going to savor every inch of it, and then the next day get up and be excited to compete again."
Huskers earn return trip to Kansas City
By Mechelle Voepel
ESPN.com
MINNEAPOLIS -- Nebraska's players and coaches were in their hotel rooms Monday night watching Texas A&M get upset by Gonzaga. There were some mixed feelings.
The Huskers were, mostly, rooting for their fellow Big 12 team to do well, although freshman point guard Lindsey Moore admitted she was cheering for the Bulldogs. For good reason; she's from Covington, Wash., and for two seasons was teammates with Gonzaga's Courtney Vandersloot at Kentwood High.
But overall, the Huskers might have been left with just a little sense of unease after seeing the only team to beat them this season -- the Aggies defeated Nebraska in the Big 12 tourney semifinals -- get knocked out of the NCAA tournament in the second round.
[+] Enlarge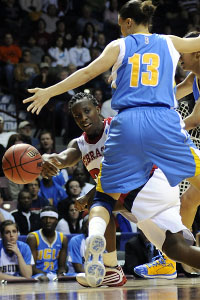 AP Photo/Hannah FoslienDominique Kelley led the way for the Huskers, scoring 22 points in the win over UCLA.
"As much as we've tried to make light of it and dismiss pressure, there is some," Nebraska coach Connie Yori said. "Whereas I think during the Big 12 season … nobody had really expected us to win the Big 12. Now here we are as a 1-seed, so the expectations change. So tonight was a little bit of a relief to get this win."
The Huskers did indeed get it Tuesday night, an 83-70 victory over No. 8 seed UCLA, and made the school's first NCAA Sweet 16 appearance in either women's or men's basketball. But there was no huge on-court celebration or boisterous locker room. All season, as the wins kept piling up, the Huskers never got carried away. And when they finally lost to Texas A&M, they stayed calm, too.
Nebraska has done what it has in this historic-for-the-program season by being about as even-keeled as an aircraft carrier docked on a windless day.
OK, that might be overstating it a bit … the Huskers did have a bit of the jitters against the pressing and trapping of the Bruins at the start of Tuesday's game.
"I wasn't necessarily freaked out or anything when Texas A&M lost; that was really good, exciting basketball to watch," Nebraska star Kelsey Griffin said. "But I definitely felt a little tight at the start tonight. I try to enter games loose and relaxed, but there is pressure as the 1-seed going against the 8-seed. They have nothing to lose, you know?"
And the Bruins played that way, getting off to a 7-0 lead and keeping the game close through the first half, after which Nebraska had gained a 35-30 edge. But during the first half, UCLA starters Jasmine Dixon and Markel Walker both got into foul trouble, and that broke the Bruins' early momentum.
"I thought it really disrupted us with the play-calling and them being out of the game," UCLA coach Nikki Caldwell said. "For us, we can't overcome that."
The Bruins -- whose only losses since Jan. 17 came to NCAA No. 1 seeds Stanford and Nebraska -- also couldn't overcome sending the Huskers to the foul line for 38 attempts. Nebraska missed 13 of them, which on another night might have been a big worry. But not with the Huskers hitting eight 3-pointers in the game and shooting 65 percent from the field in the second half. They gained a lead and maintained it.
To read the complete column, click here.
Player Of The Day
Alexis Rack, Mississippi State:
The Lady Bulldogs upended second-seeded Ohio State on Tuesday to reach their first Sweet 16. And while Rack had plenty of help -- three teammates were in double figures -- the Buckeyes just couldn't beat Rack's 30-point night.

She shot 10-for-18 from the field, 6-for-12 from 3-point range, hit all four free throws and also tallied three rebounds, six assists, two steals and a block. Rack repeatedly sliced through the Buckeyes' defense, and even when it looked like she was shut down, Rack responded. As the Associated Press recap noted, "Once, the right-handed Rack adeptly scooped the ball into the basket left-handed when she had no other option on the play." Right, left and everything in between, Rack was Tuesday's top star.
SDSU Upsets 3-Seed West Virginia
Sweet 16 Schedule
All tipoffs ET; all games also on ESPN360.com
Saturday: Memphis Regional
• Noon: Baylor vs. Tennessee (ESPN)
• 2 p.m.: San Diego State vs. Duke (ESPN)
Saturday: Sacramento Regional
• 9 p.m.: Georgia vs. Stanford (ESPN)
• 11:30 p.m.: Gonzaga vs. Xavier (ESPN2)
Sunday: Dayton Regional
• Noon: Iowa State vs. UConn (ESPN)
• 2:30 p.m.: Mississippi State vs. FSU (ESPN2)
Sunday: Kansas City Regional
• 7:30 p.m.: Oklahoma vs. Notre Dame (ESPN2)
• 9:30 p.m.: Kentucky vs. Nebraska (ESPN2)
Mississippi St. Shocks Ohio State
Sweet 16 facts and figures
• Three teams have earned berths to their first Sweet 16: Gonzaga, Mississippi State and Nebraska. San Diego State is making its third appearance in the round of 16, but its first since 1985, when the NCAA tournament consisted of a 32-team field. Kentucky is in the round of 16 for the first time since 1982.
• Tennessee will make its NCAA tournament-leading 28th appearance in the regional semifinals (i.e., Sweet 16) while UConn and Georgia are each making their 18th appearance. Stanford is playing in the round of 16 for a 17th time, and Duke is making a 12th appearance. No other school in this year's field has double-digit appearances, though both Notre Dame and Oklahoma are in their eighth Sweet 16.
• Four teams from both the SEC and Big 12 advanced to the round of 16. The field also includes two teams apiece from the ACC and Big East, and one entrant from the Atlantic 10, Mountain West, Pac-10 and West Coast Conference.
• The last No. 11 seed to reach the regional semifinals was UC Santa Barbara in 2004. San Diego State is the sixth 11-seed to advance, but No. 11 seeds are 0-5 in the Sweet 16. -- ESPN's Greg Dohmann
UConn Crushes Cardoza, Temple
Harris comes through for Xavier
CINCINNATI -- To say Xavier nearly waited too long Tuesday night against Vanderbilt in the second round of the NCAA tournament is to undersell the image of the ball grazing off both sides of the rim on Commodores guard Jence Rhoads' baseline follow with a second remaining.
The third-seeded Musketeers weren't just minutes or inches away from watching an otherwise memorable season prematurely spoiled; they were seconds and inches away from such a fate.
Down by 10 points with just more than nine minutes to play, and down by nine points with just more than four to play, the Musketeers played as one for just long enough to make sure the individual brilliance of Amber Harris and Ta'Shia Phillips didn't go to waste.
Phillips finished with 15 points and 17 rebounds, including 11 offensive boards, her 20th double-double this season. Harris scored 21 points, including the last six points her team scored in the game, capped off by the eventual game-winner with 12 seconds to play.
In the end, the math that mattered most was summed up by Dee Dee Jernigan, a teammate of Harris and Phillips the last two seasons at Xavier and in AAU ball in Indiana before that.
"Having Amber and Ta'Shia, you got at least a 70 percent chance of winning every game," Jernigan said. "That's how I feel about them."
But Tuesday's game sure challenged the equation.
To read Graham Hays' complete column, click here.
Tournament Challenge Check-In

After 48 games, how is your bracket holding up? ESPN.com's contributors are going head-to-head in Bristol's Best, with Mechelle Voepel and Graham Hays in the 91st percentile. How do brackets from Charlie Creme and Rebecca Lobo compare to the real thing? Also, check out President Obama's picks. (He nailed 10 of the Sweet 16 and ranks in the 38th percentile.)