Forty games are in the books. Here are five takeaways from Sunday as half of the Sweet 16 was set.
Baylor and South Carolina played simultaneously. They each played No. 9 seeds. They each were huge favorites. They each started quickly and didn't let the underdog have a chance.
The Lady Bears and Gamecocks each delivered exactly as expected, easily moving onto the Sweet 16 in an amazing bit of synergy for two teams favored to be at the Final Four in Indianapolis in two weeks.
Both are physically superior teams and it was on display Sunday. Baylor beat Auburn 84-52; South Carolina was a 73-47 winner over Kansas State. Baylor scored 46 points in the paint, had a 48-36 rebounding advantage over Auburn and blocked 11 shots.
Baylor posts Kalani Brown, a 6-foot-7 freshman, and 6-4 Beatrice Mompremier were too much for the Tigers, a team that needs to get close to the rim to score consistently. Auburn also had no answer for All-American junior Nina Davis, who had 30 points and seven rebounds.
But Baylor's win also marked the final home game at the Ferrell Center for senior point guard Niya Johnson. In typical fashion she played a major role without scoring much, her three points dwarfed by 10 assists. She has 26 assists through Baylor's first two tournament games. On Sunday, she passed Teresa Weatherspoon for fourth all time with 128 career assists in the NCAA tournament.
South Carolina's Tiffany Mitchell also played the last home game of her program-changing career, and she went out in style with 20 points, 4 rebounds and 4 steals. Coach Dawn Staley has said no player has been more instrumental to the resuscitation of the Gamecocks' program.
The 5-7 Mitchell won SEC player of the year awards as a sophomore and a junior, but this season struggled more often and deferred to the inside talents of A'ja Wilson (this year's conference POY) and Alaina Coates. That inside muscle helped determine Sunday's win -- South Carolina outrebounded Kansas State 47-32 -- but Mitchell's performance was a fitting goodbye to Columbia's home fans.
2. Orange is sweet
The greatest season in Syracuse history will continue in Sioux Falls. The Orange are in the Sweet 16 for the first time. Syracuse set a program record with 27 wins and has won 13 of its last 14 games. The last of those wins came in systematic fashion Sunday, 76-59 over Albany at the Carrier Dome. Playing women's NCAA tournament games at the Dome was also a first and drew the third-largest crowd to watch a women's game there.
This rise under coach Quentin Hillsman has come largely on the shoulders of his junior and senior class. High school All-Americans Brianna Butler and Brittney Sykes arrived four years ago along with Cornelia Fondren. The next year, 6-4 twins Briana and Bria Day, and point guard Alexis Peterson made their Orange debuts.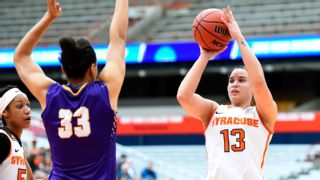 Syracuse pressed and attacked for 40 minutes Sunday, and Albany turned it over 23 times against that trademark full-court defense. Sykes, a redshirt junior, who suffered two major knee injuries during her time in Central New York and who has had an up-and-down season, scored 24 points. But Peterson -- who tallied 22 points and six assists -- was the catalyst, as she has been so many times this season.
That group now heads to Sioux Falls, South Dakota, and a meeting with South Carolina.
3. Late scrutiny on officials
The best games of the day were the midday contests: DePaul-Louisville and Mississippi State-Michigan State. Both were well-played, exciting games, but also ended with discussions about the officiating.
Two foul calls went DePaul's way in the final seconds in its 73-72 upset of Louisville. The first was a bump -- or no contact at all depending on your perspective -- by Briahanna Jackson on Jessica January that resulted in the go-ahead free throw by January. The second was a charge call whistled on the Cardinals' Myisha Hines-Allen, who was attempting to make a winning move with 1.7 seconds left. Both were inconclusive calls and could have just as easily gone the other way. Not really controversial. Just judgment.
The same assessment is more difficult to make about the end of Mississippi State's 74-72 win over Michigan State. With the Bulldogs up by two, the Spartans' Jasmine Hines missed a putback. Mississippi State's Kayla Nevitt grabbed the rebound but appeared to step out of bounds with just under four seconds left. But the whistle never blew and the clock ran out. The officials went to the video review monitor, but only to review whether the Spartans committed a foul before time expired.
The controversial ending doesn't diminish the effort by the Bulldogs, who are onto their second Sweet 16, or the 24 points by Victoria Vivians or the 14 points and nine assists by Morgan William.
But Michigan State is left wondering what might have happened had the Spartans been given one more chance to tie the score in what was a fantastic game.
4. Mountaineers' milestone
Ohio State's Kelsey Mitchell is well on her way to 2,000 career points. She's at 1,742, and the total got a huge boost from Sunday's 45-point effort against West Virginia. But someone else in that 88-81 Buckeyes' win did get to the milestone.
Mountaineers' senior Bria Holmes couldn't quite get her team an upset, but she scored 21 points, the last two of which put her over the 2,000-point plateau. Holmes is the third West Virginia player to reach the milestone (Cathy Parson and Rosemary Kosiorek are the others).
Holmes might have been able to add to that total had West Virginia not committed 27 turnovers that led to 40 Ohio State points. The Mountaineers outplayed the Buckeyes in a number of other areas.
5. More to prove for Pac-12
Arizona State's second-round loss to Tennessee will be a disappointment around Tempe for months to come, but that was the first loss by a Pac-12 team in the tournament. To this point the league is 6-1 and living up to its status as the No. 1 RPI conference in the country in 2016.
Stanford, Washington and UCLA still have to take their second-round turn Monday, but Oregon State, the conference regular-season and tournament champion, is already representing the Pac-12 in the Sweet 16.
The Beavers, perhaps still stinging from a second-round loss on their home court a year ago, left nothing to chance with a pair of games in Corvallis this time, blasting Troy on Friday and then making similarly quick work of St. Bonaventure 69-40 on Sunday. The Bonnies didn't appear to have a chance against the Oregon State defense. St. Bonaventure's high quarter was 15 points in the fourth when the outcome was already decided, and the Bonnies shot just 25.5 percent for the game.
Jamie Weisner got back on track for Oregon State with a game-high 23 points, and 6-6 Ruth Hamblin grabbed 16 rebounds against the much smaller Bonnies, whose tallest player is 6-1.
With Oregon State safely into the Sweet 16 for the first time since 1983, the Pac-12 needs only two of Monday's second-round participants to win to exceed last year's total of two regional participants. The 6-1 record so far is good, but without more than two teams in the Sweet 16, all the momentum built during the regular season could be forgotten.