Sabrina Ionescu is not a list maker.
No to-do lists for school. No lists of goals at the start of a season.
In fact, the Oregon sophomore guard isn't really about the goals part, either.
"My goal is to be able to do everything in my control," Ionescu said. "Sometimes goals aren't always in your control."
Playing time? A spot in the starting lineup? Can't control those things, in Ionescu's mind.
"I can control working hard. I can control being a good teammate," Ionescu said. "If you do those things, you see the bigger picture."
Oregon finds itself part of the bigger picture in women's college basketball in a way it has never been. Expectations for the Ducks are higher to start this season than in any season in school history. Led by Ionescu and fellow sophomore Ruthy Hebard, Oregon is no longer under anybody's radar after last season's unexpected run to the Elite Eight.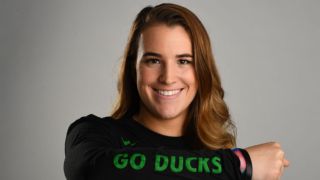 Kelly Graves, who is in his third season at Oregon, left Gonzaga to turn around a program that had not been a factor in an emerging Pac-12. When Ionescu walked through the door, that process accelerated. The McDonald's All-American and last season's espnW national freshman of the year has changed the trajectory of the Ducks program in the way that Graves hoped she would.
Graves, who added a duo Wednesday as the early signing period opened, said he regularly speaks to recruits who relish the idea of playing with the 5-foot-10 guard with an "off the charts basketball IQ."
"The elite players, they all love Sabrina," Graves said. "I think it's because anybody could be Sabrina. She's not 6-foot-3, she doesn't run a 10-second 100 [meters]. ... She just works her butt off; she never, ever gives up on a play; and she has an incredible competitive spirit."
Ionescu's freshman season at Oregon included four triple-doubles -- the most for a freshman in NCAA history -- a pair of game-winning shots and season averages of 14.3 points, 6.6 rebounds and 5.5 assists per game.
And no stated goals.
"I'm not joking around when I say that I focus on one practice or one game at a time," Ionescu said. "If I've given all I've got that day, I've achieved my goal."
With three freshmen in the starting lineup for much of the season, the Ducks might not have written a run to the regional final into their goals last season. Oregon finished a bruising Pac-12 season with an 8-10 record, but managed, on the strength of a strong nonconference record, to earn an NCAA berth for the first time since 2005. And then the 10th-seeded Ducks reeled off three consecutive wins in the NCAA tournament -- beating No. 7 seed Temple, No. 2 Duke and No. 3 Maryland -- before falling to top-seeded Connecticut. 
All five starters -- Oregon's top seven scorers, in fact -- return this season. The Ducks have added three highly regarded freshmen from the international ranks, guard Aina Ayuso of Spain, and wings Satou Sabally of Germany and Anneli Maley of Australia. Sabally was the most valuable player in the FIBA U-20 European Championship.
Last month, Pac-12 coaches picked Oregon to finish second in the conference in their preseason poll. It's the highest the Ducks have ever been voted, and they got three first-place votes.
Ionescu had an eventful summer, playing with USA Basketball's Under-23 national team at the Four Nation's Tournament in Tokyo. She focused on becoming a better defensive player, rounding out an already versatile skill set.
"She's made immense improvement," Graves said. "She understands that for us to be an elite team, we have to defend better, and she took that on. She's better in the pick-and-roll and I know she's concentrating on pushing the ball."
Ionescu said she felt like a defensive liability to her team last season. Fixing that was within her control.
"I usually just like roaming around and getting steals here and there ... so I definitely worked a lot on my defense," Ionescu said. "I think USA Basketball helped me with that, competing against the top players in the country at trials and playing internationally, I had to step up my game defensively."
That experience was valuable, in the same way that the loss to UConn last March in the regional final could pay big dividends for the Ducks.
"I've already referenced that game a dozen or more times," Graves said. "That's what we are chasing. It exposed us to how far we have to go. Now that we've seen it, we know what we are working toward.
"Sabrina knows that. There's no question. She's our leader on the floor. She has help, but people look to her to set a tone. She is vocal and she leads by example. She's our hardest-working player and I think she's a really significant leader."
And because of that, Graves said he will embrace whatever philosophy works for his star player.
"There is a school of thought out there that setting goals limits you. Who knows?" Graves said. "To be better every day, that works for her and if it works for her, it works for me."
Ionescu's "stay-in-the-moment" philosophy, one that she says she adopted by reading John Wooden, includes avoiding Final Four talk for a program that might be ready to be part of that conversation.
"No, definitely not [talking Final Four]," Ionescu said. "You can't overlook anything that you are going through in a practice or in games. If we focus on what's in our control and take everything one step at a time, everything else will find its way."