Last season, schools from the Power 5 conferences made up half the field in the women's NCAA tournament. The SEC led the way with eight, and that was the last conference standing, too, as South Carolina beat Mississippi State for the NCAA title. Here's a quick look at the Power 5 going into the 2017-18 season.
ACC: Can someone top the Irish?
2017 regular-season/tournament champions: Notre Dame/Notre Dame
2017 NCAA tournament teams (7): Duke, Florida State, Louisville, Miami, Notre Dame, NC State, Syracuse
2017 best NCAA finish: Elite Eight (Notre Dame, Florida State)
2018 espnW preseason rankings: No. 9 Notre Dame, No. 10 Louisville, No. 11 Duke, No. 15 Florida State
Outlook: Notre Dame has owned the ACC since joining ahead of the 2013-14 season, going 62-2 in regular-season conference play and winning all four ACC tournaments. So even though the Irish won't have Brianna Turner (knee) and Lindsay Allen (graduated, in WNBA), and are concerned about depth, they were still picked to win the ACC. Guard play, led by Arike Ogunbowale, should be Notre Dame's strength.
The challengers are familiar: Louisville (Asia Durr, 19.2 PPG), Duke (Lexie Brown, 18.3) and Florida State (Shakayla Thomas, 14.9) all return their leading scorers. Also watch Virginia, picked fifth in the preseason by the coaches, and led by a strong sophomore class. Coach Joanne Boyle is 110-85 in six seasons with no NCAA tournament appearances, the longest drought by far in program history.
Around the league: NC State's Wes Moore, ACC coach of the year last season, must rebuild after graduation losses. ... Syracuse also has two big holes to fill with guards Alexis Peterson and Brittney Sykes moving on to the WNBA. ... North Carolina guards Stephanie Watts and Paris Kea are preseason All-ACC. But can they lead the Tar Heels back to the NCAA tournament after a two-year absence?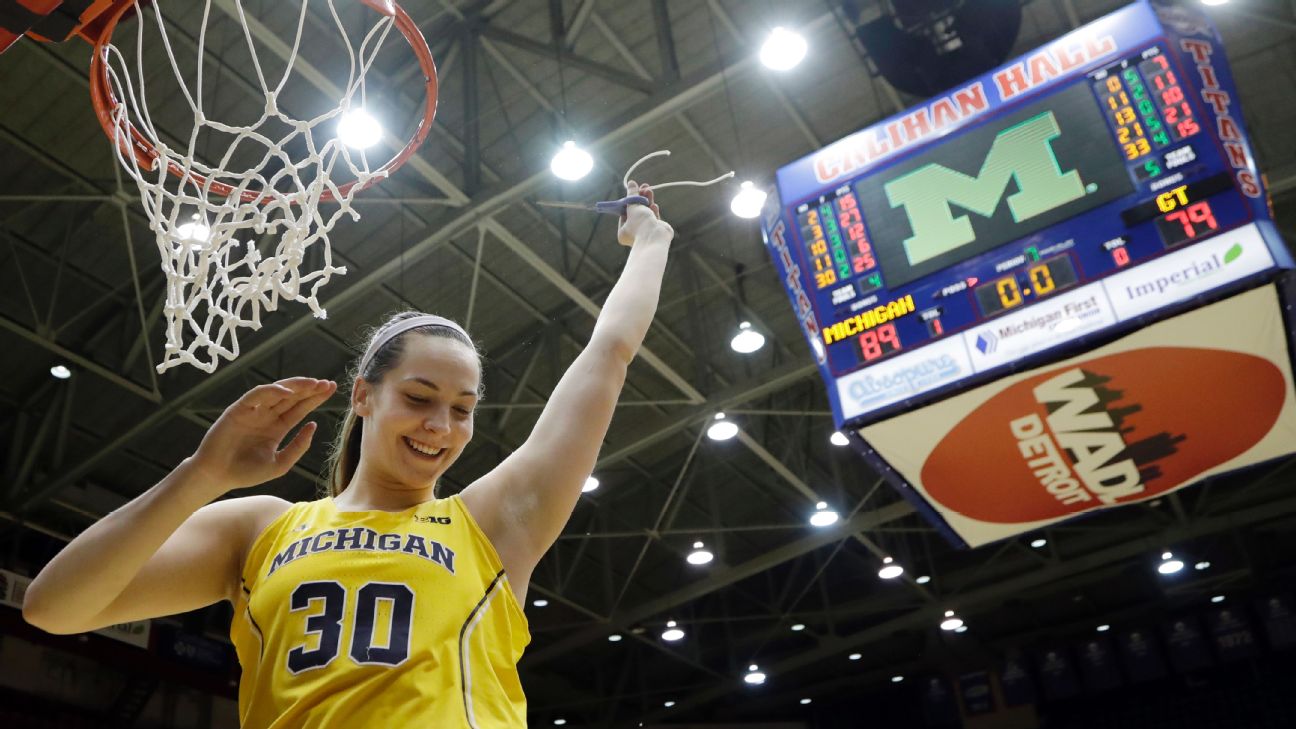 Big Ten: Will we see Buckeyes' best?
2017 regular-season/tournament champions: Maryland and Ohio State (tie)/Maryland
2017 NCAA tournament teams (4): Maryland, Michigan State, Ohio State, Purdue
2017 best NCAA finish: Sweet 16 (Maryland, Ohio State)
2018 espnW preseason rankings: No. 5 Ohio State, No. 16 Maryland, No. 21 Michigan
Outlook: The Final Four is in the heart of Big Ten territory: Columbus, Ohio. But will there be a league representative there? The Buckeyes are the top candidate, led by Kelsey Mitchell. Ohio State's only other Final Four appearance was in 1993. And other than newcomer Maryland going in 2015, the league's last Final Four team was Michigan State in 2005.
Maryland lost three starters, putting the Terps in the odd position of being somewhat an underdog for the first time since joining the Big Ten in 2014-15. Only Ohio State has beaten them in league play.
Michigan might have been the most crushed team in the country last season on Selection Monday, finishing third in the Big Ten but not getting an at-large NCAA tournament bid. However, the Wolverines capitalized on their WNIT invitation, winning that championship.
Around the league: Coach Nancy Fahey -- who won five Division III titles at Washington University in St. Louis -- takes over at Illinois. She played collegiately in the Big Ten, at Wisconsin. ... Rutgers won just six games last season, all at home. Still, coach C. Vivian Stringer recently got a contract extension. She's 23 victories shy of 1,000 career wins.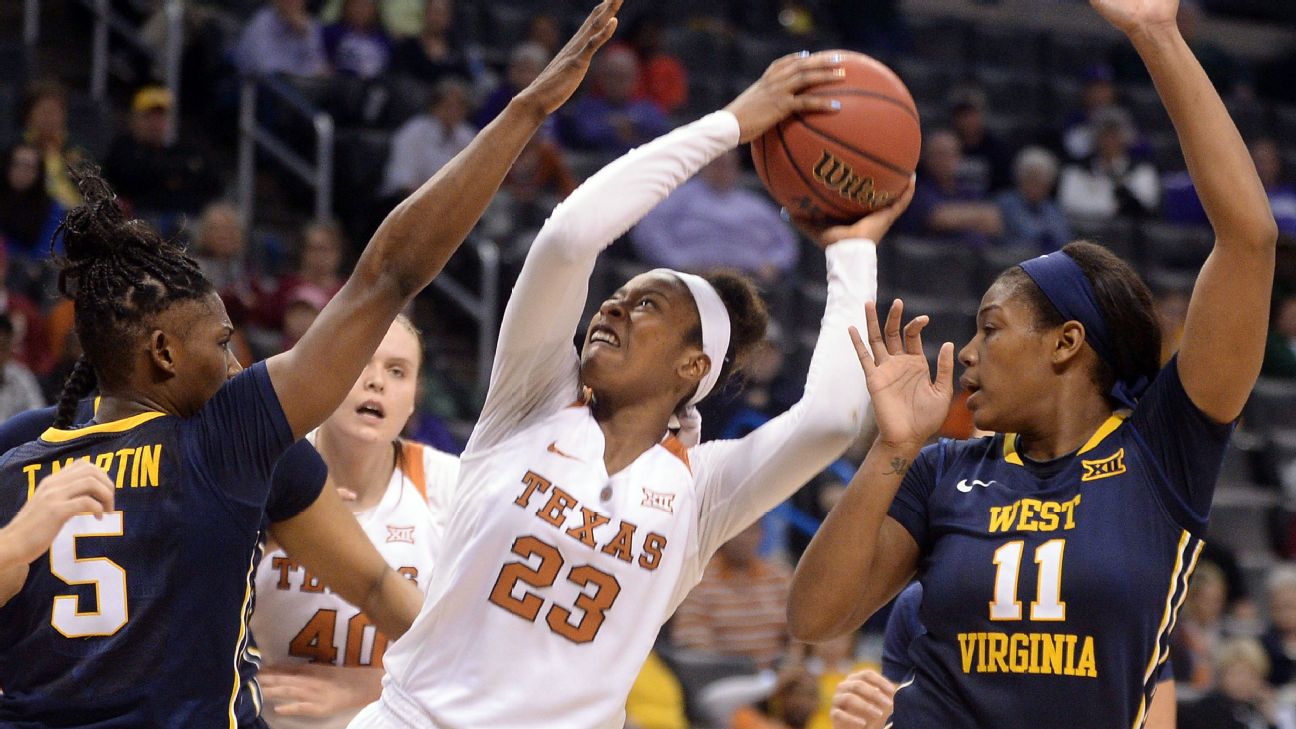 Big 12: Lone Star showdown?
2017 regular-season/tournament champions: Baylor/West Virginia
2017 NCAA tournament teams (6): Baylor, Iowa State, Kansas State, Oklahoma, Texas, West Virginia
2017 best NCAA finish: Elite Eight (Baylor)
2018 espnW preseason rankings: No. 2 Texas, No. 3 Baylor, No. 14 West Virginia, No. 19 Oklahoma
Outlook: Baylor has been the league boss, winning or tying for the Big 12 regular-season title seven years in a row. The Lady Bears also had won six consecutive Big 12 tournaments, but were upset in the final by West Virginia last season. Then Baylor lost for the fourth consecutive year in the regional final. Graduation losses have affected Baylor, but don't expect the Lady Bears -- led by center Kalani Brown -- to fall back to the Big 12 pack.
However, Texas -- loaded with experience at guard -- might be able to catch Baylor this season. Last season, the Longhorns beat Baylor for the first time since 2010, as the teams split their regular-season meetings. Then both lost to the Mountaineers at the Big 12 tournament. West Virginia and Oklahoma should be Big 12 contenders, but it's tough to see the title ending up anywhere but Waco or Austin.
Around the league: Best Big 12 player who's not known nationally? Oklahoma State senior center Kaylee Jensen, who last season led the conference in scoring (18.7 PPG) and rebounding (10.5 RPG). ... The Big 12 didn't do a preseason poll for women's basketball, but did for men's basketball. The Big 12 women's coaches voted not to have one.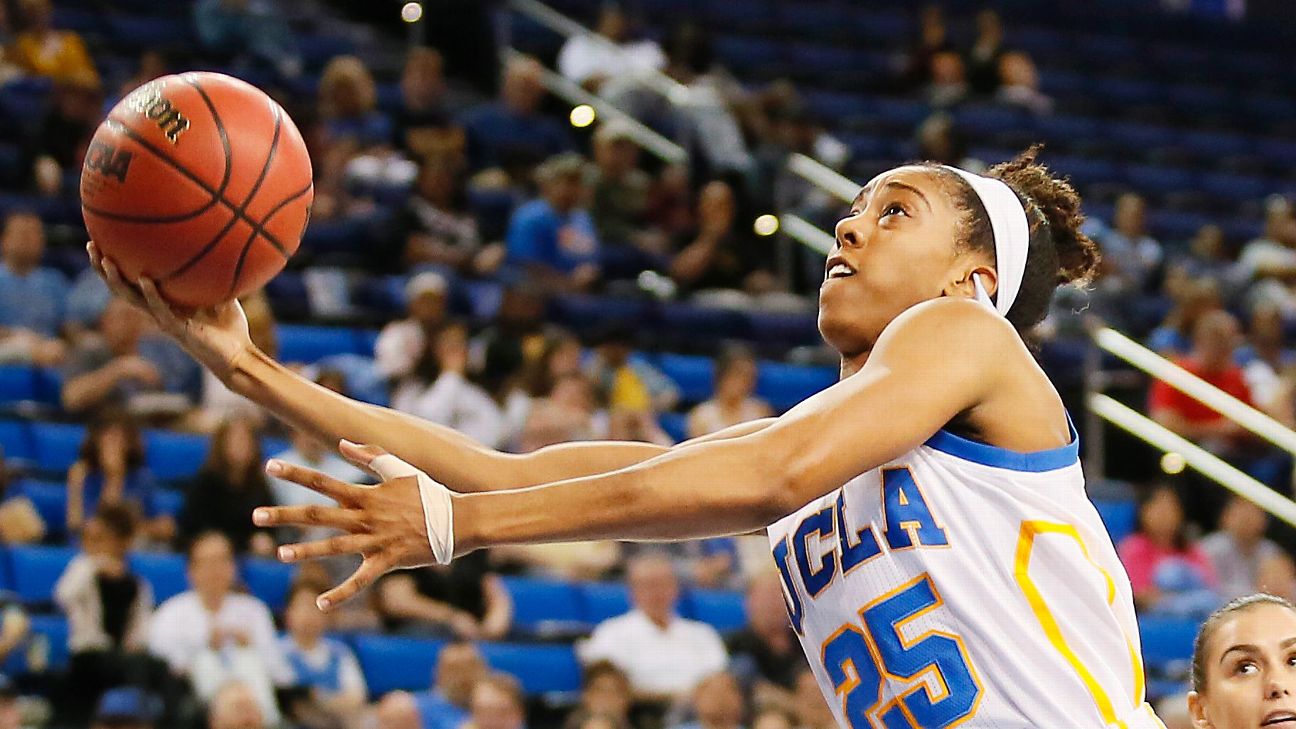 Pac-12: Bruins, Cardinal, Ducks top trio?
2017 regular-season/tournament champions: Oregon State/Stanford
2017 NCAA tournament teams (7): Arizona State, Cal, Oregon, Oregon State, Stanford, UCLA, Washington
2017 best NCAA finish: Final Four (Stanford)
2018 espnW preseason rankings: No. 6 Stanford, No. 8 Oregon, No. 12 UCLA, No. 22 Oregon State, No. 23 Cal, No. 25. Arizona State
Outlook: There are multiple ways you could see this Pac-12 season shaking out, and they're all intriguing. The coaches and media polls picked UCLA to win; our espnW poll favored Stanford, which made its 13th Final Four trip last season.
Meanwhile, the Bruins have never been that far in the NCAA tournament, where their best finish is the Elite Eight in 1999 (although UCLA won the AIAW national championship in 1978). The Ducks haven't been to an NCAA Final Four, either, but they made the Elite Eight last season. Also, don't sleep on Oregon State, which has won or tied for the Pac-12 regular-season title in each of the past three years.
Washington's Kelsey Plum dominated headlines last season as she broke the NCAA scoring record and was the Pac-12 player of the year. There are several candidates for that honor this season, including UCLA teammates Jordin Canada and Monique Billings, Cal's Kristine Anigwe and Oregon's Sabrina Ionescu.
Around the league: With Plum, Chantel Osahor and coach Mike Neighbors gone, it's rebuilding time for Washington. ... Mark Trakh gave Stanford a first-round scare in the NCAA tournament last season while with New Mexico State. Now he's back at Southern Cal, where he coached previously from 2004-2009.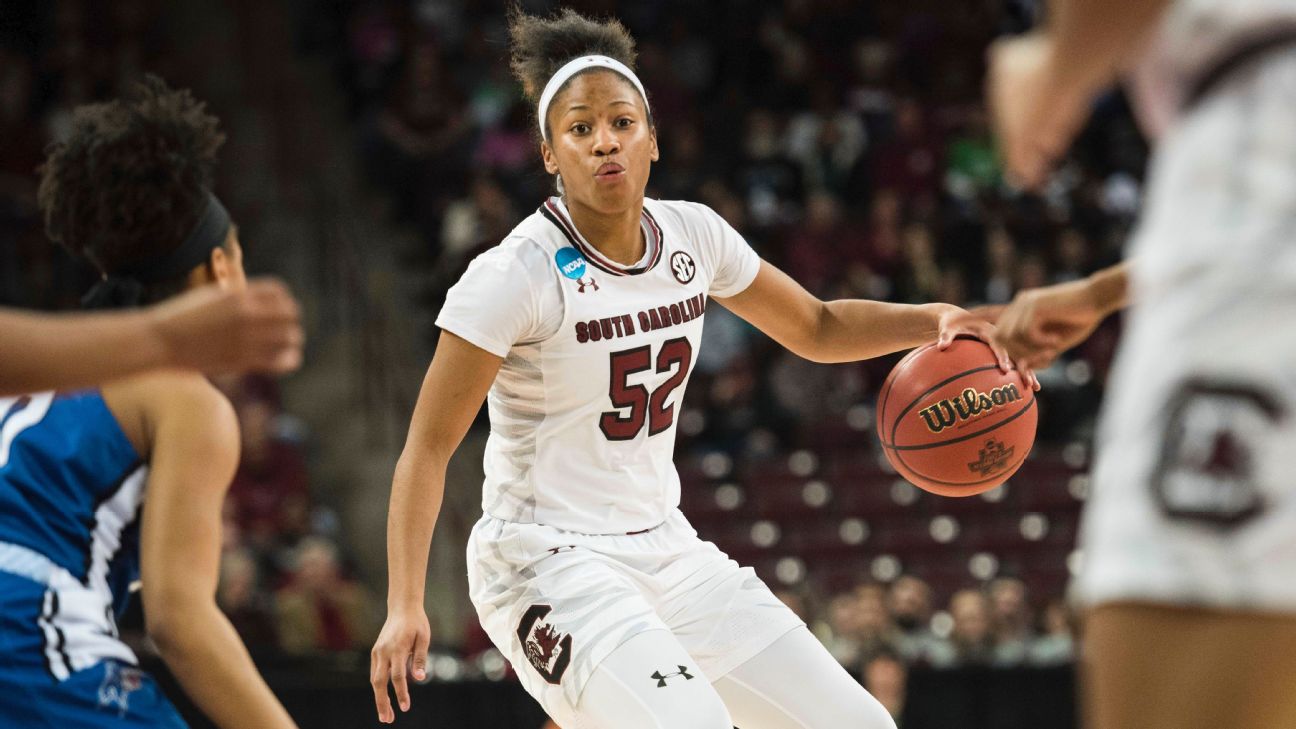 SEC: Can Gamecocks stay on top?
2017 regular-season/tournament champions: South Carolina/South Carolina
2017 NCAA tournament teams (8): Auburn, Kentucky, LSU, Mississippi State, Missouri, Texas A&M, Tennessee, South Carolina
2017 best NCAA finish: national champion (South Carolina)
2018 espnW preseason rankings: No. 4 Mississippi State, No. 7 South Carolina, No. 13 Tennessee, No. 17 Missouri, No. 24 Texas A&M
Outlook:
The Gamecocks' only losses in the SEC last season were to Tennessee and Missouri. The Tigers tied Kentucky for third in the SEC, Missouri's best showing since joining the league in 2012-13, and a finish they're picked to repeat. The Lady Vols were fifth, and they'll need instant production from freshmen this season.
Around the league: Texas A&M was under the radar last season in the SEC, finishing sixth. But the Aggies have the league's top returners in rebounding (Anriel Howard, 10.4) and field goal percentage (Khaalia Hillsman, 62.4), and the third-leading scorer back (Danni Williams, 16.6 PPG). ... Neighbors left Washington to take over Arkansas's program in his home state. He has nowhere to go but up; the Razorbacks are picked last. ... At Florida, Cam Newbauer is also new to the SEC this season.