COVERAGE MAPS/CHANNEL LISTINGS | WatchESPN LINKS
For the eighth consecutive year, ESPN will support the Kay Yow Cancer Fund in partnership with The V Foundation and Women's Basketball Coaches Association during its annual Play 4Kay women's college basketball games Sunday and Monday.
The Cancer Fund is named in memory of legendary NC State women's basketball coach Kay Yow, who died Jan. 24, 2009 after a three-decade battle with cancer.
ESPN, ESPN2 and ESPNU will air seven games in a new format on Sunday as part of Play 4Kay, formerly known as the WBCA Pink Zone and February Frenzy. A top-10 matchup between ACC rivals No. 9 Maryland at No. 3 Duke will air on ESPN2's Big Monday at 7 p.m. ET. Six players on the Wooden Award Midseason Top 20 list will be playing on Sunday and Monday, including Maryland's Alyssa Thomas, Louisville's Shoni Schimmel and North Carolina's Diamond DeShields.
The new Play 4Kay format will showcase two regionalized games within each of two ESPN2 telecast windows on Sunday at 1 p.m. ET and 3:30 p.m. ET. During each window, the network will alternate between the two games to showcase the best action for viewers in the majority of the nation. In the home markets of the competing teams, ESPN2 will televise the game of local interest.
All games will be accessible online at WatchESPN.com.
Throughout the games, ESPN also will encourage fans to contribute to the Kay Yow Cancer Fund at kayyow.com.
Coverage maps
Channel listings will be added as they become available.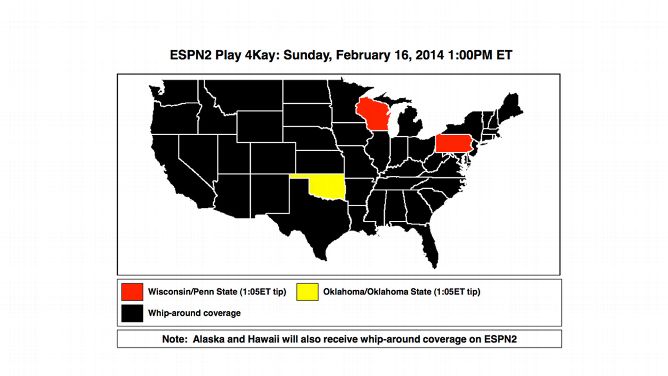 Red: Wisconsin-Penn State -- Channels: DIRECTV SD 730, DIRECTV HD 730-1, Dish 145, Dish FullCourt 457

Yellow: Oklahoma-Oklahoma State -- Channels: DIRECTV SD 731, DIRECTV HD 731-1, Dish 146, Dish FullCourt 458

Black: Whip-around coverage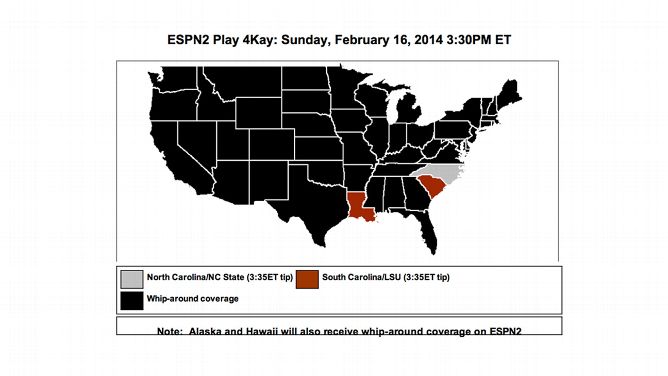 Gray: North Carolina-NC State -- Channels: DIRECTV SD 732, DIRECTV HD 732-1, Dish 147, Dish FullCourt 457

Brown: South Carolina-LSU -- Channels: DIRECTV SD 733, DIRECTV HD 733-1, Dish 148, Dish FullCourt 458

Black: Whip-around coverage
WatchESPN
Click on the matchup for the WatchESPN links.